Slow Cooker Beef Barley Soup
The best, old fashioned, classic, hearty, quick and easy slow cooker beef barley soup recipe, homemade with simple ingredients. Loaded with Italian seasoning, vegetables, beef.
After sharing this popular recipe for One Pot Beef Barley Soup, I got a lot of requests for a crockpot version that I am sharing today. This is also known as "beef and barley soup."
It is a rich and flavorful meal that can be put together quickly, left in the crockpot, and then enjoyed by everyone at dinnertime. Soups are a wonderful comfort food in the Fall and Winter months, and appeal to adults and kids alike.
If you love crockpot soups as much as I do, then you should try this Slow Cooker Ministrone Soup or this Crockpot Chicken Noodle Soup. All of these soups are quick, hearty, and delicious enough to become regulars in your meal planning.
How to make slow cooker beef barley soup?
Add ingredients- Add cooked meat, carrots, onion, potatoes, celery, garlic, ginger, broth, wine, tomato paste, tomato sauce, mustard, Italian seasoning, salt, pepper, bay leaf, and barley in crockpot.
 Mix it- Stir all ingredients together.
Cook- Cover and cook on high for 4 hours.
Add veggies- Add frozen vegetables and mix.
Cook- Cover and cook for 2 hours
Garnish- Top with fresh chopped Parsley and enjoy!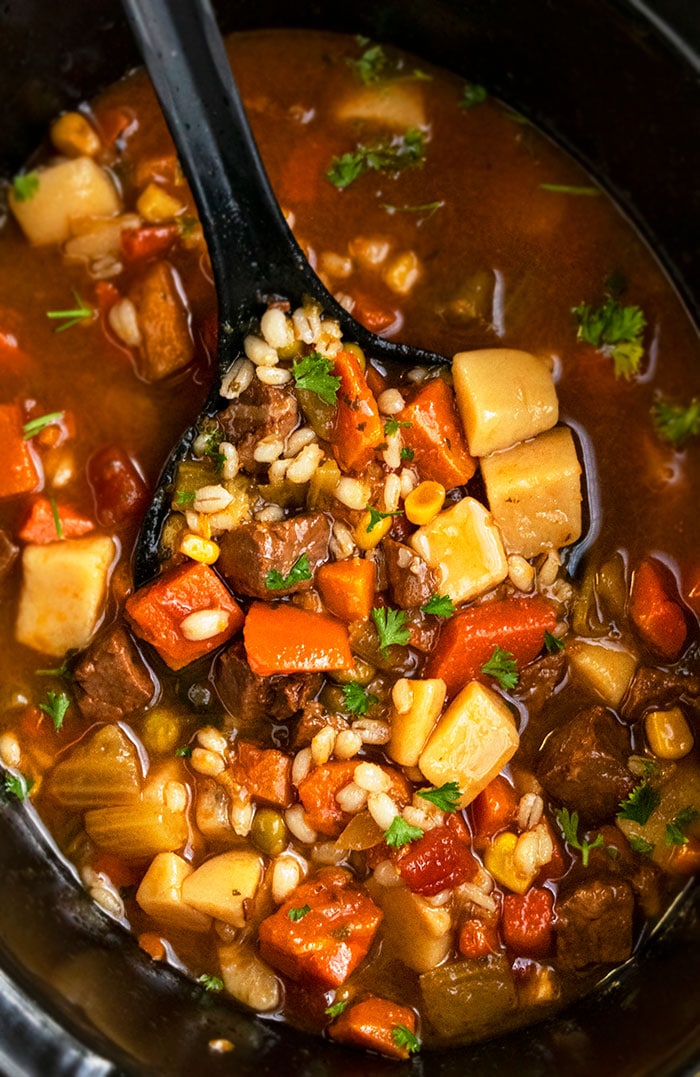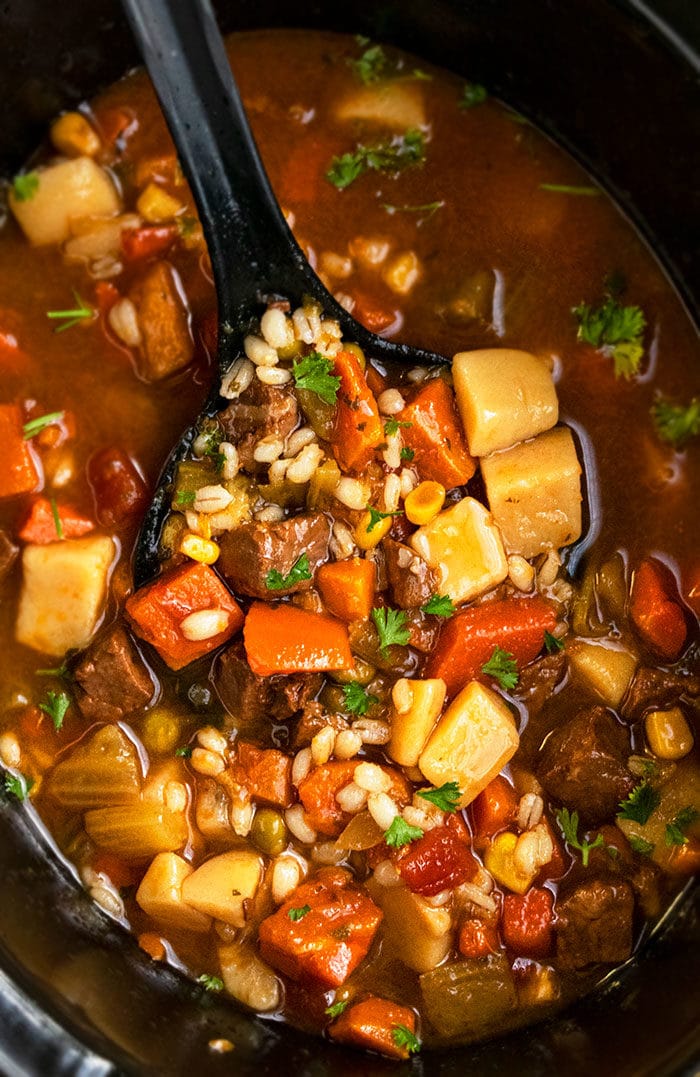 What sides to serve with vegetable beef barely soup recipe?
This soup is so filling that it can be enjoyed on its own and doesn't really need any additional sides. But, if you like, try some of these side dishes:
Grilled cheese sandwiches
Salads such as this simple and light Cucumber Tomato Salad (One Bowl)
Crackers
Breadsticks
Cornbread
Biscuits
Dinner rolls
Garlic bread
Crusty bread like Ciabatta for dipping
About barley
What is barley? Barley is a nutty flavored grain cereal and part of the grass family. It is high in fiber and protein, and contains many minerals such as magnesium and selenium. It is used in food recipes as well as beverages. There are quite a few varieties, making it very useful in breads, soup, beer, and as a flour.
Can you overcook barley? Yes, if you put soaked barley into the slow cooker it will overcook and disintegrate in the soup. If you put it in uncooked, it will not overcook in the time this recipe allots. If you are very concerned about this, you can always wait to add the soaked barley till the last 30 minutes to ensure it doesn't overcook.
Does barley freeze well? Yes it does freeze well! Make this soup ahead, freeze it, and pull it out for dinner on a rushed night!
Can I put uncooked barley in soup? Yes. Since this soup cooks for 6 hours, you do not need to cook it beforehand.
How long does it take to cook barley? Unsoaked barley takes a few hours to cook in the crockpot. If it is soaked, then it takes about 30 minutes to cook.
What is the difference between pearl and hulled barley? Hulled barley is the whole grain form of barley. It only has the outer shell of the grain removed. Pearl barley has the outer husk and the bran layers removed making the grain softer. The other big difference is cooking time. It takes hulled barley longer to cook. Either can be used in most recipes, but the cooking time may need to be adjusted based on which you use. I used pearl barley in today's recipe.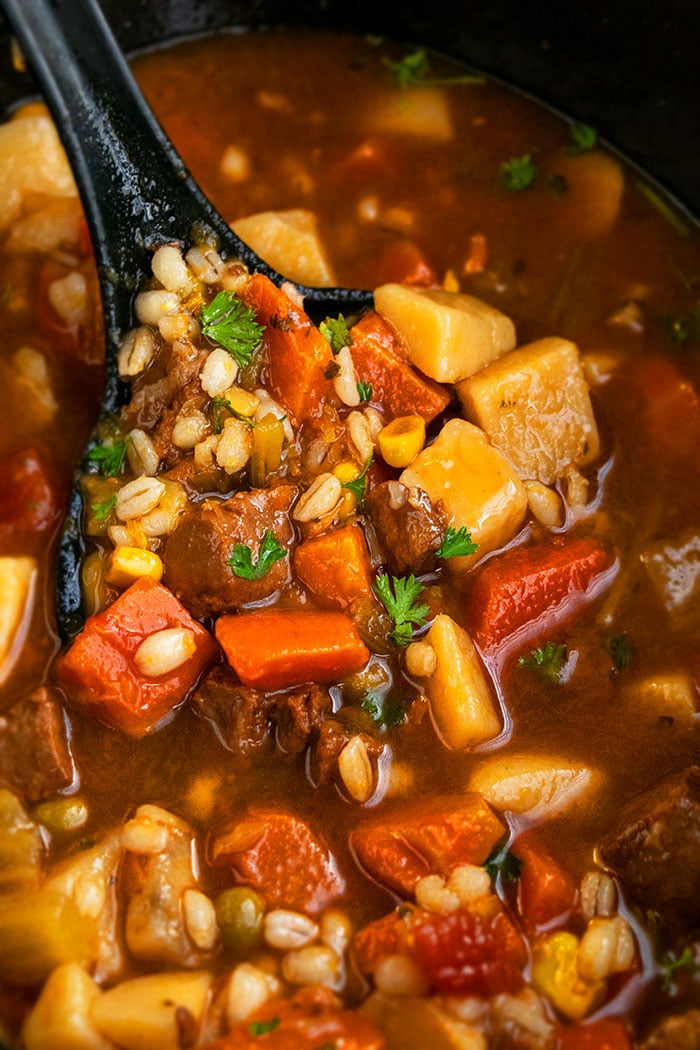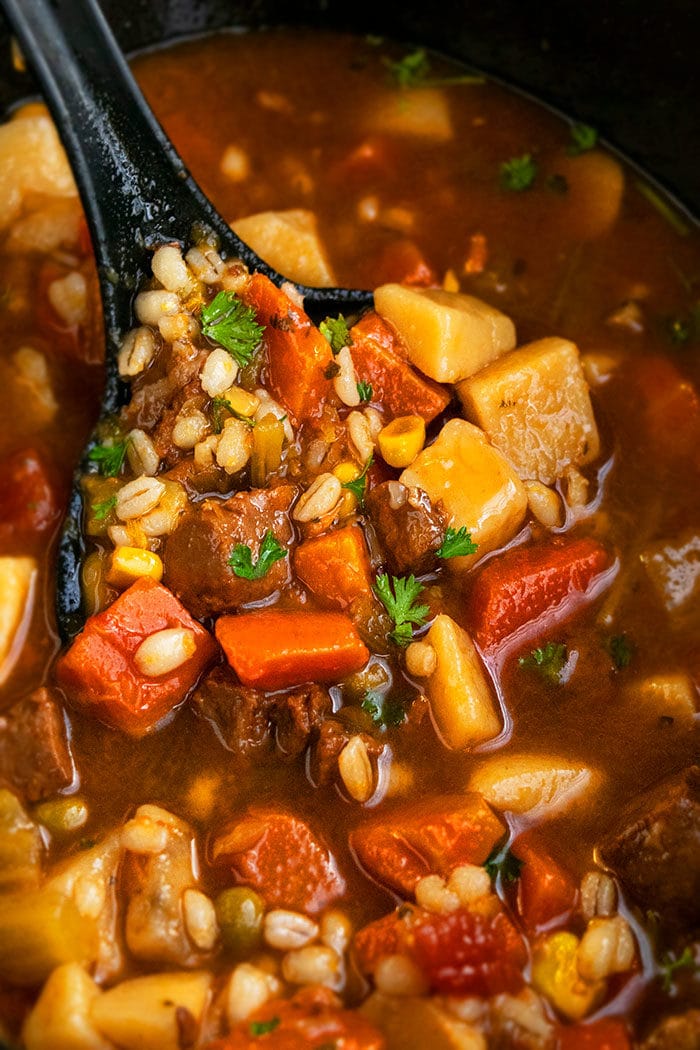 Variations
Add other meats- Such as chicken, Italian sausage, ham, or ground turkey.
Try other spices and herbs– Such as cajun spices like paprika, oregano, cayenne, garlic, pepper. Give it and Indian taste with cumin, ginger, black pepper, and a little nutmeg.
Add other vegetables- You can use fresh or frozen vegetables in this recipe. Remember to add fresh vegetables at the beginning of the crockpot cooking, and frozen towards the end. The fresh veggies take longer to cook and soften than the frozen ones. Try adding diced green peppers, zucchini, or sweet potatoes for a little change.
Add roasted vegetables– Add them, when you would add the frozen veggies to add another layer of flavor to this soup.
Beef barley mushroom soup– Add sliced mushrooms in the final 20-30 minutes or you can mix in cream of mushroom.
Add a different grain- Barley is similar in size and texture to brown rice so this makes a great alternative. You could also use a small pasta like ditalini, shells, or macaroni noodles.
Make it spicy- Add red pepper chili flakes for a little heat or cayenne for more heat.
Make it Asian – Use 1 cup of coconut milk, chili paste, garlic, kale, red bell peppers, and a little curry powder.
Make it Mexican- Add black beans, fire roasted jalapenos, and top with fresh avocado and Monterey jack cheese.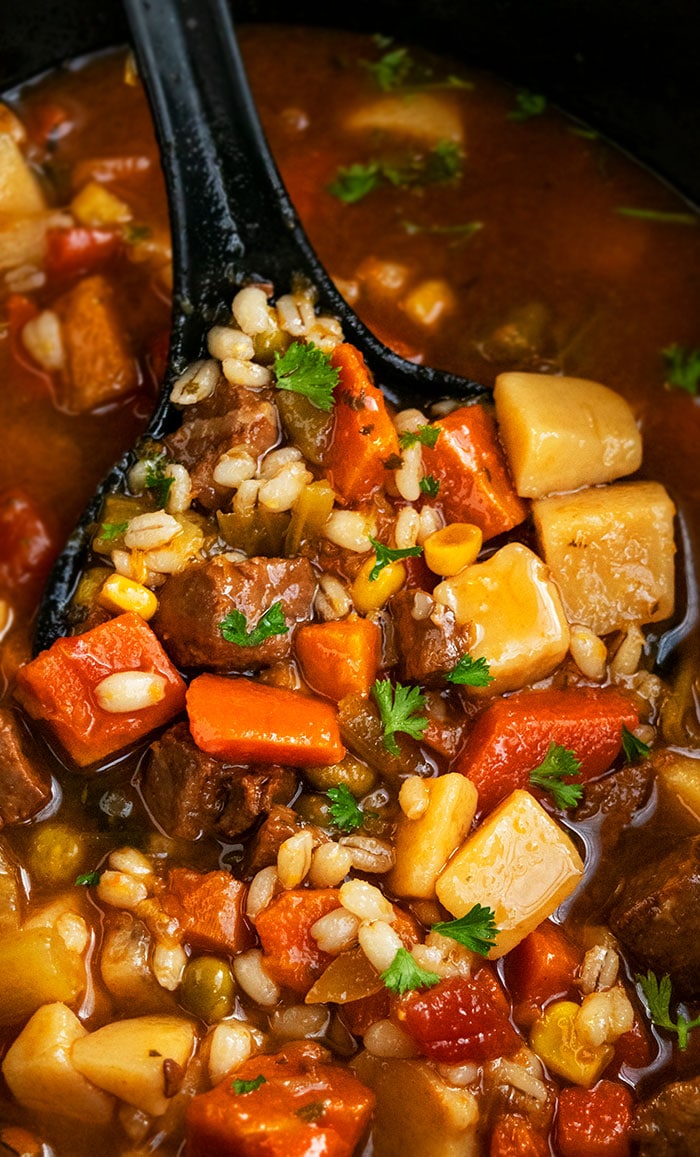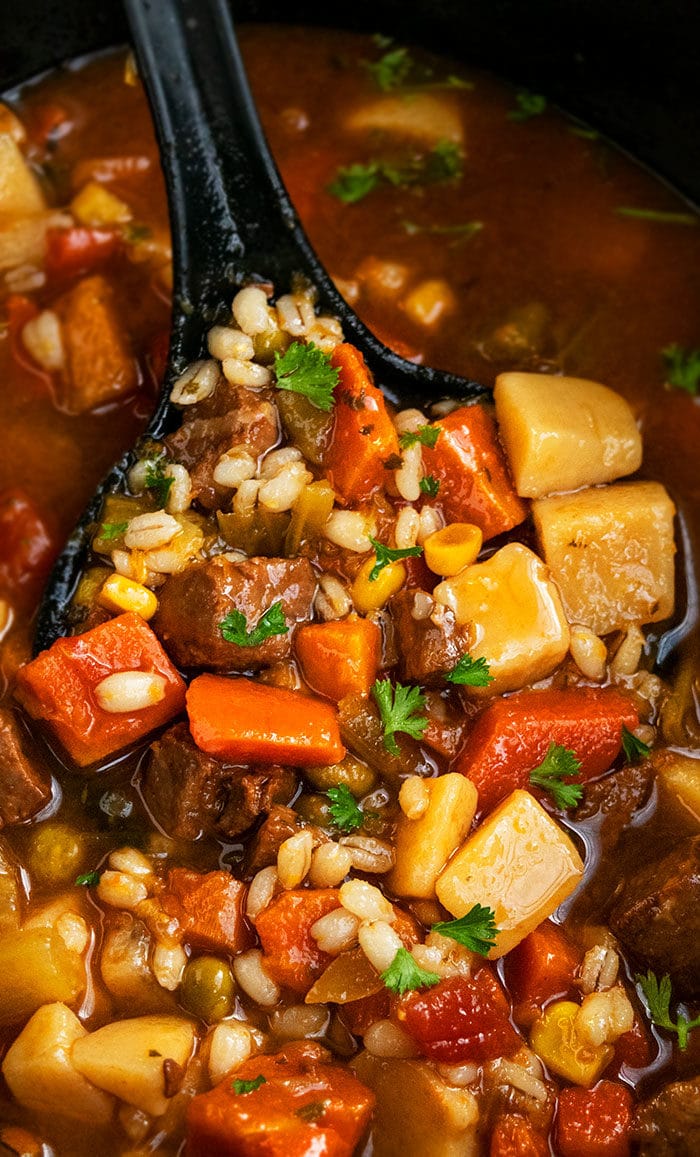 Tips and Techniques
Can you freeze slow cooker beef barley soup? Yes. However, omit the potatoes because they don't freeze well.
What meat to use? The most affordable and easy meat to use is cubed chuck roast, stew meat, or even flank steak. You could also use leftover pot roast, steak, or roast beef. Ground beef is another option. Just make sure to saute it in a nonstick pan first and drain the fat, before adding it to the soup.
Barley tendencies- Barley will absorb a lot of the broth in this soup as it sits and even when stored as leftovers. In order to combat this, simply add more broth when you reheat it, and serve it immediately before it has a chance to soak it all up. You can also soak/cook the barley separately and add it in the last 5 minutes or so.
How to thicken soup? There are a few simple options here. You can allow the soup to sit and let the barley absorb some of the liquid. Another option is to leave the lid of your crockpot open for the last 30 minutes to allow the steam to escape and the liquid to evaporate. You can also whisk together 2 tablespoons of flour with some water until it is smooth, and add it to the soup to thicken it. Yet another option is pureeing some of the potatoes and adding them back into the soup.
How to thin out soup? Simply add more broth!
Saute vegetables– This is an optional step but you can saute in some butter and olive oil in a nonstick pan before adding them in the slow cooker. This enhances the flavor.
How much barley to use? If you like thick chunky soup, use 3/4 cups of pearl barley or you can use less (about 1/2 cup), if you prefer a thinner soup.
Adjust amount of veggies and Italian seasoning– This is based on your preference. Add more or less of what you like and dislike.
Use low sodium broth– Because this prevents the meal from becoming too salty.
More soup recipes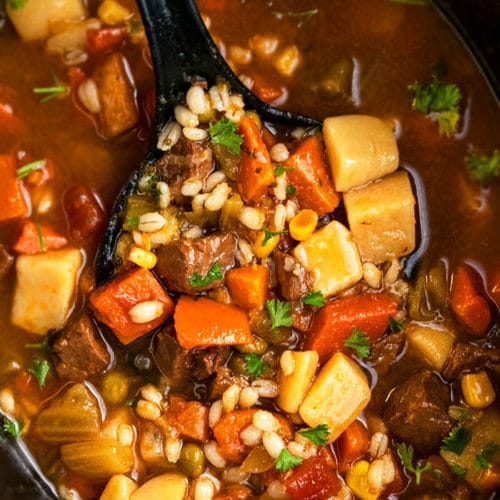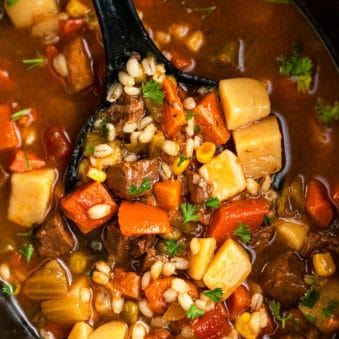 Crockpot Beef Barley Soup
Classic, hearty, quick and easy slow cooker beef barley soup recipe, homemade with simple ingredients. Loaded with Italian seasoning, vegetables, beef.
Yield: People
Ingredients
1.5 pounds Cooked stew meat cubes or chuck roast cubes, Can use leftovers from a previous meal
3-4 medium Carrots , Peeled, Diced
1.5 cups Onion, Finely chopped
3-4 medium Potatoes, Peeled, Cut into 1 inch cubes
2 stalks Celery , Diced
4 cloves Garlic, Minced
1 tsp Ginger, Finely chopped
6 cups Beef broth, Low sodium
1 cup Red wine, Optional, Or replace with beef broth
2 tbsp Tomato paste
1/3 cup Tomato sauce, Or crushed tomatoes
1 tbsp Dijon mustard
1-2 tbsp Italian seasoning
Salt, To taste
Pepper, To taste
1 Bay leaf
3/4 cup Pearl barley
3/4 cup Frozen vegetables, Use a blend of your favorite veggies
1-2 tbsp Parsley, Fresh, Finely chopped, For garnish
Instructions
In a slow cooker, add cooked meat.If you don't have cooked meat, heat 2 tbsp butter and 2 tbsp oil in a nonstick pan and saute beef over medium-high heat until golden brown. Then, add this into a crockpot.

Add carrots, onion, potatoes, celery, garlic, ginger, broth, wine, tomato paste, tomato sauce, mustard, Italian seasoning, salt, pepper, bay leaf, barley. Mix until combined.

Cover and cook on High heat for 4 hours.

Then, mix in frozen vegetables.

Cover and cook on low heat for 2 hours.

Garnish with finely chopped fresh parsley. Enjoy!
Notes
Read all my tips above.
Leftovers can be stored in a sealed container in the fridge for up to 3 days. 
Nutrition
Calories: 465kcal, Carbohydrates: 47g, Protein: 32g, Fat: 14g, Saturated Fat: 6g, Cholesterol: 78mg, Sodium: 1186mg, Potassium: 1423mg, Fiber: 10g, Sugar: 5g, Vitamin A: 6533IU, Vitamin C: 23mg, Calcium: 127mg, Iron: 8mg
Happy cooking everyone!