Curried Butternut Squash Soup (One Pot)
Quick and easy butternut squash soup recipe, homemade with simple ingredients in one pot over stovetop in 30 minutes. Smooth and creamy, slightly spicy with curry flavors. Also known as "butternut soup" or "Autumn squash soup."
All kinds of flavorful squashes are available during Fall and you can out it to good use in today's recipe, which is hearty and comforting. It's just as delicious as my Carrot Ginger Soup and this Sweet Potato Soup.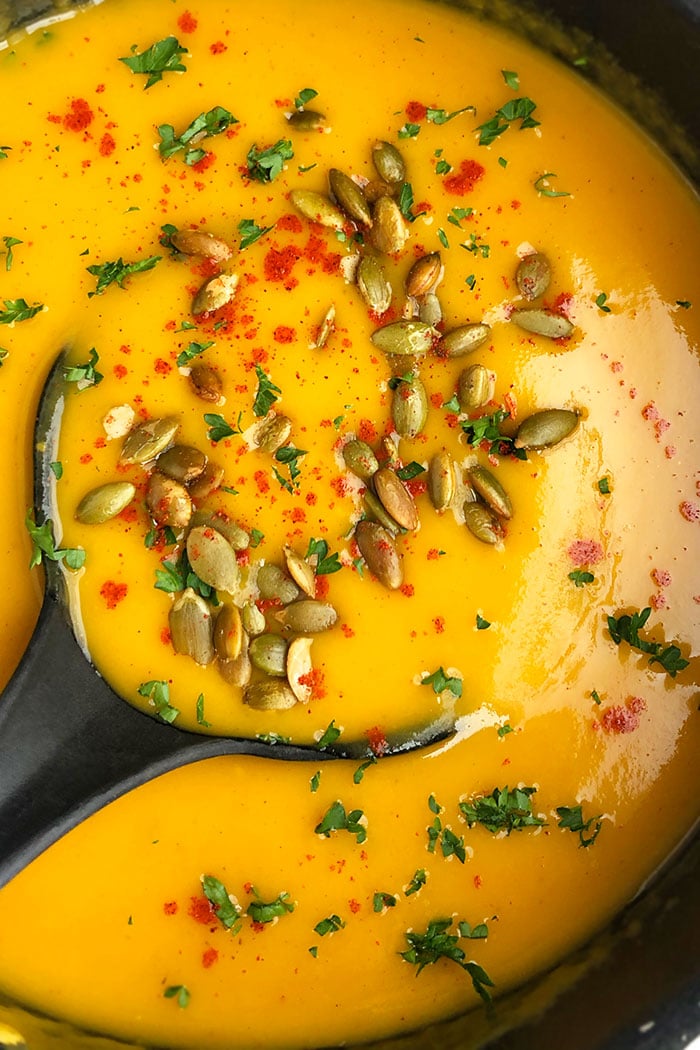 How to make butternut squash soup from scratch?
Saute ingredients in butter- This includes onion, garlic, ginger, butternut squash.
Add seasonings- This includes salt, pepper, curry powder, red chili flakes, cinnamon powder.
Mix- Until combined.
Add remaining ingredients- This includes coconut milk, vegetable broth, maple syrup.
Cover and cook- Until squash in tender.
Puree soup– Use a hand-held immersion blender until soup is smooth and creamy.
Cook uncovered– Until soup is reduced and thickened.
Enjoy- Garnish with parsley, pumpkin seeds and dig in!
What sides to serve with best butternut squash soup recipe?
Bread is the obvious choice because you can dip it into the soup. Try ciabatta bread, dinner rolls, breadsticks, garlic bread, or homemade biscuits. This soup also pairs very well with the Best Grilled Cheese Sandwich (One Pan) and this Cucumber Sandwich (One Pan).
A simple salad without any over-powering dressings and vinaigrettes would also pair well with soup. Try it with this Thanksgiving Salad (One Pot) or Harvest Fall Salad (One Bowl).
If you want to make this meal very filling, serve it alongside pasta like this Basil Pesto Pasta Salad (One Bowl) or this Italian tortellini salad or even this Tomato Basil Pasta (One Pot).
Homemade curry powder (Curry powder substitute)
Mix together the following ingredients and store in a sealed jar at room temperature for up to 3 months.
2 tbsp coriander powder
2 tbsp cumin powder
1 1/2 tbsp turmeric powder
2 tsp ginger powder
1 tsp dry mustard powder
1/2 tsp black pepper
1 tsp cinnamon powder
1/2 tsp cardamom powder
1/2 tsp cayenne pepper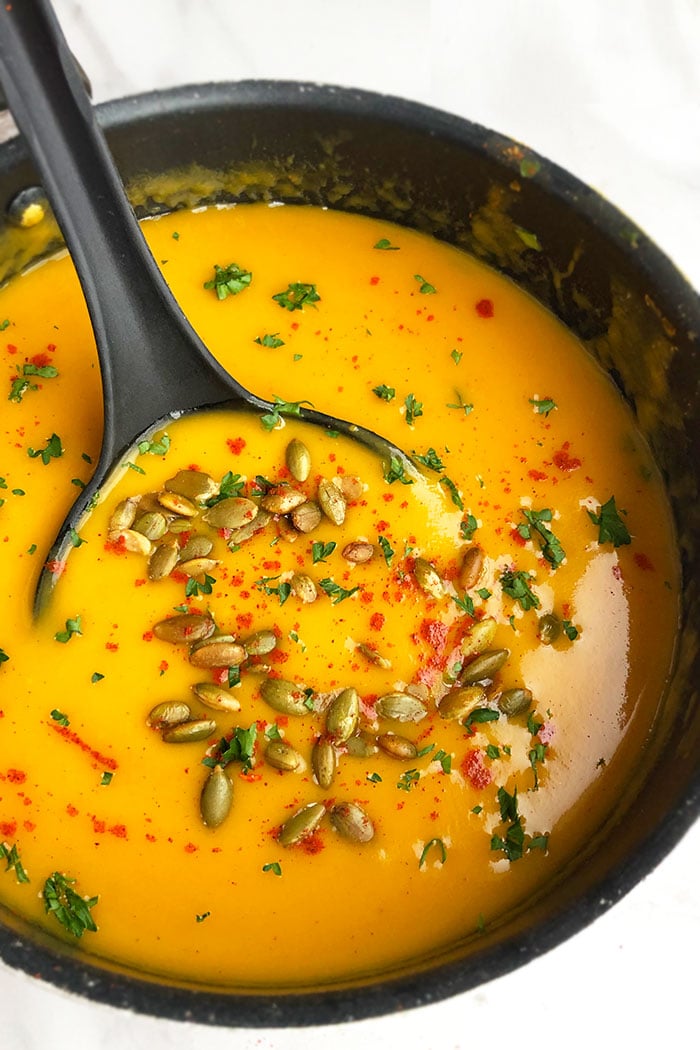 Variations
Add bacon– At the end, sprinkle crumbled bacon on top which adds a lovely salty crunch.
Roasted butternut squash soup- Roast the squash cubes in oven first and that enhances the flavor even further.
Butternut squash and sweet potato soup– Peel and dice 1 medium size sweet potato and and saute that along with the other veggies.
Make it creamy– Near the end, mix in heavy cream or half and half or coconut milk.
Add apples– Peel, core and dice one apple and saute that along with the butternut squash.
Butternut pumpkin soup- Add 1 cup peeled and diced pumpkin in this recipe.
Soup garnish and topping options- Add fresh herbs like parsley, chives, cilantro, green onions. Nuts and seeds like walnuts, almonds, pecans, pumpkin seeds, sesame seeds can also be sprinkled on top. Seasonings like black pepper, red chili flakes or paprika can also be garnished. You can even drizzle some coconut milk or heavy cream or add a dollop of soup cream, prior to serving.
Make a chunky soup- Blend only half or your soup.
Add vegetables- Such as regular potatoes, sweet potatoes, tomatoes, celery, broccoli, cauliflower or a medley of frozen veggies.
Add meat or other proteins– Mix in cooked shredded rotisserie chicken, turkey or beef.
Make it spicy– Mix in more red chili flakes.
Tips and Techniques
Do you need to peel butternut squash for soup? Can you leave the skin on? It's best to peel it for best flavor, texture and appearance.
How to thicken soup? Let it cook uncovered until excess liquid is reduced and desired thickness is achieved. Mixing in heavy cream and thick coconut milk can also work as a thickening agent.
How to make soup thinner? Mix in some broth or water.
Cut butternut squash into small pieces- The smaller size allows it to cook faster.
Use nonstick pot– Because it prevents sticking and burning and clean-up is easier.
Adjust amount of seasonings– Add more or less of whatever seasonings you like or dislike.
How to choose the right butternut squash for cooking? Choose a bright orange and vibrant squash. Pale yellow ones will not be ripe and will not yield a good flavor to your soup.
Use low sodium broth– Because that prevents the soup from becoming too salty.
Serve it hot or cold? This soup is best served hot.
Coconut milk substitute– This can be replaced with heavy cream or half and half.
Use full fat coconut milk– Because that yields maximum richness and creaminess.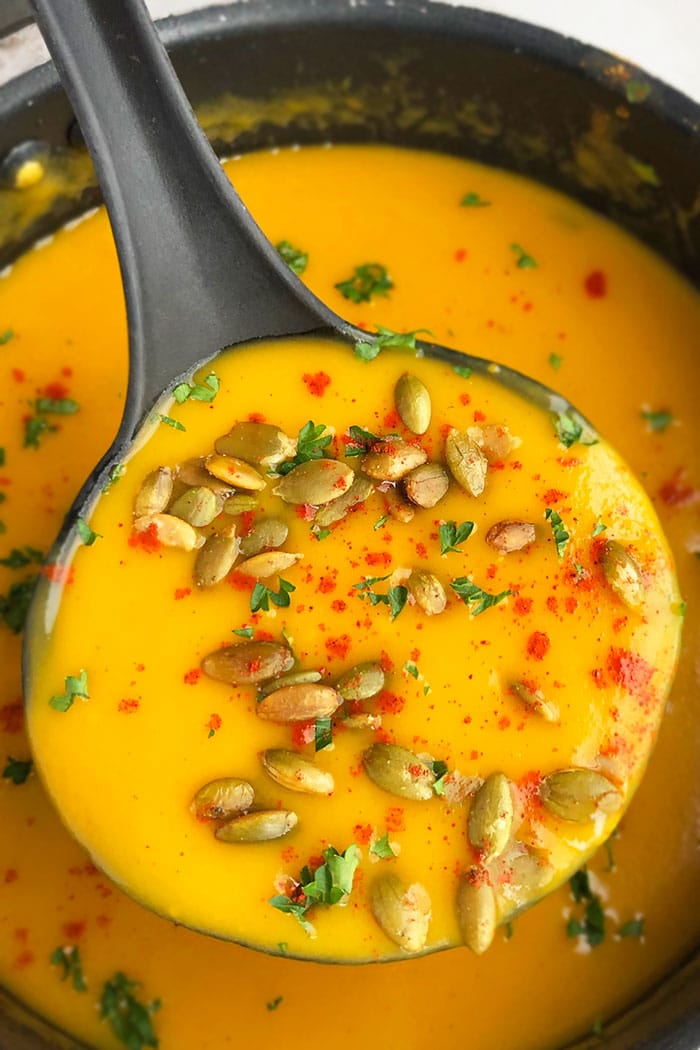 Storage
Refrigerate- In a sealed container for up to 3 days.
Freeze- In a freezer safe container for up to 1 month.
Reheat– In the microwave or on the stovetop. Additional broth can be added, if necessary.
More One Pot Soup Recipes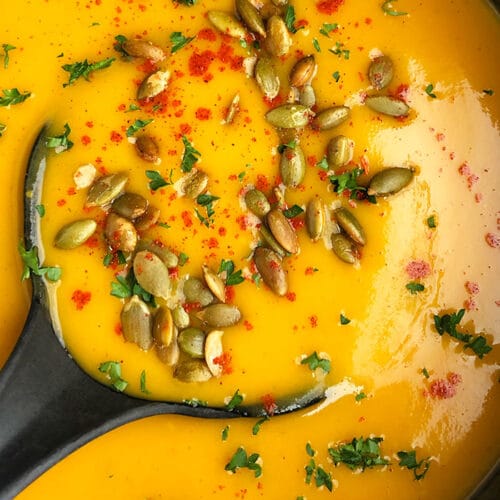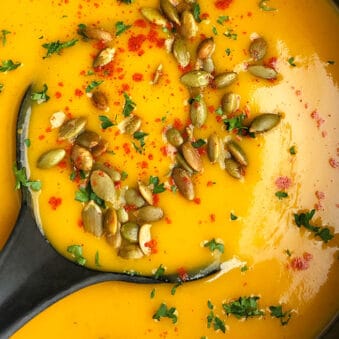 One Pot Curried Butternut Squash Soup
Quick, easy curried butternut squash soup recipe, homemade with simple ingredients in one pot over stovetop in 30 minutes. Smooth and creamy.
Yield: People
Ingredients
1 tbsp Butter, Unsalted
1 tbsp Oil
1 cup Onions, Finely chopped
3 cloves Garlic, Finely minced
1 tsp Ginger, Finely grated
1 Butternut squash, Medium size, Peeled, Chopped into small 1 inch cubes
Salt, To taste
Pepper, To taste
1-2 tbsp Curry powder, Or Thai red curry paste is another optional
1/2 tsp Red chili flakes, Optional
1/4 tsp Cinnamon powder, Optional
1 can Coconut milk, 14 oz. can
2 cups Vegetable broth, Low sodium
1-2 tbsp Maple syrup
Instructions
Heat butter and oil in a large nonstick pot over medium-high heat.

Add onions and saute until tender and translucent.

Add garlic, ginger and saute until fragrant.

Add butternut squash, salt, pepper, curry powder, red chili flakes, cinnamon powder and mix to combine everything together.

Stir fry for about 5 minutes.

Add coconut milk, vegetable broth, maple syrup.

Mix and bring to a boil.

Cover and cook for about 15 minutes or until squash in tender.

Then, turn off heat and use a hand-held immersion blender to puree the soup until smooth and creamy.

Turn on the heat to medium-high again and cook uncovered until soup is reduced and thickened to your desired consistency.

Taste the soup and adjust seasonings by adding some more curry powder or salt e.t.c.

Garnish with some roasted pumpkin seeds or squash seeds and a dash of paprika. Enjoy!
Notes
Read all my tips above.
Leftovers can be stored in a sealed container in the fridge for up to 3 days. This soup can also be frozen in a sealed airtight container for up to 1 month and heated in the microwave or stovetop. 
Nutrition
Calories: 374kcal, Carbohydrates: 35g, Protein: 5g, Fat: 27g, Saturated Fat: 20g, Cholesterol: 8mg, Sodium: 523mg, Potassium: 973mg, Fiber: 5g, Sugar: 10g, Vitamin A: 20360IU, Vitamin C: 44mg, Calcium: 133mg, Iron: 5mg