Best Cabbage Soup (One Pot)
The best, quick and easy cabbage soup recipe, homemade with simple ingredients over stovetop in 30 minutes. Loaded with shredded cabbage, vegetables and stewed tomatoes. It's healthy, hearty and flavored with dried Italian herbs. Also known as "weight loss soup."
This is a delicious soup that's full of flavor and loaded with healthy ingredients, and comes together so quickly. It is the perfect dish to make if you meal prep for lunch throughout the week. The flavors will only deepen with time so it makes an excellent choice. Fried Sausage And Cabbage (One Pot) and Fried Cabbage with Bacon (One Pot), are two additional great ways to get some cabbage into your meal plan.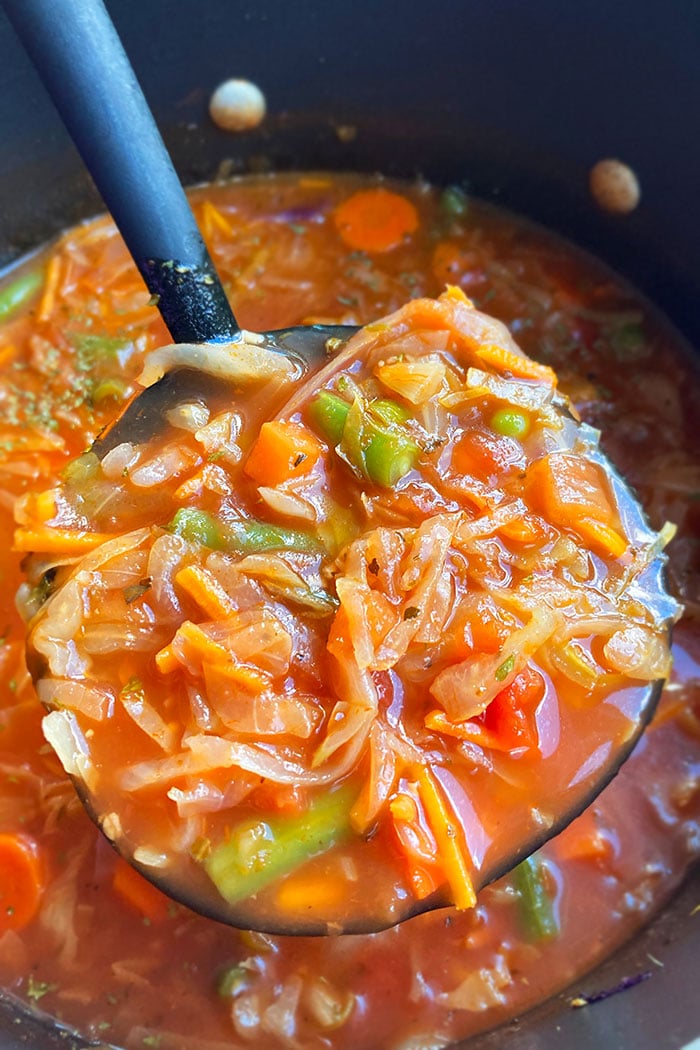 How to make Best Cabbage Soup from scratch?
Saute ingredients– This includes onions and garlic.
Add remaining ingredients- This includes broth, stewed tomatoes, cabbage, celery, frozen vegetables, salt, pepper, Italian seasoning.
Mix– Until combined.
Cook– Uncovered
Add lemon juice- A small amount goes a long way.
Enjoy– Garnish with fresh parsley and dig in!
What sides to serve with Best Cabbage Soup recipe?
Sides that can be dipped like bread are a great choice such as buttermilk biscuits, dinner rolls, garlic bread, breadsticks, crusty artisan bread.
Sandwiches are also delicious with or dipped into this soup. Try these:
Of course, you can't go wrong with a salad. Serve any of these:
If you want to make this meal very filling, serve it alongside pasta like this:
Storage
Refrigerate– Store leftovers in a sealed container for up to 3 days
Freeze- In a freezer safe container or bag for up to 1 month.
Reheat- In the microwave or on the stovetop.
Variations
Red cabbage soup– Use red instead of or in addition to the green cabbage.
Vegetable soup with cabbage– Combine this Easy Vegetable Soup (One Pot) with the cabbage for a hearty and veggie filled version.
Ham and cabbage soup– Add leftover Slow Cooker Ham for a protein packed soup.
Hamburger cabbage soup– Add ground beef for a very filling meal. You can also use other types of ground beef like chicken or turkey.
Chicken cabbage soup– Add leftover chicken. It could be from a previous meal or rotisserie. Shred it, slice it or dice it.
Beef cabbage soup– Add beef from leftover roasts like this Instant Pot Pot Roast or this Instant Pot Red Wine Pot Roast.
Add sausage– Such as Italian, kielbasa, or andouille for additional flavor and heartiness.
Add beans- Such as black, red, garbanzo, or cannelini beans.
Mix in potatoes– This could be cubed white potatoes, or even sweet potatoes.
Make it creamy– Add heavy cream or full-fat coconut milk. Please note that coconut milk will add a distinct flavor.
Give it a spicy kick– Add crushed red chili flakes, cayenne pepper.
Try other seasonings- Such as Mexican, Cajun, or Indian blends for a flavor twist.
Garnish options– Try a dollop of sour cream, fresh herbs like cilantro, parsley, chives. You can also add avocado slices, fried garlic, or crispy fried onions.
Make it hearty– Mix in pasta, or couscous or quinoa or rice. It should be pre-cooked. Please note that the soup will get thicker as the grains absorb all the broth. Additional broth can be added to thin it out again.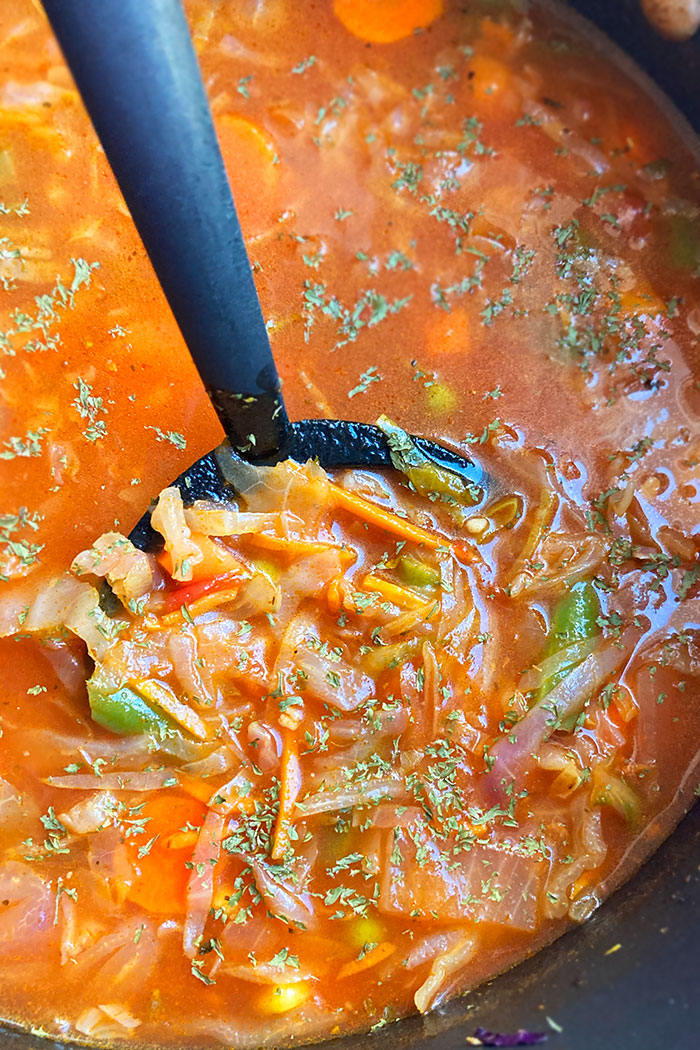 Tips and Techniques
This is different than cabbage roll soup– This soup does not contain rice or ground beef like cabbage roll soup. It is a lighter and lower calorie option.
How to make soup thicker? Continue cooking without lid until liquid is reduced to your desired thickness.
How to make soup thinner? Add more broth or water.
Use low sodium ingredients- Because that prevents the meal from becoming too salty. Especially with regards to butter and broth.
What kind of cabbage to use? I use a small sized green cabbage, but you can also use a bag of shredded coleslaw mix instead, or red cabbage if you prefer.
What kind of vegetables to use? I use a bag of frozen mixed vegetables, but you can use whatever you prefer.
Don't drain the stewed tomatoes– You can add the tomatoes and liquid into the soup because it all adds a lot of flavor.
Adjust seasoning– Add more or less based on your personal preference.
Use nonstick pot– Because it prevents sticking and burning and clean-up is easier.
Use low sodium broth and butter– Because that prevents the soup from becoming too salty.
Serve it hot or cold? This soup is best served hot.
Lemon juice vs. Lime juice– Lemon just tastes better in this soup.
More One Pot Soup Recipes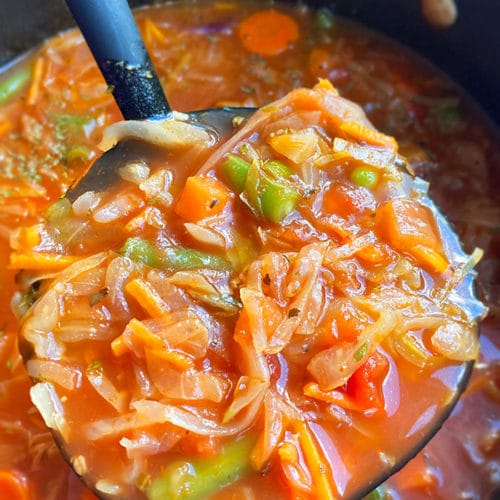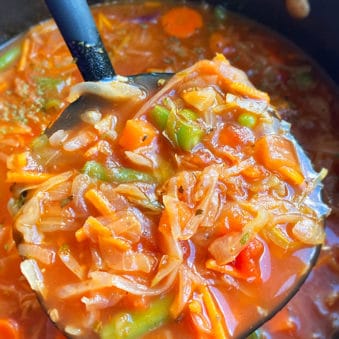 One Pot Cabbage Soup
Quick and easy cabbage soup recipe, homemade with simple ingredients over stovetop in 30 minutes. Loaded with shredded cabbage, vegetables and stewed tomatoes.
Yield: People
Ingredients
2 tbsp Olive oil
2 tbsp Butter, Unsalted
1 cup Onion, Finely chopped
2 cloves Garlic, Finely minced
8 cups Broth , Chicken or vegetable based, Low sodium
1 can Stewed tomatoes, 14.5 oz. can
1 Cabbage, Small size, Shredded, Can be roughly chopped instead, Can also use a bag of shredded coleslaw mix instead, About 4 packed cups
2 stalks Celery, Diced
1 cup Frozen vegetables, Combination of green beans, carrots, peas, corn
Salt, To taste
Pepper, To taste
1-2 tsp Italian seasoning, Adjust according to your taste
1-2 tsp Lemon juice, Adjust according to your taste
1 tbsp Parsley, Fresh, Roughly chopped
Instructions
Heat oil and butter in a large nonstick pot over medium-high heat.

Add onions, garlic and saute until garlic is fragrant and onion is translucent.

Add broth, stewed tomatoes, cabbage, celery, frozen vegetables, salt, pepper, Italian seasoning and mix until combined.

Cook uncovered for 20-30 minutes over Medium heat until all the vegetables are tender and the flavors have developed.

Remove from heat and mix in 1-2 tsp lemon juice.

Garnish with fresh parsley and enjoy!
Notes
Read all my tips above.
Leftovers can be stored in a sealed container in the fridge for up to 3 days and reheated in the microwave. 
Nutrition
Calories: 108kcal, Carbohydrates: 19g, Protein: 3g, Fat: 4g, Saturated Fat: 2g, Cholesterol: 8mg, Sodium: 1150mg, Potassium: 403mg, Fiber: 5g, Sugar: 9g, Vitamin A: 2037IU, Vitamin C: 51mg, Calcium: 82mg, Iron: 2mg