Eggplant Pizza (One Pan)
Quick and easy eggplant pizza recipe, homemade with simple ingredients in one pan in 20 minutes. Vegetarian, gluten free, low carb, healthy alternative to regular pizza! Can be served as a main dish or appetizer.
This Zucchini Pizza (One Pan) and Portobello Mushroom Pizza (One Pan) are both very unique pizzas that are so much healthier than the classic version. Even some picky children approve of them, as well as today's recipe, that's inspired by Julia Child's eggplant pizza.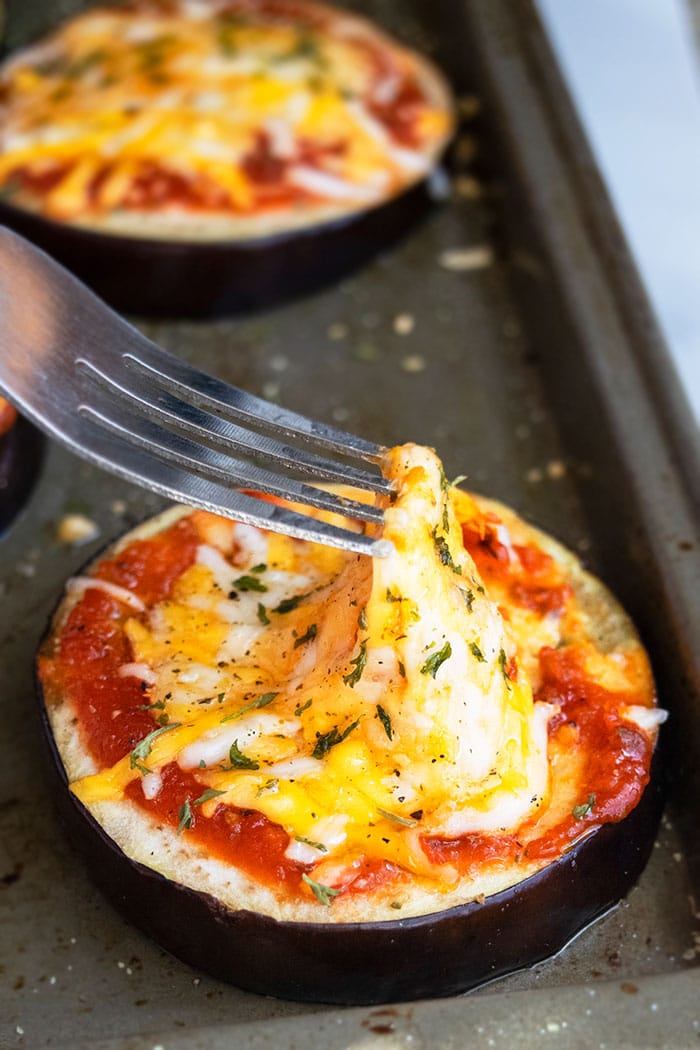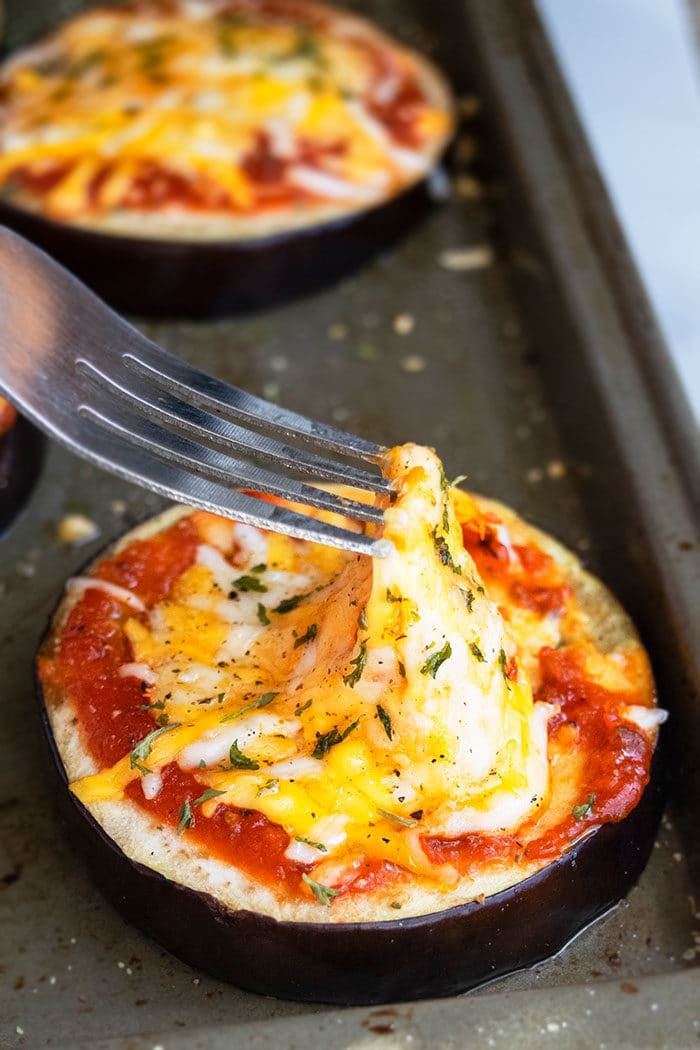 How to make eggplant pizza?
Slice eggplants.
Place them on baking tray.
Coat them in oil, salt, pepper.
Bake.
Spread pizza sauce and sprinkle cheese and Italian seasoning.
Broil.
Garnish.
Enjoy!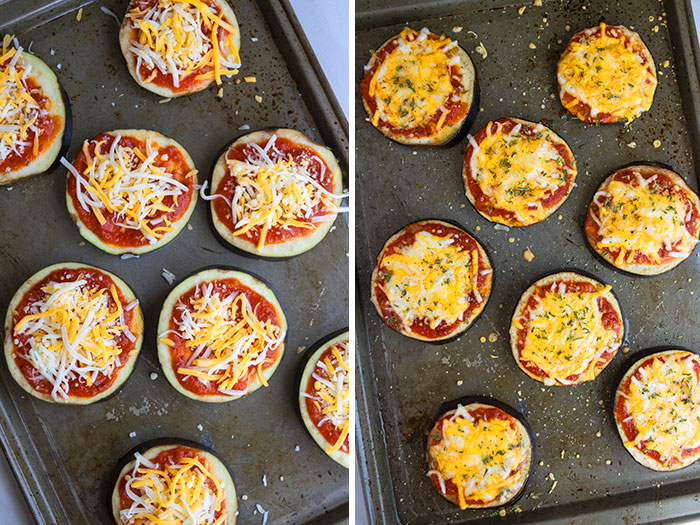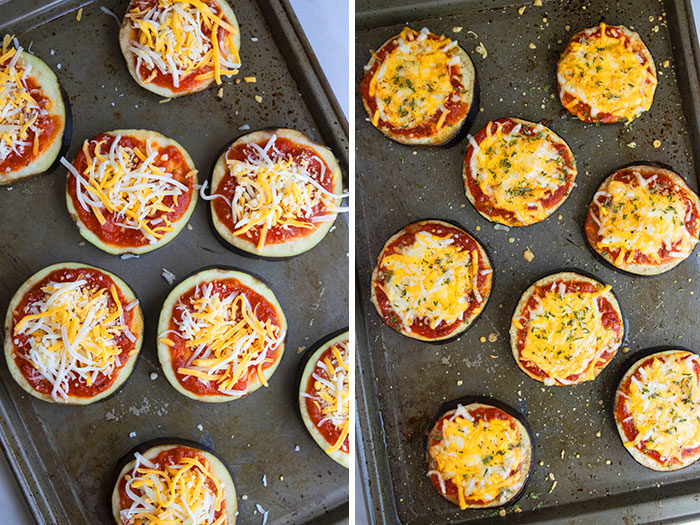 What sides to serve with eggplant pizza recipe?
Honestly, nothing is really necessary to be served on the side because it's great on its own. However, if you really want one, then, think of what you would typically order as a side dish with pizza. Those same items will also compliment this healthy pizza. Some family favorites are:
Do you have to sweat eggplants? Do you need to salt them before cooking?
I don't do it in the recipe below and believe that it's an unnecessary step. If you are frying eggplants, you should definitely salt them first but for baking or grilling, it doesn't make a difference.
How to do this? You can sweat eggplants by placing slices on paper towels, sprinkling them with salt and letting it sit for 10- 15 minutes. Use more paper towels to wipe the pieces dry and this will also remove all that salt.
Why do people do this anyways? Well, some believe that it draws out the bitter flavor from eggplants. Others say that it makes it less spongy because the salt extracts liquid from the eggplant, making it firmer during baking.
Eggplant pizza toppings
Just like a regular pizza, you can add any toppings you like to this flourless low carb eggplant pizza crust. The possibilities are endless. Here are some ideas:
Olives– Green or black olives or both.
Peppers– Variety of red, yellow, green and orange.
Mushrooms– Small ones are best. Thinly slice them.
Cheese– Such as mozzarella, cheddar, parmesan, feta, provolone e.t.c
Meat– Such as shredded or cubed chicken, beef (steak), bacon, ham, mini pepperoni, sausage. All meats should be cooked. Leftover baked or grilled meat and even store-bought rotisserie chicken work very well.
Onions– Thinly sliced red onions are amazing.
Spinach– Use frozen but thaw and drain excess water.
Basil– Fresh leaves are best.
Tomatoes– Halved cherry tomatoes or slices of Roma tomatoes.
Pineapples– Canned or fresh. Creates a tropical Hawaiian flavor.
Red chili flakes– For a spicy kick.
Pesto sauce– Replace tomato sauce with store-bought or homemade pesto sauce.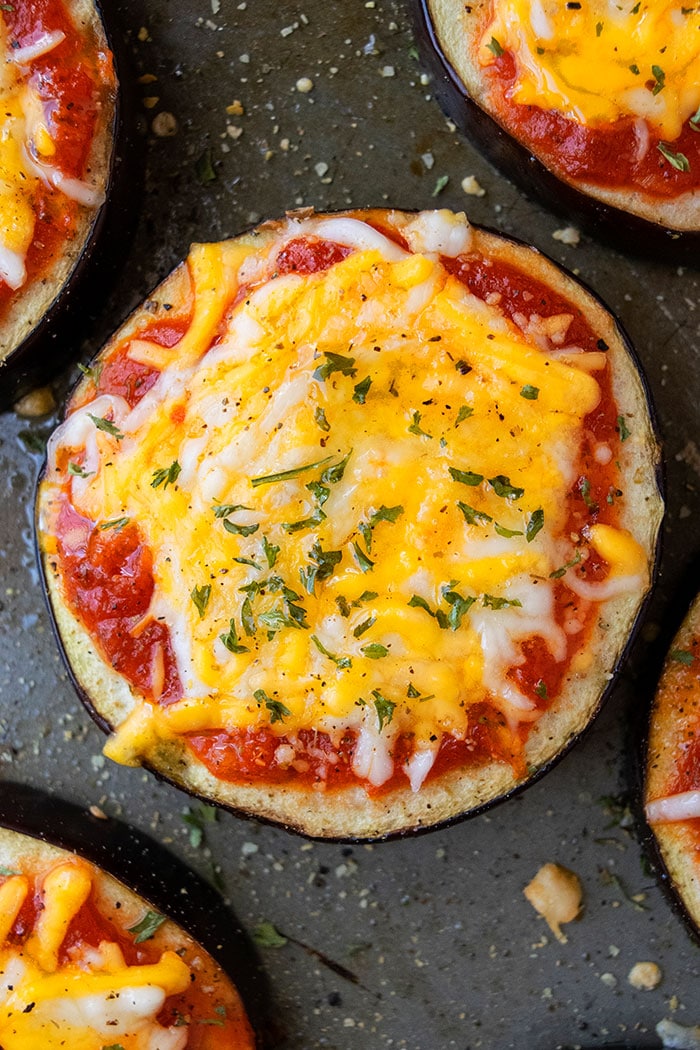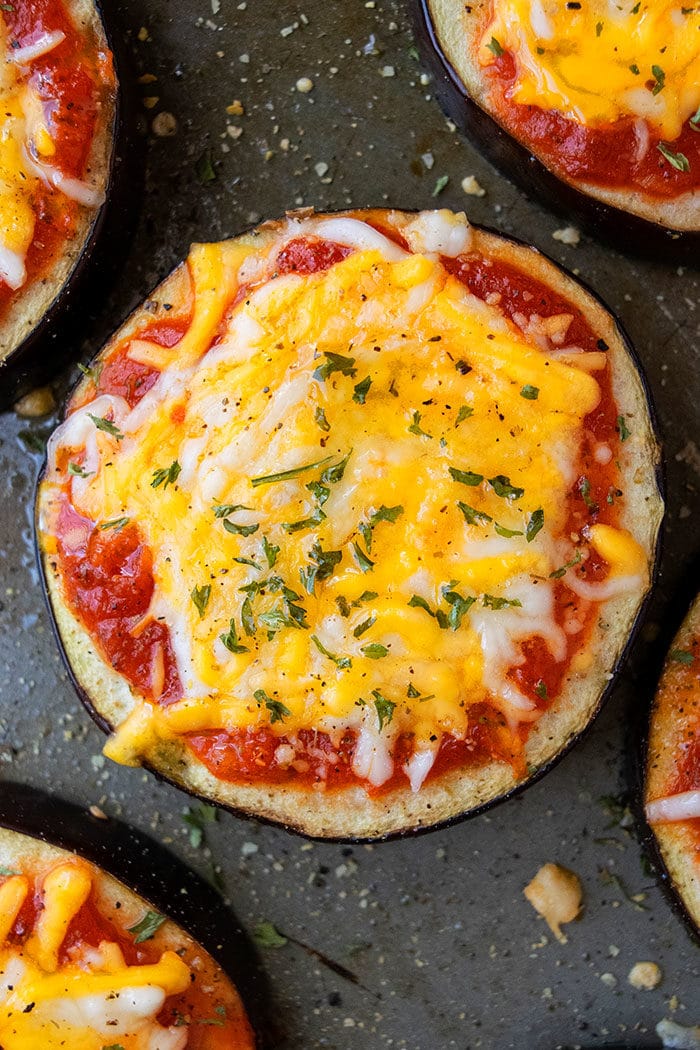 Tips and Techniques
If you are using meat– It must be cooked beforehand.
Don't over-bake– Because that will cause the eggplants to release a lot of water and make a huge mess.
Serve immediately- They taste the best when they come out of the oven. I don't recommend refrigerating leftovers because they don't taste that good afterwards.
Space out slices– Make sure slices are spread and not placed close together because this will allow them to bake quickly and evenly.
Make mini eggplant pizza bites– Use small eggplants and they would make the perfect bite-sized appetizer.
Eggplant parmesan pizza- If you love parmesan cheese, replace mozzarella with just that.
Bake or grill pizza? Both options work well. However, baking is more convenient during Winter when it's impossible to fire up the grill.
Line tray with parchment paper– Because this prevents the slices from sticking to the pan or burning.
Cut thick slices– They should have a half inch thickness. If they are very thin, they will shrivel up a lot and can even burn during baking/ broiling.
More Vegetarian Meals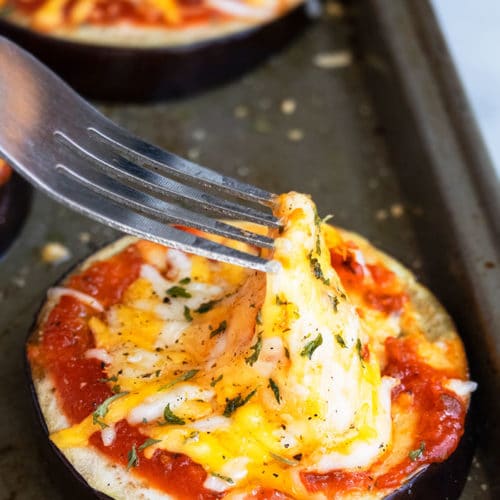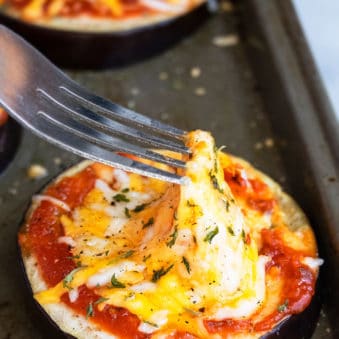 One Pan Eggplant Pizza
Quick and easy eggplant pizza recipe, homemade with simple ingredients in one pan in 20 minutes. Vegetarian, low carb, healthy alternative to regular pizza!
Yield: People
Instructions
Arrange the eggplant slices on a baking tray, lined with parchment paper.


Drizzle olive oil over them.

Sprinkle salt and pepper.

Toss them around or use your fingers to evenly oil the top and bottom sides.

Bake at 450 degrees F for 15 minutes or until golden brown.

Remove tray from oven.

Spread pizza sauce on top of each slice.

Sprinkle cheeses on top of the sauce.

Toss some Italian seasoning on each slice.

Return tray to oven and broil at 500 degrees F for about 5 minutes or until cheese is fully melted and bubbly.

Garnish with finely chopped parsley or basil.

Serve immediately and enjoy!
Notes
Read all my tips above.
Tastes best when served immediately. I don't recommend storing leftovers because they don't taste that good, when reheated.
Nutrition
Calories: 183kcal, Carbohydrates: 9g, Protein: 11g, Fat: 11g, Saturated Fat: 6g, Cholesterol: 36mg, Sodium: 488mg, Potassium: 398mg, Fiber: 4g, Sugar: 5g, Vitamin A: 505IU, Vitamin C: 4.7mg, Calcium: 265mg, Iron: 1mg
Happy cooking everyone!