Slow Cooker Mac and Cheese
The best, quick and easy slow cooker mac and cheese recipe, homemade with simple ingredients. Super creamy, loaded with cheese (cream cheese, cheddar, mozzarella, parmesan). No Velveeta and requires no boil pasta/ uncooked noodles.
If you are crazy about this Instant Pot Mac and Cheese and One Pot Mac and Cheese as much as me, you have to try today's recipe immediately.
This is the easiest meal you will ever make that kids and adults, both enjoy. You just throw everything in a crockpot, cook and dig in! Tender macaronis are loaded with the most creamy cheese sauce ever, composed of 3 cheeses!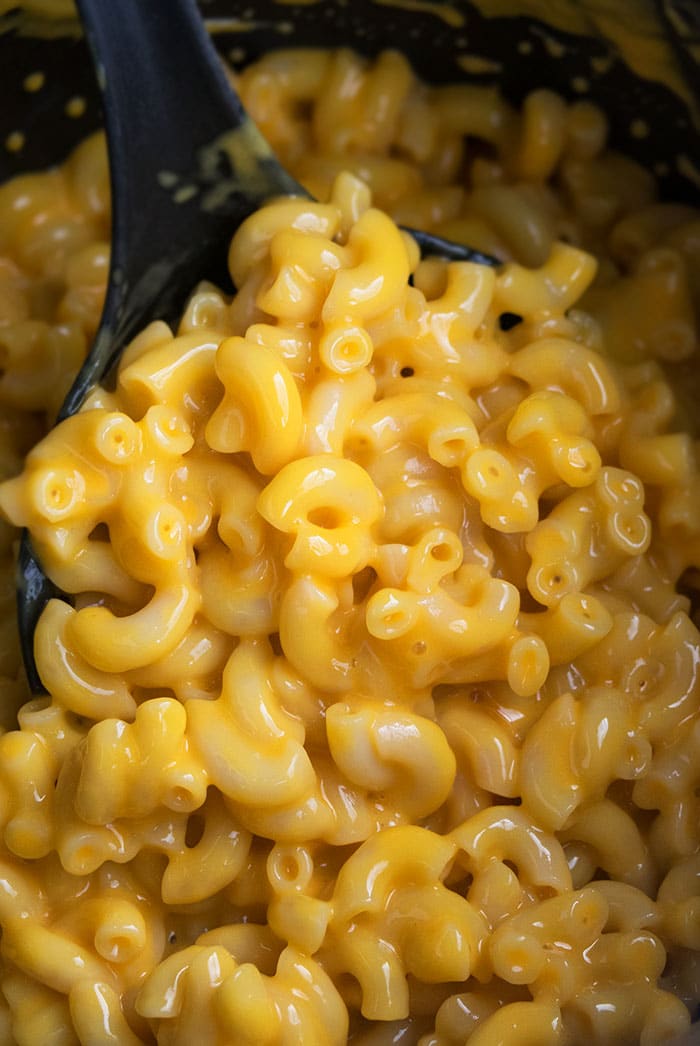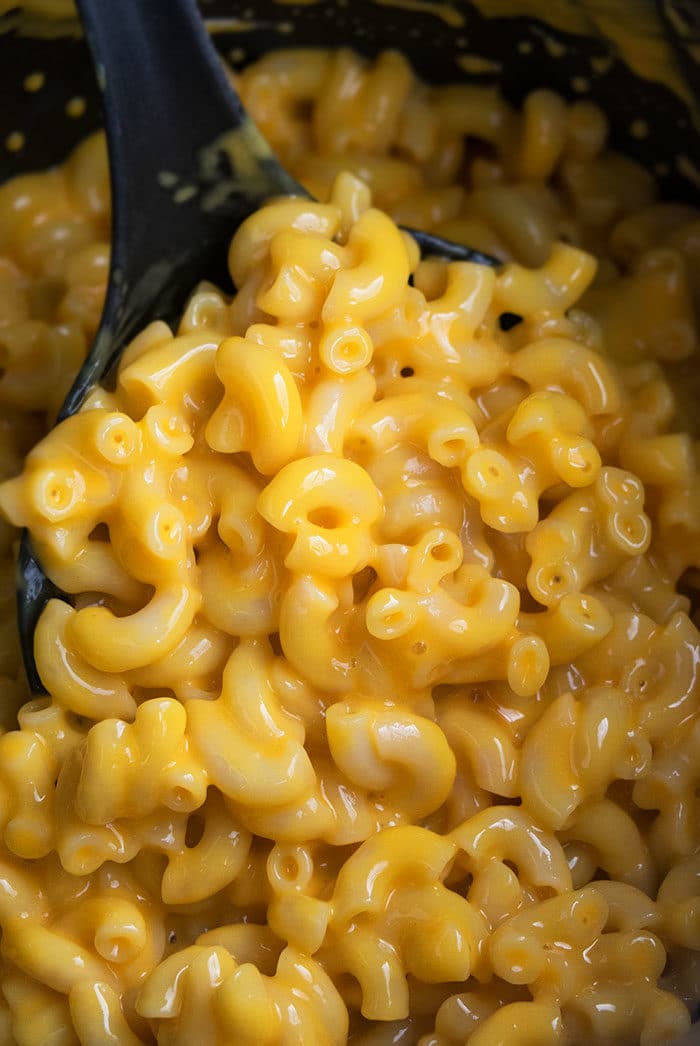 How to make slow cooker mac and cheese (macaroni and cheese)?
Add uncooked pasta, seasonings, cheeses, milk in crockpot.
Cover and cook.
Mix often.
Garnish with parsley.
Serve immediately and enjoy!
What sides to serve with best slow cooker mac and cheese recipe?
This is a very heavy meal and side dishes that accompany this meal should be kept simple such as:
Crusty bread
Breadsticks
Garlic bread
Salad
Dinner rolls
Cheese sticks
What cheese to use in creamy macaroni and cheese?
This is a personal preference. After multiple trials, I recommend using cream cheese, mozzarella, parmesan, cheddar. However, you can also use a blend of other cheeses for a different flavor profile
Gouda
Gruyere
Ricotta
Parmesan
Feta
Pepper jack
Colby jack
Swiss
Mexican cheese blend
Blue cheese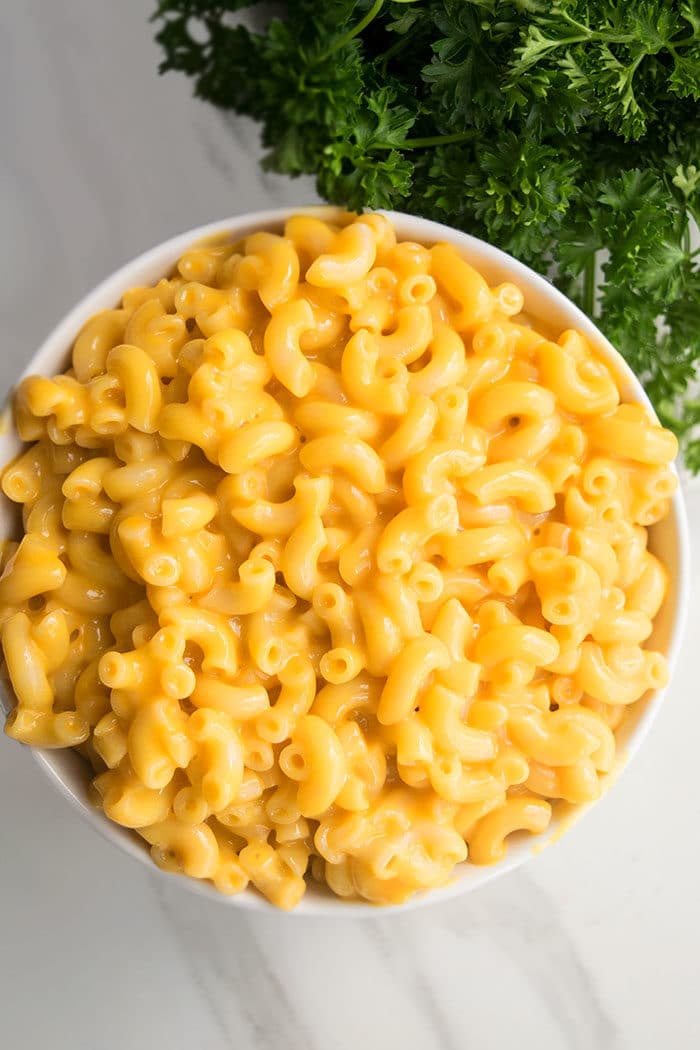 Variations
Make it with ham– Mix in 1 cup cooked ham at the end (cut into small slices)
Make it with bacon– Sprinkle in 1/2 cup cooked crumbled bacon on top, prior to serving.
Make it with buffalo chicken– Mix in 1 cup shredded buffalo chicken at the end.
Make it healthy– This is really not meant to be a healthy meal but you can substitute full-fat ingredients with low fat ones, although it would reduce the creaminess and cheesiness in this recipe and I don't recommend it.
Make it even more creamy and cheesy– By using Velveeta instead of cream cheese.
Add breadcrumbs topping- You will have to make this topping separately. Mix together seasoned 1 cup breadcrumbs with 2 tbsp unsalted butter in a nonstick pan. Cook on medium-high heat, stirring often until crumbs are nicely toasted and crispy. Sprinkle this on top of the pasta, prior to serving to add a nice crunch.
Make it spicy– By adding some red chili flakes or finely chopped jalapenos.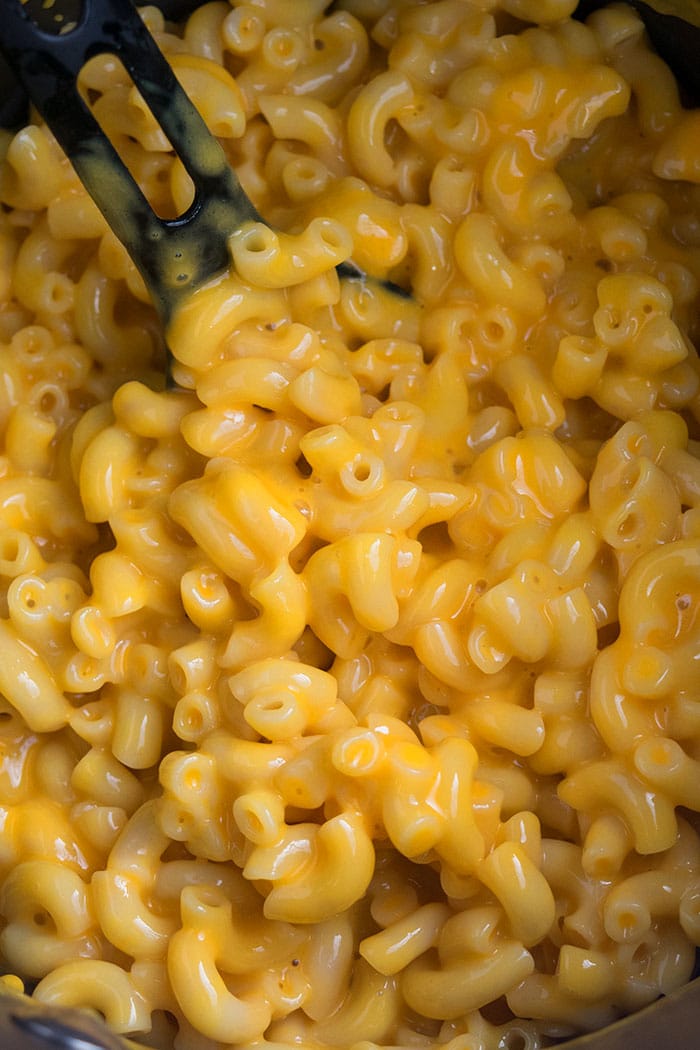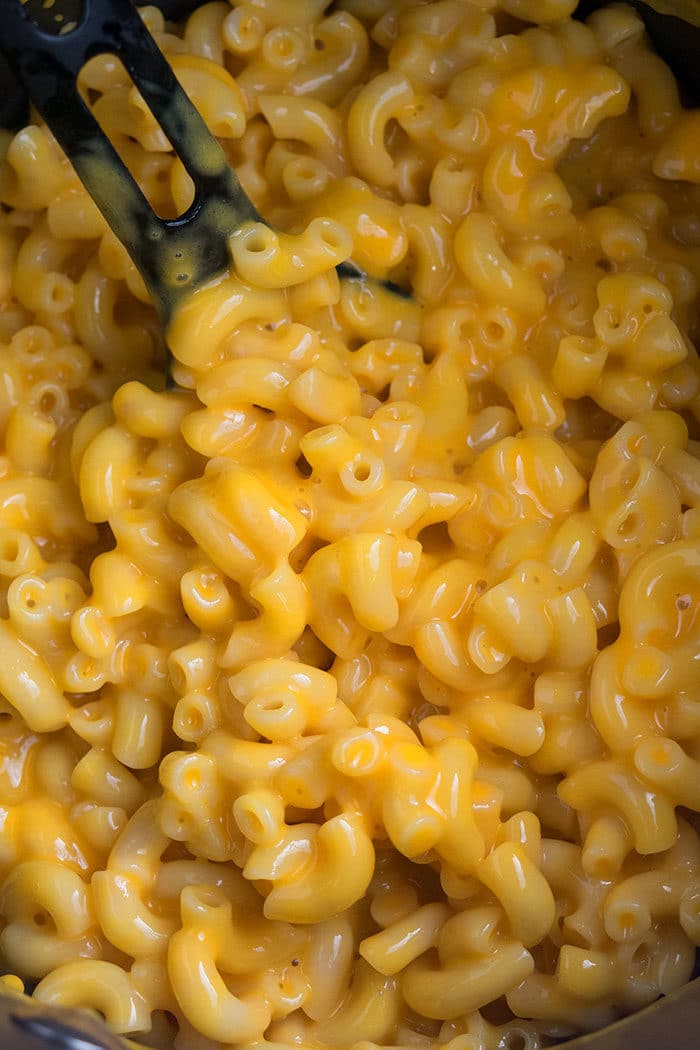 Tips and Techniques
What kind of milk to use? After trying various types of milk, the best results came with evaporated milk and whole milk. You can play around with other milks of your choice to see how it affects this recipe. Some people make this without evaporated milk and replace that with water or additional whole milk. Try and see what you think.
What herbs and spices to use? I like to add some mustards, garlic, salt, pepper, paprika and parsley to enhance the flavor profile. Some people just add salt and pepper but I find that to be too bland.
Adjust herbs and seasonings- This is based on your preference. Add more or less salt, pepper, paprika, mustard, garlic powder, onion powder.
Use uncooked pasta– Because this recipe uses a lot of milk that would cook the pasta in the slow cooker. You don't have to pre-cook or boil it first.
Use freshly grated cheese- Rather than packaged shredded cheeses because those tend to add a grainy texture to this dish.
Use full fat ingredients- This is especially with regards to milk and cheeses. The higher the fat content, the more rich and creamy this pasta recipe would be.
What type of pasta to use? Elbow macaroni is the classic choice. Don't use whole wheat pasta because it requires additional liquid for it to cook through.
Pasta thickens as it cools– This is normal and nothing to worry about. It will be slightly runny but it will continue to thicken as it cools down because the pasta absorbs all the liquid and moisture, making it feel very dry. You can add more or less milk to thicken it or thin it out.

Cooking time may vary- This depends on the brand of slow cooker you use and how old and worn out it is. Some crockpots tend to run hotter than others. If that's the case, keep a close eye on it and check every 30 minutes to prevent it from becoming over-cooked and "mushy."
How to avoid dry pasta? Don't open the slow cooker too many dimes during cooking because you will loose steam which cooks the macaroni and retains moisture.
Can you freeze mac and cheese? No, it does not taste as good when it thaws and the texture is different.
Serve a crowd– By doubling this recipe and making it in 2 separate slow cookers.
More One Pot Pasta Meals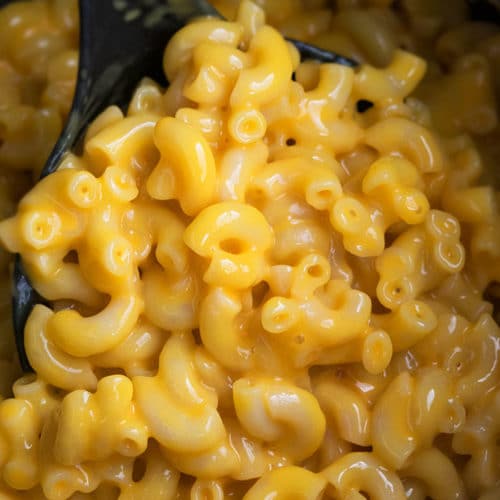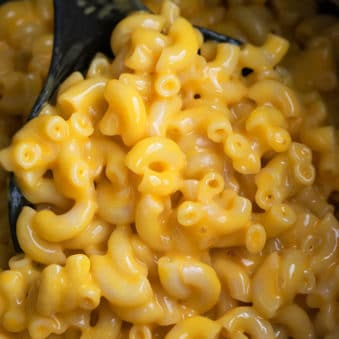 Slow Cooker Mac and Cheese
Quick and easy slow cooker mac and cheese recipe, homemade with simple ingredients. Super creamy, loaded with cheese, no velveeta and needs no boil pasta.
Yield: People
Instructions
Add pasta, mozzarella cheese, parmesan cheese, cheddar cheese, cream cheese in a crockpot.


Pour milk and evaporated milk.

Add mustard, paprika, garlic powder, onion powder, salt, pepper. Mix.

Cover and cook on low heat for 1.5 hours to 2 hours, stirring every 30-40 minutes, until pasta is fully cooked and cheese is all meted. Note: If the mixture is too thick, add more milk.

Garnish with parsley and serve immediately (I skipped the garnish because my kiddo does not like it).
Notes
Read all my tips above.
Tastes best when served immediately but leftovers can be stored in a sealed container in the fridge for up to 2 days. 
Nutrition
Calories: 751kcal, Carbohydrates: 70g, Protein: 36g, Fat: 35g, Saturated Fat: 20g, Cholesterol: 112mg, Sodium: 744mg, Potassium: 586mg, Fiber: 2g, Sugar: 14g, Vitamin A: 1400IU, Vitamin C: 2mg, Calcium: 794mg, Iron: 1.8mg
Happy cooking everyone!