Slow Cooker Barbacoa Beef
The best quick and easy slow cooker barbacoa beef recipe, homemade with simple ingredients. Moist and tender beef melts in your mouth. Perfect for tacos, burritos, enchiladas. Also known as pulled or shredded barbacoa chipotle.
If you use a crockpot, you know that Slow Cooker Recipes are the most convenient and easiest recipes ever. They typically involve just dumping everything in the pot, covering and cooking for a few hours. It's great for people with busy lifestyle that still want healthy homemade meals and today's recipe is no exception. It's super flavorful and better than anything you would get at restaurants! It also serves a lot of people.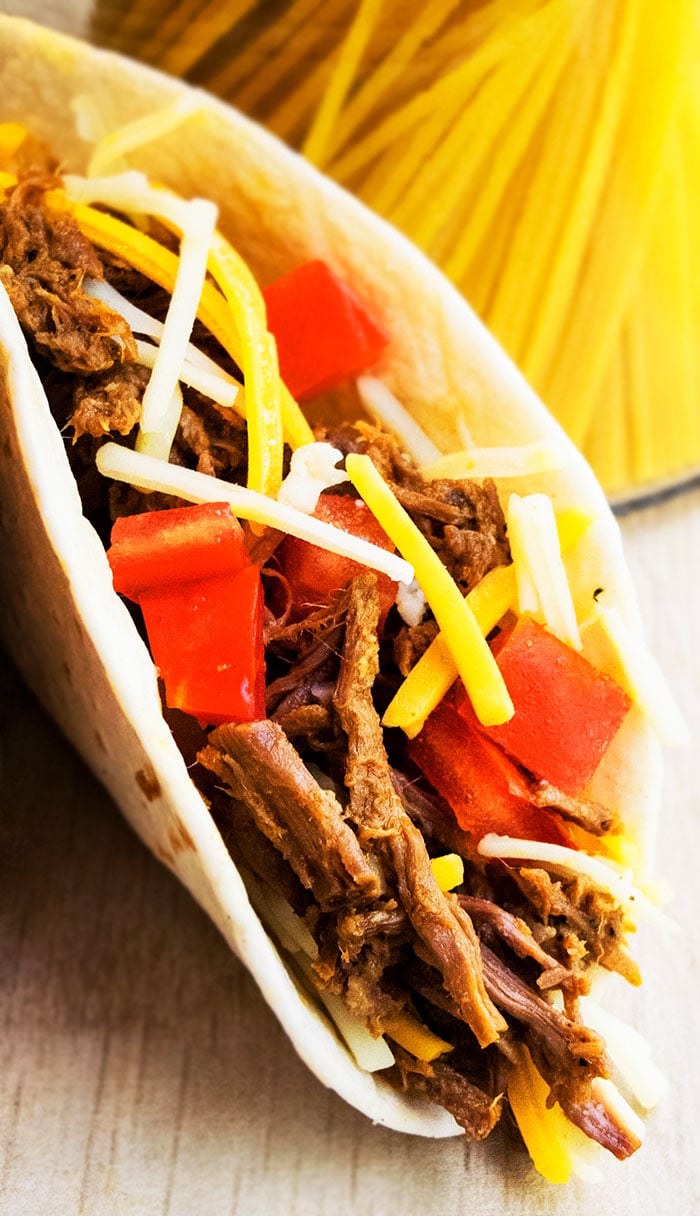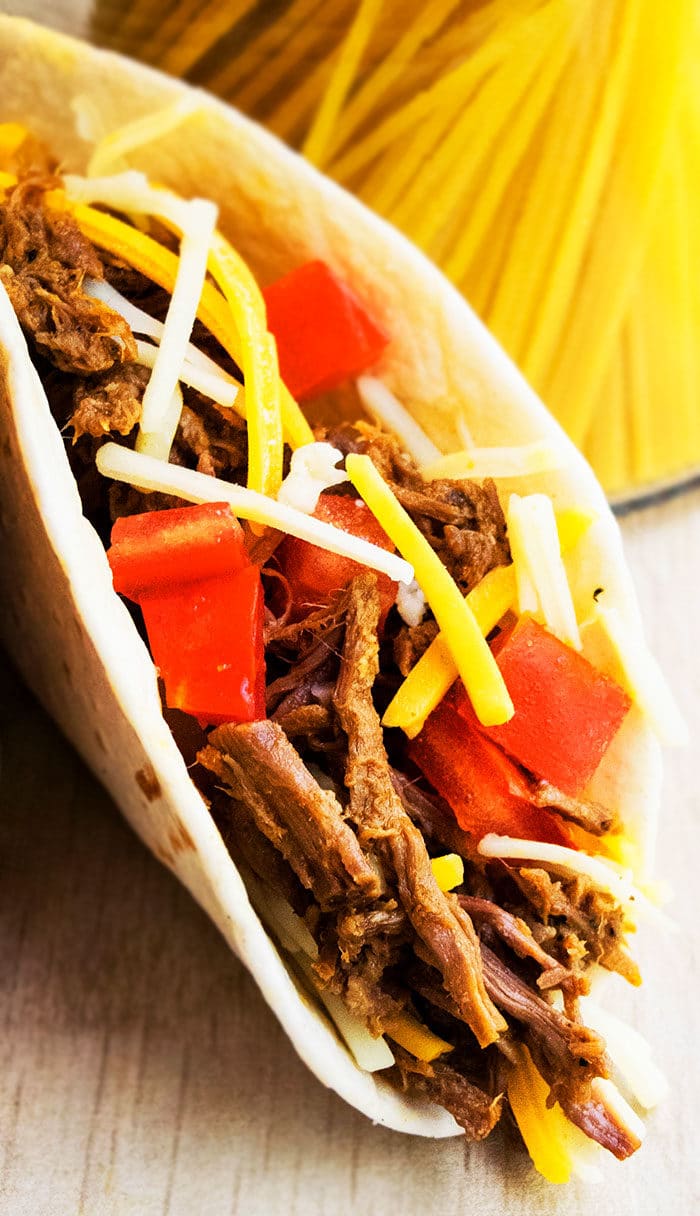 Some people confuse this with carnitas but there is a major difference. Carnitas are typically the shoulder of pork that's been seasoned and braised with herbs and spices until tender. Then't it's pulled apart and oven-roasted until crisp.
On the other hand, barbacoa, is traditionally slow cooked beef cheek and head in a wooden open fire pit in the ground that's been covered with maguey leaves. However, in America, it's usually just spicy, shredded, slow-braised tender beef (chuck roast) that's pulled apart. They are both used as fillings in tacos, tamales, burritos, sandwiches e.t.c.
More Mexican Meals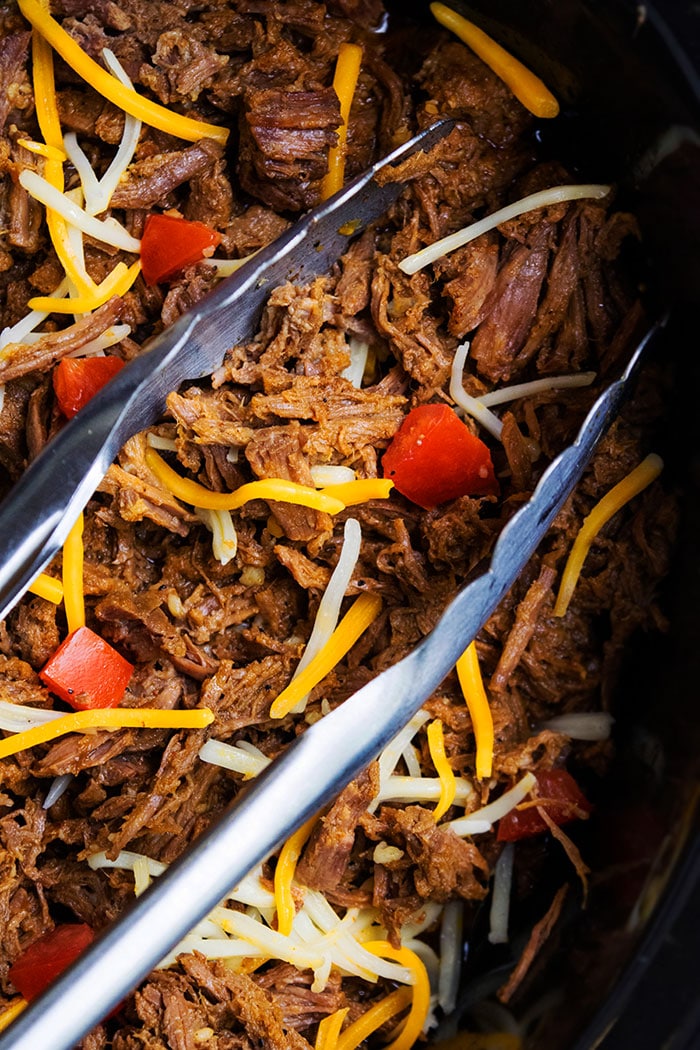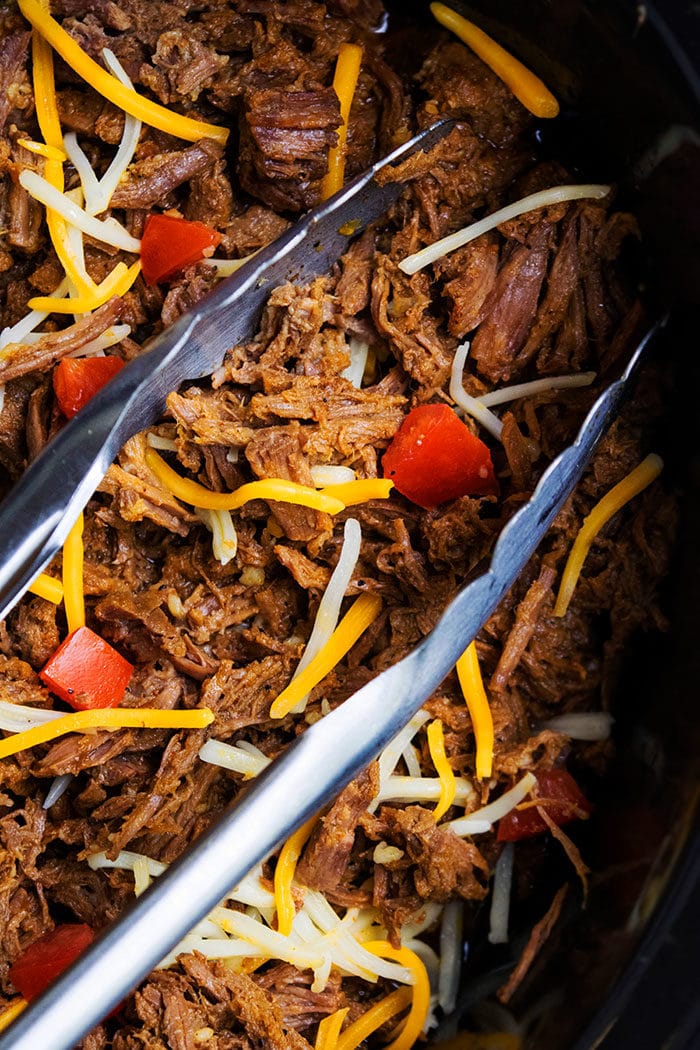 What is barbacoa beef? What is traditional Mexican barbacoa meat made from?
It's an authentic Mexican dish that's usually made with beef, goat or lamb. It's seasoned with Mexican herbs and spices and slow cooked or braised until tender. Then, it's shredded and used as fillings in tacos, burritos e.t.c.
In some parts of Mexico, it's a combination of different parts of cow meat. However, due to health regulations, what we enjoy today in America does NOT include brains and is usually chuck roast and cheek meat and sometimes (very rarely!) tongue.
At Chipotle restaurants, it's made from a huge cut of beef shoulder clod that that weighs about 30 pounds!
How to make barbacoa in crockpot?
Add meat, broth, lime juice, garlic, bay leaves, salt, pepper, oregano, cumin, chipotle peppers in adobo sauce,
Mix.
Cover and cook.
Uncover and shred.
Enjoy!
What sides to serve with Chipotle barbacoa recipe?
It's usually served alongside soft and hard tacos and various toppings of your choice (detailed list below).
You can also serve it with a side of quinoa or zoodles (zucchini noodles) or Instant Pot Spaghetti Squash, although my favorite is Cilantro Lime Rice (One Pot).
A simple green salad always a great side dish. Try this Tomato Avocado Salad or this Mexican Corn Salad.
Some people also serve with a side of refried beans (store-bought or homemade).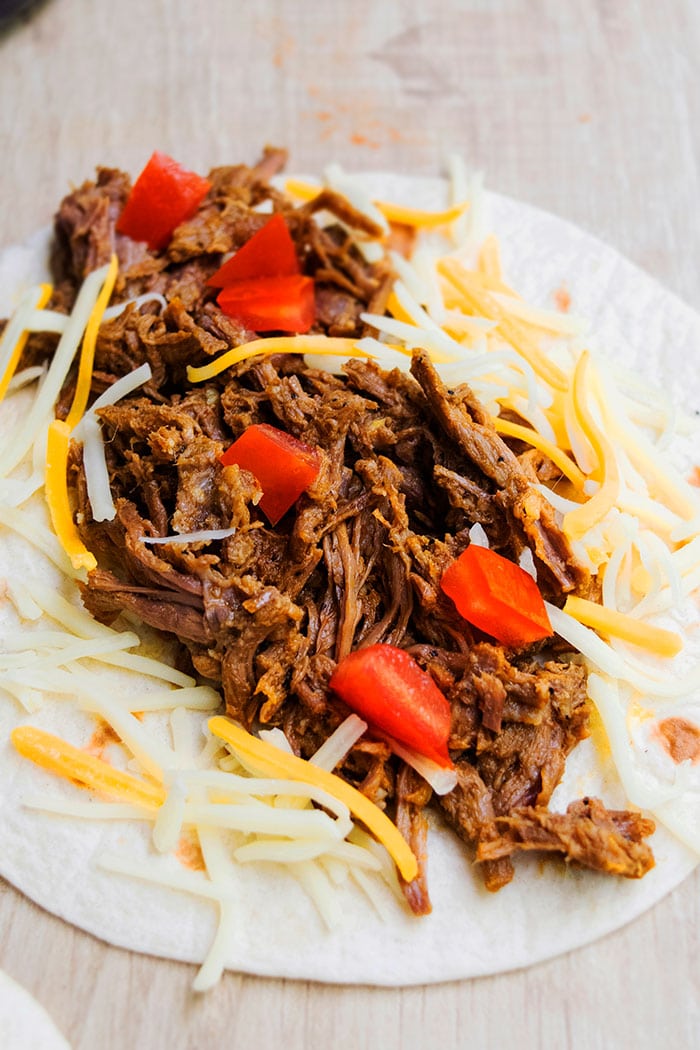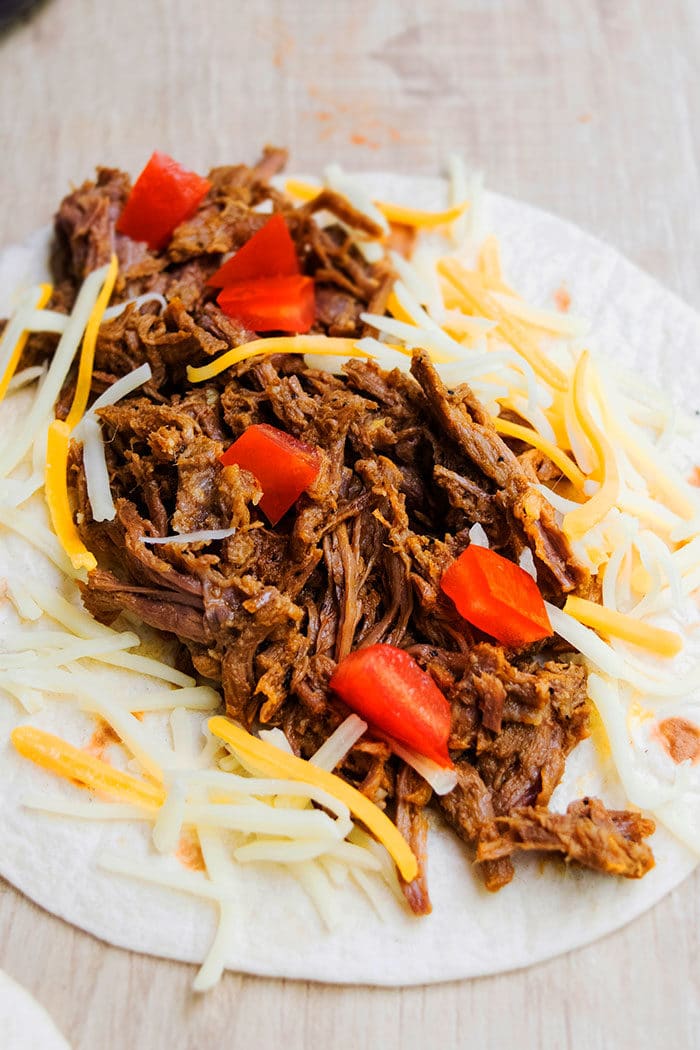 How to serve shredded beef?
You can serve it as an add-in or filling in:
Tacos or Taco Bowls
Burritos or Burrito Bowls
Quesadillas
Enchiladas
Tamales
Salads
Casseroles
Sandwiches
Pizza
Dips
Nachos
Pastas
Casseroles
Toppings for barbacoa tacos
Lettuce– Adds a lovely color and fresh crunch.
Shredded cheese– Mexican cheese blend is awesome!
Sour cream– Use full fat for maximum flavor.
Guacamole– Homemade or store-bought both work well.
Jalapeno slices– For a spicy kick.
Fresh herbs– Such as roughly chopped cilantro.
Avocado– Dice them or slice them.
Finely chopped onions- Red onions are best.
Tomatoes– Use finely chopped ripe tomatoes.
Salsas- Such as Corn Salsa (One Bowl), Mango Salsa (One Bowl), Pineapple Salsa (One Bowl), Strawberry Salsa (One Bowl), Pico De Gallo Salsa (One Bowl).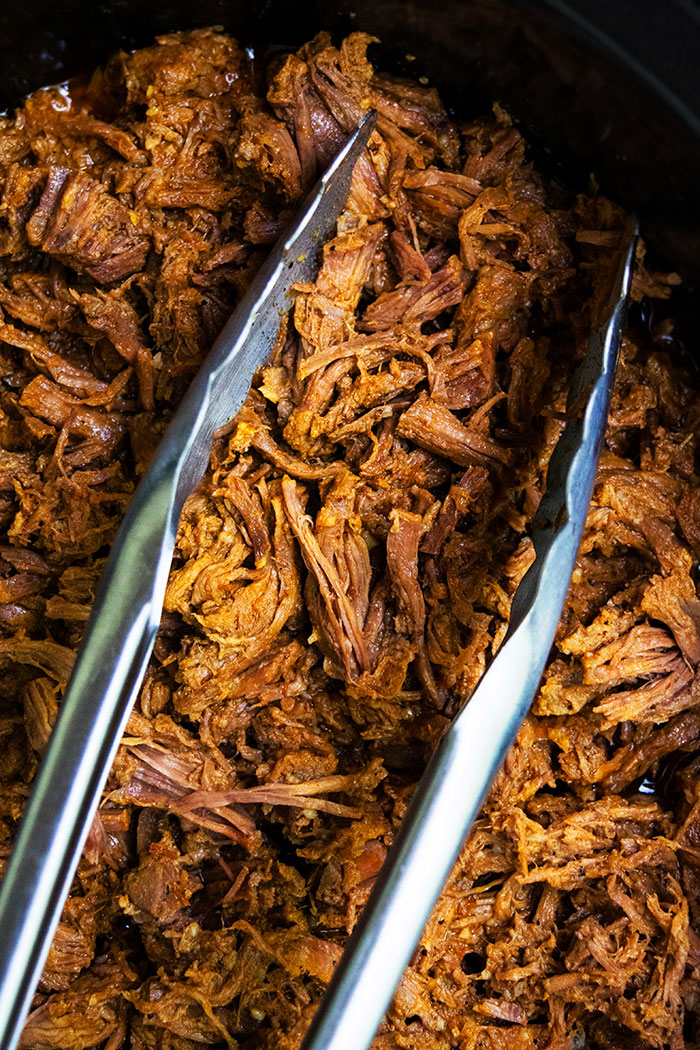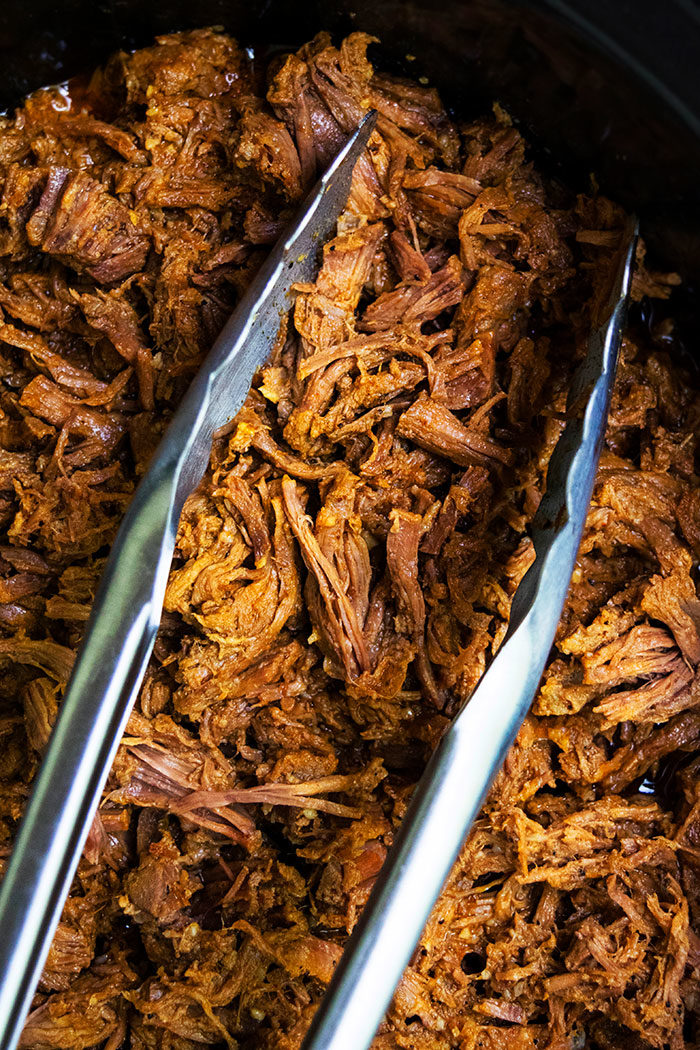 Tips and Techniques
Can I cook on high heat in crockpot? No. The best tender, "melt in your mouth" texture comes from cooking it "low and slow."
Don't discard the broth- Because it's loaded with flavor and also keeps the meat juicy and moist.
Use low sodium broth– Because it prevents this meal from becoming too salty.
Can leftovers be frozen? Yes. When it cools down completely, store it in a sealed container for up to 1 month.
Should I brown meat? This is an optional step. Some people like to sear the meat in a pan with butter or oil over stovetop. It's believed that this adds more flavor but I haven't noticed a difference.
What are chipotle peppers? They are smoked jalapenos in adobo sauce. The peppers are spicy but the the sauce is not. However, it should not be discarded because it's packed with flavor!
Adjust the spice level- By adding more or less chipotle peppers.
Can you make it without slow cooker? It can be made in an instant pot (pressure cooker) or stovetop and even oven but you will need to add more broth to prevent burning.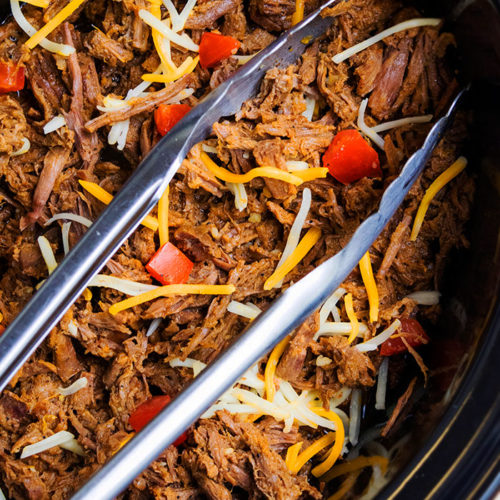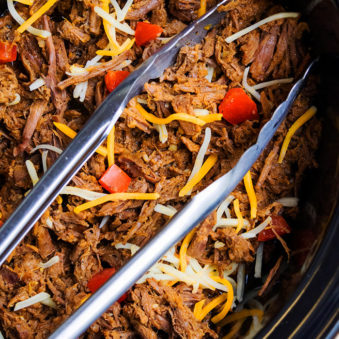 Slow Cooker Barbacoa Beef
Quick and easy slow cooker barbacoa beef recipe, homemade with simple ingredients. Juicy, tender beef melts in your mouth. Perfect filling for tacos, burritos, enchiladas.
Yield: People
Ingredients
4 pound Chuck roast, Cut into large cubes, Brisket can also be used
1 cup Onion, Finely chopped
1 cup Beef broth, Low sodium
2 tbsp Lime juice, Or lemon juice
2 tbsp Apple cider vinegar
4 cloves Garlic, Minced
1-2 Bay leaves
Salt, To taste
1 tsp Pepper
1 tbsp Oregano, Dried, Preferably Mexican oregano
1.5 tbsp Cumin powder
3 Chipotle peppers in adobo sauce, Must add 1 tbsp canned adobo sauce too
1 can Green chiles, 4 oz. can
Instructions
Cover and cook on Low for 6-8 hours (You can cook on high for 3-4 hours but the best results come from low and slow cooking).

Remove and discard bay leaves.

Shred with 2 forks and toss everything together.

Garnish with finely chopped cilantro. Enjoy!
Notes
Read all my tips above.
Leftovers can be stored in a sealed container in the fridge for up to 3 days. 
Nutrition
Calories: 422kcal, Carbohydrates: 2g, Protein: 44g, Fat: 26g, Saturated Fat: 11g, Cholesterol: 156mg, Sodium: 313mg, Potassium: 795mg, Fiber: 1g, Vitamin A: 335IU, Vitamin C: 1.6mg, Calcium: 62mg, Iron: 5.9mg
Happy cooking everyone!