Garlic White Pizza Sauce (One Pot)
Quick and easy white pizza sauce recipe, homemade with simple ingredients over stovetop in 20 minutes. Rich, creamy and loaded with garlic, cheese and Italian herbs.
Pizza is a staple in our house because everyone loves it! It is also something that can become boring after awhile with basic Homemade Pizza Sauce (One Pot). However, today's sauce takes your pizza night to the next level and makes it more sophisticated and flavorful!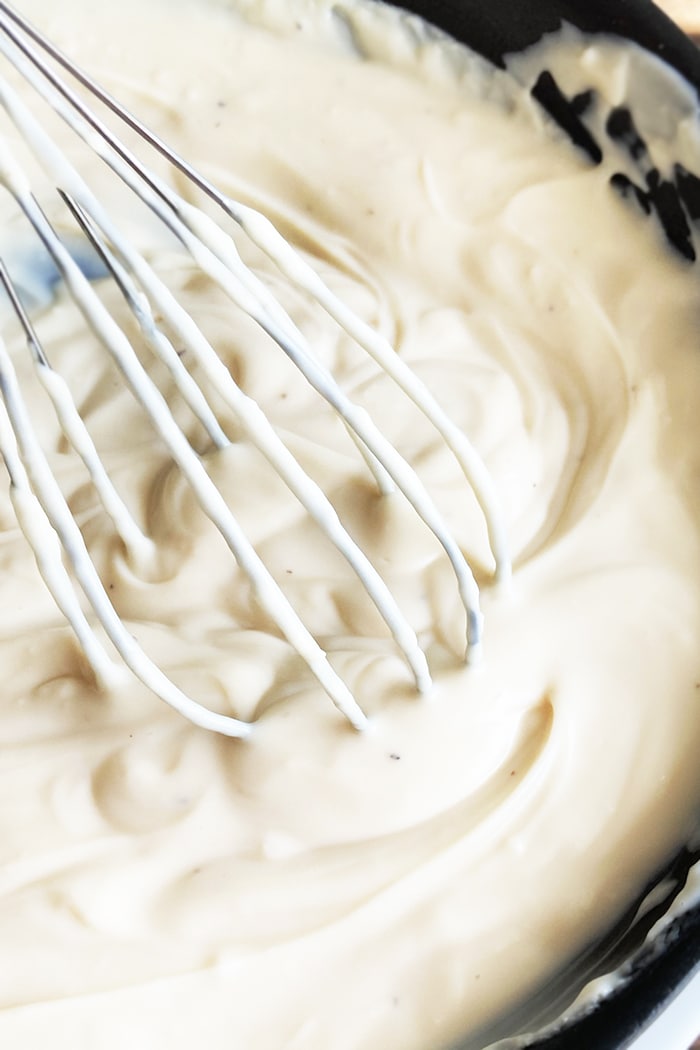 How to make white pizza sauce from scratch?
Heat butter– Until fully melted.
Add flour– Whisk everything together.
Add milk, salt, pepper, dried oregano, garlic, cheese– Whisk constantly until sauce is smooth and thick.
Turn off heat– Mix in fresh basil.
Let it cool- The, enjoy on pizza.
Is homemade white pizza sauce recipe same as Alfredo sauce?
No. They are similar in color and even flavor but their consistencies are different. Alfredo sauce typically has a thinner consistency than pizza sauce since it's tossed with pasta. It also uses heavy cream or half and half while the pizza sauce is made with whole milk.
Check out my Crockpot Chicken Alfredo and One Pot Fettuccine Alfredo, if you are craving that for dinner tonight.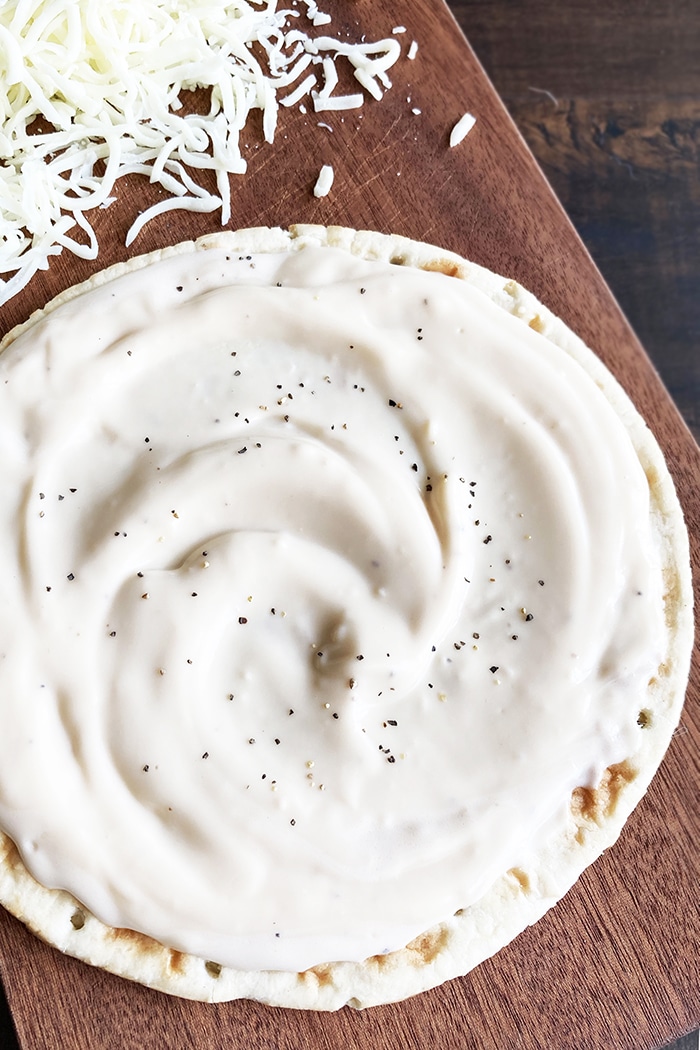 How to use white pizza sauce?
Use it as dip for breadsticks, garlic bread, mozzarella sticks, fried mushrooms, fried zucchini, pretzel bites, flatbread, or meatballs.
Use it as a spread on pizzas, sandwiches, burgers, wraps, paninis.
Use it as a drizzling sauce over salads or grilled meats like Chicken and Potatoes (One Pot) or over pastas like this Garlic Lemon Pasta (One Pot) or Meatball Casserole (One Pan).
Pizza toppings
Meat– Sausage, bacon, pepperoni, Italian sausage, prosciutto, chicken, ham, shrimp. They should all be cooked beforehand.
Vegetables– Tomatoes, artichoke hearts, olives, onion, mushrooms, bell peppers, asparagus, arugula, or spinach.
Cheese– Shredded mozzarella, cheddar, parmesan or cumbled feta and goat cheese.
Variations
Make it spicy– Add crushed red chili flakes or jalapeno slices.
Add cheese– I only used parmesan cheese but you can also add goat cheese, mozzarella, ricotta, or asiago.
Add roasted garlic– Use roasted garlic instead of raw garlic for an intense garlic flavor.
Vary the crust- Use this sauce on focaccia bread, whole wheat crust, or cauliflower crust.
Try different seasoning– Use Greek, Italian, or Cajun seasoning.
Vary the herbs– Try rosemary, thyme, mint, fennel, cilantro, or parsley.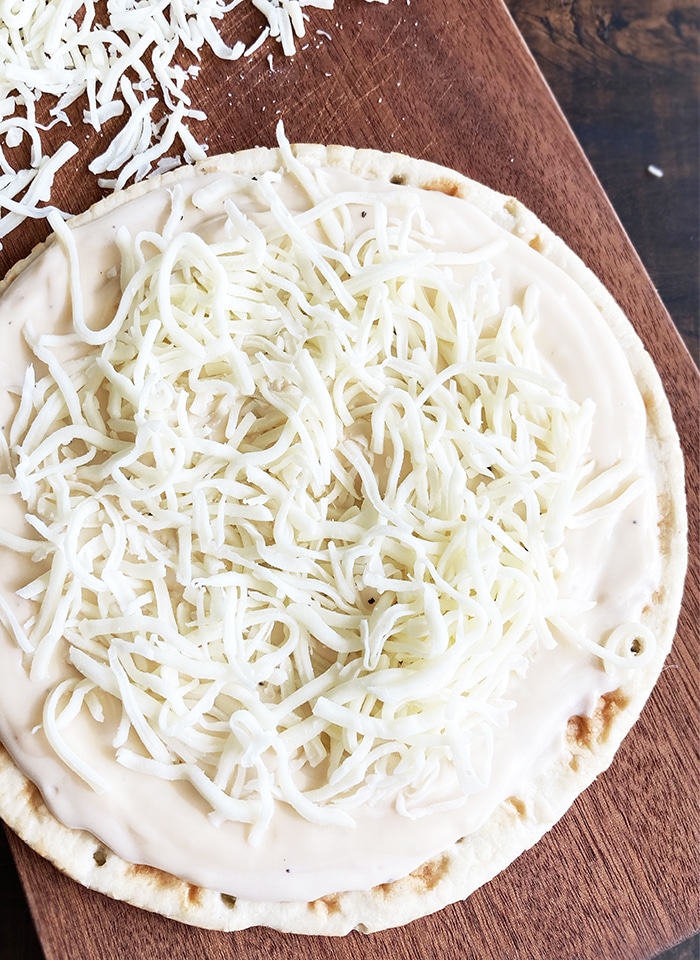 Storage
Refrigerate– In a sealed container for up to 3 days.
Freeze– I don't recommend freezing it because the cream can separate and become clumpy, as the sauce thaws.
Reheat– In the microwave or over the stovetop.
Tips and Techniques
How to make sauce thinner? Mix in more milk.
How to make sauce thicker? Continue cooking it uncovered until excess liquid evaporates and sauce thickens to your desired consistency.
How to fix a lumpy sauce? Use a hand-held immersion blender to blend the mixture until smooth or you can blend in a blender too.
The sauce thickens as it cools and chills– It can easily be thinned out with milk if it becomes too thick to spread.
Whisk sauce constantly– Because this keeps the sauce from clumping.
What can I use instead of milk? Try heavy cream, full-fat coconut milk, half and half. Basically, use anything with enough fat to create a rich roux.
Use a non-stick pot– Because this prevents the sauce from sticking and burning.
Don't burn the roux– Keep a close eye and don't let it turn brown because that will add a burnt flavor to the sauce and it will also discolor the sauce and change it from white to brown.
Adjust amount of herbs– Use more or less, based on your preference.
Fresh herbs vs. Dried herbs– Either can be used.
Let it cool before using it– Since the mixture thickens as it cools, only use it on pizzas after it comes to room temperature.
More Homemade Sauces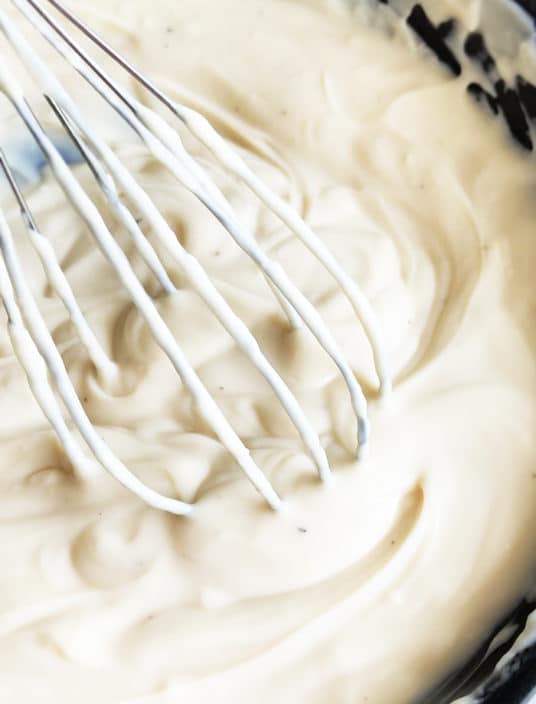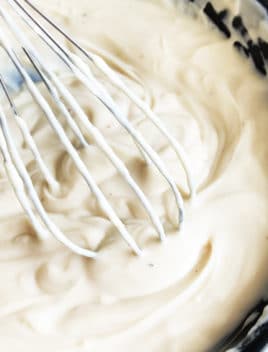 One Pot White Pizza Sauce
Quick and easy white pizza sauce recipe, homemade with simple ingredients over stovetop in 20 minutes. Rich, creamy and loaded with garlic and cheese.
Servings: 1 Cup
Course: Side Dish
Cuisine: American, Italian
Keyword: homemade pizza sauce, white sauce
Calories: 650 kcal
Ingredients
3 tbsp Butter Unsalted
2 tbsp All-purpose flour
1 1/4 cups Milk Whole
Salt To taste
Pepper To taste
1/4 tsp Oregano Dried
1-2 cloves Garlic Finely grated
1/4 cup Parmesan cheese Shredded
1-2 tsp Basil Fresh, Finely chopped
Instructions
Heat butter in a small nonstick saucepan over medium heat until fully melted.

Add flour and whisk everything together for 1-2 minutes. Do not let it burn and turn brown.

Add milk, salt, pepper, dried oregano, garlic, cheese.

Whisk constantly until sauce is smooth and thick.

Turn off heat and mix in fresh basil.

Let it cool completely before using on pizza. Enjoy!
Recipe Notes
Read all my tips above.
Leftovers can be stored in a sealed container in the fridge for up to 3 days.
This sauce is enough for 2 large 10 inch pizzas. 
Nutrition Facts
One Pot White Pizza Sauce
Amount Per Serving
Calories 650 Calories from Fat 459
% Daily Value*
Fat 51g78%
Saturated Fat 32g160%
Cholesterol 139mg46%
Sodium 837mg35%
Potassium 403mg12%
Carbohydrates 28g9%
Fiber 1g4%
Sugar 16g18%
Protein 21g42%
Vitamin A 1859IU37%
Vitamin C 1mg1%
Calcium 651mg65%
Iron 1mg6%
* Percent Daily Values are based on a 2000 calorie diet.