Thanksgiving Turkey Stuffing (One Pot)
Quick and easy Thanksgiving turkey stuffing recipe, made with simple ingredients in one pot on stovetop. This 30 minute side dish is loaded with butter and herbs.
This is the ultimate Thanksgiving turkey stuffing recipe and guide. It's moist, tender but firm and loaded with butter and herbs. This recipe can also be easily be adjusted, based to your preference. You can serve it on the side or enjoy it stuffed in a turkey. You must also check out these other classic Thanksgiving sides One Pot Homemade Cranberry Sauce and  One Pot Creamy Mashed Potatoes and this One Pot Homemade Brown Gravy
This is the best turkey stuffing recipe ever with the perfect texture!
Stuffing should be moist and loosely sticking together and NOT sticking together into a soggy "mushy"  paste. Dried bread is used because it absorbs a lot of moisture and flavor and creates the best texture.
This one pot easy turkey stuffing is ready in less than 30 minutes!

How to make turkey stuffing from scratch? How do you make homemade turkey stuffing/ Homemade stuffing for turkey?  How do you make traditional stuffing?
Saute onion, garlic, celery, red peppers in butter.
Add dried herbs and broth and bring to a boil.
Mix in dried bread.
Turn off heat, cover and allow the breads to absorb the moisture.
Fluff with a fork, prior to serving and you are done.
What is the best stuffing for turkey?
My recipe below is the best!  It's classic and traditional and loaded with herbs, butter, onion and celery. It's moist but still firm.
How to stuff a turkey?
Spoon the prepared stuffing mixture inside the turkey's cavity. DON'T tightly pack it in because that will make the too soggy. The rule of thumb is you need about 3/4 cups of stuffing per 1 pound of turkey.
When to stuff turkey?
This should be done just prior to baking the turkey or else bacteria can grow.
Is it safe to stuff turkey? Stuffed turkey vs. Unstuffed Turkey
There is a huge debate surrounding this issue. My family always served this bread stuffing on the side but I did some research and found that if you stuff a turkey with stuffing, you have to use a long thermometer to ensure that the center of the stuffing cooks to 165 degrees. Only at that temperature, the stuffing is considered safe for consumption. Check out the USDA's detailed safety guidelines for stuffing turkey.
That being said, I don't like stuffing cooked inside a turkey because it becomes very soft and moist and almost soggy. I prefer my stuffing a little firmer and cooking on the side on stovetop ensures that it's not too soft.
What spices do you put in thanksgiving stuffing?
Parsley
Sage
Oregano
Thyme
Marjoram
Instead of all these herbs, you can use a few teaspoons of Italian spice mix or poultry seasoning mix.
What do you put inside the turkey?
Some people add the prepared stuffing inside the turkey. Other people add a combination of oranges, lemons, onions and fresh herbs instead of the stuffing.

This basic turkey stuffing requires simple ingredients!
Butter
Dried bread
Herbs
Broth
Onion
Garlic
Celery
Red peppers
Bread stuffing for turkey
You have to use dry bread because that allows it to absorb all the flavors from the spiced broth.
Any type of the following breads can be used:
Cornbread
Whole wheat or white sandwich bread
Rustic artisan loaves and breads
French bread
Sourdough bread
Even bagels
Gluten free turkey stuffing
Use gluten free bread cubes or croutons. The rest of the recipe is exactly the same.
Stuffing Add ins
Nuts (Walnuts, pecans, pine nuts)
Apples (Roughly chopped)
Various herbs and spices
Dried cranberries
Mushrooms (Roughly chopped)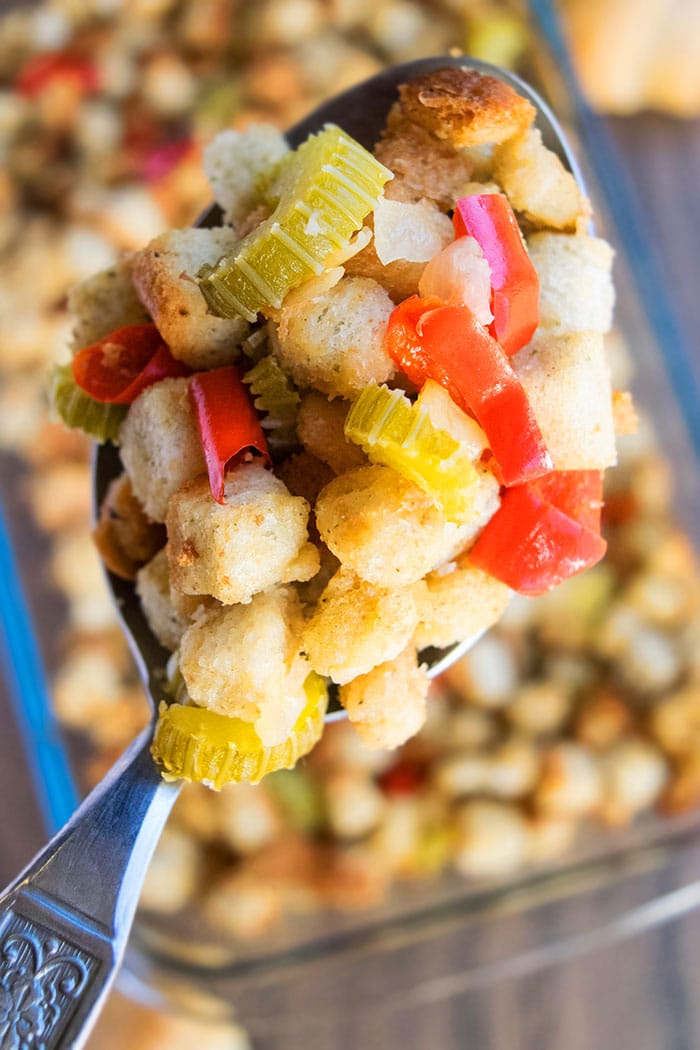 How to make dried bread cubes?
I usually buy them because it's quick, easy, cheap and a time-saver. However, they can be made at home too.
Classic Method (Room temperature)
Cut fresh white sandwich bread (or any other bread of your choice) into 1 inch cubes and put them in a large bowl.
Let the bread cubes sit at room temperature, uncovered, away from any moisture for 48 hours so they dry out and become stale. Toss them once or twice a day so that they dry evenly. They don't have to be crispy dry.
Oven Method (Baking)
Place 8- 10 slices of white sandwich bread evenly on a sheet pan and toast in the oven at 350 degrees for 8-10 minutes or until golden brown.
Then, flip the slices and toast the other side until golden brown. This takes about 5-6 minutes.
Remove the bread from the pan and cut into into 1/2 inch- 1 inch cubes.
Spicy turkey stuffing
Add some red chili flakes and paprika. You can also add some spicy sausage.
Turkey stuffing with sausage
Use whatever sausage you like. Cook it with the vegetables. Then, add herbs and broth.  Mix in the dried bread and you are done.
Turkey stuffing meatballs
This is an awesome way to use up leftover stuffing. It helps to bind the meatballs together like glue and also adds flavor from all the spices and herbs that were added in the stuffing.
Turkey stuffing meatloaf
This is another great way to use up leftover stuffing. It helps to bind the meatloaf together like glue and also adds flavor.
Turkey stuffing casserole/ Leftover turkey casserole
Use leftovers in a casserole the next day with shredded turkey, roasted vegetables, mashed potatoes and lots of cheese.
Chicken stuffing
You can use this stuffing for roasted chicken too. It works great with Italian chicken and Greek chicken. Once again, I prefer serving the stuffing on the side rather than putting it inside the chicken but it's a personal choice.
Use this recipe for Christmas turkey stuffing too!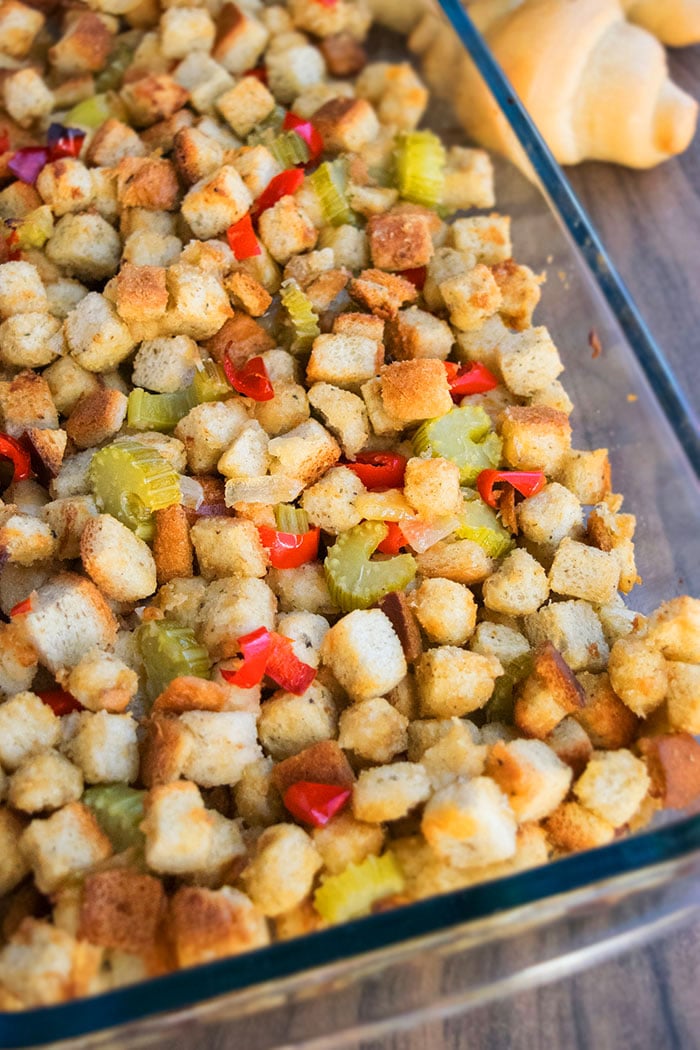 Tips for stovetop turkey stuffing
Use low sodium broth and unsalted butter to prevent this stuffing from becoming too salty.
This is optional: Transfer the stuffing to an oven-safe dish and bake uncovered at 350 degrees for 15-20 minutes to make it a little toasty and crispy on the top.
If stuffing is too soggy, add more bread to soak up the excess moisture. You will have to add some more spices
If the stuffing is too dry and crumbly, add more broth and toss gently until it starts to clump together.  Please remember that it takes some time for the liquid to get absorbed in the dried bread cubes. DON'T RUSH!  Wait for a few minutes before adding more broth. Only add a little at a time because this will prevent it from becoming soggy.
The amount of herbs can be adjusted, based on your preference.
To make this recipe suitable for vegetarians, use vegetable broth.
Other One Pot Thanksgiving Sides/ Side Dishes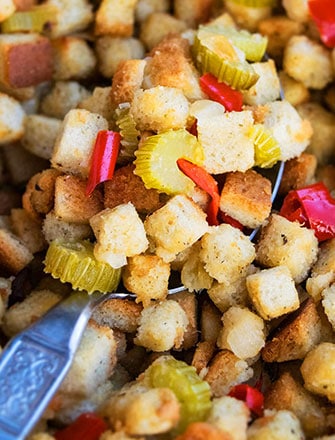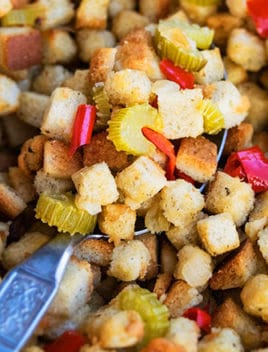 One Pot Thanksgiving Turkey Stuffing Recipe
Quick and easy Thanksgiving turkey stuffing recipe, made with simple ingredients in one pot. This 30 minute side dish is loaded with butter and herbs.
Yield: People
Ingredients
1/4 cup Butter, Unsalted
3/4 cup Onion, Finely chopped
2 tbsp Garlic, Finely minced
2 stalks Celery, Chopped
1/4 cup Red peppers, Finely chopped
1 tsp Parsley, Dried
1/2 tsp Sage, Dried
1/2 tsp Oregano, Dried
1/2 tsp Marjoram, Dried
1/2 tsp Thyme
Salt, To taste
Pepper, To taste
1 1/2 cup Broth, Chicken or vegetable, Low sodium, Adjust based on your preference
4 cups Unseasoned dried bread cubes , Or plain croutons
Instructions
In a large nonstick pot, add butter, onion, garlic, celery, red peppers and cook on medium high heat until vegetables are softened and onion becomes translucent. This takes about 5-6 minutes.

Add dried parsley, sage, oregano, marjoram, thyme, salt, pepper, broth. Mix and bring to a boil.

Mix in the croutons or bread cubes to this seasoned liquid.

Remove from heat. Cover and let the stuffing sit for 5 minutes so that the bread absorbs all the liquid.

If you prefer a softer stuffing, add more broth (1/4 cup at a time) and let it sit again for 5 minutes.

My mom likes to use a fork fluff the mixture, prior to serving but I like the whole bread cubes and don't do this. It's a personal preference. Enjoy!
Notes
Read all my tips above.
Tastes best when served fresh but leftovers can be stored in a sealed container in the fridge for up to 2 days and reheated in the oven or microwave. 
Nutrition
Calories: 87kcal, Carbohydrates: 4g, Fat: 7g, Saturated Fat: 4g, Cholesterol: 20mg, Sodium: 314mg, Potassium: 87mg, Sugar: 1g, Vitamin A: 615IU, Vitamin C: 10.6mg, Calcium: 17mg, Iron: 0.2mg
Happy cooking everyone!