Instant Pot Chicken Enchilada Soup
Quick and easy instant pot chicken enchilada soup recipe, made with simple ingredients. A 30 minute meal, loaded with black beans, tomatoes, corn, chicken, red enchilada sauce and lots of Mexican spices.
I love this healthy soup, just as much as some of these other Mexican favorites: Mexican Shredded Chicken (One Pot) and Tomato Avocado Salad (One Bowl) or this Easy Chicken Tortilla Soup (One Pot).
This is not Chili's chicken enchilada soup copycat but it's hearty, delicious comfort food, that's perfect for the cold Winter season.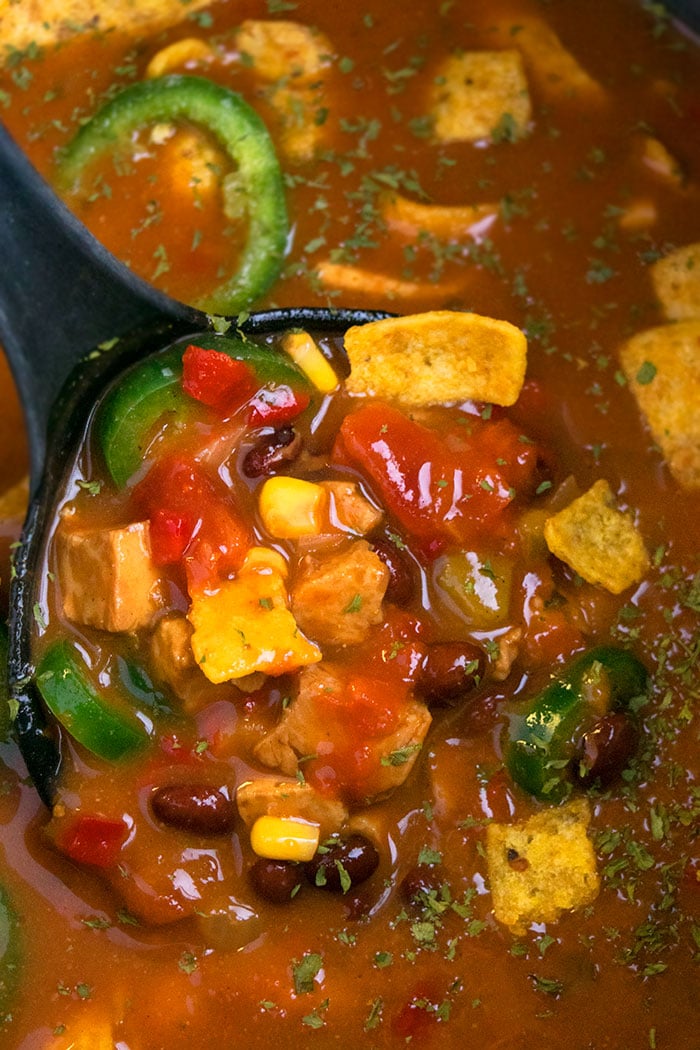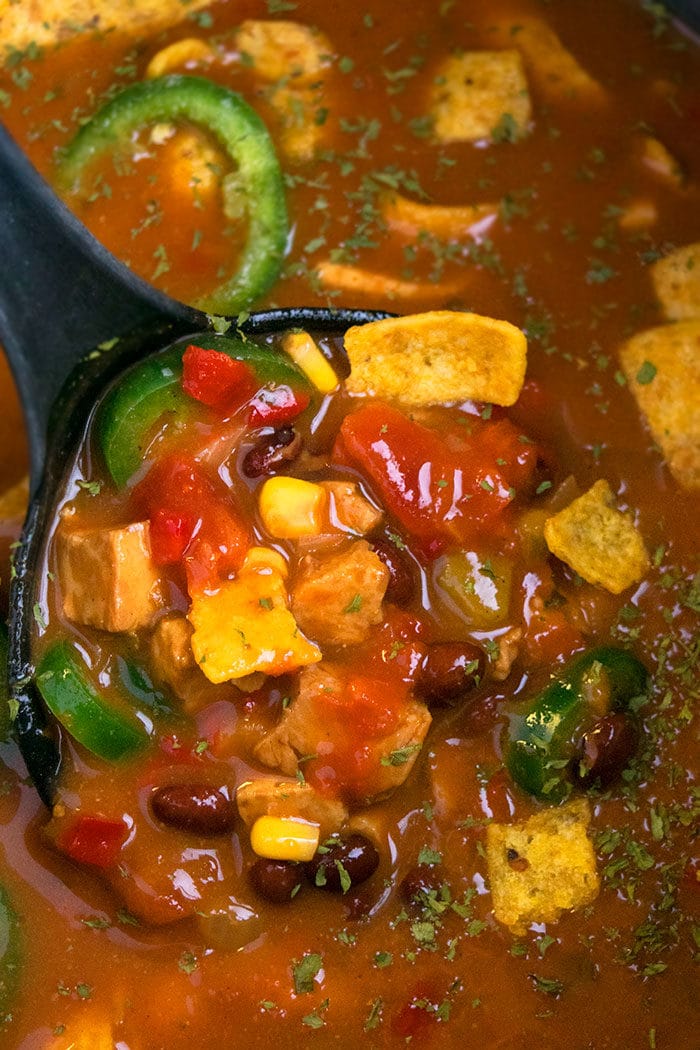 What sides to serve with cheesy chicken enchilada soup?
I enjoy it as is, without any sides but these are some popular choices:
Salad and Coleslaw– Keep it a very simple without any strong dressings or vinaigrettes because the soup already has very strong flavors.
Cheese quesadillas– Kids love this side. Use a Mexican cheese blend. It's similar to enjoying tomato soup with grilled cheese sandwiches.
Grilled cheese sandwiches– Kids love this too!
Jalapeno cornbread– Make it from scratch or just use a cornbread mix box and mix in 1 finely chopped jalapeno.
How to make Crockpot/ Slow cooker Chicken Enchilada Soup
Mix together all the ingredients in a crockpot and cook on High for 4 hours or Low for 6 hours.
How to thicken homemade chicken enchilada soup?
You can make a creamy soup through a few different methods. Depending on which ingredient you use, the flavor of this soup will vary.
Use cornstarch or flour– Add a dissolved mixture of cornstarch or flour.
Cook uncovered– Let it cook uncovered on the "Saute" setting until liquid is reduced and this meal is thickened to your desired consistency. This is my preferred method because I think the cornstarch makes makes it slightly "chalky."
Use heavy cream or cream cheese- Mix in a small amount of heavy cream or cream cheese at the very end to thicken it.
Use cream of chicken soup– Add a can of this to your soup before you close the lid to cook but I really don't like it.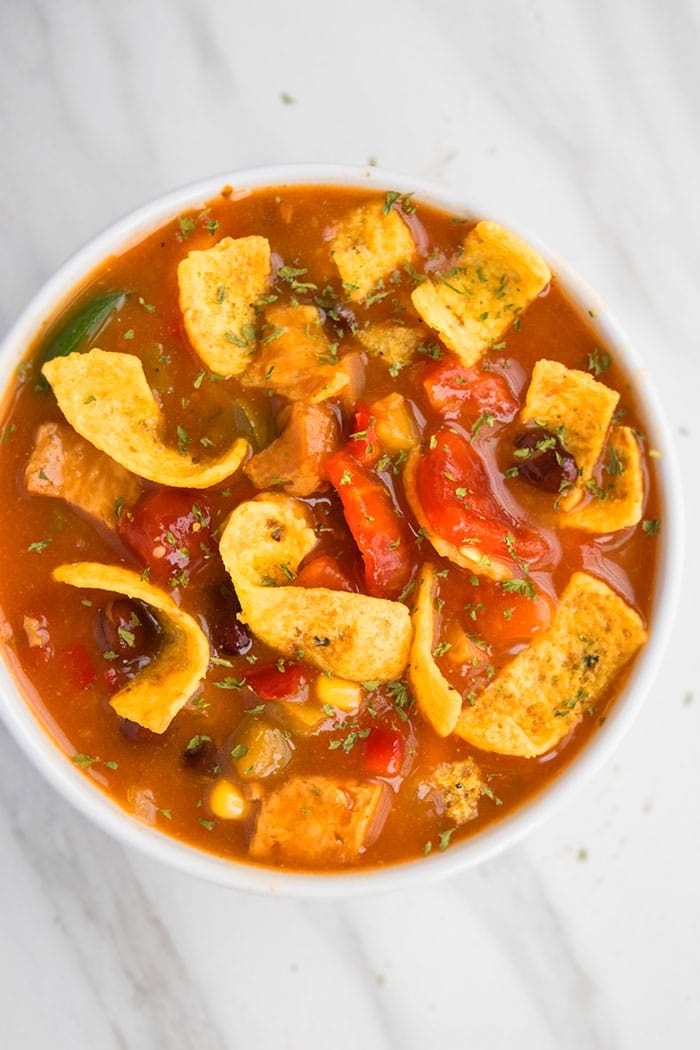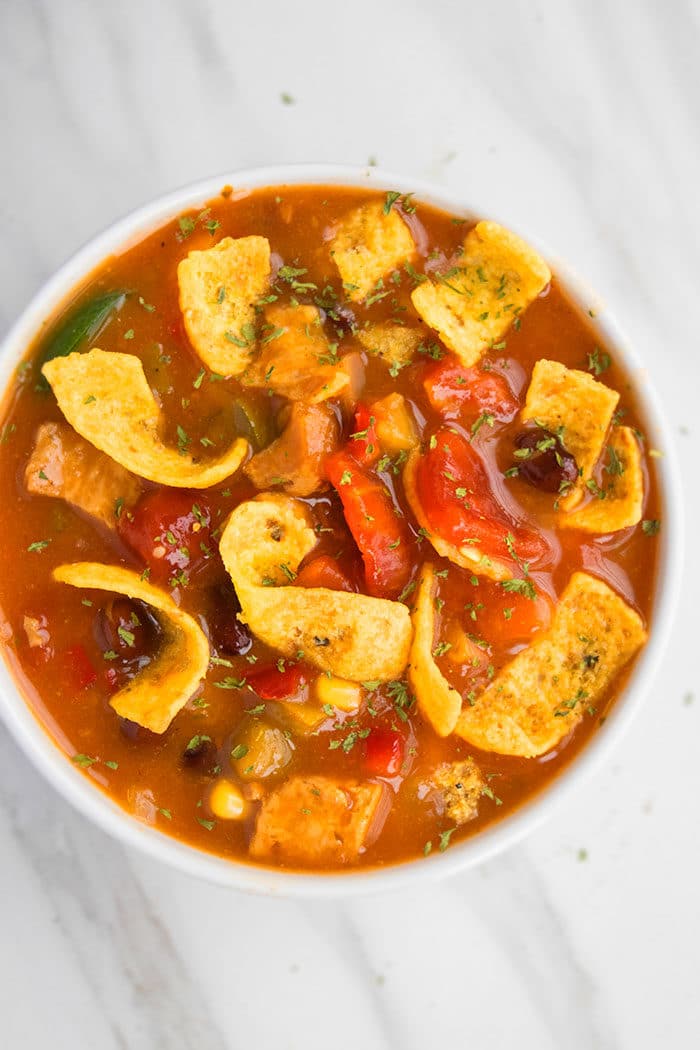 Soup Toppings
Add as many or as few of these, as you like:
Shredded cheese– Cheddar or Mexican cheese blend are awesome!
Sour cream– Use full fat for maximum flavor.
Lemon– Cut small wedges and serve it in each bowl. Adds a little tanginess.
Guacamole– Homemade or store-bought both work well. It also makes the soup creamy.

Jalapeno slices– For a spicy kick.
Fresh herbs– Such as roughly chopped cilantro, parsley, green onions
Avocado– You an dice them into small pieces or slice them.
Chips– Tortilla chips and corn chips are the classic choice and add a wonderful crunch.
Finely chopped onions- Red onions taste the best.
Tips and Techniques
Adjust the amount of spices– This can be done, based on your preference. Always check the flavors near the end and adjust accordingly.
Use low sodium broth– This prevents the soup from becoming too salty.
Drain and rise black beans– This prevents the soup from getting a hideous brown color.
Thickening the soup– This is not supposed to be a super thick and creamy soup. Cook uncovered over medium heat until liquid is reduced to your desired consistency OR you can mix in some heavy cream and cream cheese. I didn't add it in this recipe.
Use shredded rotisserie chicken– Instead of using uncooked chicken, just mix in cooked shredded chicken at the end.
Freezing soup– Once the soup fully cools down, freeze it in an air-tight freezer container for up to 1 month.
Make it vegetarian– Use vegetable broth and stir-fried tofu instead of chicken.

Other One Pot Soup Recipes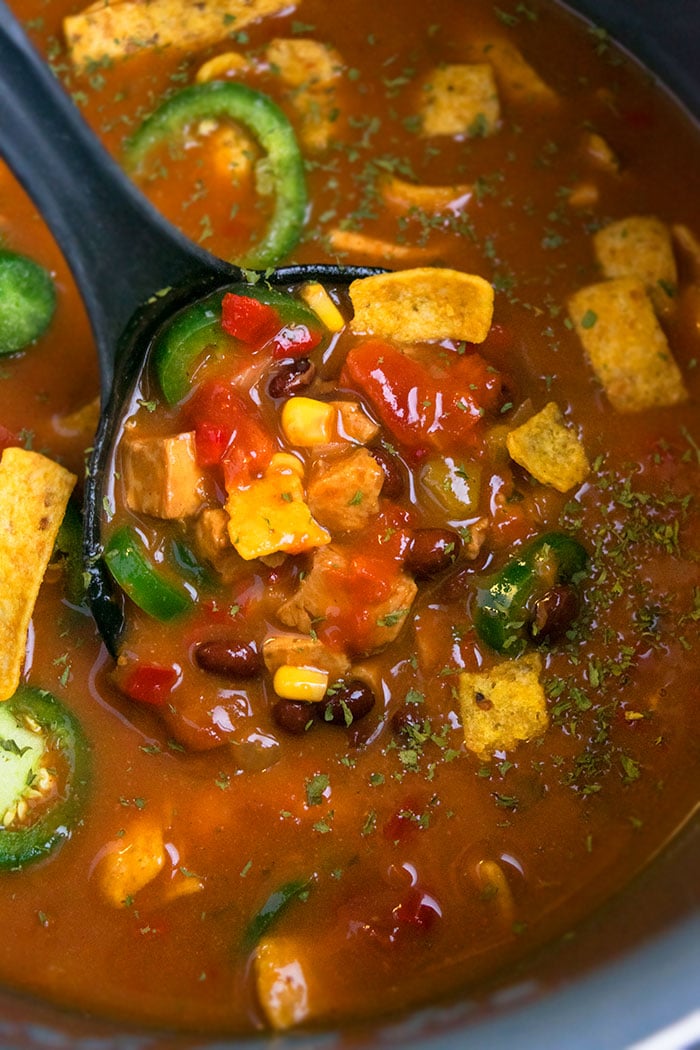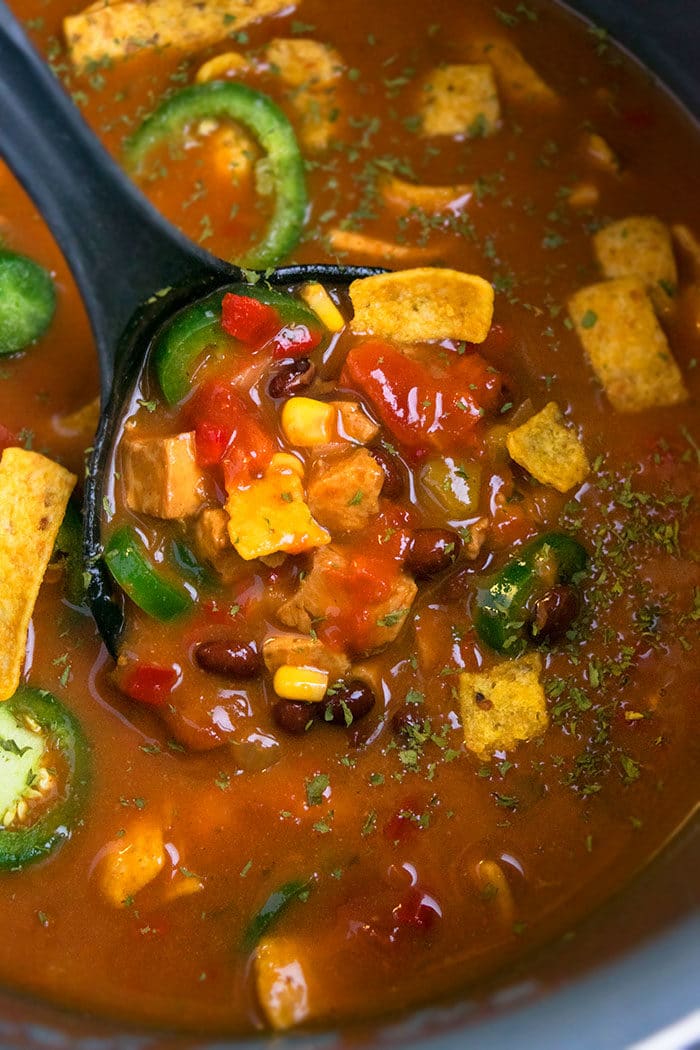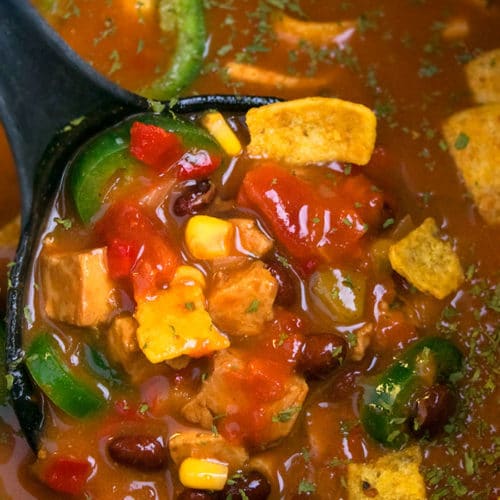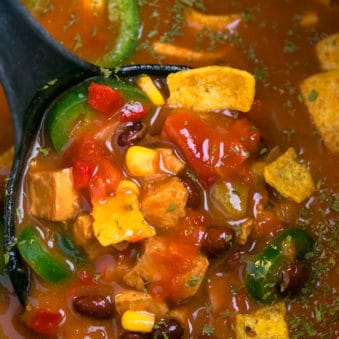 Instant Pot Chicken Enchilada Soup Recipe
Quick and easy Mexican instant pot chicken enchilada soup recipe, made with simple ingredients. A 30 minute meal, loaded with beans, tomatoes, corn, chicken.
Yield: People
Ingredients
2 tbsp Olive oil
1/2 cup Onion, Finely chopped
2 cloves Garlic, Finely minced
1 pound Chicken, Cut into very small cubes
2 cups Chicken broth, Low sodium
1 1/4 cup Red enchilada sauce
1 can Black beans, 15 oz. cans, Rinsed and Drained
1 can Fire roasted tomatoes, 14.5 oz. can
1 can Corn, 15 oz. can, Drained
1 can Diced green chiles, 4 oz. can
1 tsp Cumin
2 tsp Taco seasoning
1 tsp Paprika
Salt, To taste
Pepper, To taste
1/2 cup Heavy cream, Or cream cheese, Optional
Toppings, Sour cream, Tortilla chips, Cilantro, Green onions, Avocado, Shredded cheese
Instructions
Add onion, garlic, chicken and saute for about 3-4 minutes until chicken is no longer pink. Note: Instead of tiny chicken cubes, you can use a 1 pound whole chicken breast and then just shred it at the very end with 2 forks.

Add broth, enchilada sauce, black beans, tomatoes, corn, green chiles, cumin, taco seasoning, paprika, salt, pepper and mix everything together.

Put the lid on and turn up the the valve to "Sealing." Select "Manual" mode and set the timer for 15 minutes.

When the cook time is over, let the pressure release naturally for 10 minutes before turning the valve to "Venting."

Open the lid and mix in heavy cream or cream cheese to thicken the soup (Optional).

Serve in bowls and garnish with toppings of your choice. Enjoy!
Notes
Read all my tips above.
Leftovers can be stored in a sealed container in the fridge for up to 3 days. 
Nutrition
Calories: 623kcal, Carbohydrates: 55g, Protein: 34g, Fat: 31g, Saturated Fat: 12g, Cholesterol: 125mg, Sodium: 1409mg, Potassium: 1020mg, Fiber: 11g, Sugar: 15g, Vitamin A: 2195IU, Vitamin C: 30.5mg, Calcium: 133mg, Iron: 5.5mg
Happy cooking everyone!