Colcannon Recipe (One Pot)
Best, quick and easy Colcannon recipe, made with simple ingredients for St.Patrick's Day. An old fashioned, traditional Irish side dish with rich and creamy mashed potatoes, cabbage or leeks, onions, bacon.
This side dish is also called Cabbage with potatoes or Irish mashed potatoes and tastes just as good as this Fried Cabbage with Bacon (One Pot).
It's hearty, comforting and can be made with leeks or even kale instead of cabbage. However, my family prefers cabbage, hands down! Over the years, I have given this recipe even more depth and flavor by adding some garlic, green onions and bacon.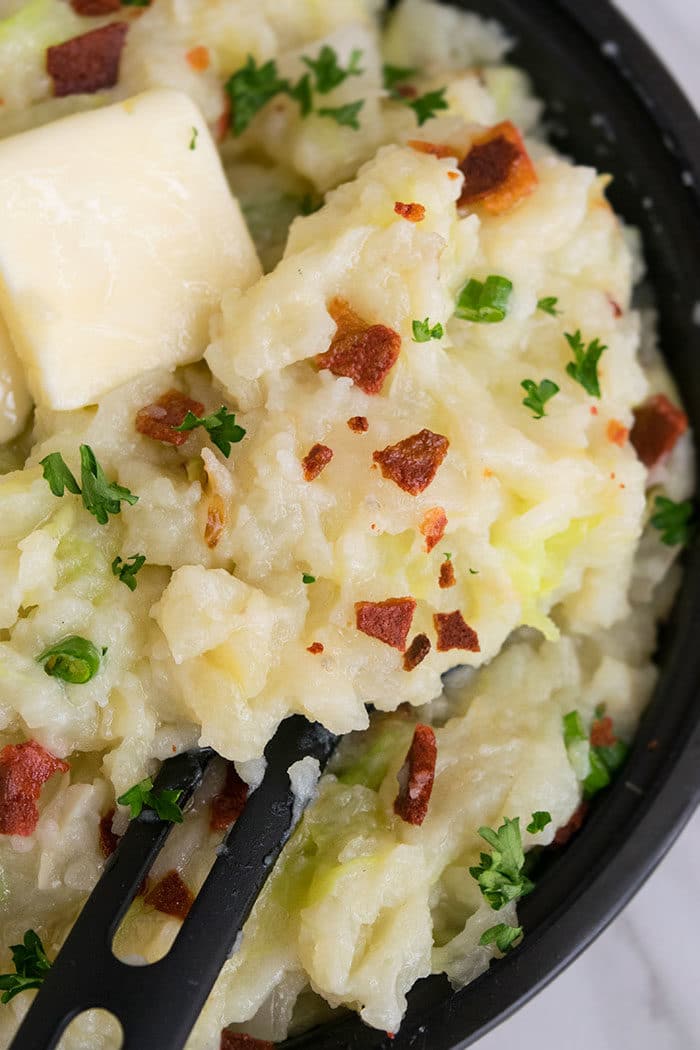 What is colcannon?
It's an Irish side dish that's composed of boiled mashed potatoes, cabbage, onions, green onions, lots of butter and heavy cream. Then, it's seasoned with salt and pepper and topped off with crumbled bacon and additional butter.
What to serve with Irish colcannon potatoes?
Any time you are planning on serving Creamy Mashed Potatoes (One Pot) or these Mashed Sweet Potatoes (One Pot) as a side dish, consider replacing them with this Irish side. Serve it alongside the following: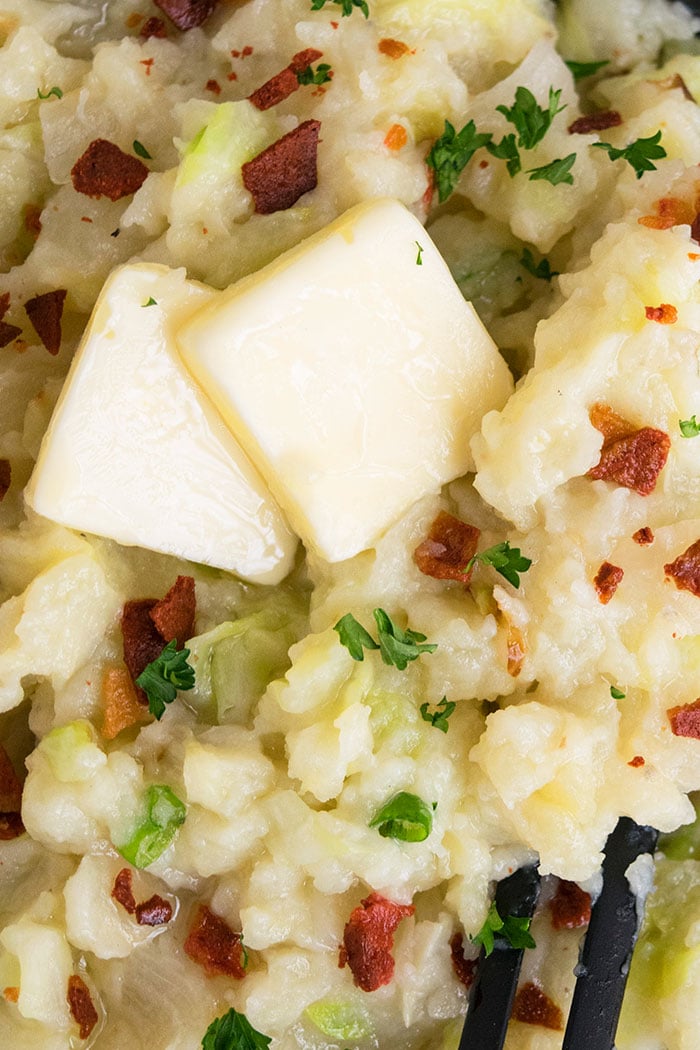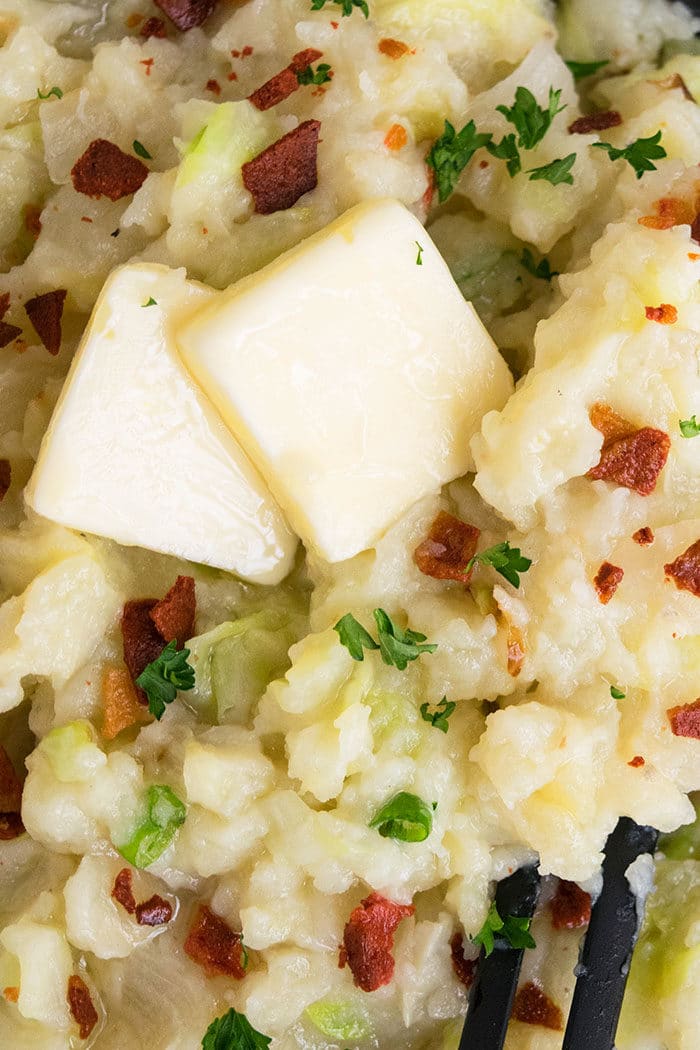 Tips and Techniques
Heavy cream substitute– Half and half, evaporated milk, cream cheese, sour cream all work great but heavy cream is truly the best.
Use unsalted butter– Because this prevents this side dish from becoming too salty.
Butter vs. Oil- I highly recommend using butter because it has more flavor that oil just does not have. The only other fat I would recommend is bacon grease because that's simply amazing!
Use leftover mashed potatoes– From a previous meal because it's so much easier and convenient.
Use full fat ingredients– Such as real butter and heavy cream because that makes this side very rich and creamy.
Double the recipe– To serve a bigger crowd.
Use nonstick pot– To prevent burning and sticking.
Stir frying vs. boiling cabbage– Based on my research, it seems that traditionally cabbage and potatoes were boiled together. However, I think that makes everything very green and "mushy" and prefer the texture of stir-fried cabbage better.
Adjust amount of heavy cream– This determines the creamy factor. Add more to make it more smooth and creamy. It should not be "soupy."
What to do with leftovers? Use them to make potato pancakes or potato cakes or even in a Shepherd's pie.
Variations
Colcannon soup– Add a lot of broth and heavy cream to thin it out into a soup-like consistency.
Make it spicy– Add 1 finely chopped jalapeno or you can add 1-2 tsp red chili flakes. Adjust the spice factor, based on your preference.
Make it cheesy– Add 1/2 cup of your favorite cheese (ricotta, feta, cream cheese, cheddar e.t.c.).
Add leeks or kale– These can be added instead of cabbage.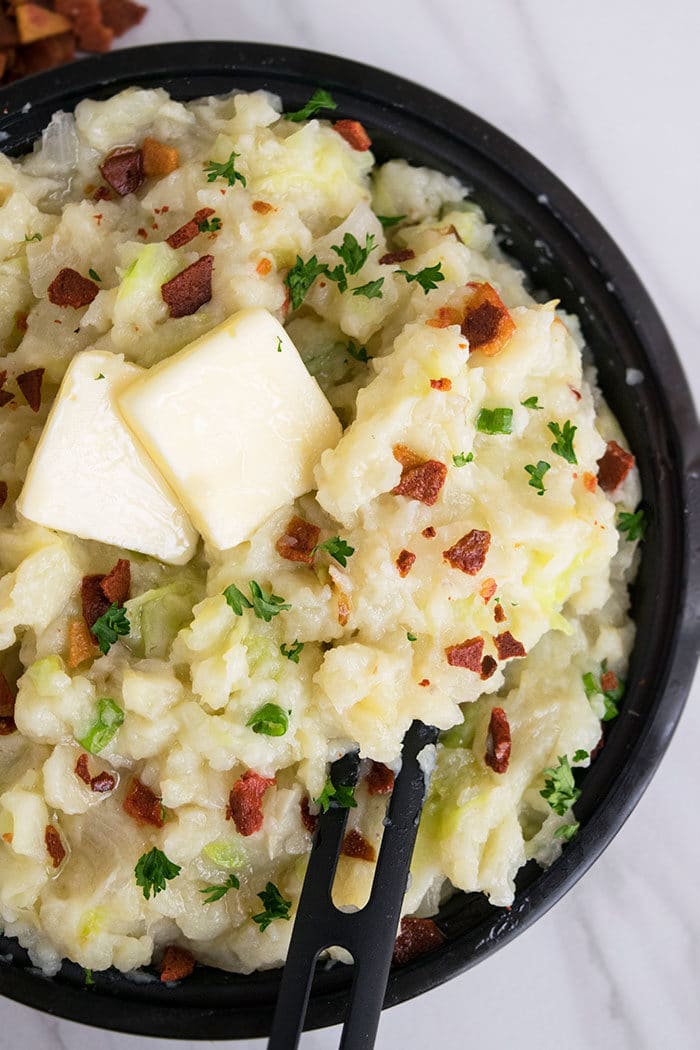 Other One Pot Vegetarian Side Dishes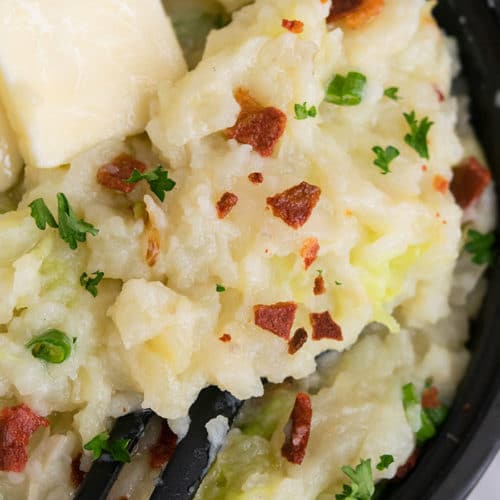 One Pot Colcannon Recipe (Cabbage and Potatoes)
Best, quick and easy Colcannon recipe, made with simple ingredients. A traditional Irish side dish with creamy mashed potatoes, cabbage, onions, bacon.
Yield: People
Instructions
Add garlic, onion and cabbage and saute until cabbage is tender. 

Add mashed potatoes, green onions, heavy cream, butter, salt, pepper and mix everything together gently.  

Sprinkle cooked, crumbled bacon and top off with more butter. Enjoy!
Notes
Read all my tips above.
Leftovers can be stored in a sealed container in the fridge for up to 3 days. 
Nutrition
Calories: 383kcal, Carbohydrates: 34g, Protein: 7g, Fat: 25g, Saturated Fat: 15g, Cholesterol: 73mg, Sodium: 202mg, Potassium: 1091mg, Fiber: 7g, Sugar: 2g, Vitamin A: 920IU, Vitamin C: 49.9mg, Calcium: 118mg, Iron: 7.7mg
Happy cooking everyone!