Instant Pot Mexican Soup
Quick and easy Mexican soup recipe, homemade with simple ingredients in Instant pot pre pressure cooker in 30 minutes. Loaded with vegetables, taco seasoning and pasta.
This recipe is a cross between my Easy Vegetable Soup (One Pot) and Slow Cooker Minestrone Soup but packed with Mexican flavors. It's comfort food that's hearty and filling but but also healthy at the same time.
It's an easy weeknight meal that's ideal for chilly winters but honestly, you can enjoy this any time of the year.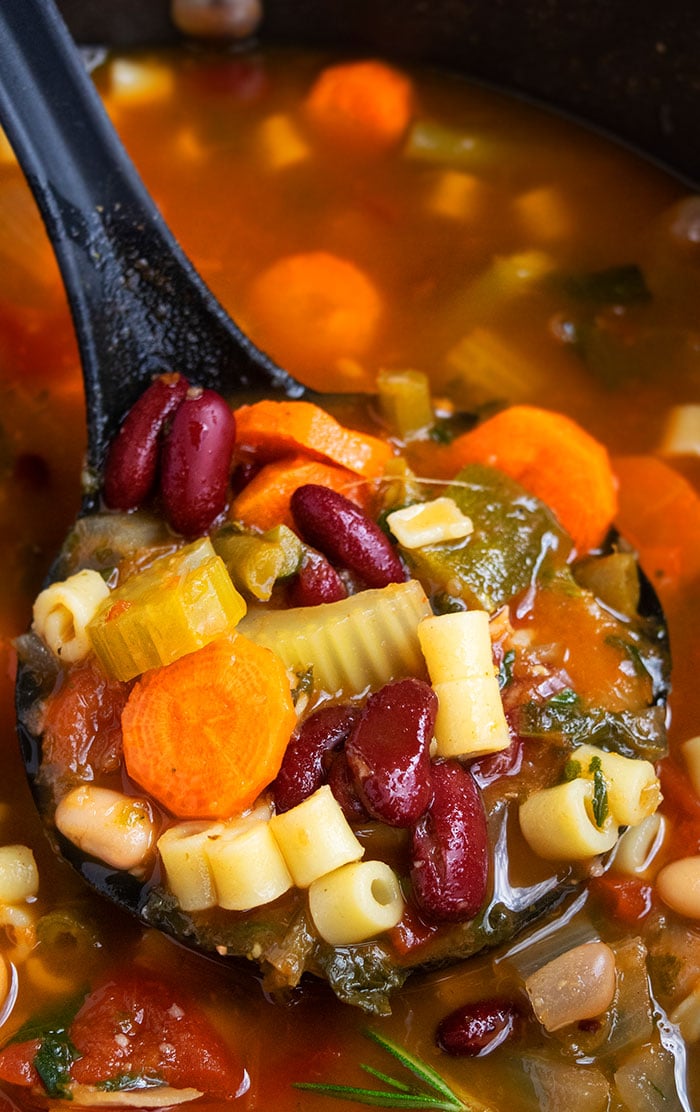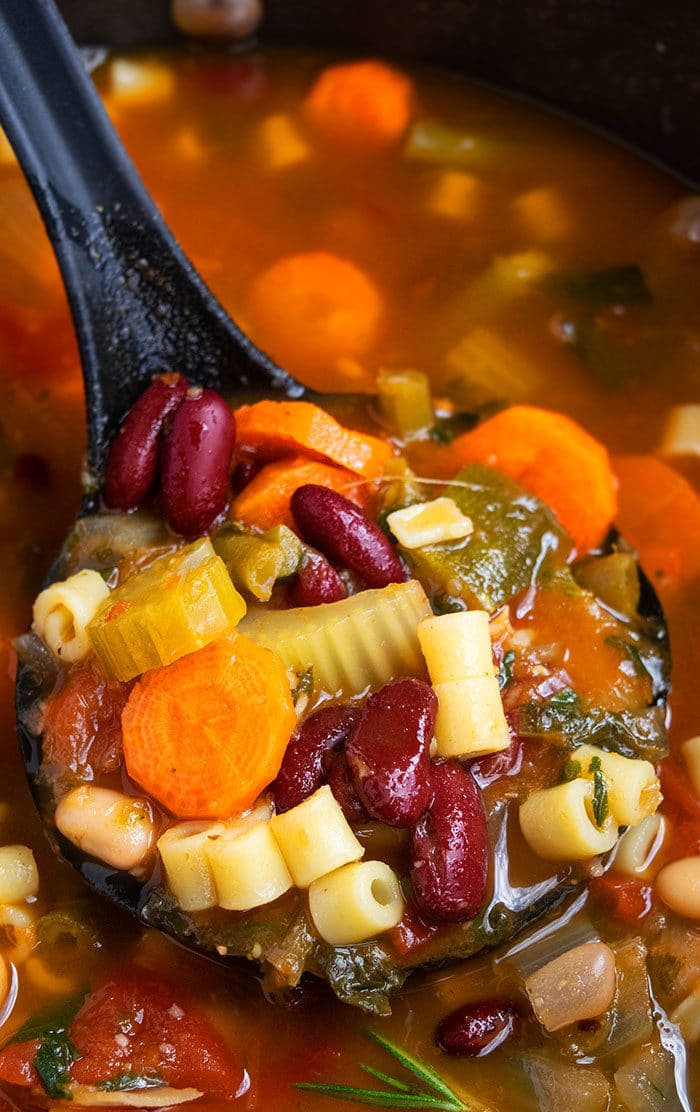 More Mexican Soup Recipes
How to make Mexican Soup?
Heat oil in Instant pot or pressure cooker.
Saute vegetables.
Add diced tomatoes, tomato sauce, broth, beans, taco seasoning.
Mix
Cover and cook.
Release pressure.
Stir.
Garnish with toppings (cilantro, tortilla chips, jalapenos e.t.c.)
Enjoy!
Stovetop instructions– Heat oil in a nonstick pot over medium-high heat. Saute the vegetables for a few minutes. Add diced tomatoes, tomato sauce, broth, beans, taco seasoning, uncooked pasta. Bring to a boil. Then, cover and cook for 6-8 minutes or until pasta is cooked through.
Crockpot instructions– Add all the vegetables diced tomatoes, tomato sauce, broth, beans, taco seasoning in slow cooker. Mix. Cook on high for 3 hours or until veggies are tender. Add beans and uncooked pasta and cook on high for another 20-25 minutes or until pasta is tender.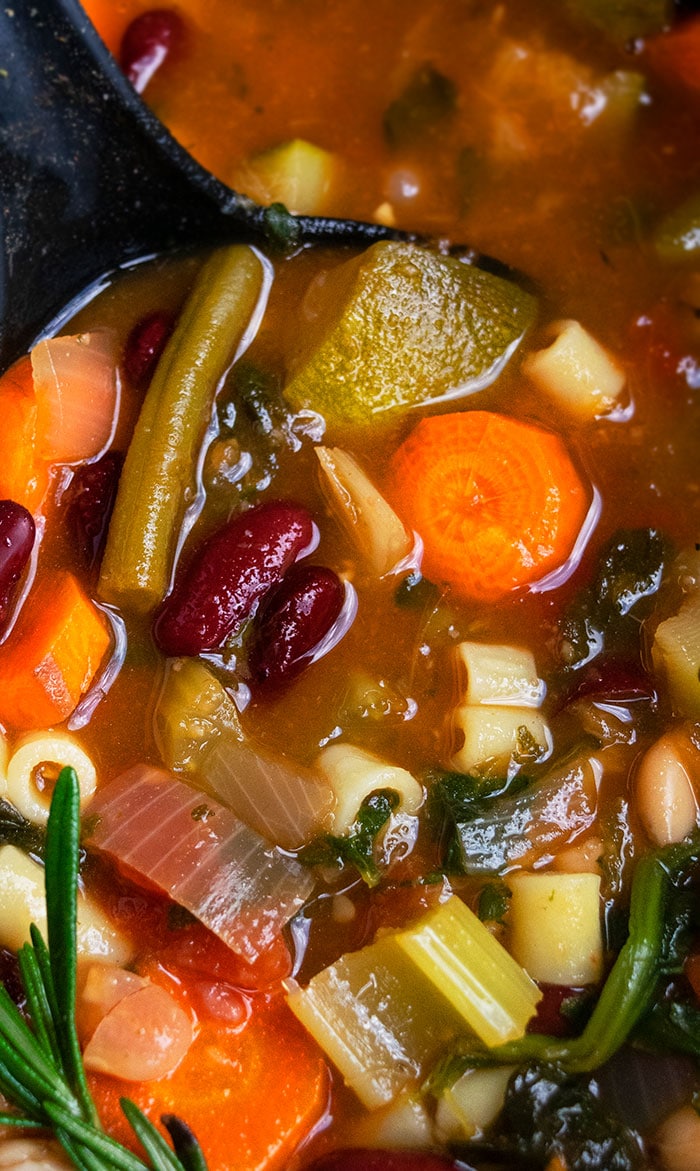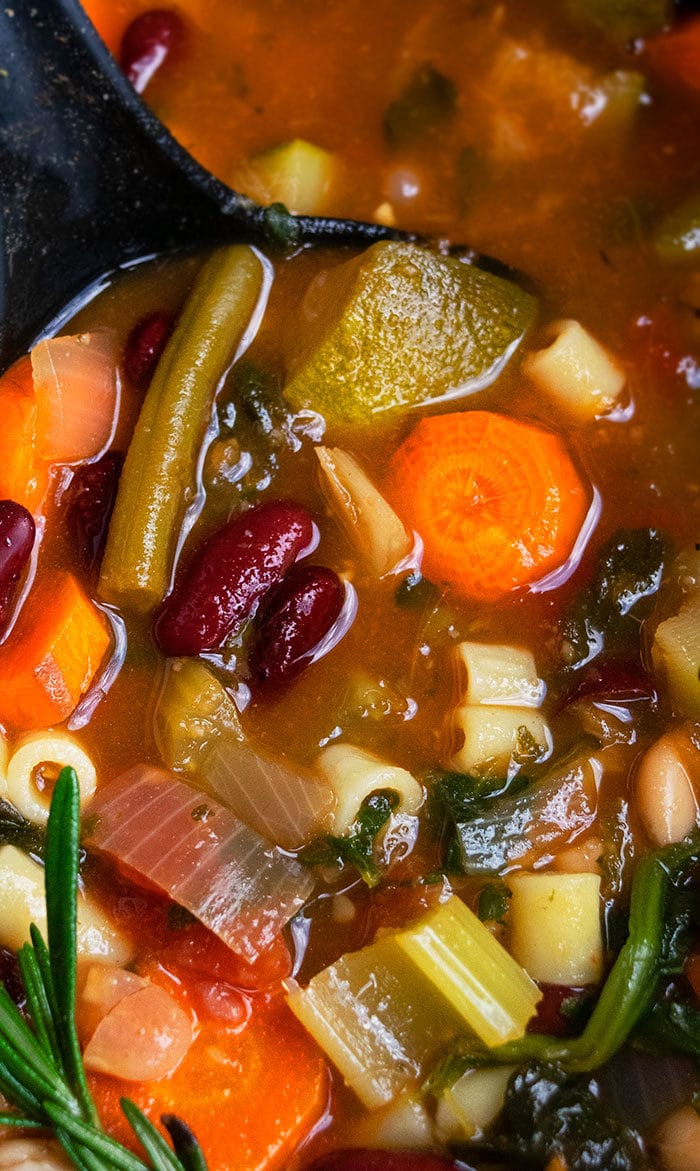 What to serve with Mexican vegetable soup recipe?
I typically enjoy it on its own since it's very filling but you may enjoy some of these popular side dishes:
Bread– Crusty bread is a classic choice or you can also make garlic bread, cheese breadsticks, dinner rolls, jalapeno cornbread.
Salad– A simple green salad is always a good choice or try this Tomato Avocado Salad (One Bowl) or even this Mexican Corn Salad (One Bowl).
Soup toppings- I usually set out a bunch of toppings for people to choose from. They can add as many of these as they like: finely chopped onions, jalapenos, cilantro, tomatoes and even salsa, guacamole, sour cream, shredded cheese, lemon or lime juice, tortilla chips or crushed Doritos chips,
Variations
Mexican chicken soup recipe– Make this Chicken Vegetable Soup (One Pot) but replace all the Italian herbs and spices with 2-3 tbsp taco seasoning.
Mexican meatball soup– Mix in cooked mini meatballs at the end. You can easily use frozen meatballs.
Mexican shrimp soup/ seafood soup- Mix in cooked shrimp at the end.
Mexican beef soup- Saute the beef first and drain fat. Then, add all the other ingredients and cook, as per instructions below.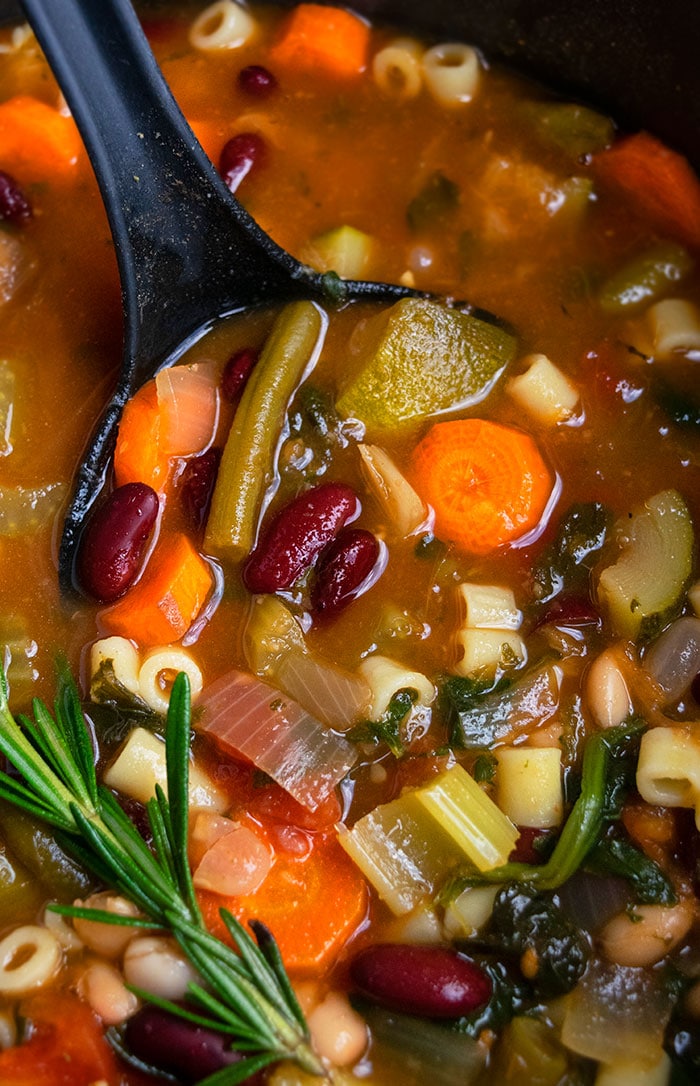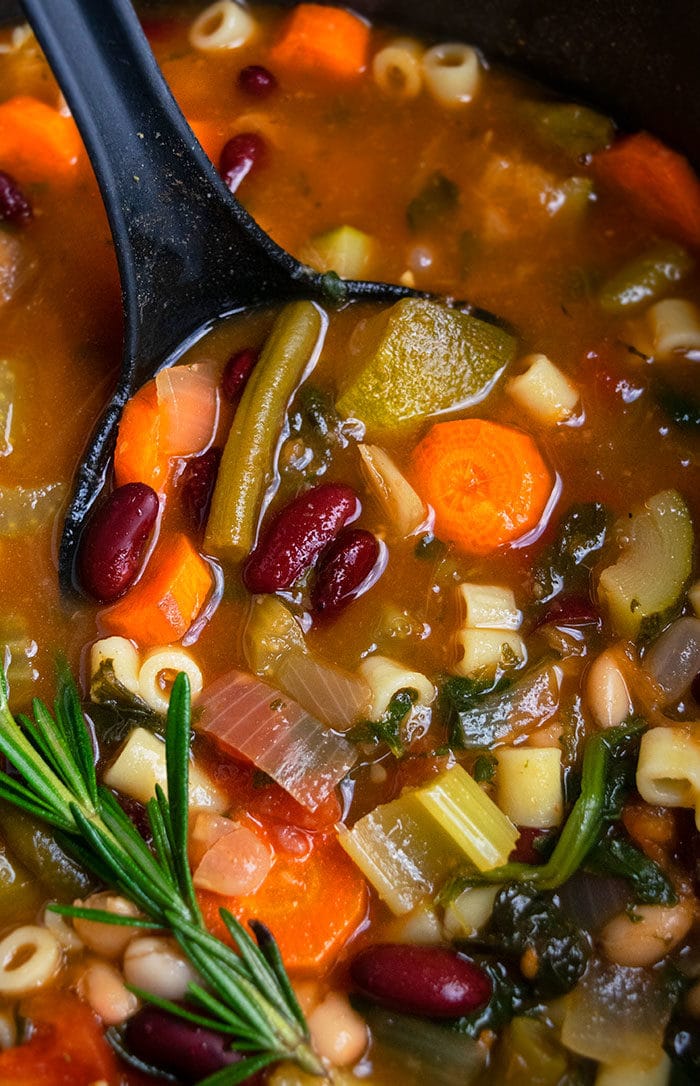 Tips and Techniques
Use any vegetables you like– This is a personal preference and you can can add whatever veggies you like, even spinach and kale. You can even use whatever veggies you have in your pantry. It does not have to the exact vegetables listed below.
Use any beans you like– I used a combination of red kidney beans and Northern beans but you can use black beans or any other beans you like. Be sure to use canned beans since they cook faster. Also, make sure to drain and rinse them or else they will discolor your soup and all add a very odd "after-taste."
Use low sodium ingredients– Because this prevents the meal from getting too salty. This is especially with regards to broth and tomato sauce.
Adjust amount of seasoning– Add more or less taco seasoning, based on your preference. It can be homemade or store-bought.
Use uncooked pasta- Because it will get cooked during cooking. Do not use boiled pasta.
Use small pasta- Such as Ditalini, mini shells or elbow/macaroni because they will cook the fastest and are also easier to eat in soups.
How to thicken homemade soup? Since pasta is added in this recipe, the soup will thicken as it cools because the pasta will absorb the liquid. To thicken it more quickly, you can always cook uncovered on the "Saute" setting until liquid is reduced to your desired consistency. Another option is to stir in some heavy cream or cream cheese at the end to thicken it.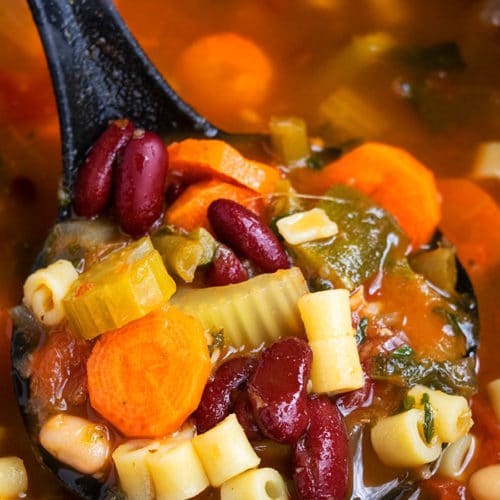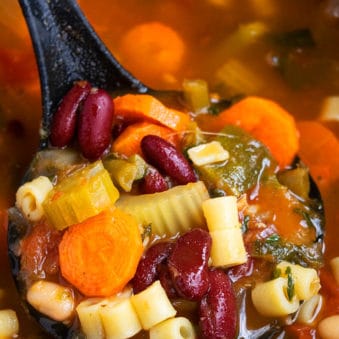 Instant Pot Mexican Soup
Quick and easy Mexican soup recipe, homemade with simple ingredients in Instant pot in 30 minutes. Loaded with hearty vegetables, taco seasoning and pasta.
Yield: People
Ingredients
3 tbsp Oil
1/2 cup Onion, Finely chopped
1/2 cup Carrots, Roughly chopped or Cut into round slices
1/2 cup Celery, Thinly sliced
1/2 cup Zucchini, Roughly chopped
1/3 cup Corn, Frozen
1/4 cup Green beans, Frozen
2 cloves Garlic, Finely minced
1 can Diced tomatoes with green chilies, 14.5 oz. can
1 can Tomato sauce, 15 oz. can, No salt added
3.5 cups Vegetable broth, Low sodium
1 can Red kidney beans, 15 oz. can, Drained and rinsed
1 can Great Northern Beans , 15 oz. can, Drained and rinsed, Or black beans
Salt, To taste
Pepper, To taste
2-3 tbsp Taco seasoning
1 1/4 cup Small pasta , Uncooked, I used Ditalini but you can also use small shells or small macaroni
Toppings of your choice, E.g. Cilantro, Jalapeno slices, Avocado slices, Tortilla chips, Lime or lemon juice, Shredded cheese
Instructions
Add onion, carrots, celery, zucchini, corn, green beans, garlic and saute for about 2 minutes until vegetables are partially softened.

Add diced tomatoes, tomato sauce, broth, kidney beans, Northern beans, salt, pepper, taco seasoning, uncooked pasta.

Mix until combined.

Put the lid on and turn up the the valve to "Sealing." Select "Manual" mode and set the timer for 5 minutes.

When the cook time is over, turn the valve to "Venting" and do a quick pressure release.

Remove lid and stir the soup. Cook soup, uncovered, on "Saute" mode for a little longer if you want the vegetables and pasta to be even softer.

Sprinkle toppings of your choice and enjoy!
Notes
Read all my tips above.
Tastes best when served immediately but leftovers can be stored in a sealed container in the fridge for up to 2 days. However, please note that pasta texture will change and become very soft since it has a tendency to soak up liquid/broth. 
Nutrition
Calories: 197kcal, Carbohydrates: 23g, Protein: 4g, Fat: 11g, Sodium: 1853mg, Potassium: 937mg, Fiber: 5g, Sugar: 14g, Vitamin A: 4215IU, Vitamin C: 28.5mg, Calcium: 69mg, Iron: 3mg
Happy cooking everyone!