Cheesy Taco Pasta (One Pot)
Quick and easy taco pasta recipe, homemade with simple ingredients in one pot over stovetop in 30 minutes. This Mexican pasta is cheesy, creamy, loaded with ground beef.
Imagine all the flavors of your favorite tacos but in pasta form and that's what this meal is all about. It's comfort food, just like this Chicken Tortilla Soup (One Pot).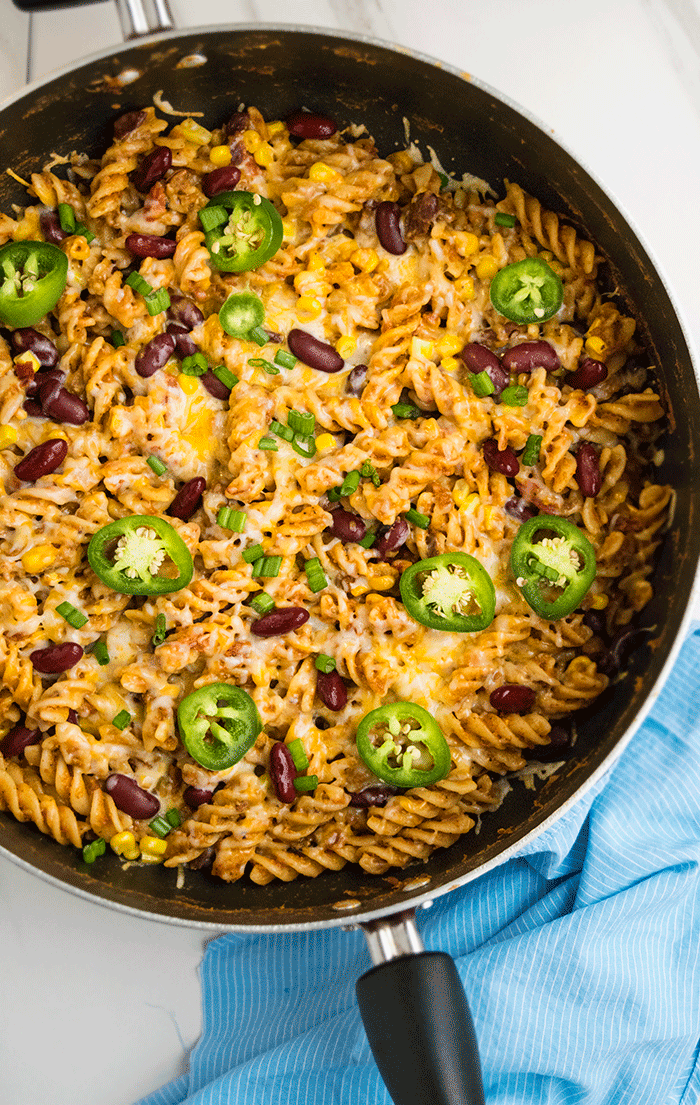 How to make one pot taco pasta?
Cook ground beef with ginger, garlic, salt, pepper.
Drain fat.
Add taco seasoning, beans, corn, salsa, water and uncooked pasta.
Mix.
Cover and cook.
Garnish with lots of cheese and other toppings of your choice.

What sides to serve with pasta?
I typically serve it with a simple salad. You can make a green salad or try this Tomato Avocado Salad (One Bowl) or even this Mexican Corn Salad (One Bowl).
If the weather is warm enough for grilling, then serve this Mexican Corn on the Cob (One Pan) on the side.
Also, serve pasta toppings on the side such as finely chopped onions, jalapenos, cilantro, tomatoes and even salsa, guacamole, sour cream. There is a detailed list below.
Pasta Toppings and Garnish
You can enjoy this meal on its own buy these toppings really take it over the top. Get as creative as you like and use all or a few of these ingredients:
Shredded cheese– Mexican cheese blend is awesome!
Sour cream– Use full fat for maximum flavor.
Guacamole– Homemade or store-bought both work well.
Salsa– Another classic topping. You can make it at home or buy it from the market. Use mild or spicy. This Pico De Gallo Salsa (One Bowl) is a classic and you may even enjoy this fruity Strawberry Salsa (One Bowl).
Jalapeno slices– For a spicy kick.
Fresh herbs– Such as roughly chopped cilantro.
Avocado– You can dice them into small pieces or slice them.
Finely chopped onions- Red onions taste the best.
Olives– Black olives taste the best here.
Tortilla chips or Doritos chips– To add a little crunch. Remember to serve immediately or else the chips will become soggy.
Tomatoes– Use finely chopped ripe tomatoes or toss some halved cherry tomatoes.
Lemon juice or Lime juice- Just a little drizzle on top adds a lot of flavor.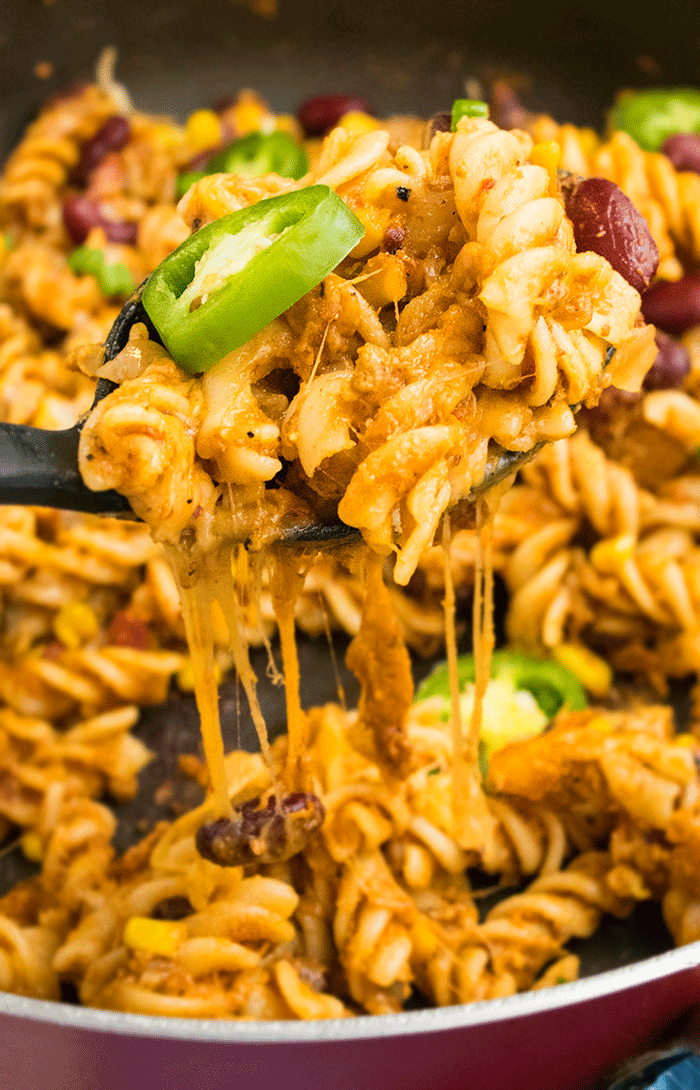 What kind of ground beef is best for pasta?
I recommend using 90% lean ground beef because it's not too greasy. However, you can easily use ground beef with higher fat content. You will simply have to drain fat after meat browns.
For a healthier alternative, you can always use ground turkey or ground chicken. You can even use leftover Mexican Shredded Chicken (One Pot).

Variations
Taco pasta salad with Doritos– Mix in boiled pasta with cooked taco meat and finely chopped onions, green peppers, jalapenos, corn, red beans and top off with crushed Doritos, prior to serving.
Creamy taco pasta bake/ beef taco pasta casserole- This is great when you have leftover cooked meat and leftover boiled pasta. Just mix everything together, along with onions, green peppers, jalapenos, red beans, corn, cheese, salsa and spread it in an oven-safe dish and bake until cheese is fully melted.
Use leftover taco meat– If you have leftover meat from a previous meal, just mix that in with boiled pasta, corn, red beans, salsa and lots of cheese. Another option would be to use that leftover meat to make taco stuffed pasta shells.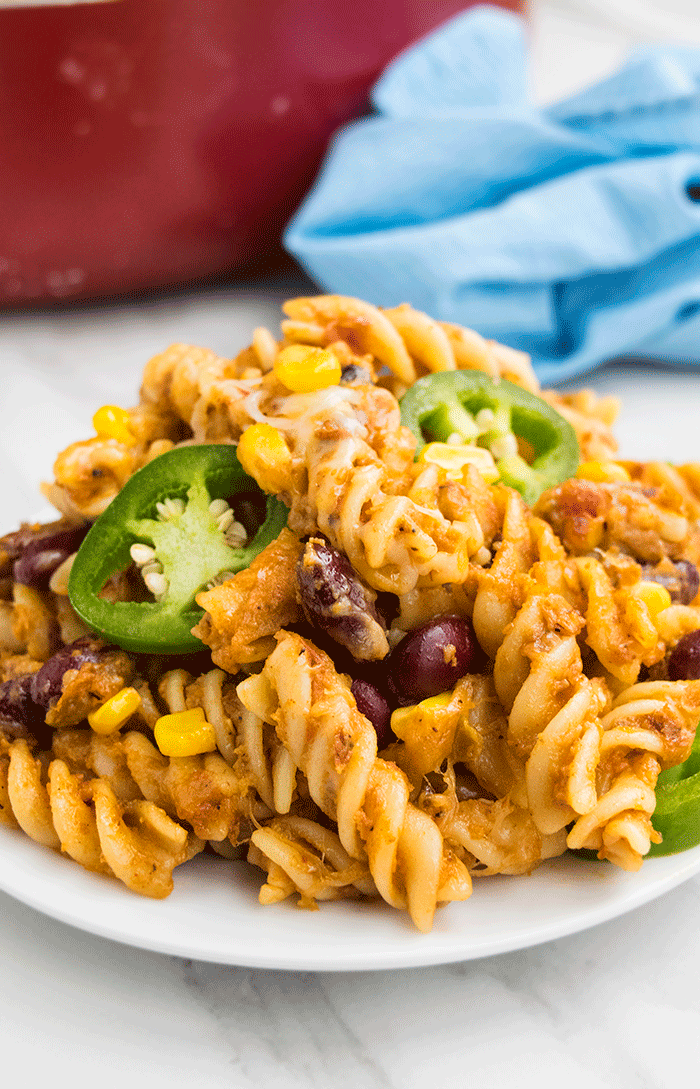 Tips and Techniques
Use nonstick pot- Because this prevents sticking and burning.
Use full fat ingredients- Because they make the meal rich and creamy. This is especially with regards to the cheese. No low fat ingredients!
Make it even more cheesy and creamy- By mixing in 1/4 cup cream cheese at the end.
What type of salsa to use? I like to use mild salsa but you can use the spicy version, if you can handle that. It can be chunky or smooth, whichever one you like.
Make this a vegetarian meal- By just omitting the beef entirely and adding more corn and red beans. This would be a delicious meatless dinner idea.
Water vs. Broth– I typically use water because the broth makes the meal very heavy. If you do use broth, use low sodium vegetable broth.
Adjust quantity of taco seasoning– Use more or less, based on your preference.
What type of pasta to use? I used Rotini. You can use shells or macaroni too. If you use whole wheat pasta, remember that it takes a bit longer to cook and you would need to increase the water quantity a bit. Don't use egg noodles because it did not work well. Please note that you are using UNCOOKED pasta.
Don't omit the toppings– Because that truly takes this dish over the top.
Serve a crowd– You can easily double or triple this recipe for dinner parties.

More One Pot Mexican Recipes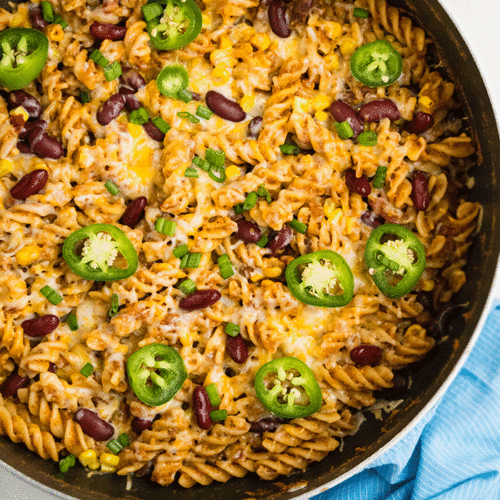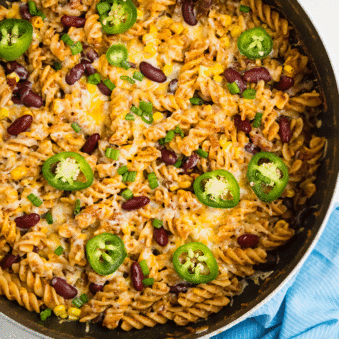 One Pot Taco Pasta Recipe
Quick and easy taco pasta recipe, homemade with simple ingredients in one pot over stovetop in 30 minutes. This Mexican pasta is cheesy, creamy, loaded with ground beef.
Yield: People
Ingredients
2 tbsp Oil
1/2 pound Ground beef
1/2 tsp Ginger powder
1/2 tsp Garlic powder
Salt , To taste
Pepper, To taste
1/2 cup Red beans, Canned, Drained and rinsed
1/2 cup Corn, Frozen
1 cup Salsa, Mild
3 tbsp Taco seasoning
8 oz. Rotini pasta, Uncooked
2 cups Water
1.5 cups Shredded Cheese, Use Mexican cheese blend
Toppings, E.g. Lettuce, Sour cream, Onions, Jalapenos, Avocado slices, Cilantro, Salsa
Instructions
Add ground beef, ginger, garlic, salt, pepper and mix it together.

Cook for a few minutes, while stirring occasionally, until beef is cooked through and no longer pink.

Drain fat.

Add red beans, corn, salsa, taco seasoning, uncooked pasta, water, additional salt and pepper (if needed) and mix everything together.

Bring everything to a boil. The, cover and let cook for about 15 minutes or until the pasta is cooked through.

If the mixture is getting too thick and the pasta still needs some time to cook, add a little more water ( ¼ cup at a time). Then, cover and cook for a few more minutes.

Remove from heat and mix in 1 cup shredded cheese.

Garnish with remaining 1/2 cup cheese and additional toppings of your choice and enjoy!
Notes
Read all my tips above.
Leftovers can be stored in a sealed container in the fridge for up to 2 days.
Nutrition
Calories: 613kcal, Carbohydrates: 58g, Protein: 30g, Fat: 29g, Saturated Fat: 10g, Cholesterol: 73mg, Sodium: 930mg, Potassium: 627mg, Fiber: 5g, Sugar: 5g, Vitamin A: 835IU, Vitamin C: 3.5mg, Calcium: 264mg, Iron: 3.2mg
Happy cooking everyone!