Oven Roasted Sweet Potatoes (One Pan)
Quick and easy oven roasted sweet potatoes recipe, made with simple ingredients in one pan/ pot & hints of cinnamon and ginger. A 30 minute side dish!
I am adding these oven roasted sweet potatoes to my growing collection of easy roasted vegetable recipes:
This is the best roasted sweet potato recipes ever!
It makes a delicious bite-sized side dish that can be served at regular weeknight meals or even dinner parties. They are crispy on the outside but tender on the inside and are especially popular at Thanksgiving.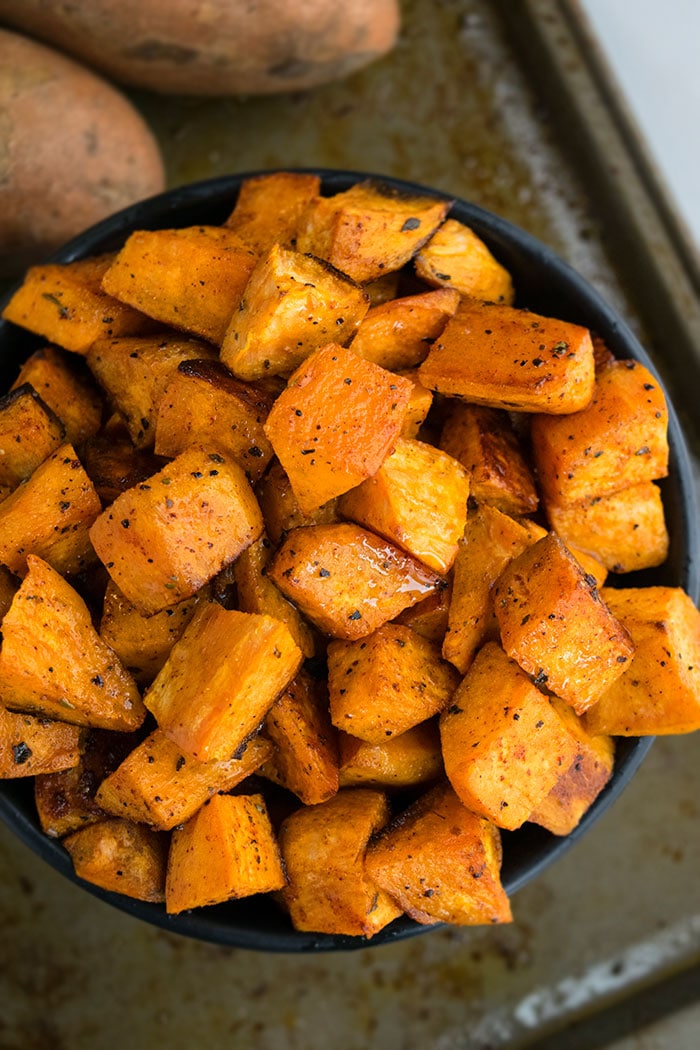 How to roast sweet potatoes?
How do I make crispy roast sweet potatoes?
How do you roast sweet potato chunks?
Mix together the potatoes, olive oil, cinnamon, ginger, salt, pepper, paprika in a baking tray.
Bake until crisp and you are done.
Do you have to peel sweet potatoes before roasting them?
I always peel because I don't like the rough texture. However, it is your choice because the peel is edible.
How long do you oven roast sweet potatoes?
It takes about 20 -25 minutes. They are ready when potatoes are crisp on the outside with slight charring.

Tips for easy healthy oven roasted sweet potatoes
Line baking tray with aluminum foil to make clean up easy.
Adjust the amount of spices, based on your preference.
For a spicy kick, sprinkle 1/4 tsp red chili flakes.
Add 1-2 tbsp honey, maple syrup or brown sugar, prior to baking to give these potatoes a more caramelized flavor.
For a savory flavor, sprinkle some Italian seasoning and garlic powder.
Be sure to toss the potatoes halfway through baking because this allows even baking and caramelization. Furthermore, make sure potatoes are not overlapping to ensure even baking.
For quick baking, cut small chunks that are about 1 inch in size.
I highly recommend peeling potatoes for the best overall texture.
Mix in 8-10 brussel sprouts (cut in half) to this recipe. Fresh work best.
Mix in 1 cup of cubed beets to this recipe. Carrots are also another great choice.
Roast sweet potatoes whole vs. Roasted sweet potato cubes vs. Roasted sweet potato slices
Whole potatoes take the longest, followed by slices and then, cubes. Since cubes are small and only about 1 inch big, they roast the fastest and great, when you are short on time.
Roasted sweet potatoes fries and wedges are another option and work great as a snack, finger food or appetizer at game day parties and tailgating. Fries are thinner than wedges and thus, cook the fastest.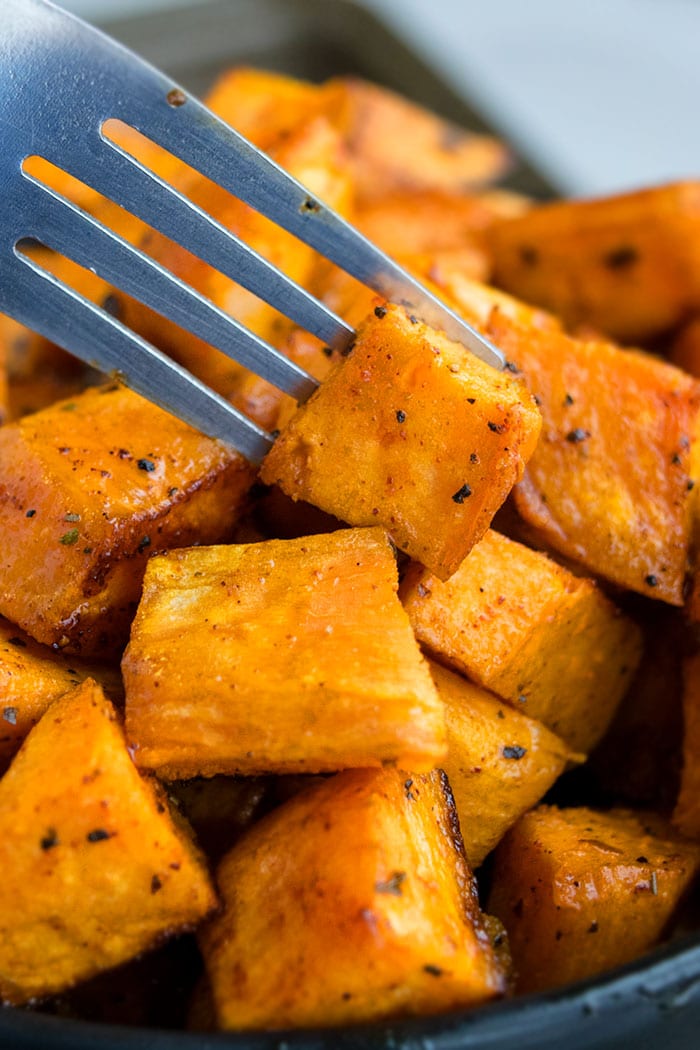 Other One Pot Thanksgiving Sides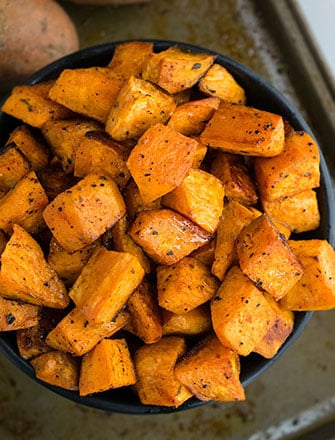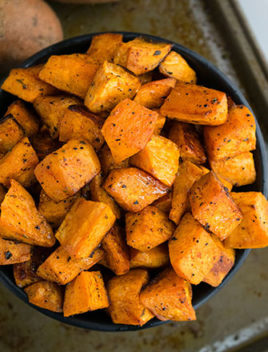 One Pan Roasted Sweet Potatoes
Quick and easy oven roasted sweet potatoes recipe, made with simple ingredients in one pan/ pot. This 30 minute side dish has hints of cinnamon and ginger.
Yield: People
Instructions
Spread potatoes in a baking tray, lined with foil paper.

Drizzle olive oil and sprinkle cinnamon, ginger, paprika, salt, pepper.

Mix until evenly coated.

Spread out the potatoes so that they are not overlapping and bake evenly.

Bake at 425 degrees for 20-25 minutes or until crisp and golden brown on the outside but soft on the inside. Be sure to toss everything halfway through.

Serve immediately and enjoy!
Notes
Read all my tips above.
Tastes best when served fresh but leftovers can be stored in a sealed container in the fridge for up to 2 days. 
Nutrition
Calories: 5kcal, Sodium: 41mg, Vitamin A: 130IU, Calcium: 2mg
Happy cooking everyone!