Oven Roasted Cauliflower (One Pan)
Quick and easy oven roasted cauliflower recipe, made with simple ingredients in one pot / pan. A 30 minute side dish, loaded with garlic & parmesan cheese.
I am adding this one pan oven roasted cauliflower to my long list of easy roasted vegetable recipes:
They all make a delicious side dish that can be served at regular weeknight meals or even dinner parties. They are crispy and cheesy and bite-sized so that even kids can enjoy them.
Tips for oven roasted cauliflower recipe
Do not cover the pan with foil because that steams instead of roasting and makes the florets mushy instead of crisp.
400 degrees  may seem like a high baking temperature but that ensures that any condensation quickly evaporates. This is especially important if you are using frozen cauliflower.
Use unsalted butter to prevent this side dish from becoming too salty.
Adjust the amount of garlic powder, based on your preference.
Use other herbs, seasonings, spices of your choice like red chili flakes, paprika, taco seasoning, cajun seasoning, Indian seasoning e.t.c.
Line the baking tray with aluminum foil for easy cleanup.
Spread out the florets so they are not overlapping because this allows even baking.
If you don't have butter, you can replace that with olive oil.

How to make roasted cauliflower? How to make roasted frozen cauliflower? How to roast cauliflower?
Place bite-sized cauliflowers in a baking tray and toss it with oil, butter, salt, pepper, garlic powder.
Spread it out and bake.
Sprinkle with parmesan cheese and parsley and serve immediately.
Even though I prefer fresh cauliflower, frozen cauliflower can be used. Just raise the temperature to 425 degrees and bake for 25 minutes. The higher temperature allows condensation to evaporate quickly and become crisp.
How long to roast cauliflower? How long do I roast cauliflower in the oven?
20- 25 minutes is the best temperature for the best crispy but tender texture.
Can I roast cauliflower at 350 degrees?
Yes, you can but it will take a little longer to fully roast. It takes about 35-40 minutes.
How long does it to take to roast cauliflower at 400 degrees?
It takes 20- 25 minutes.
Is roasted cauliflower healthy?
Yes, is is healthy because it's low in fat and calories.
You can use these cauliflower bites in:
Soup
Curry
Fried rice
Pasta
Salad

Roasted broccoli and cauliflower/ Roasted cauliflower and carrots/ Roasted cauliflower and brussel sprouts
Reduce the amount of cauliflower by half and combine with 2 cups brussel sprouts (sliced in half) or baby carrots or broccoli florets. Toss it all together with olive oil, salt, pepper, garlic powder and bake until crisp.
Whole roasted cauliflower recipe/ Roasted cauliflower head
Instead of cutting bite sized pieces, you place the whole cauliflower on a sheet pan and cover it in olive oil and fresh/dry herbs and bake until golden brown. It's very similar to the recipe below.
Best roasted cauliflower steaks
Steaks is another alternative to using whole or bite sized cauliflower. Hold cauliflower with its base on the cutting board, after removing its leaves and stem end. Use a sharp knife to cut it in half. Then, cut each half into 2 more thick slices. Drizzle olive oil and sprinkle herbs. Bake until golden brown.

Parmesan roasted cauliflower/ Roasted cauliflower parmesan
Sprinkle lots of finely shredded or grated parmesan cheese all over the cauliflower, as soon as it's done baking. The heat would melt the cheese.
Roasted garlic cauliflower
Use fresh garlic instead of garlic powder for best flavor and aroma. It will roast, along with the cauliflower.
Roasted buffalo cauliflower
Omit the olive oil and Italian herbs. Instead, coat the cauliflower pieces with 1/3 cup buffalo sauce. Then, bake until tender and crispy.
Spicy Indian turmeric roasted cauliflower
Coat the cauliflower with 1-2 tbsp olive oil, 1 tsp turmeric, 1 tsp garam masala, salt and red chili flakes. Bake until crispy.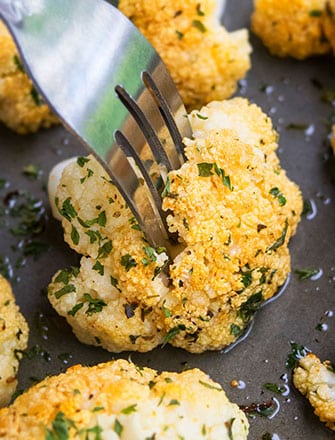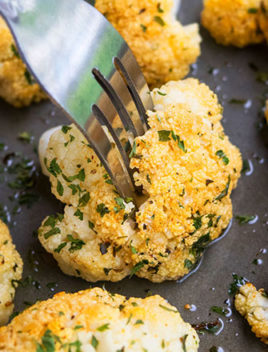 One Pan Roasted Cauliflower Recipe
Quick and easy oven roasted cauliflower recipe, made with simple ingredients in one pot / pan. A 30 minute side dish, loaded with garlic & parmesan cheese.
Yield: People
Instructions
Place cauliflower pieces in a large sheet pan, lined with aluminum foil.

Drizzle butter and oil over the top and sprinkle salt, pepper, garlic powder, and Italian seasoning (optional) and toss everything together.

Spread them out and make sure they are not overlapping each other, for even baking.

Bake at 400 degrees for 20-25 minutes or until tender and golden brown and slightly charred.

Remove from oven and sprinkle parmesan cheese and parsley. Serve immediately.
Notes
Read all my tips above.
Tastes best when served fresh but leftovers can be stored in a sealed container in the fridge for up to 2 days. 
Nutrition
Calories: 104kcal, Carbohydrates: 8g, Protein: 5g, Fat: 6g, Saturated Fat: 3g, Cholesterol: 13mg, Sodium: 264mg, Potassium: 439mg, Fiber: 3g, Sugar: 2g, Vitamin A: 170IU, Vitamin C: 69.3mg, Calcium: 141mg, Iron: 0.9mg
Happy cooking everyone!