Loose Meat Sandwich (Tavern Sandwich)
The best quick and easy loose meat sandwich recipe (Tavern sandwich), homemade with simple ingredients in one pot over stovetop in 30 minutes. Tender, seasoned ground beef is loaded on top of soft toasted hamburger buns.
These Instant Pot Sloppy Joes are always a major hit with my family. My son can eat them every single day and not get bored of it. Today's recipe is very similar to that classic.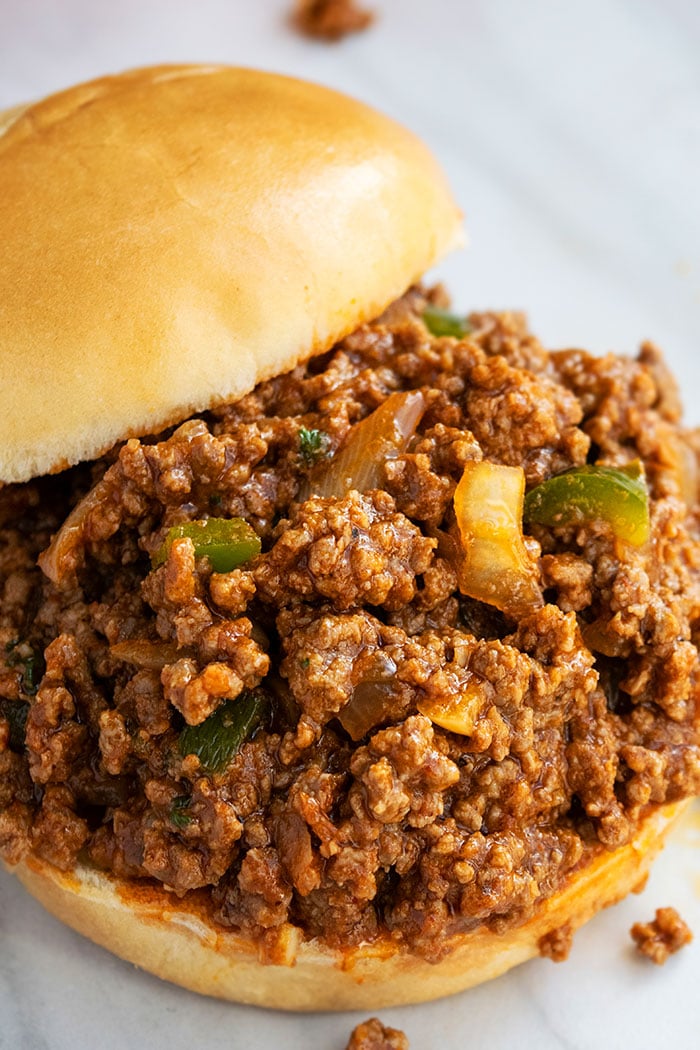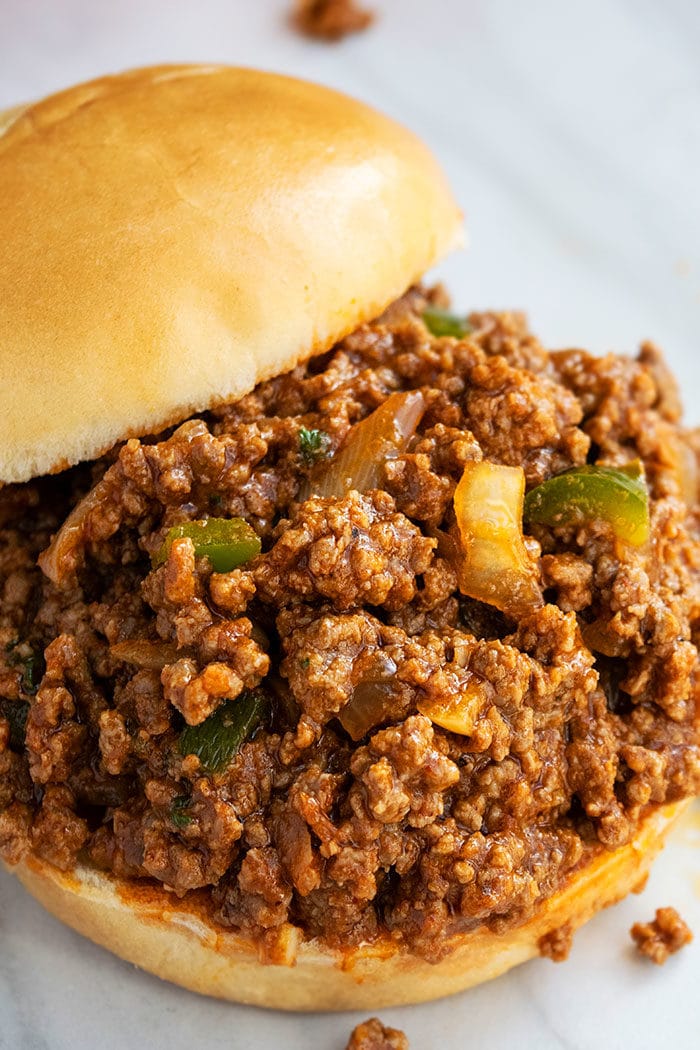 How to make loose meat sandwich (Maid-Rite sandwich or Tavern sandwich)?
Heat butter.
Saute beef.
Drain fat.
Add onions, peppers, ginger, garlic, sugar, vinegar, worcestershire sauce, broth.
Cook uncovered until excess liquid evaporates.
Top over buns.
Enjoy!
What is a loose meat sandwich? Where did it originate?
It's a sandwich that consists of a a hamburger bun loaded with ground beef that's been cooked with onions, green peppers, and basic spices like salt, pepper, ginger, garlic, some brown sugar, vinegar, mustard, Worcestershire sauce.
It's supposed to be have originated in Iowa (Midwest) around the 1920's. It's a very popular item at the Maid-Rite restaurants there. Their popularity also comes from the TV show Roseanne. The sitcom featured these sandwiches at Roseanne and Jackie's restaurant: "The Landford Lunchbox."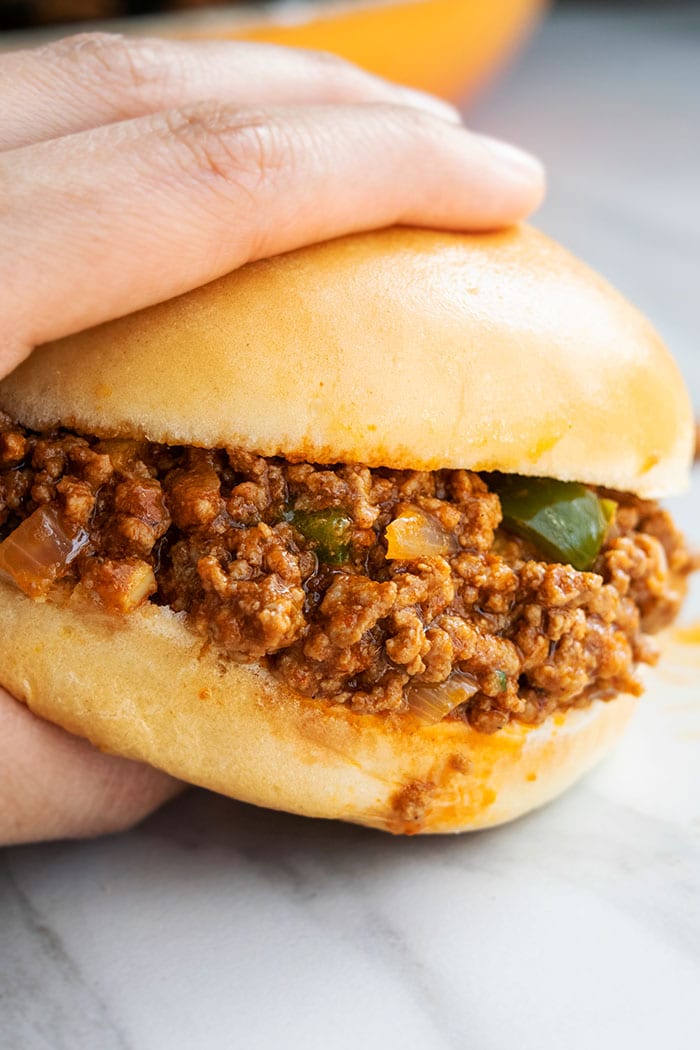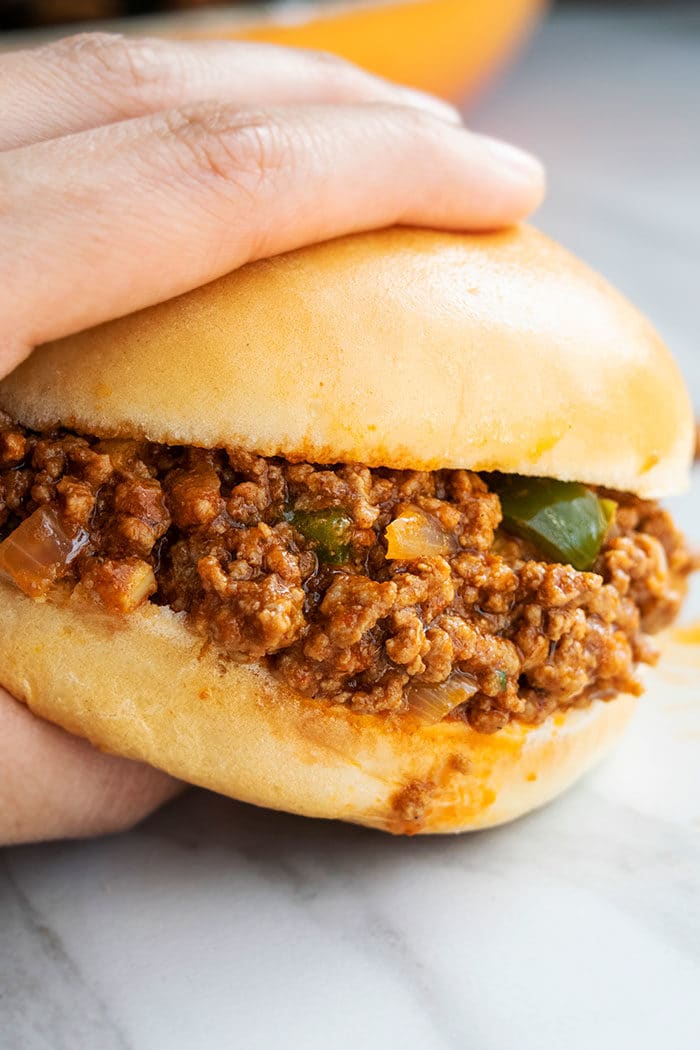 What sides to serve with loose meat sandwiches?
It's typically served with French fries, sweet potato fries, zucchini fries, potato wedges, onion rings, coleslaw, a simple salad such as Cucumber Tomato Salad (One Bowl), grilled or roasted vegetables such as Roasted Sweet Potatoes (One Pan). Obviously, Boiled Corn on the Cob (One Pot) would be another classic side dish.
Also, don't forget to serve condiments on the side that your guests can choose from, to customize their own sandwich:
Onions
Pickles or even pickled vegetables
Ketchup
Mayonnaise
Mustard
Relish
Lettuce
Cheese
Tomatoes
You can also serve the cooked ground beef in sandwich bread or gourmet buns.
Loose meat sandwich vs. Sloppy joe sandwich
The difference between the two is that sloppy joes is typically loaded with tomato flavor that comes from tomato sauce, tomato paste and/or ketchup. However, tomatoes are usually absent in the loosemeat sandwiches (although I like to add a little bit of ketchup, which is entirely optional).
Is a burger a type of sandwich?
No. Sandwiches are usually made with sliced loaves of bread and burgers are made with round hamburger buns. However, the tavern sandwich is odd in its name because it uses hamburger buns and beef is is cooked loose rather than formed into a compact patty, which is typical of a burger.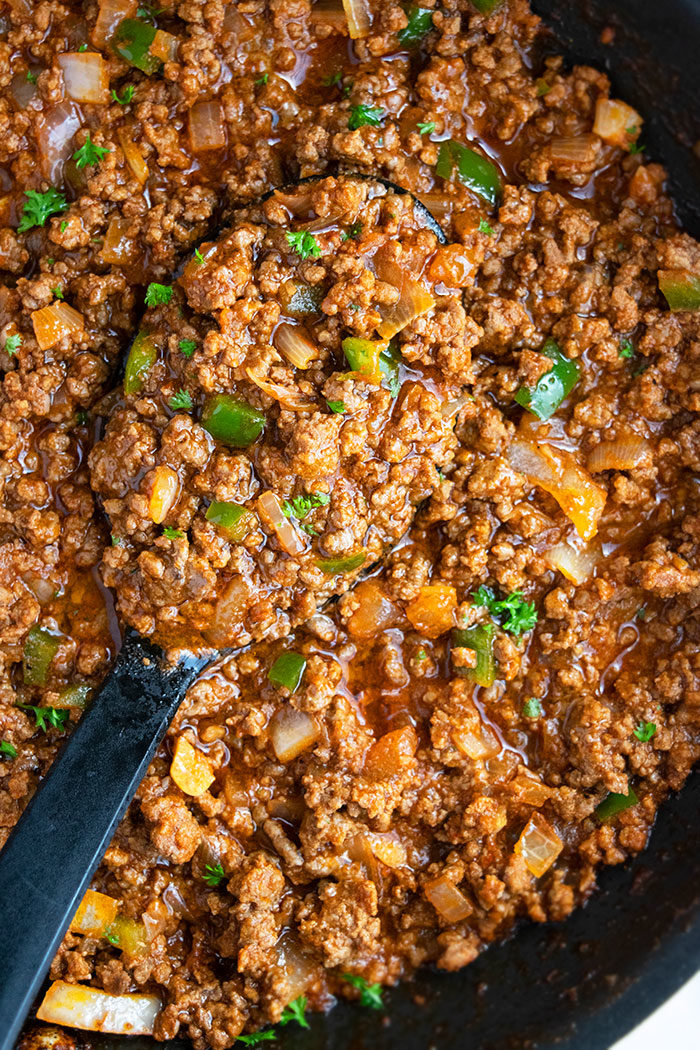 Tips and Techniques
Drain fat– It is optional but I always do it because it prevents the meal from becoming too greasy.
Use nonstick pot– Because it prevents burning and sticking.
Adjust amount of spices– Add more or less of whatever you like or dislike.
Make it spicy– By adding some red chili flakes.
Butter vs. Oil- Either can be used but I prefer butter since it adds a wonderful rich flavor and aroma.
Garnish- I don't usually garnish with anything but finely chopped parsley would be a good option.
How to thicken sauce? Just cook uncovered on medium heat until liquid is reduced and evaporated. Do not add cornstarch or flour mixture to thicken it because that will change the flavor.
Can you freeze loose meat? Yes! When it cools down completely, place it in a freezer bag or sealed container for up to 1 month.
What meat to use? Typically, ground beef is used but you can also use ground pork, ground chicken or even ground turkey for a healthy alternative. I like it best with ground beef because it tastes the best!
Use low sodium broth– Because it prevents this meal from becoming too salty.
More Ground Beef Recipes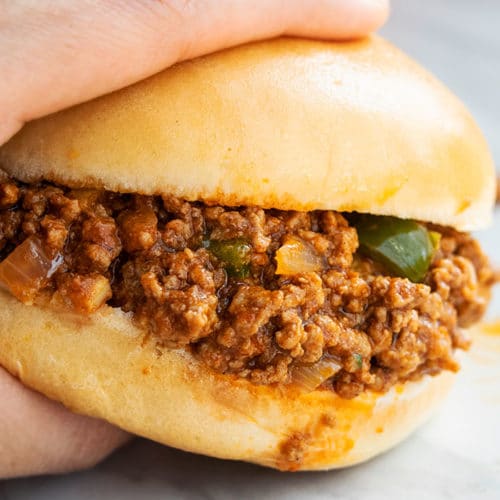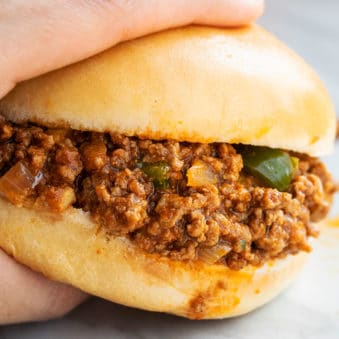 One Pot Loose Meat Sandwich (Tavern Sandwich)
Quick and easy loose meat sandwich recipe (Tavern sandwich or Maid Rite Sandwich), homemade with simple ingredients in one pot over stovetop in 30 minutes.
Yield: People
Instructions
Add beef and cook for a few minutes until it's no longer pink, breaking and crumbling it along the way.

Drain fat/ grease and add onions, green peppers, salt, pepper, garlic, ginger, brown sugar, worcestershire sauce, vinegar, tomato paste (optional), broth.

Mix everything together and cook on medium heat until liquid is reduced to your desired consistency, mixing often.

Serve on toasted hamburger buns topped iff with with onions, pickles, mustard and other condiments of your choice. Enjoy!
Notes
Read all my tips above.
Leftovers can be stored in a sealed container in the fridge for up to 3 days. 
Nutrition
Calories: 452kcal, Carbohydrates: 6g, Protein: 27g, Fat: 34g, Saturated Fat: 14g, Cholesterol: 117mg, Sodium: 514mg, Potassium: 583mg, Sugar: 3g, Vitamin A: 225IU, Vitamin C: 7.9mg, Calcium: 45mg, Iron: 3.6mg
Happy cooking everyone!