Instant Pot Sloppy Joes
Best, classic, quick, easy sloppy joes recipe, homemade with simple ingredients in Instant Pot/ pressure cooker in 30 minutes. Can be made on stovetop too!
Tender and juicy ground beef is coated in a very balanced sweet, spicy and savory sauce. It's the ultimate comfort food that makes an easy weeknight meal. Everyone always asks for seconds and kids love it.
Other Instant Pot Meals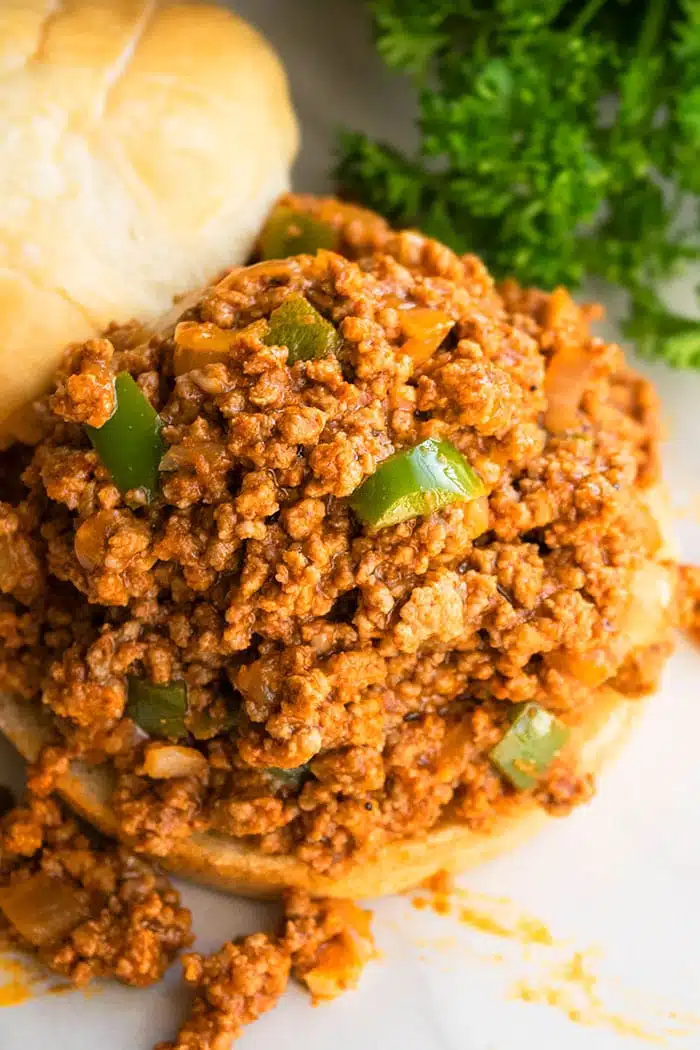 What is a sloppy joe? How did it get its name?
It's a hearty sandwich consisting of ground beef, onions, green peppers, tomatoes and various other seasonings, served on a hamburger bun. It's supposed to have originated in the United States during the early 20th century.
Based on my research, a cook named Joe at Floyd Angell's café in Iowa, added tomato sauce to his loose meat sandwiches and that became very popular and resulted in this unique name.

What's the difference between manwich and sloppy joes?
Manwich is a store-bought sauce for ground beef that's used to make sloppy joes. It has many of the same herbs, spices and seasonings that are used in the homemade recipe below.
How to make sloppy joes in instant pot?
Heat oil and brown the meat.
Drain fat.
Add onion, garlic, celery, green peppers and saute for a few minutes.
Mix in tomato paste, ketchup, herbs, spices and seasonings.
Cover and cook.
Uncover and simmer until liquid is reduced and you are done.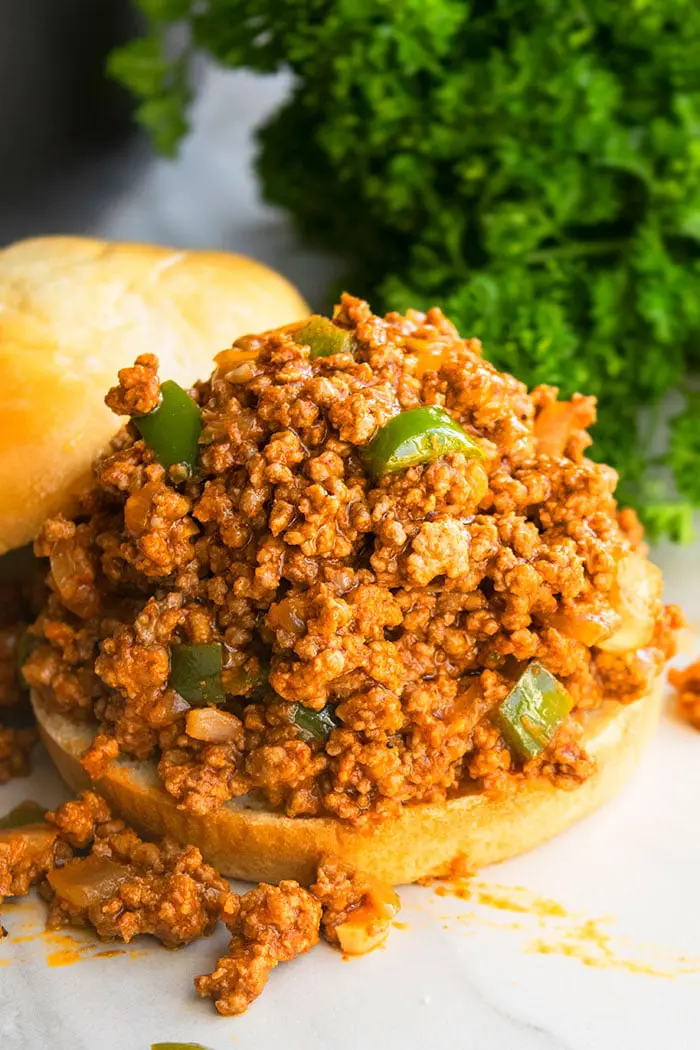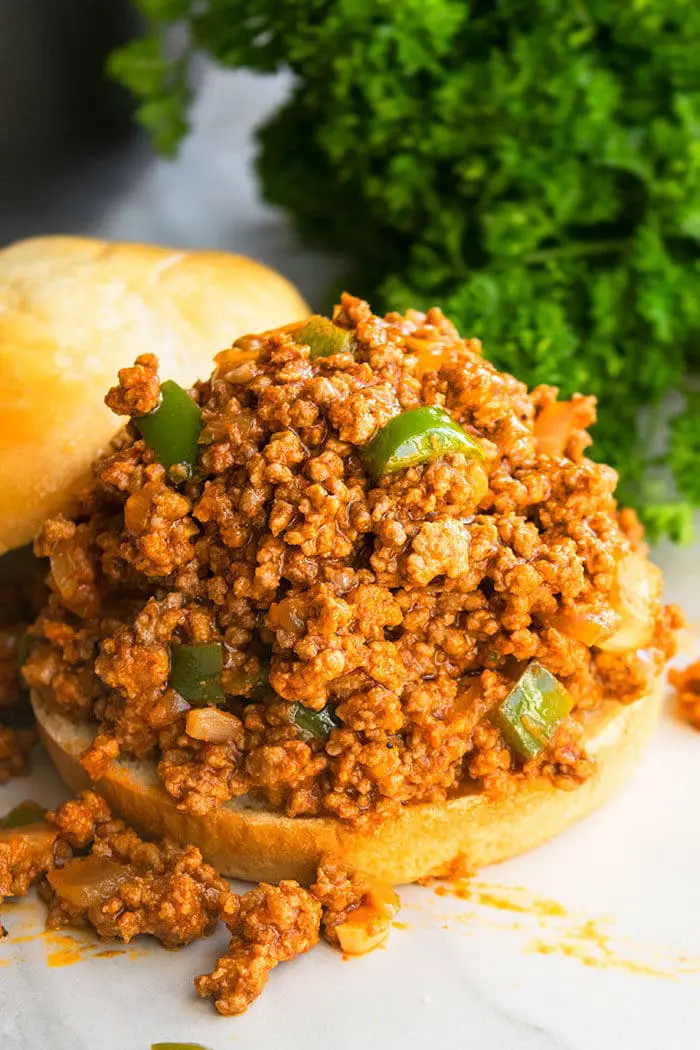 Can you make easy homemade sloppy joes in slow cooker/ crock pot?
Yes! Absolutely. Start off by browning the ground beef over stovetop. Then, add that, along with all the other ingredients, in a slow cooker. Cover and cook on "high" for about 3 hours or cook on "low" for about 5 hours.
What to serve with best sloppy joe recipe?
Typically, it's just served on hamburger buns but you can also use sandwich bread or gourmet buns.
Some other side dishes that work great are: french fries, sweet potato fries, chips, onion rings, simple green salad or potato salad and even coleslaw.
Roasted vegetables are always a classic side dish. Here are some of my family's favorites: Oven Roasted Carrots (One Pan), Oven Roasted Cauliflower (One Pan), Oven Roasted Green Beans (One Pan),Oven Roasted Broccoli (One Pan), Oven Roasted Asparagus (One Pan).
How to thicken sloppy joe sauce or gravy?
Cook uncovered on the "Saute" setting until liquid is reduced to your desired consistency. I don't recommend adding a cornstarch slurry because that alters the flavor and makes it taste "chalky."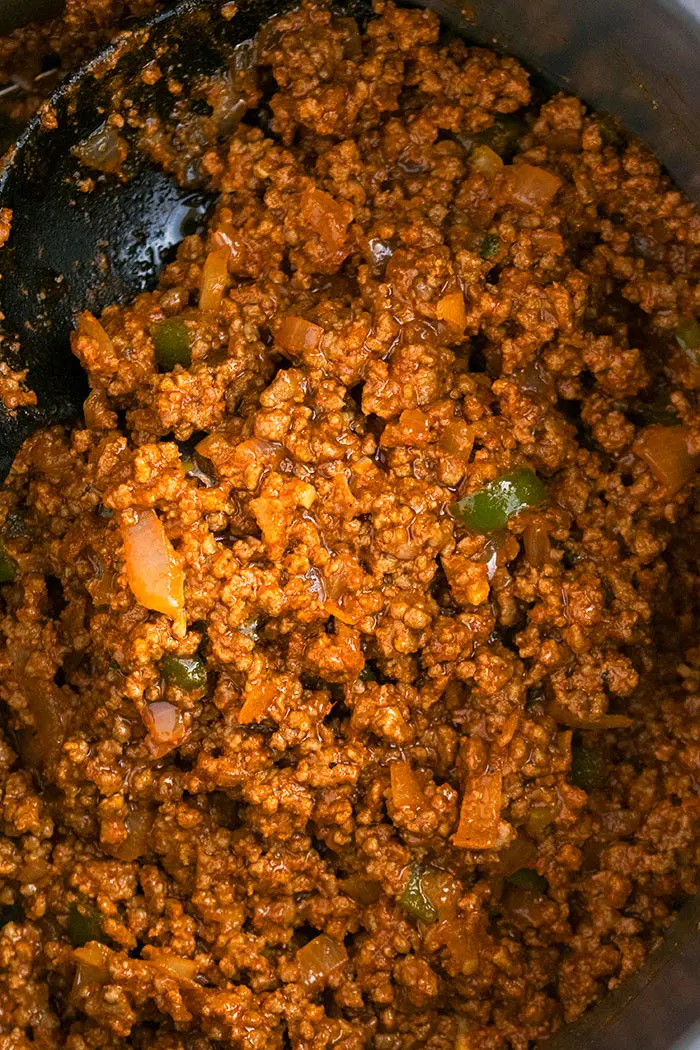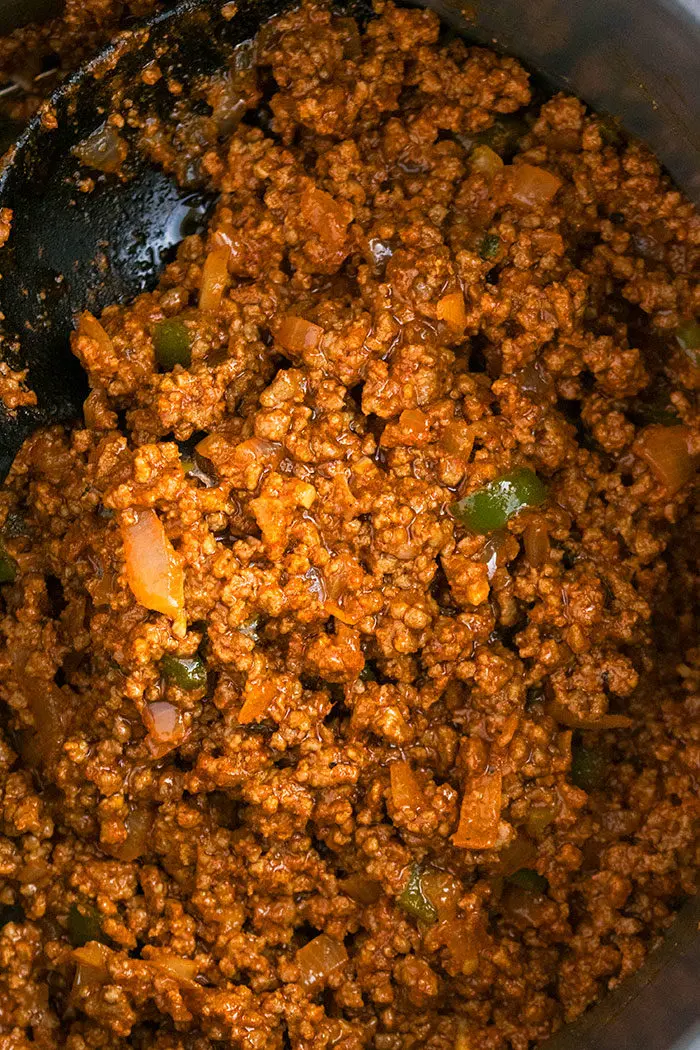 Tips and Techniques
Adjust amount of seasonings– This is entirely a personal preference. Add more or less of whatever you like/dislike.
Drain fat- Because this prevents the meal from becoming too oily and greasy.
Brown beef- This is very important because it enhances the flavor and also helps with the overall texture.
Can you freeze sloppy joes? Yes! Allow them to cool down completely. Then, place them in a freezer bag or a tight sealed ziploc bag. Lay it flat in the freezer so that it doesn't take up too much space. This can be frozen for up to 1 month.

Can you use frozen meat? Yes, you can do this but obviously you won't be able to brown the beef. Once your release the pressure, you will also have to to chop up the meat with a wooden spatula to give it that "ground beef" look rather than a large chunky appearance.
What meat to use? You can use ground beef, ground pork, ground chicken or use ground turkey for a healthy alternative.

Use low sodium ingredients– To prevent the meal from becoming too salty. This is especially in regards to butter and broth.
Garnish options- Chopped green onions, parsley, cilantro or green chilies.
Sloppy joe toppings- Take these sandwiches to a whole new level by topping them off with pickles, cheese, mustard, mayonnaise, bbq sauce, coleslaw, onion rings, thinly sliced onions, crispy bacon slices, jalapenos or sour cream.
Other One Pot Ground Beef Meals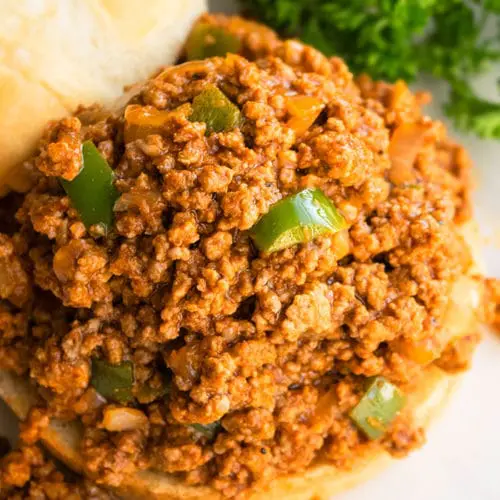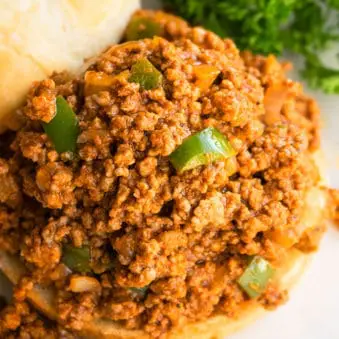 Instant Pot Sloppy Joes Recipe
Best, classic, quick, easy sloppy joes recipe, homemade with simple ingredients in Instant Pot/ pressure cooker in 30 minutes. Can be made on stovetop too!
Yield: People
Ingredients
1 tbsp Oil
1 pound Ground beef
1 tbsp Butter, Unsalted
1/2 cup Onions, Finely chopped
3 cloves Garlic, Finely minced
1/3 cup Green peppers, Finely chopped
1/4 cup Celery, Roughly hopped
1/2 cup Ketchup
1 tbsp Tomato paste
1/2 cup Beef broth, Low sodium, Or water
1 tbsp Brown sugar
1.5 tsp Chili powder
1 tsp Paprika
1/4 tsp Red chili flakes, Optional
Salt, To taste
Pepper, To taste
1 tsp Worcestershire sauce
2 tsp Yellow mustard
Instructions
Add meat and cook until it's brown and no longer pink.

Drain fat.

Add a little butter and onion, garlic, green peppers, celery and saute for 1-2 minutes until fragrant.

Turn off Instant pot.

Add ketchup, tomato paste, broth, brown sugar, chili powder, paprika, red chili flakes, salt, pepper, Worcestershire sauce, yellow mustard and mix everything together.

Put the lid on and turn the valve to "Sealing." Turn on the Instant pot again and select "Manual" mode and set the timer for 7 minutes.

When the cook time is over, turn the valve to "Venting" and do a quick pressure release.

Remove lid and cook on the "Saute" setting until liquid is reduced to your desired consistency.

Serve it on hamburger buns. Enjoy!
Notes
Read all my tips above.
Leftovers can be stored in a sealed container in the fridge for up to 3 days. 
Nutrition
Calories: 277kcal, Carbohydrates: 10g, Protein: 14g, Fat: 19g, Saturated Fat: 7g, Cholesterol: 58mg, Sodium: 387mg, Potassium: 381mg, Sugar: 7g, Vitamin A: 600IU, Vitamin C: 9.5mg, Calcium: 24mg, Iron: 1.9mg
Happy cooking everyone!