Broccoli Salad Recipe (One Bowl)
Quick and easy broccoli salad recipe, made with simple ingredients in one bowl in 15 minutes. Creamy, crunchy, loaded with mayonnaise, cranberries & pecans.
This simple broccoli salad is creamy and crunchy and I it make often for my family and friends. It's great for dinner parties, picnics and potlucks.
There are many variations for this recipe for broccoli salad. I like to use roasted pecans for a crunch but many people prefer sunflower seeds. I like to use dried cranberries because it has a sweet and tangy flavor but some people prefer raisins. It's a versatile recipe and you can make any changes you like to suit your preference.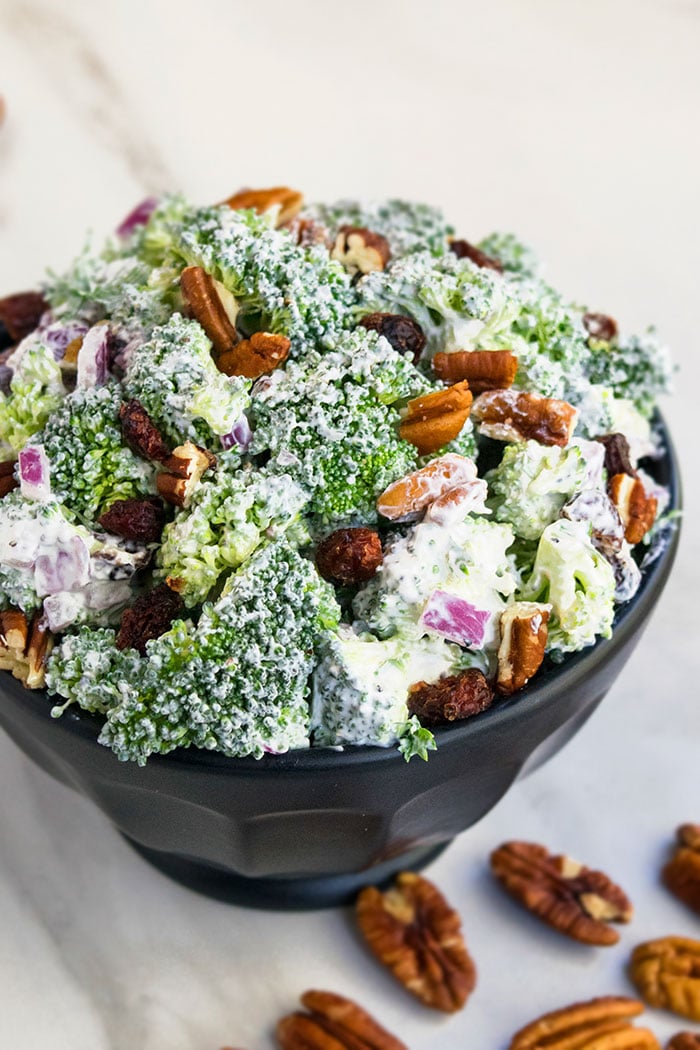 How to make broccoli salad?
In a salad bowl, mix together mayonnaise, sour cream, salt, pepper, sugar, vinegar until smooth.
Add blacn
What goes in broccoli salad?
Broccoli
Pecans
Raisins or cranberries
Salt
Pepper
Sugar
Vinegar
Mayonnaise
Sour cream
Onions
Bacon bits (Optional)
Cheddar cheese (Optional)
Sunflower seeds (Optional)
Do you cook the broccoli for broccoli salad?
I don't do it but you can blanch the broccoli for 1-2 minutes, if you like. Some people like their broccolis a little softer.
How long goes broccoli salad last in the fridge?
If the dressing has already been mixed into the salad, it will only last about 1 day.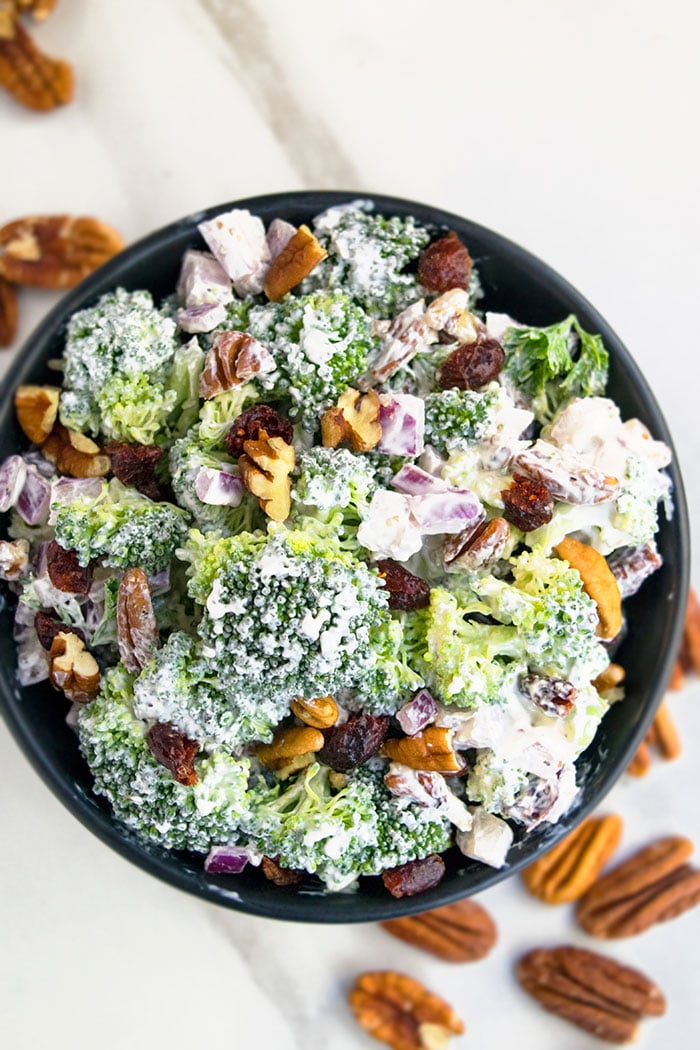 Broccoli salad dressing
Mix together mayonnaise, sour cream, vinegar, salt, pepper, sugar until smooth and creamy.
Cold broccoli salad
this salad is best served cold. Once all the ingredients have been mixed together, chill in the fridge to allow the flavors to deepen and then serve.
Broccoli salad- No mayo
You can omit mayonnaise and use only sour cream
Healthy broccoli salad
You can lighten this salad by using low fat mayonnaise and low fat sour cream or even replacing it with Greek yogurt. However, please note that yogurt will make the salad a bit tangy.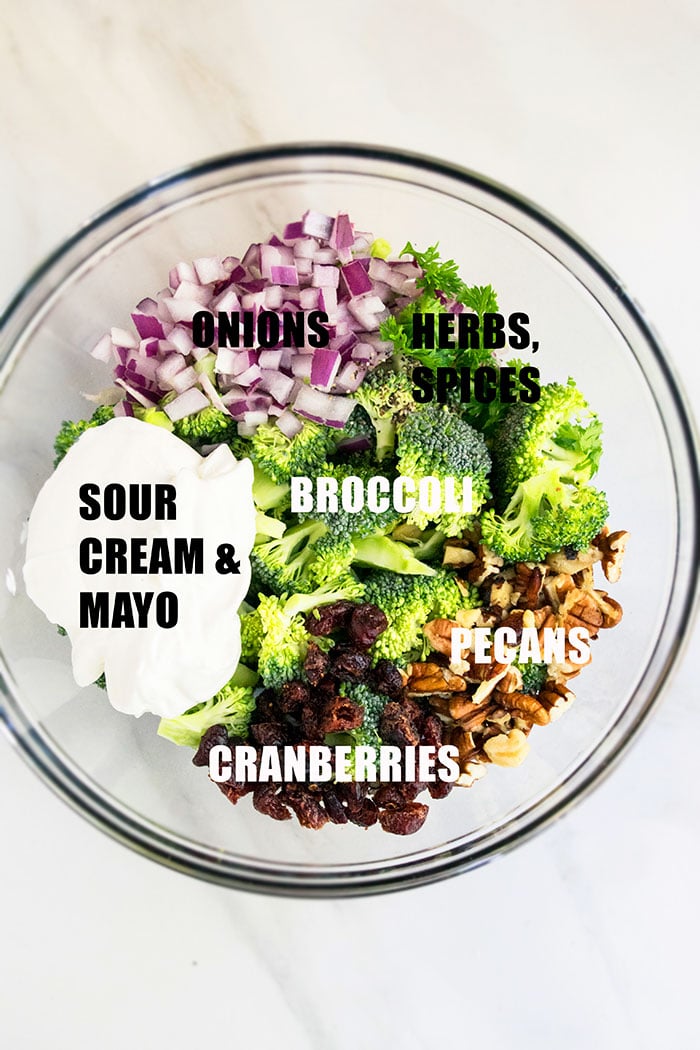 Tips for best broccoli salad:
Use full fat mayonnaise and sour cream for maximum creaminess.
You can prepare the dressing separately and mix that into the salad an hour before serving to keep the broccoli pieces crisp for longer.
The longer this salad sits in the fridge, the higher the likelihood for the broccolis to become limp and loose their "crispiness."
Increase the amount of mayo and sour cream, if you want the salad to be even more creamy.
Use roasted pecans because they have a deeper nutty flavor.
Any type of vinegar can be used. I usually use regular white vinegar.
Other easy broccoli salad recipes:
Broccoli Grape Salad– Mix in 1 cup green or red grapes.
Broccoli Pasta Salad– Mix in 1.5 cups cooked pasta (mini shells or mini macaronis).
Broccoli Apple Salad– Mix in 1 cup roughly chopped red apples.
Broccoli Raisin Salad– Replace cranberries with raisins.
Broccoli Cranberry Salad– Use dried cranberries.
Broccoli Salad with Bacon and Cheese– Add 1/2 cup cup cooked bacon bits and 1/2 cup shredded cheddar cheese.
Broccoli Cauliflower Salad/ Broccoli and Cauliflower Salad– Replace half the broccoli with bite sized cauliflower pieces.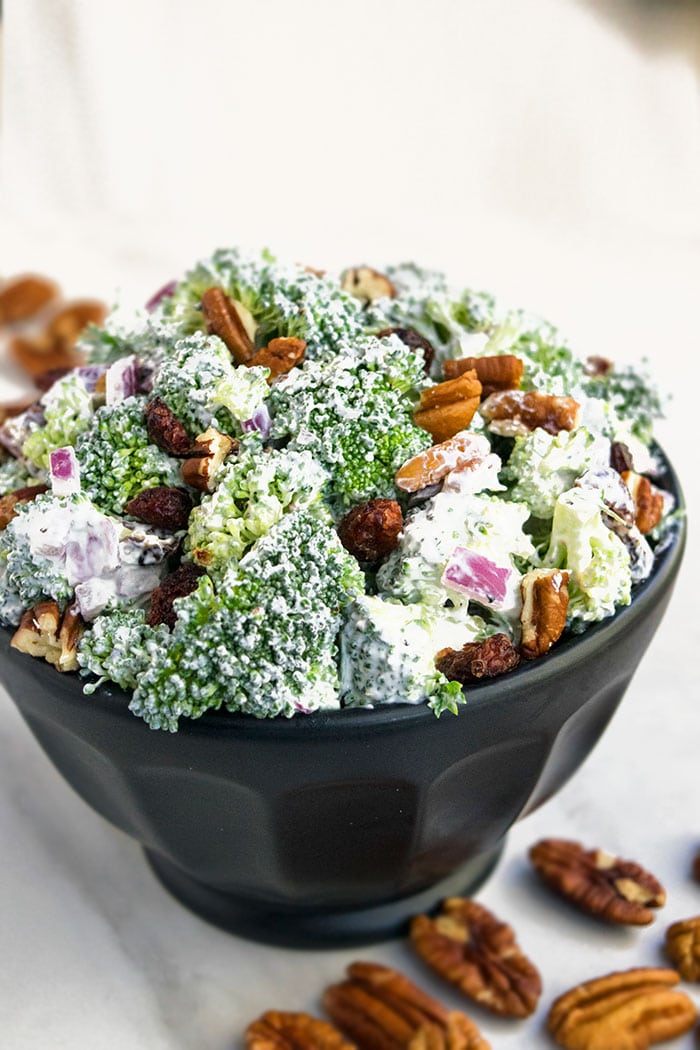 Other One Bowl/ One Pot Salad Recipes: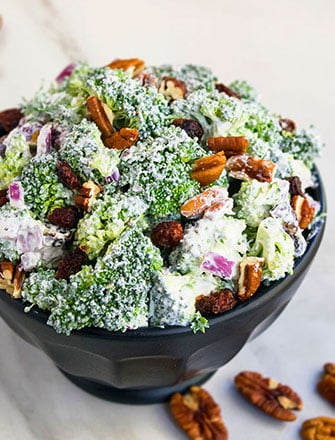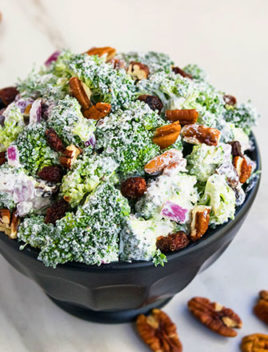 Easy Broccoli Salad Recipe
Quick and easy broccoli salad recipe, made with simple ingredients in one bowl in 15 minutes. Creamy, crunchy, loaded with mayonnaise, cranberries & pecans.
Yield: People
Instructions
In a salad bowl, mix together, mayonnaise, sour cream, vinegary, sugar, salt, pepper, parsley (optional).

Add broccoli, onions, cranberries, pecans and mix everything together until broccoli is fully coated.

Chill in the fridge for about 1 hour so that the flavors get soaked into the broccoli florets and enjoy!
Notes
Read all my tips above.
Leftovers can be stored in a sealed container in the fridge for up to 1 day.
Nutrition
Calories: 305kcal, Carbohydrates: 14g, Protein: 3g, Fat: 27g, Saturated Fat: 4g, Cholesterol: 16mg, Sodium: 216mg, Potassium: 343mg, Fiber: 3g, Sugar: 8g, Vitamin A: 700IU, Vitamin C: 83.8mg, Calcium: 61mg, Iron: 0.9mg
Happy cooking everyone!