Lemon Pepper Chicken (One Pan)
Quick and easy lemon pepper chicken recipe homemade with simple ingredients in one pot or pan over stovetop in 30 minutes. Tender, lightly breaded chicken is coated in garlic lemon butter sauce.
This meal is packed with flavor and it truly looks like a fancy meal that you can serve at a dinner party or something you would get at a fancy restaurant.
If you are meal planning, make sure this recipe is included because it never disappoints, just like my 40 Cloves Garlic Chicken (One Pot) and Chili Lime Chicken (One Pot).
How to make lemon pepper chicken breast?
Season and flour chicken– Sprinkle some all-purpose flour and seasoning on both sides of the breast.
Pan fry breasts– Heat oil in a pan and cook both sides until golden brown. Remove from pan and keep aside.
Make lemon butter sauce– In the same pan, heat butter and mix in garlic, lemon juice and lemon zest.
Combine– Add the cooked chicken back into the pan and spoon butter sauce over them.
Enjoy! Serve immediately with a garnish of parsley.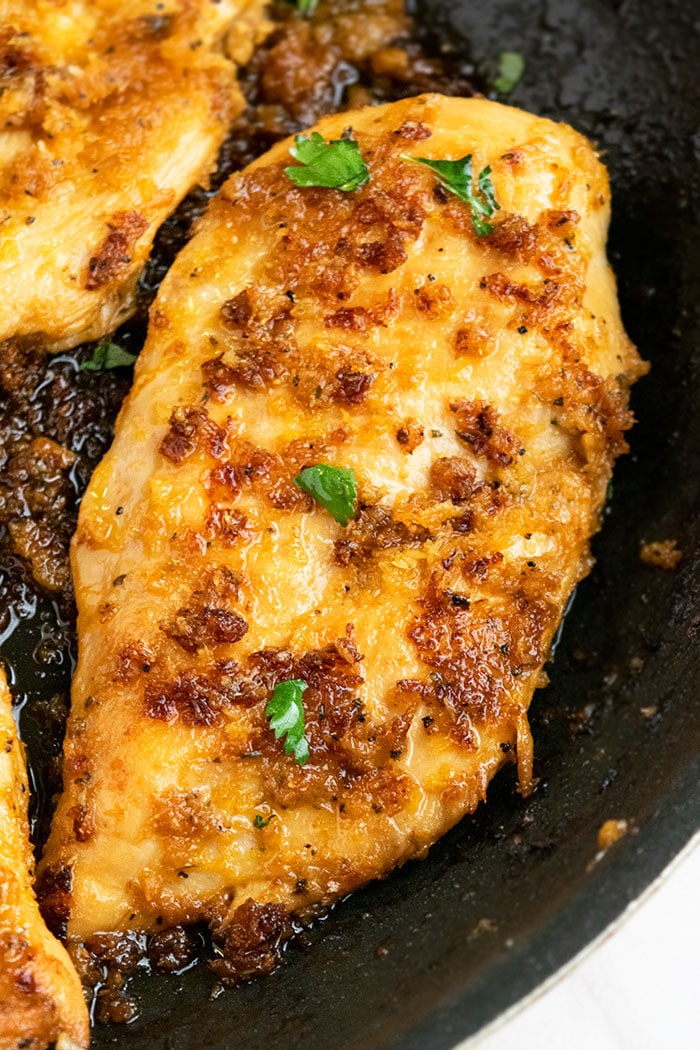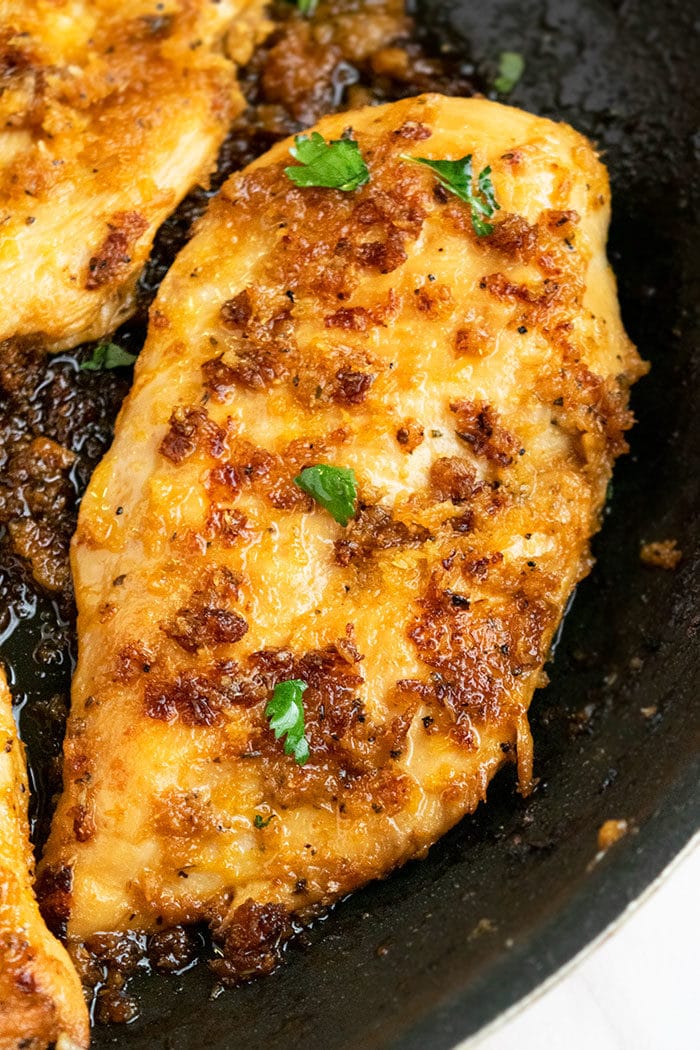 What sides to serve with lemon pepper chicken recipe?
Salad– Serve it on a bed of a simple green salad with just lettuce, kale, spinach and/or arugula. Don't add any strong vinaigrettes or dressings because this chicken and butter sauce already has a lot of flavor. You ca also try this Italian Chopped Salad (One Bowl).
Rice– Simple steamed rice is a great option or you can try this Pineapple Rice (One Pot) if you like the sweet and salty flavor combination. Cauliflower rice would be a great low carb option.
Pasta– This is my favorite side, especially angel hair pasta. Spaghetti squash or zoodles (zucchini noodles) would be a nice low carb option.
Bread– Such as dinner rolls, breadsticks, crusty Ciabatta bread for dipping in the lemon butter sauce.
Vegetables– Roasted/ baked, grilled, steamed veggies all work well and make the meal more healthy and filling. Try this Oven Roasted Cauliflower (One Pan) or these Oven Roasted Green Beans (One Pan).
What is a substitute for lemon pepper?
Make a homemade lemon pepper seasoning blend by mixing together the following:
1/3 cup dried lemon peel
2.5 tbsp black pepper
1 tbsp onion powder
1 tbsp salt (Optional)
1 tbsp garlic powder
All the ingredient quantities could be adjusted, based on your preference.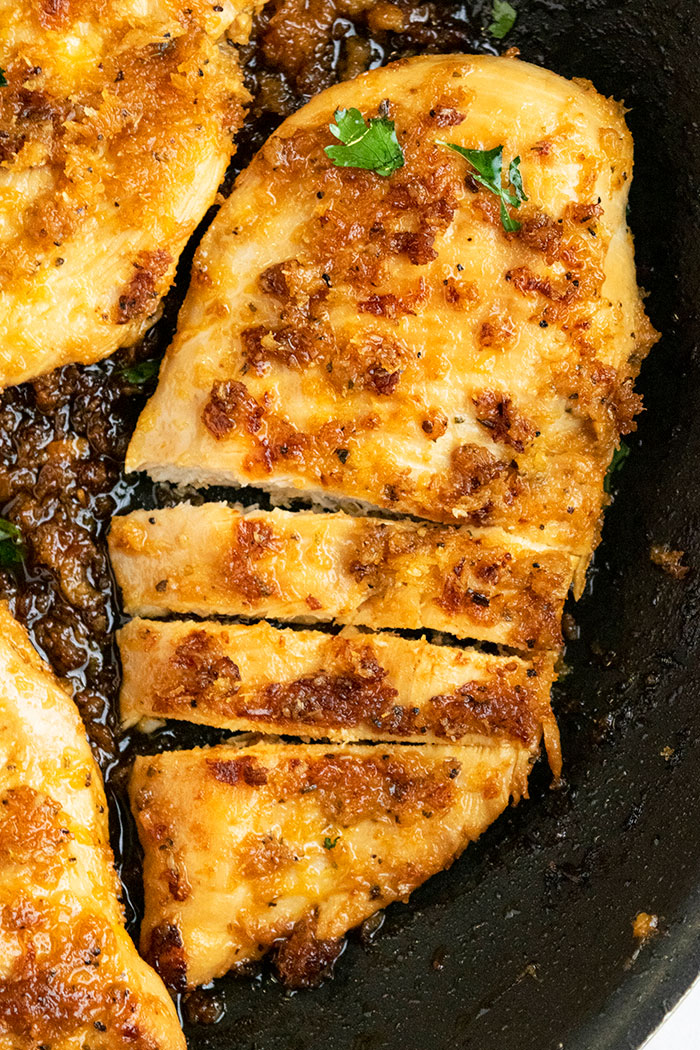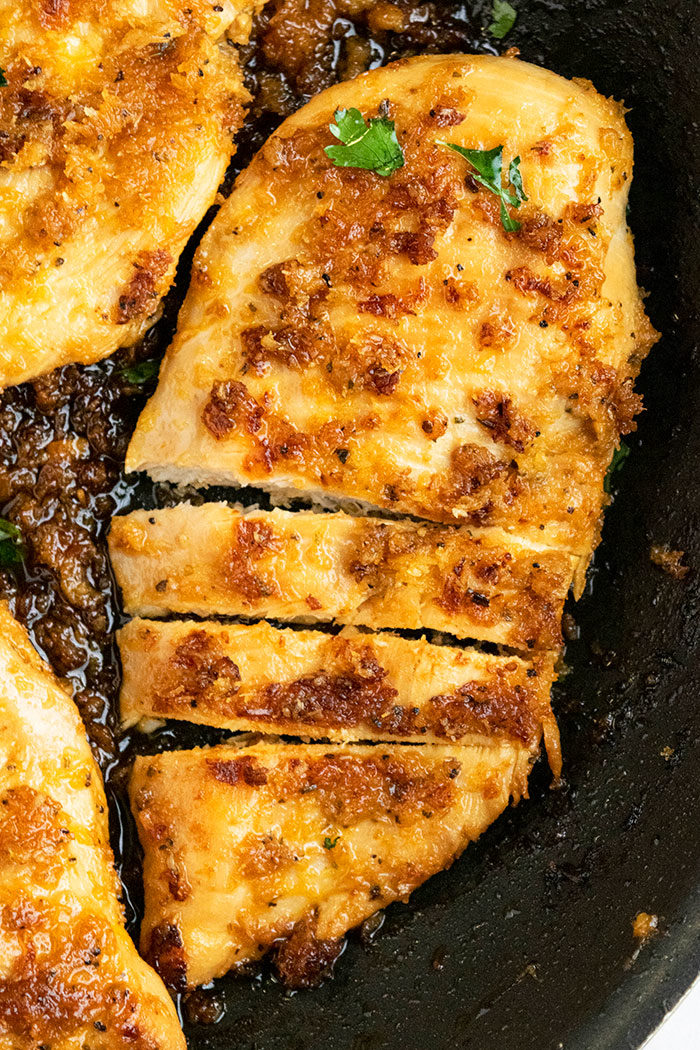 Variations
Roasted or Oven baked lemon pepper chicken thighs– Bake flour and seasoned thighs. Make butter sauce on the side. At the end, pour sauce over the baked chicken.
Grilled lemon pepper chicken– Make a lemon pepper marinade and marinate breasts in it for at least 1 hour before grilling. You can also make foil packs with vegetables and cook them over grill to retain moisture.
Lemon pepper chicken wings– Follow the same recipe but replace breasts with wings. You can also bake flour and seasoned wings, if you like them crispy and then toss them in butter sauce at the end.
Lemon pepper chicken marinade/ Lemon pepper sauce– Mix together lemon pepper, lemon juice, olive oil, parsley and marinate breasts, thighs wings e.t.c. in this mixture for at least 1 hour. Then, bake or grill.
Lemon pepper fried chicken– Deep fry in thick flour batter and pour garlic butter sauce over them at the end.
Garnish options– Roughly chopped fresh parsley and some thinly sliced lemon wedges are the best choices.
Add honey– If you like the "sticky, sweet and salty" combination, add some honey in the butter sauce.
Make it creamy– Add heavy cream or cream cheese at the end.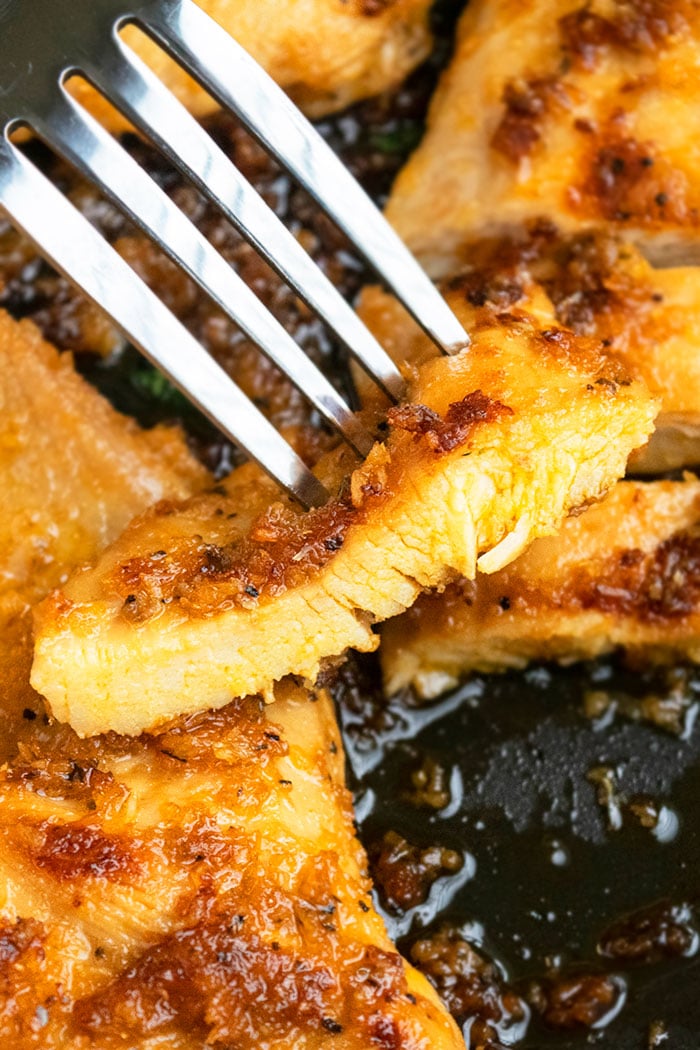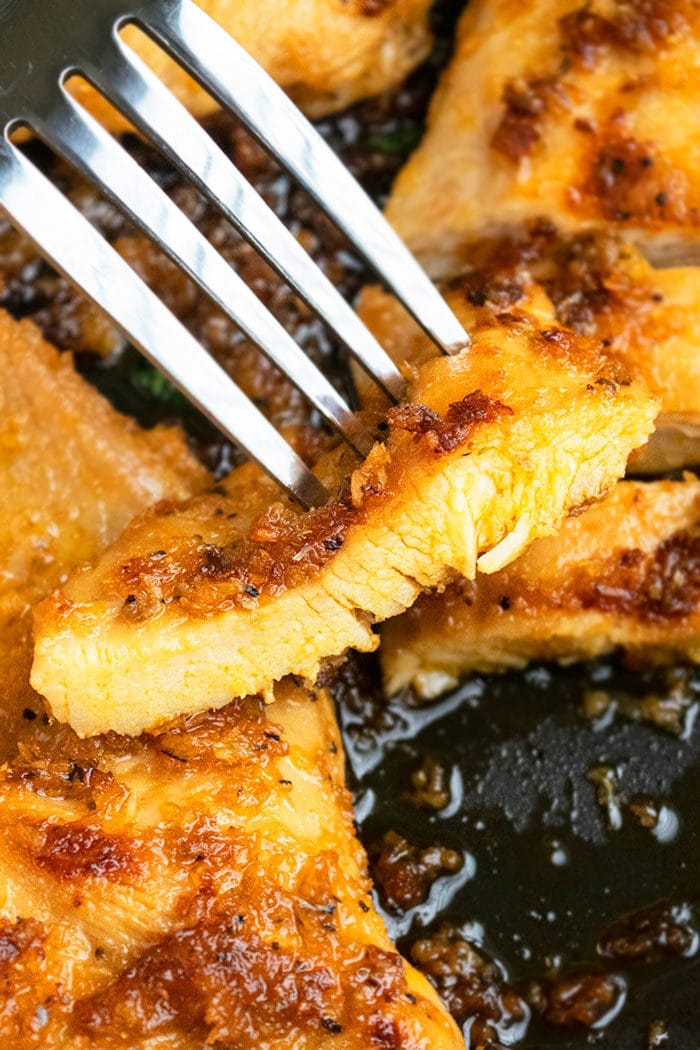 Tips and Techniques
The final color and flavor of your dish will vary– That's the result of different brands of lemon pepper. Some of them actually have yellow food coloring, leading to a more vibrant yellow chicken. Also, the blend of ingredients in the seasoning differs by brands too, which can affect the flavor.
Use nonstick pan– Because this prevents chicken from sticking and burning.
Use unsalted butter- Because it prevents this meal from becoming too salty.
Can I omit the breading? The breading is very light and gives this chicken a light crispiness and wonderful texture. I highly recommend it but if you really must omit it, you can just sear it in some oil without breading.
Use thin chicken breasts– Cut a thick breast in half, lengthwise because they cook the fastest.
Adjust quantity of lemon pepper– This is based in your preference. It has a strong bold flavor.
What cut of chicken to use? I prefer breast but you can also use thighs, tenders, drumsticks and even whole chicken. The cooking time will obviously vary.
Homemade seasoning vs. Store bought seasoning– Either can be used. If you are using the store-bought version, make sure that it has lemon peel instead of citric acid because citric acid doesn't taste or smell anything like lemons!
More One Pot Chicken Recipes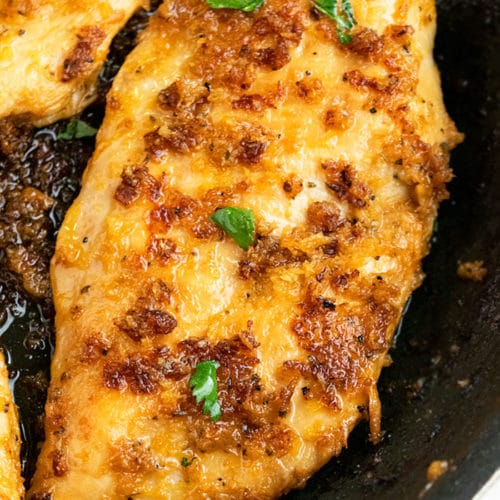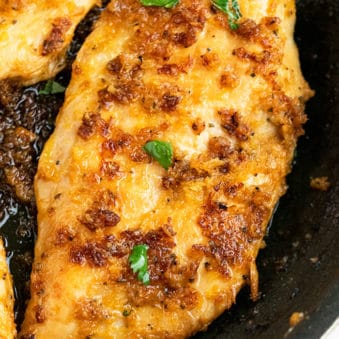 One Pan Lemon Pepper Chicken
Quick and easy lemon pepper chicken recipe with garlic lemon butter sauce, homemade with simple ingredients in one pot over stovetop in 30 minutes.
Yield: People
Instructions
Sprinkle lemon pepper and salt on both sides of the chicken breast.

Then, sprinkle some flour on both sides of the breast. It doesn't have to be perfectly coated. Tip: If you want a more even coating, mix together lemon pepper, salt and flour in a bowl and dredge the chicken breasts in this mixture to coat them more fully.

Next, heat oil in a nonstick pan over medium-high heat.

Place the chicken and pan fry one side until golden brown. Then flip it over and pan fry the other side until cooked through. 

Remove from pan and keep aside.

In the same pan, add butter, garlic and saute for a few seconds until fragrant.

Mix in lemon juice, lemon zest and season with a little more salt, if you like.

Add chicken back into the pan and coat it in this garlic lemon butter sauce.

Garnish with parsley. Enjoy!
Notes
Read all my tips above.
Tastes best when served immediately but leftovers can be stored in a sealed container in the fridge for up to 2 days and reheated in the microwave. 
Nutrition
Calories: 384kcal, Carbohydrates: 10g, Protein: 49g, Fat: 15g, Saturated Fat: 7g, Cholesterol: 168mg, Sodium: 402mg, Potassium: 867mg, Fiber: 1g, Sugar: 1g, Vitamin A: 430IU, Vitamin C: 6mg, Calcium: 21mg, Iron: 2mg
Happy cooking everyone!