Chicken Fajitas (One Pot)
The best, quick and easy chicken fajitas recipe, homemade with simple ingredients. This one pot meal is ready in 30 minutes over stovetop. Loaded with onions, peppers, Mexican taco seasoning!
If you liked my Vegetable Fajitas (One Pan) and Steak Fajitas (One Pot), you are going to really like today's recipe. This can also be grilled or baked in a sheet pan in the oven. Perfect for Taco Tuesday!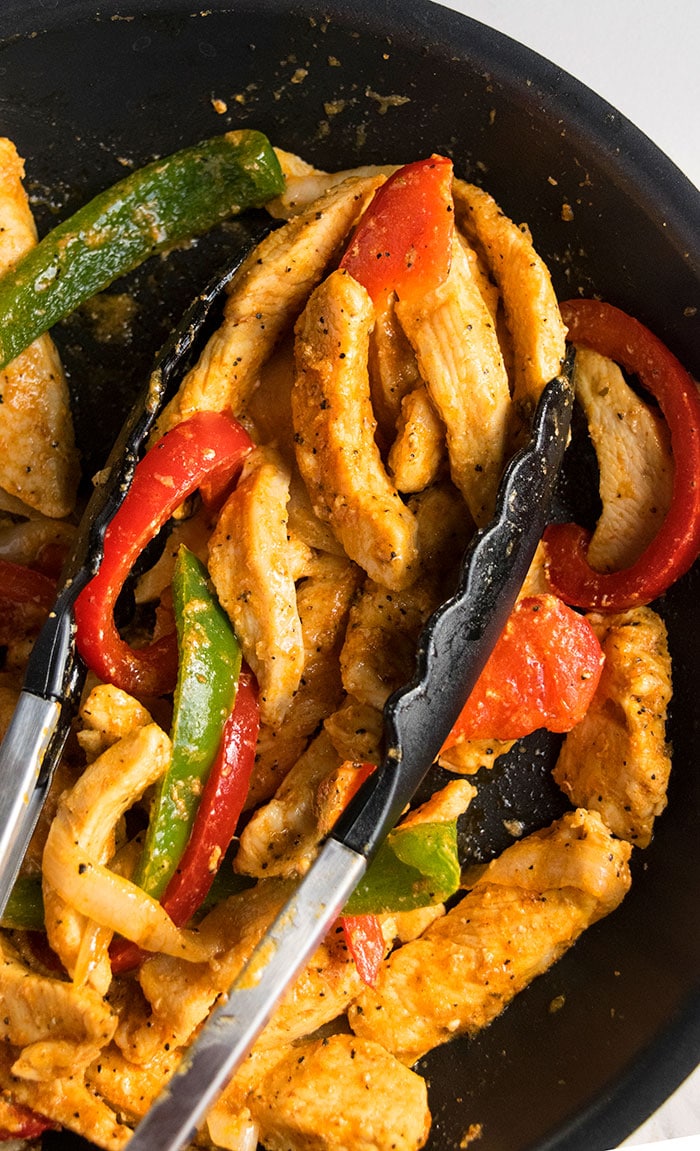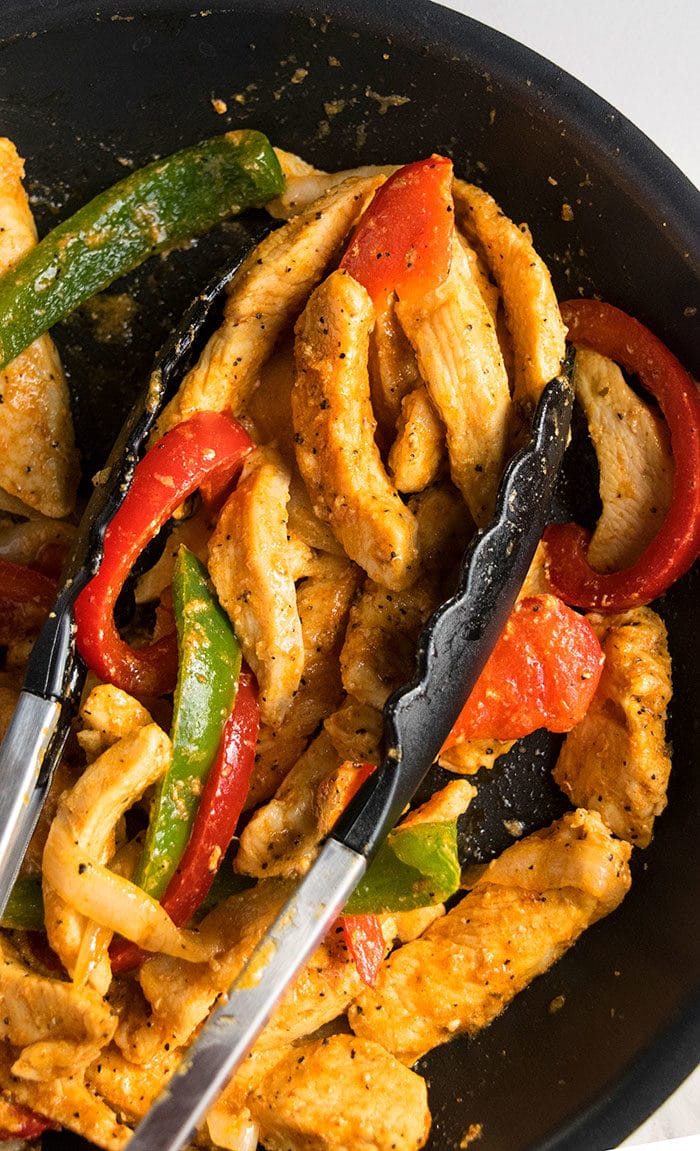 How to make chicken fajitas?
Heat oil.
Stir fry chicken and keep aside.
Stir fry garlic, onions and peppers.
Mix in the cooked chicken, seasonings, broth.
Cook for a few minutes until liquid is reduced.
Serve in tortillas with toppings and you are done.
What sides to serve with chicken fajita recipe?
Typically, it's served with hard or soft tacos. Some people also enjoy it with rice and beans or cilantro lime rice or even Pineapple Rice (especially if you fond of the sweet and spicy flavor combination).
Salads are always a great side such as a simple corn salad or green salad. You can also try this Tomato Avocado Salad (One Bowl) or Cherry Tomato Salad (One Bowl) or Broccoli Salad (One Bowl).
Variations
Slow cooker/ Crockpot chicken fajitas- That's an entirely different recipe. Use whole chicken breasts. Omit the broth and replace that with a 14.5 oz. can of diced tomatoes. Then, add all the ingredients (listed below in the recipe card) in a crockpot. Cover and cook on High for 3 hours or until chicken is cooked through. Discard about 1 cup of the broth. Remove chicken, cut slices and mix that into the remaining broth and serve.
Sheet pan oven baked chicken fajitas– Mix together all the ingredients in a mixing bowl. Marinate for 30 minutes. Bake at 400 degrees F for 20-25 minutes or until chicken is cooked through.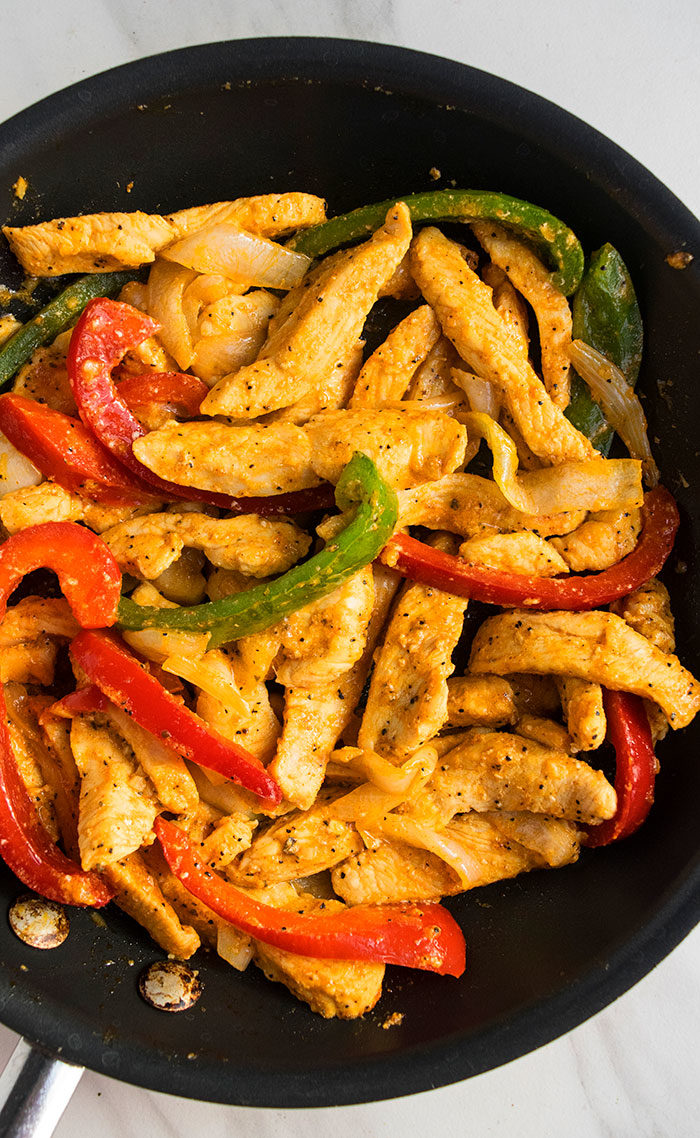 Chicken fajita seasoning/ Chicken fajita marinade
Taco is seasoning is best. Store-bought or homemade versions can be used.
Homemade taco seasoning is made my mixing together the following spices: 1 tbsp chili powder, 1/2 tsp paprika, 1/4 tsp garlic powder, 1/4 tsp onion powder, 1/4 tsp dried oregano, 1/4 tsp cayenne pepper, 1 tsp cumin powder, 1 tsp salt, 1/4 tsp pepper, 1/4 tsp red chili flakes (optional).
The marinade is made by mixing together all those ingredients plus 1-2 tsp lemon juice. Marinade the chicken for at least 30 minutes up to 1 hour.
Both can be used on beef/ steak and shrimp as well.
Fajita toppings and garnish
Add as many of these, as you like:
Shredded cheese– Cheddar or Mexican cheese blend are awesome!
Sour cream– Use full fat for maximum flavor.
Guacamole– Homemade or store-bought both work well.
Salsa– Another classic topping. You can make it at home or buy it from the market. This Strawberry Salsa (One Bowl)is amazing!
Jalapeno slices– For a spicy kick.
Fresh herbs– Such as roughly chopped cilantro, parsley or green onions.
Avocado– You an dice them into small pieces or slice them.
Finely chopped onions- Red onions taste the best.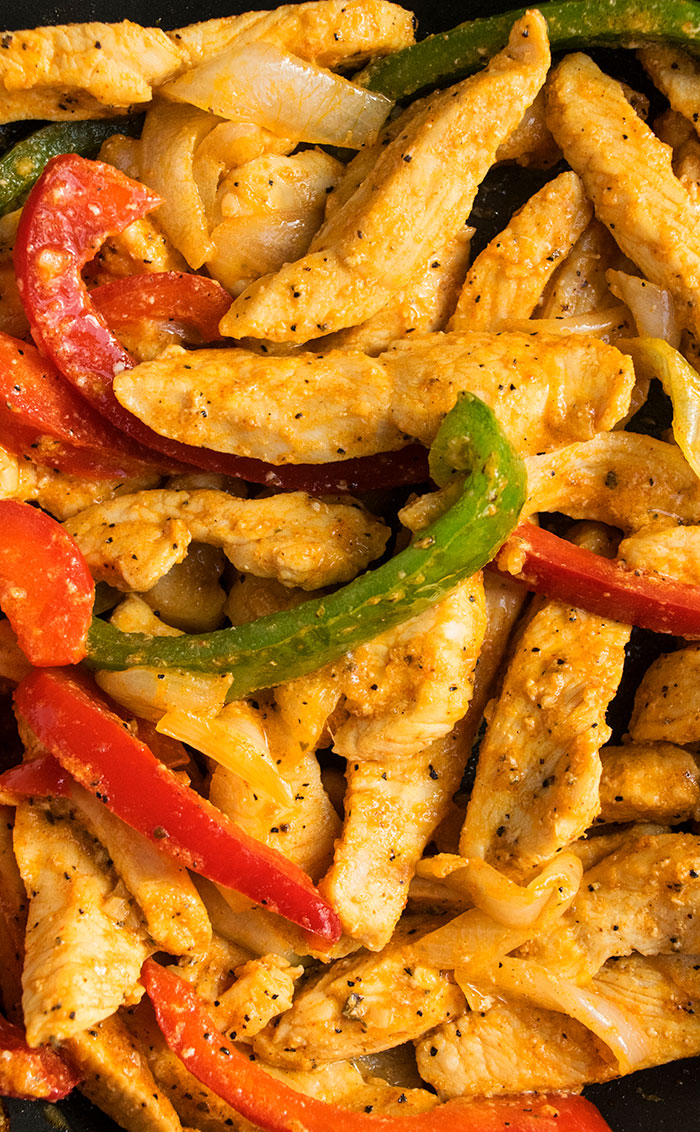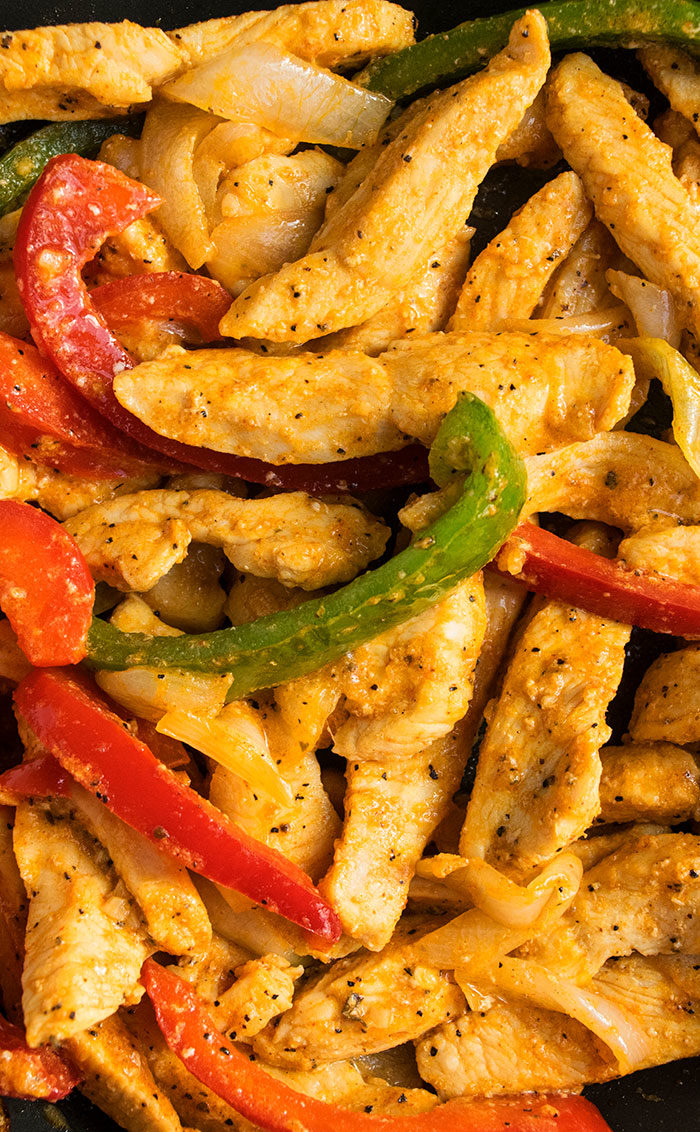 Tips and Techniques
Use nonstick pot or pan– Because this prevents burning and sticking.
Use unsalted broth and butter– Because this prevents the meal from becoming too salty.
Use thin slices of chicken, peppers, onions- Because they cook faster and the flavors gets absorbed quicker too.

Adjust the amount of spices– This can be done, based on your preference. Always check the flavors near the end and adjust accordingly.

Make it spicy- Add some red chili flakes or finely chopped jalapenos to give it a spicy kick.

Can you freeze fajitas? Yes, you can but I don't think they taste as good when reheated since the peppers become too soft when thawed and don't retain their tender but crisp texture.
Add lemon juice/ lime juice- Just 1 tsp should be enough to add a subtle tartness. You can even use zest instead of juice.
What to do with leftovers? Use them in grilled cheese sandwiches, quesadillas, burritos, enchiladas, wraps, salads, pasta, soup, casserole and even pizza toppings.

Other One Pot Mexican Recipes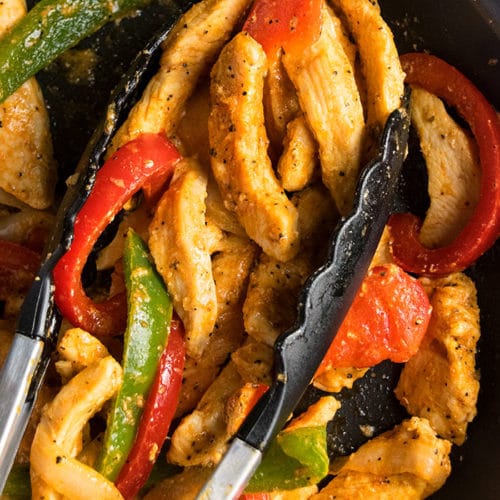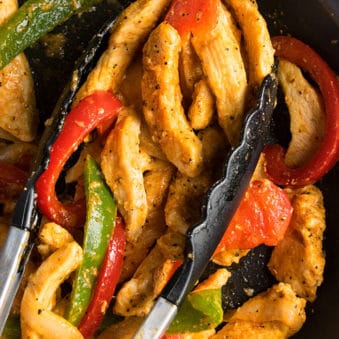 One Pan Chicken Fajitas Recipe
Quick and easy chicken fajitas recipe, homemade with simple ingredients. This one pot meal is ready in 30 minutes over stovetop. Loaded with taco seasoning!
Yield: People
Instructions
Add chicken and stir fry for 3-4 few minutes until golden brown. Keep aside.

In the same pan (don't clean it!), add butter, oil, garlic, onion, peppers and stir fry for 1-2 minutes.

Add the chicken back into the pan.

Sprinkle taco seasoning, salt, pepper and pour broth. Mix.

Cook uncovered until liquid is reduced to your desired consistency and chicken is cooked through.

Serve in tortillas with toppings of your choice. Enjoy!
Notes
Read all my tips above.
Leftovers can be stored in a sealed container in the fridge for up to 3 days. 
Nutrition
Calories: 282kcal, Carbohydrates: 7g, Protein: 37g, Fat: 10g, Saturated Fat: 3g, Cholesterol: 116mg, Sodium: 386mg, Potassium: 778mg, Fiber: 1g, Sugar: 3g, Vitamin A: 1430IU, Vitamin C: 54.5mg, Calcium: 20mg, Iron: 1mg
Happy cooking everyone!