Vegetable Fajitas (One Pan)
Quick and easy vegetable fajitas recipe, homemade with simple ingredients over stovetop. Loaded with mixed peppers, onions, taco seasoning. A colorful Mexican 20 minute meal or side dish that's great on tacos, burritos, enchiladas, quesadilla.
This is perfect for Taco Tuesday. The veggies are tender yet crisp and packed with flavor. You can serve this with my Chicken Fajitas (One Pan) and these Steak Fajitas (One Pan).
How to make vegetable fajitas or fajita vegetables or veggie fajitas?
Heat butter and oil.
Add garlic, onions, peppers and saute for a few minutes.
Mix in taco seasoning, salt, pepper.
Garnish with cilantro and you are done.
You can also roast the vegetables in the oven at 400 degrees for 15-20 minutes or until veggies are tender. If weather permits, you can also grill them over medium heat.
What sides to serve with with fajitas?
Typically, it's served with hot or soft tacos. Some people also enjoy it with rice and beans or cilantro lime rice or even One Pot Pineapple Rice (especially if you fond of the sweet and spicy flavor combination).
Salads are always a great side such as a simple corn salad or green salad. You can also try this Tomato Avocado Salad (One Bowl) or Cherry Tomato Salad (One Bowl) or Broccoli Salad (One Bowl).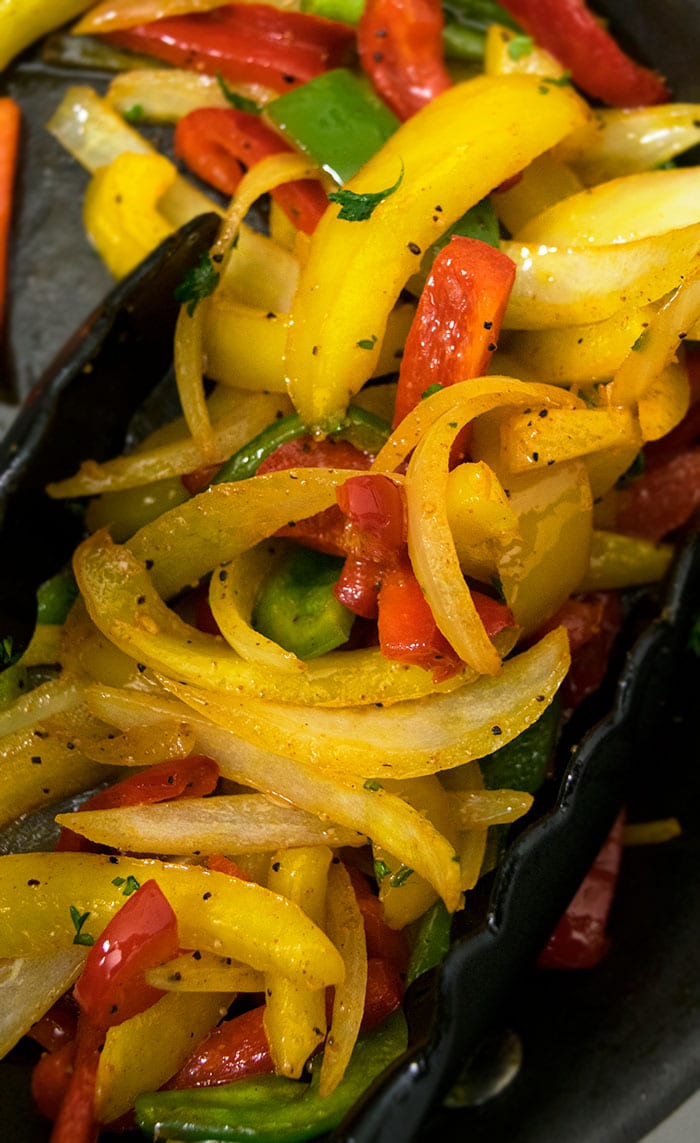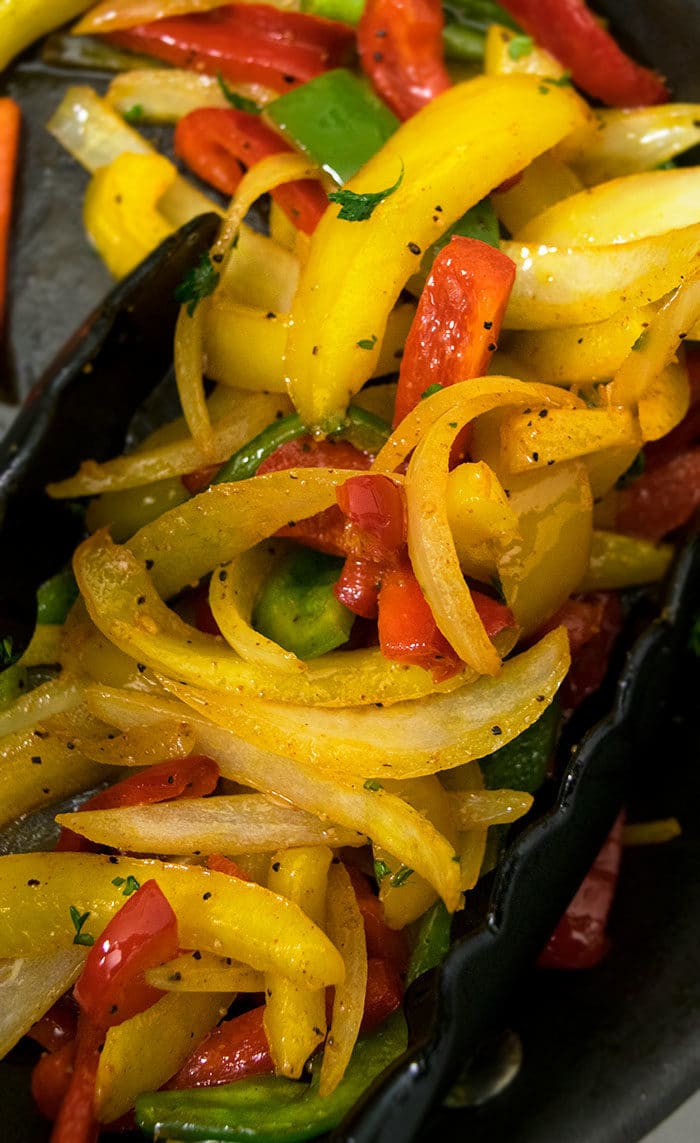 Fajitas toppings and garnish
Add as many of these, as you like, when you are assembling your tacos:
Shredded cheese– Cheddar or Mexican cheese blend are awesome!
Sour cream– Use full fat for maximum flavor.
Guacamole– Homemade or store-bought both work well.
Salsa– Another classic topping. You can make it at home or buy it from the market.
Jalapeno slices– For a spicy kick.
Fresh herbs– Such as roughly chopped cilantro, parsley or green onions
Avocado– You an dice them into small pieces or slice them.
Finely chopped onions- Red onions taste the best.

Are fajita veggies healthy?
Yes, they are packed with vegetables and stir fried in a little olive oil.
What vegetables to use in fajitas?
Bell peppers- There are so many options and colors. Use a variety of them. I use green, yellow, red and orange peppers.
Garlic- This is not typically used but I always add it because it gives the overall dish so much flavor and aroma.
Onions- I use yellow onions but red onions add a lovely color.
Cilantro- The best garnish for any Mexican dish.
Mushrooms- Not technically a vegetable but add 1 cup thinly sliced mushrooms of your choice. If you will be serving these fajitas to vegans or vegetarians, mushrooms will make it more filling since they can't eat other proteins like chicken and beef.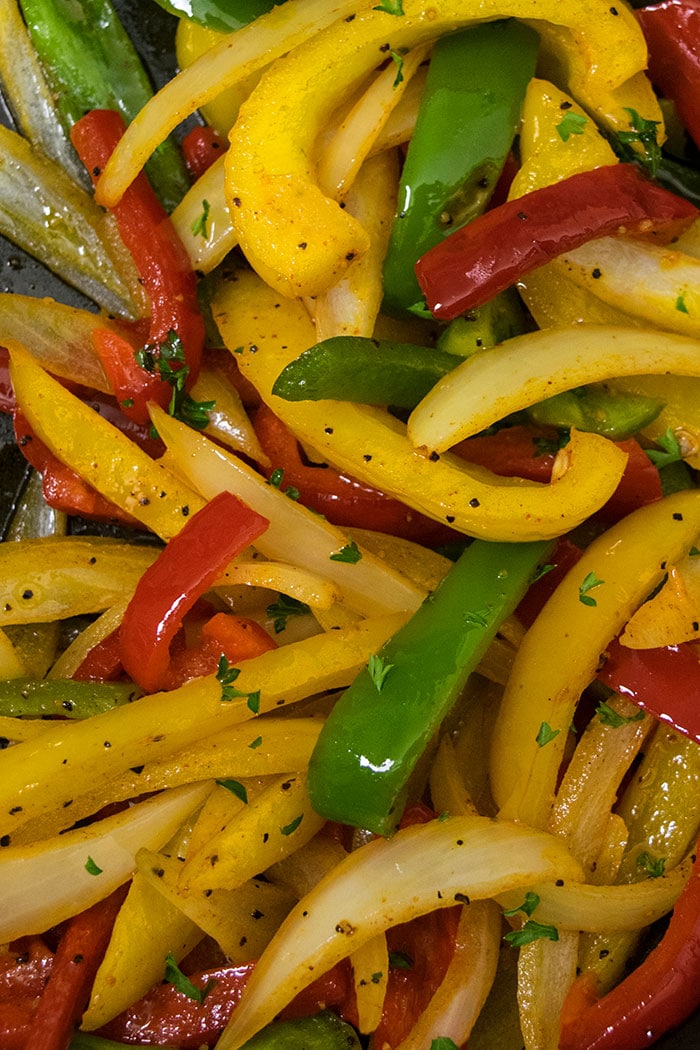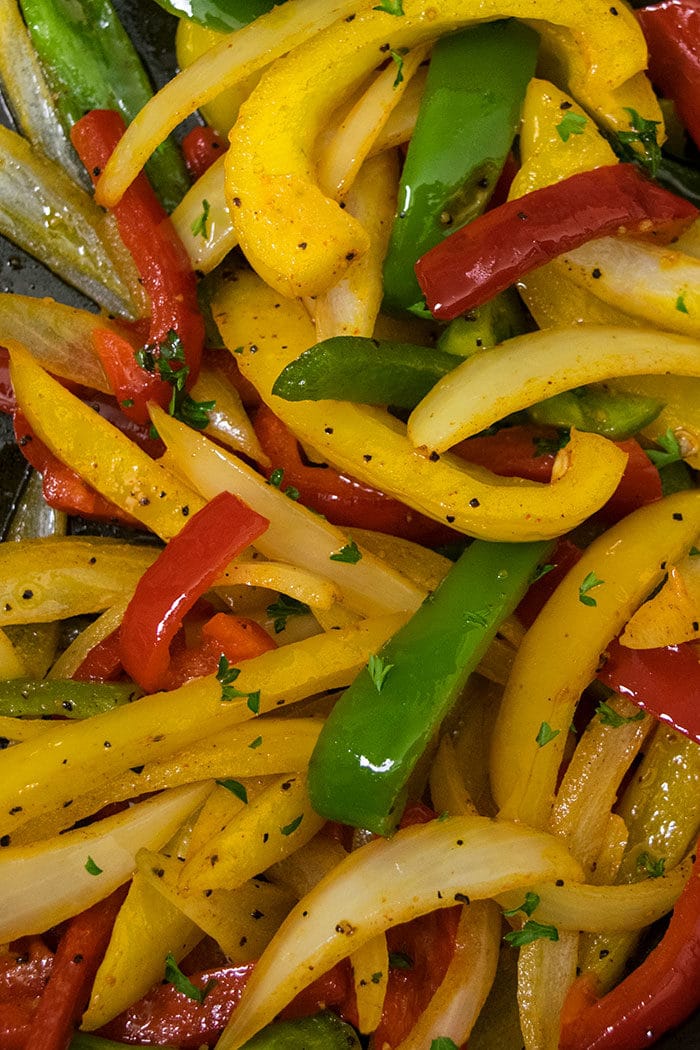 Tips and Techniques
Use unsalted butter– Because this prevents the meal from becoming too salty. You can also replace butter with oil.
Use nonstick pan– Because this prevents sticking and burning.
Adjust amount of seasoning- This can be done, based on your preference. Always check the flavors near the end and adjust accordingly.
Cut thin slices– Because they cook faster.
Veggie fajitas seasoning- Taco is seasoning is best. Store-bought or homemade versions can be used.
Veggie fajitas marinade– Typically, marinades are used to deepen the flavors in meats like chicken and beef. I really don't think it's necessary here because the taco seasoning adds enough flavor.
Make it spicy- Add some red chili flakes or finely chopped jalapenos to give it a spicy kick.
Can you freeze vegetarian fajitas? No, you cannot do this because when they thaw, the vegetables texture changes and they are no longer crisp.
Add lemon juice/ lime juice- Just 1 tsp should be enough to add a subtle tartness. You can even use zest instead of juice.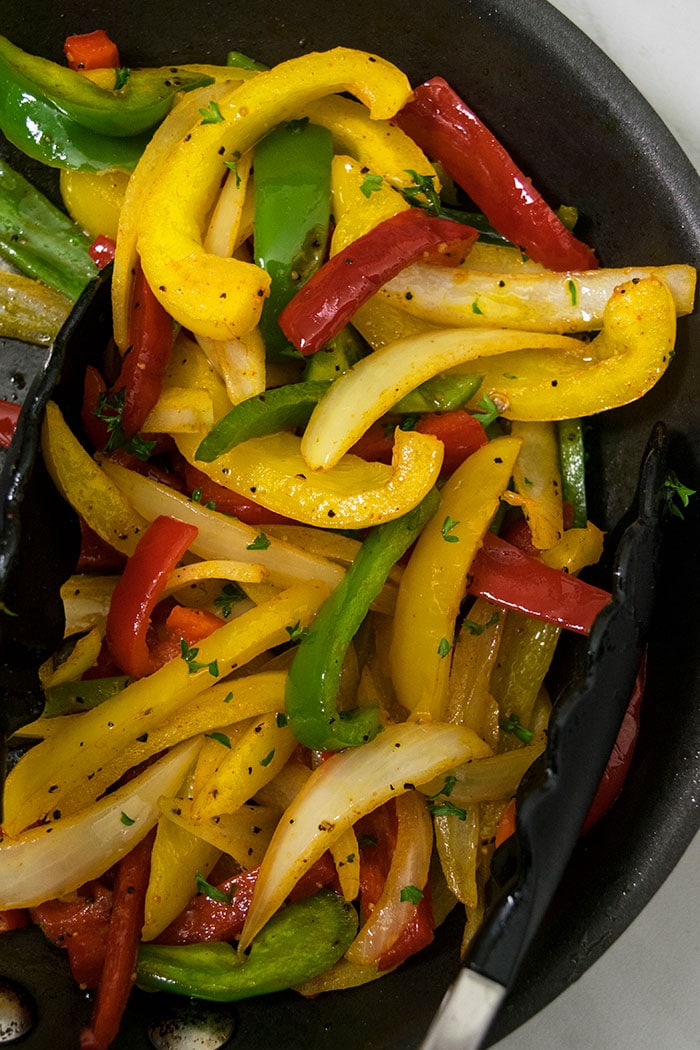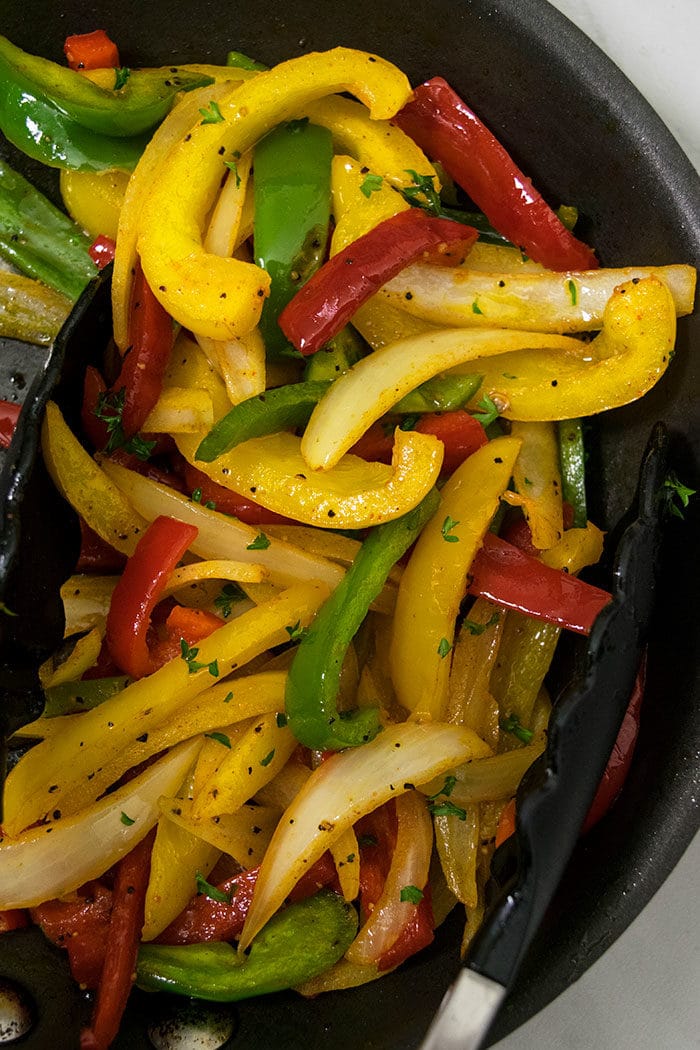 Other One Pot Mexican Meals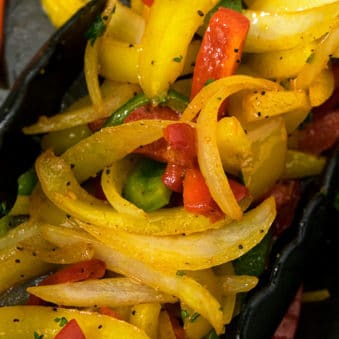 One Pan Vegetable Fajitas
Quick and easy vegetable fajitas recipe, homemade with simple ingredients over stovetop. A Mexican 30 minute meal or side dish, great on tacos & burritos.
Yield: People
Ingredients
1 tbsp Oil
1 tbsp Butter, Unsalted
2 cloves Garlic, Finely minced
1 cup Onion, Thinly sliced
1 Green pepper, Thinly sliced
1 Red pepper, Thinly sliced
1 Yellow pepper, Thinly sliced
1 Orange pepper, Thinly sliced
1-2 tsp Taco seasoning
Salt , To taste
Pepper, To taste
1 tbsp Cilantro, Finely chopped
Instructions
Add the garlic, onion, green pepper, red pepper, yellow pepper, orange pepper and cook stir fry until slightly charred but not fully burnt and still firm and tender.

Add taco seasoning, salt, pepper and mix until veggies are fully coated.

Turn off heat. Mix in cilantro and enjoy!
Notes
Read all my tips above.
Tastes best when served immediately but leftovers can be stored in a sealed container in the fridge for up to 2 days. 
Nutrition
Calories: 107kcal, Carbohydrates: 11g, Protein: 1g, Fat: 6g, Saturated Fat: 2g, Cholesterol: 7mg, Sodium: 33mg, Potassium: 299mg, Fiber: 2g, Sugar: 4g, Vitamin A: 2120IU, Vitamin C: 157.9mg, Calcium: 18mg, Iron: 0.6mg
Happy cooking everyone!