Vegetarian Quesadilla (One Pan)
The best quick and easy vegetarian quesadilla recipe (veggie quesadilla or vegetable quesadilla), homemade with simple ingredients in one pan over stovetop in 20 minutes. Loaded with a vegetarian filling of Mexican cheese, beans, corn, peppers, onion, jalapenos! Also known as Southwestern quesadilla.
If you are fond of American grilled cheese sandwiches, meet its Mexican version in this cheesy black bean quesadilla. This is great for Meatless Monday and even school lunches.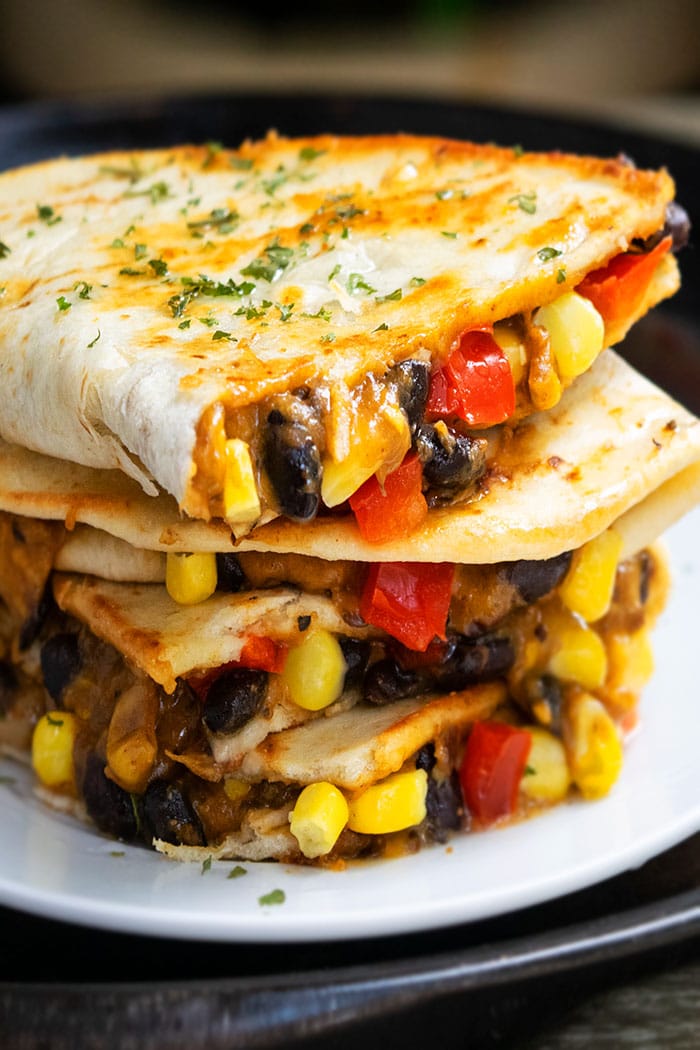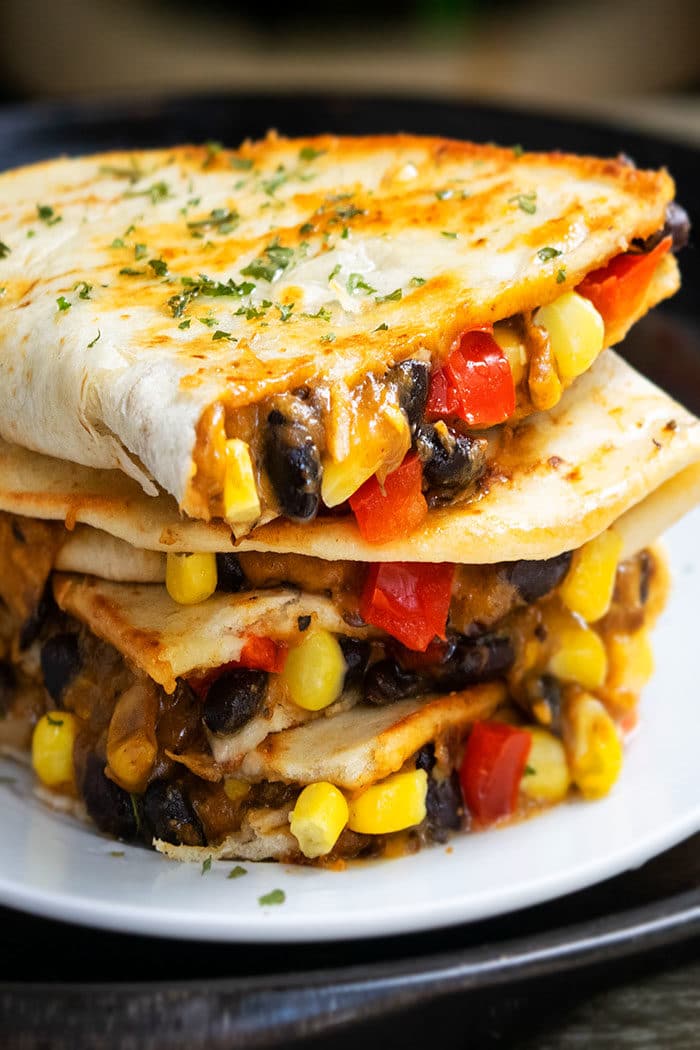 How to make vegetarian quesadilla (vegetable quesadilla)?
Spray oil in nonstick pan.
Place tortilla.
Sprinkle cheese.
Add fillings like corn, onion, jalapeno, peppers, black beans.
Sprinkle more cheese.
Fold one side of the tortilla to the other side.
Cook both sides until golden brown.
Slice and enjoy!
What sides to serve with veggie quesadilla recipe?
They can be enjoyed on their own but you can also serve them with dips like cheddar cheese sauce, guacamole and salsas such as these ones:
Salads are always a light, healthy and filling side dish and you can become creative in terms of which ingredients you would like to add to them. Try a simple green salad, black bean salad, Mexican Corn Salad or even this Tomato Avocado Salad.
Since this is Mexican dish, you can pair it with the super popular Mexican Corn on the Cob.
Serve these as the bread component with soups to make a more hearty meal. People love these along with Instant Pot Mexican Soup, Instant Pot Chicken Enchilada Soup or Easy Chicken Tortilla Soup (One Pot).
How to reheat quesadillas? How to keep quesadillas warm?
If you are not serving immediately, you can keep them warm in the oven in a baking pan on the lowest heat setting. You can reheat leftovers in the air fryer or on the pan over stovetop again, to regain its crispy texture.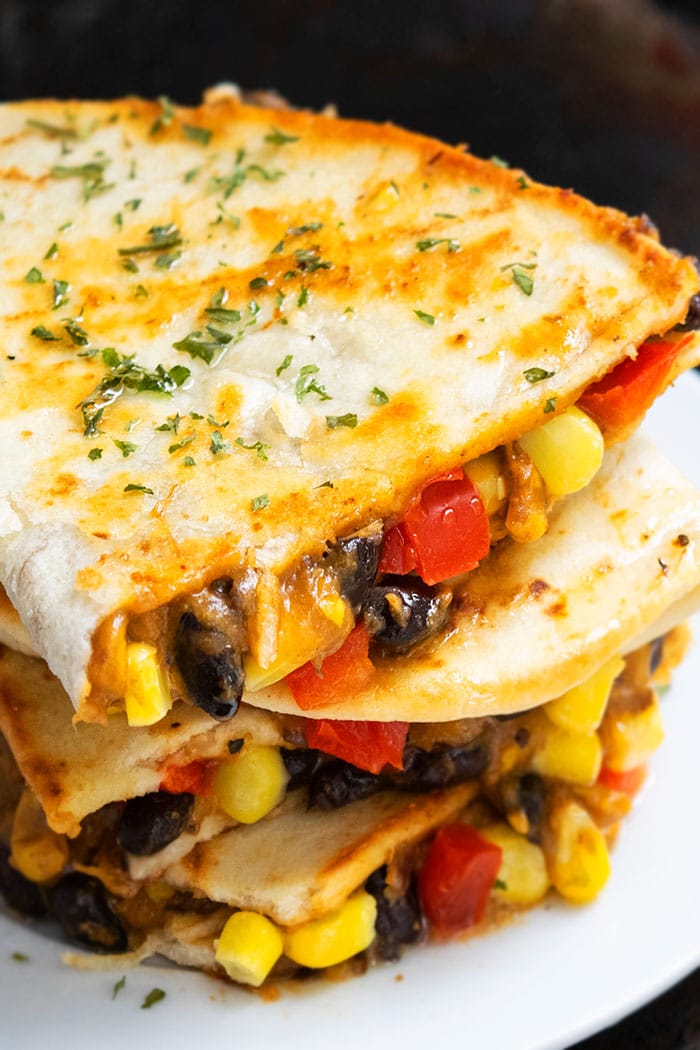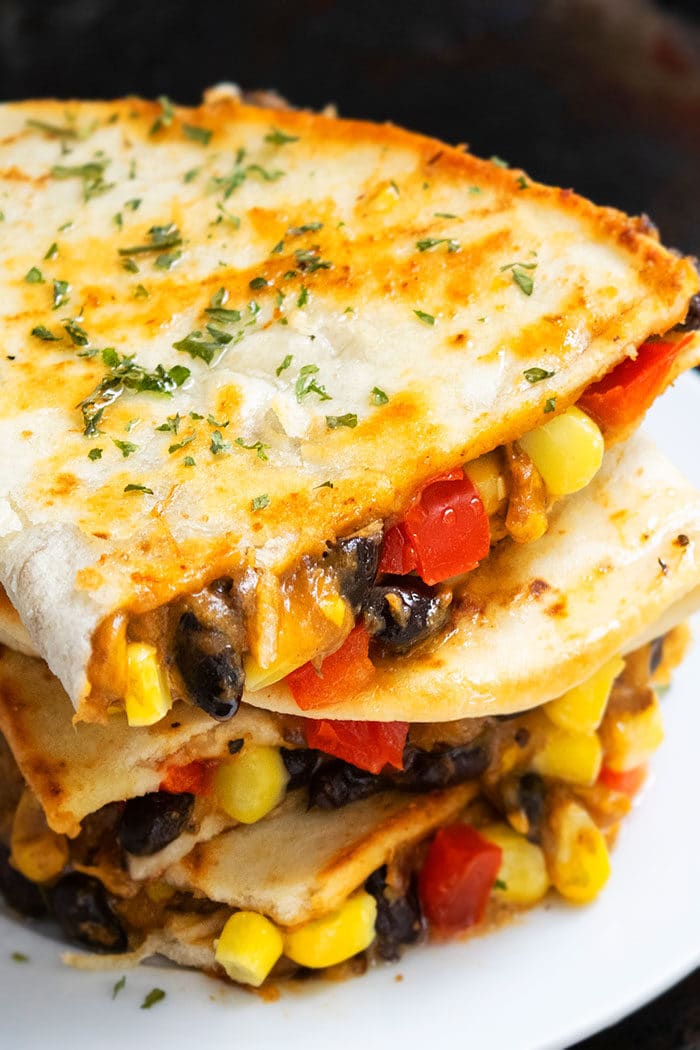 Variations
Grilled or Roasted vegetable quesadilla– You can use leftover roasted or grilled veggies from the previous night's dinner.
Add chicken– Some shredded rotisserie chicken is a great choice. If you have some leftover Mexican Shredded Chicken (One Pot), you can use that too or even this Salsa Chicken (One Pot) or Salsa Verde Chicken (One Pot).
Add beef- You can use cooked ground beef or add leftover Steak Fajitas (One Pot).
Add mushrooms– I am not fond of raw mushrooms. Saute them with other veggies in a pan first and then, use them as a filling in the tortillas.
Add rice- Obviously, it has to be cooked first. Use leftotver Cilantro Lime Rice to make this meal more filling and nutritious. You can also use Spanish rice.
Make it spicy– Add some finely chopped jalapenos and perhaps even toss some red chili flakes.
Use other cheeses: I used a Mexican cheese blend you use can use shredded mozzarella, parmesan, cheddar, Monterey Jack or a combination of them. Please note that freshly shredded cheese tastes the best and also melts the best.
Use other beans– I used black beans but you can use red beans, garbanzo beans, pinto beans or a combination of them.
Use other veggies– I used corn, peppers, onions but you can toss whatever veggies you like such as spinach or sun-dried tomatoes or even these easy Vegetable Fajitas (One Pan).
Omit vegetables- Just add lots of cheese and you will end up with an ooey gooey cheese quesadilla.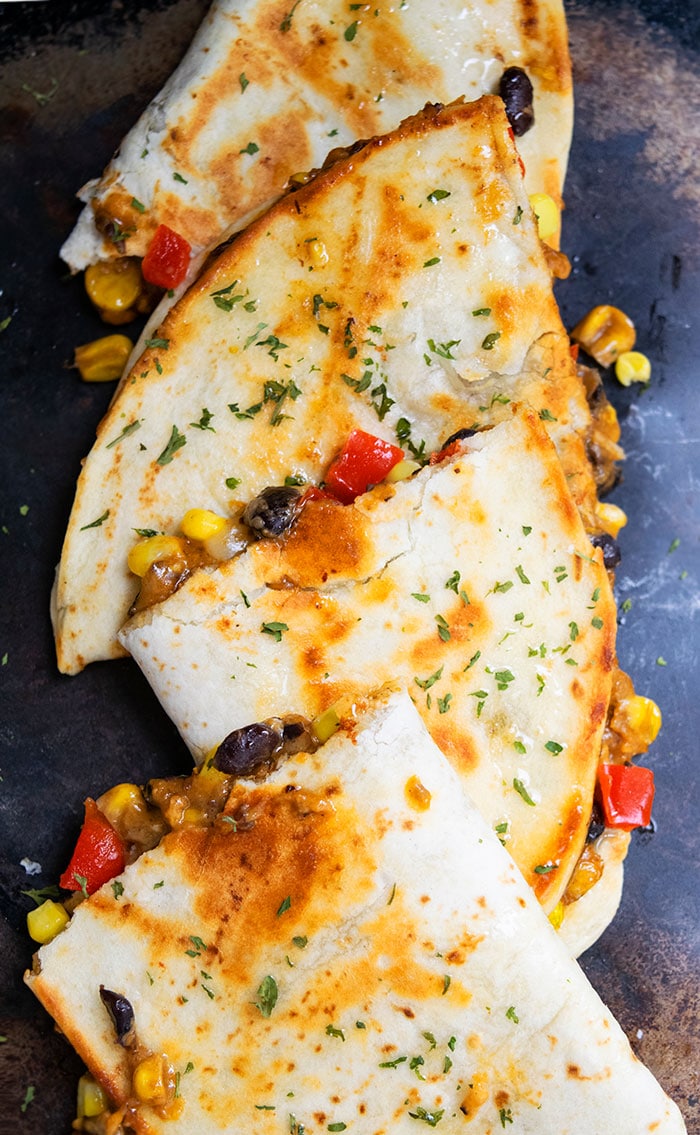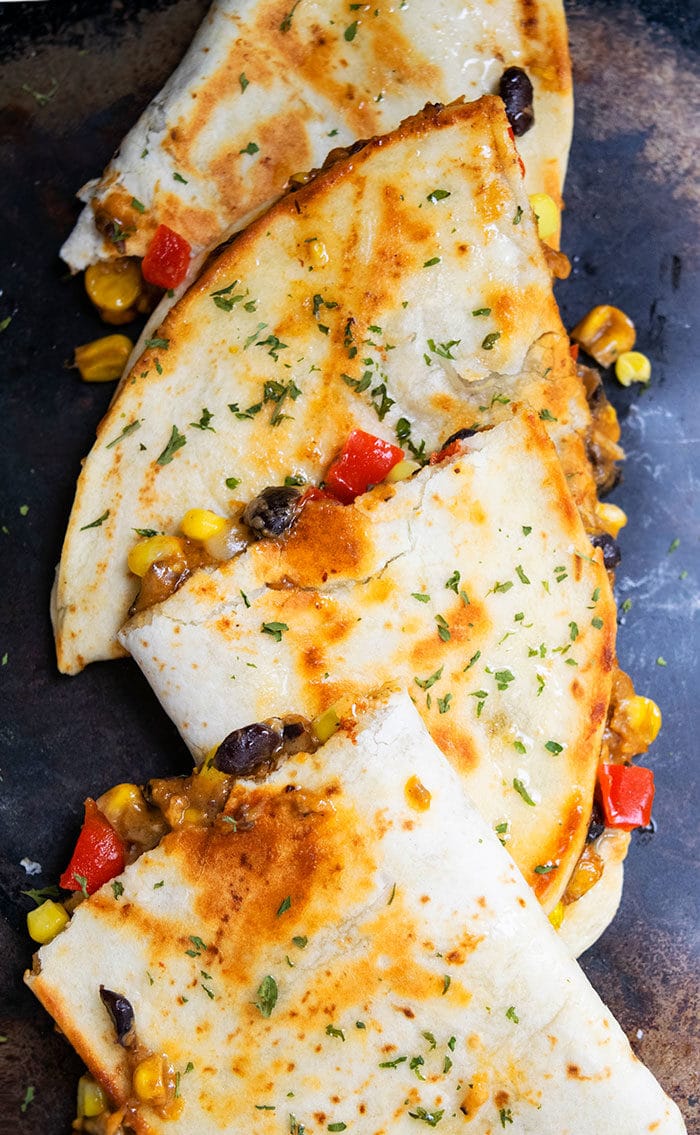 Tips and Techniques
Adjust ingredients– This recipe is so versatile that you can modify it to your preference Add more or less of whatever you like or dislike.
Use nonstick pan– Because this prevents burning and allows you to easily flip the tortilla.
Nonstick oil spray vs. Butter– Either can be used. If you use butter, make sure it's unsalted.
Finely chop the veggies– Or else they fall out when you flip the tortilla and also tend to fall out when you are eating. It's messy!
Watch the heat- The best vegetarian quesadillas are crispy and golden brown on the outside and not burnt or scorched. I recommend medium-low heat but all stoves are different. So, adjust the heat, as necessary.
What tortillas to use? Quesadillas are always made with soft tortillas and not hard ones. The two popular options are flour or corn tortillas. Whole wheat tortillas are a great healthy option. I like to use white tortillas, made with all-purpose flour. They are the softest!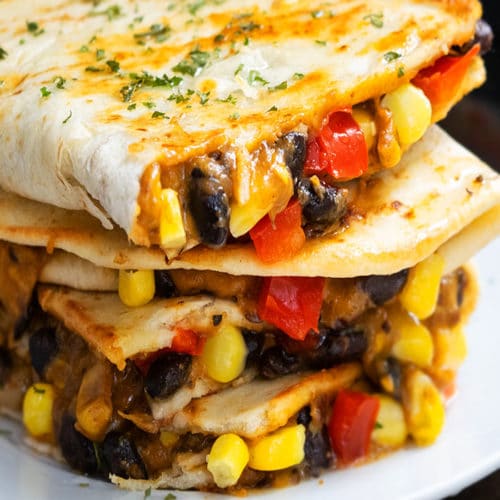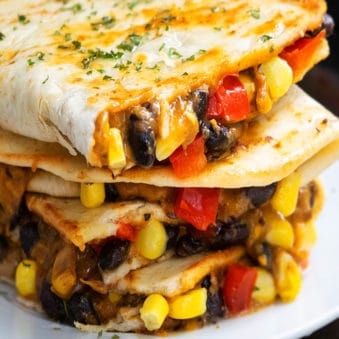 One Pan Vegetarian Quesadilla
Quick and easy vegetarian quesadilla recipe (Southwestern), homemade with simple ingredients in one pan on stovetop in 20 minutes. Loaded with cheese, beans, corn, peppers, onion, jalapeno!
Yield: People
Ingredients
2 Tortillas, 9 inches
3/4 cup Mexican cheese, Shredded, Can use any cheese you like
1/4 cup Black beans, Canned, Rinsed, Drained
1/4 cup Peppers, Red, green or yellow, Finely chopped
2 tbsp Onions, Finely chopped
1/4 cup Corn, Frozen, Thawed, Drained
1 Jalapeno, Seeds removed, Finely chopped, Optional
Instructions
Place one tortilla on top of the oil.

On one half of the tortilla, sprinkle half the cheese.

On top of the cheese, arrange half the black beans, half the peppers, half the onions, half the corn and half the jalapenos.

Sprinkle more cheese, if you like.

Gently, fold one side of the tortilla to the other side in half.

Cook one side until it's golden brown. Reduce heat, if necessary to prevent burning.

Spray oil on top of the quesadilla.

Then, gently flip it and cook the other side until golden brown. Be careful so that the filling doesn't fall out. I like to use wide tongs because they work very well.

Remove from pan and let it sit for 1 minute and then, cut it in half.

Repeat those steps with the other tortilla. Enjoy!
Nutrition
Calories: 297kcal, Carbohydrates: 27g, Protein: 15g, Fat: 14g, Saturated Fat: 7g, Cholesterol: 39mg, Sodium: 499mg, Potassium: 232mg, Fiber: 3g, Sugar: 3g, Vitamin A: 470IU, Vitamin C: 25.1mg, Calcium: 314mg, Iron: 1.7mg
Happy cooking everyone!