Italian Chopped Salad (One Bowl)
The best, classic, healthy, quick and easy chopped salad recipe, homemade with simple ingredients in one bowl in 20 minutes. This delicious side dish is loaded with veggies and Italian vinaigrette dressing.
This salad packs fresh flavor and healthy nutrition, just like this Mediterranean Chickpea Salad or this Strawberry Spinach Salad with Poppyseed Dressing.
I love that this salad allows for guests to taste all of the flavors at once in a bite instead of struggling to get more than one piece of lettuce on your fork at a time.
Enjoy the tangy flavor of the homemade dressing and the crisp freshness of chopped vegetables that make this the best salad ever!
How to make chopped salad?
Make dressing- Combine olive oil, lemon juice, honey, mustard, Italian seasoning, salt, pepper, and garlic powder and whisk together.
Chop and dice- Chop cucumbers, carrots, celery, peppers, onions, tomatoes, chickpeas, and lettuce.
Toss- Toss everything together and coat salad with dressing.
Enjoy- Serve immediately and enjoy!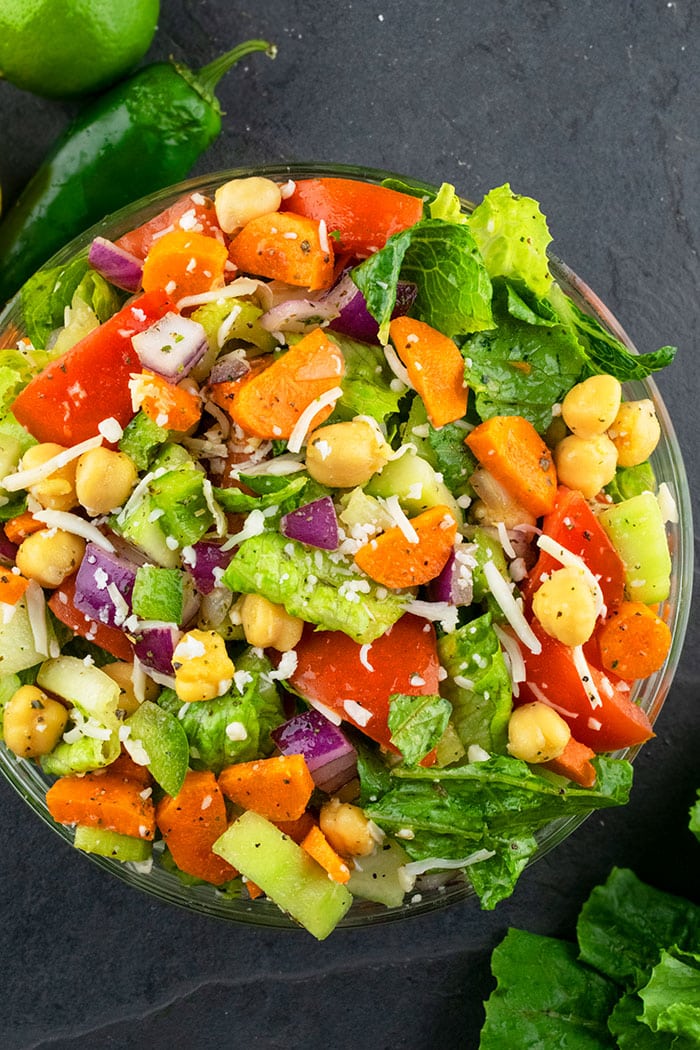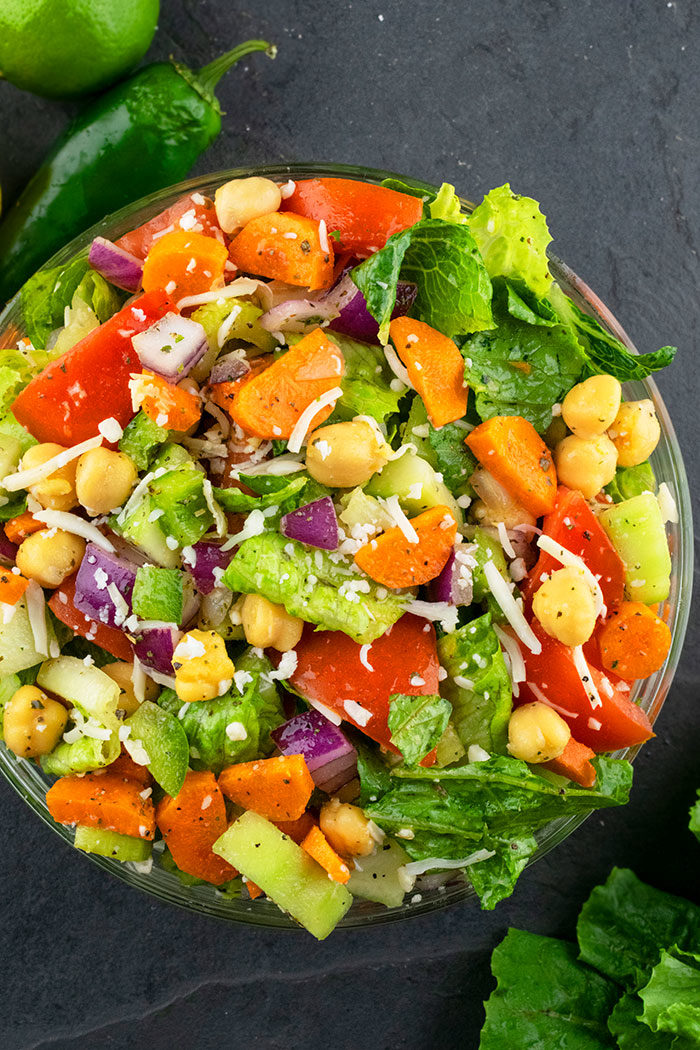 What to serve with vegetarian chopped salad?
Make this salad as a side dish to an Italian main course or serve it as a light lunch. This salad also makes great leftovers to pack for work the next day or to send in your chid's lunch at school.
This salad pairs well with just about any Italian main course. Try one of these:
For a classic soup and salad combo try one of these recipes:
You can even add a protein on the side like one of these:
If you want to keep it a vegetarian meal serve the salad with one of these: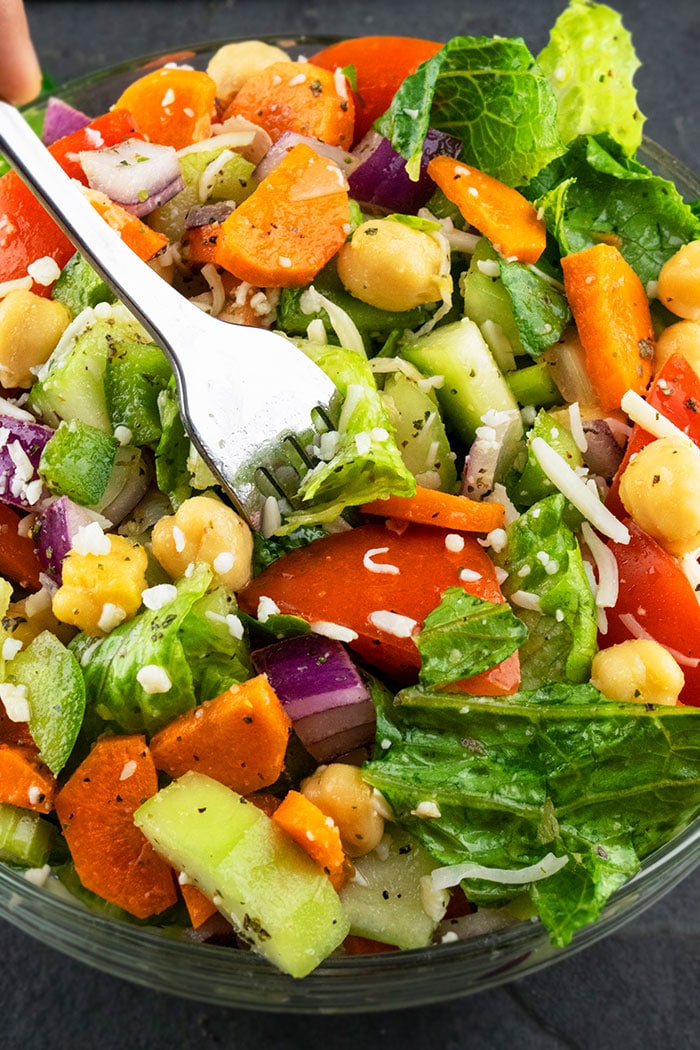 How do you keep Italian chopped salad fresh?
In order to keep it fresh, do not mix the salad dressing into the salad until you are ready to serve it. Otherwise, the salad will begin to wilt and become soggy as it absorbs the dressing.
If you need to make the salad ahead of time, chop and dice all your vegetables and store them covered in a container. You can make the salad dressing ahead as well, but store it separately sealed in a jar or bowl. Only combine the two when you are ready to serve to maintain freshness.
Chopped salad dressing
Whisk together olive oil, lemon juice, honey, mustard, Italian seasoning, salt and pepper, and garlic powder until combined. Drizzle it on your salad!
You can buy an Italian vinaigrette dressing pre-made from the store, but the flavor and ease with which you can make it homemade is so worth it. All it takes is a few key ingredients and voila, you will end up with a homemade tangy dressing that will impress all your friends.
Make sure to use high quality olive oil, because it will make all the difference in the flavor of this dressing. If you make the dressing ahead of time and store it in the refrigerator, the oils will solidify. Make sure to take it out and let it come to room temperature before drizzling/serving.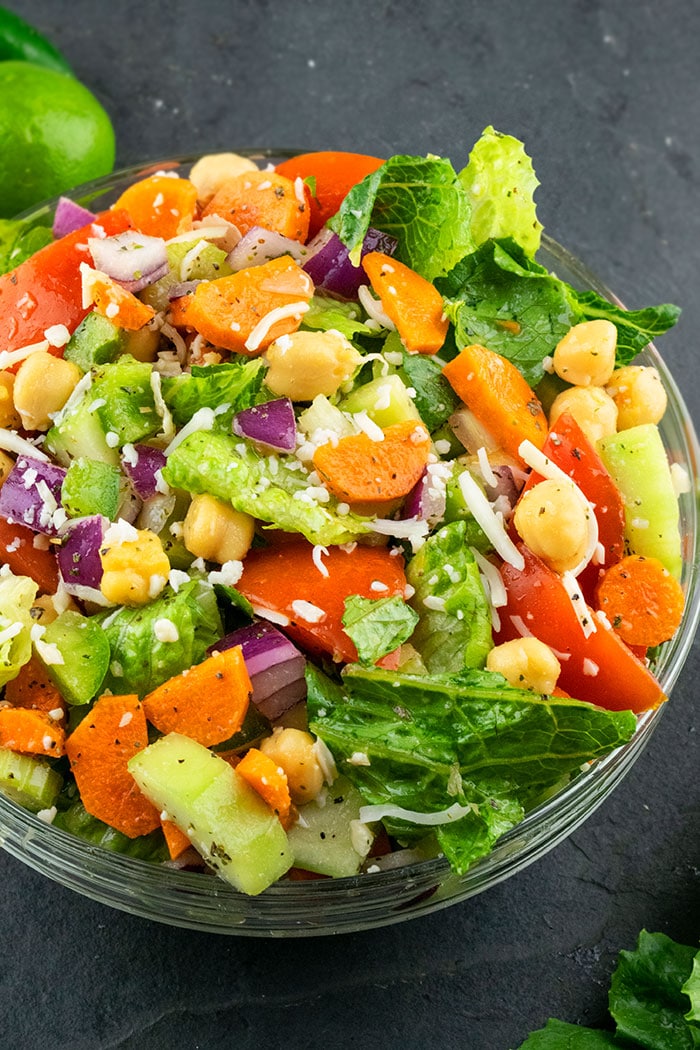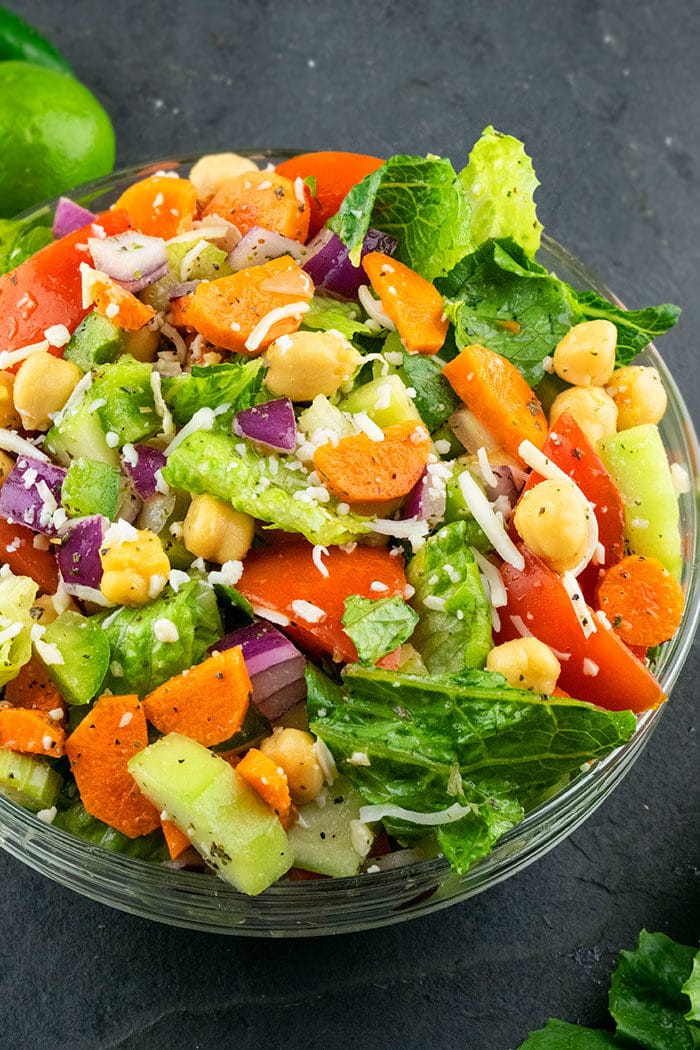 Variations
Quick chop salad bowl– Turn this into a bowl meal by including grilled chicken and small cooked pasta like Ditalini or Farfalle.
Mexican chopped salad– Add black beans, corn, avocado and replace Italian seasoning with taco seasoning and lots of fresh cilantro. If you like a little spice, add a few jalapeno slices as well.
Chopped caprese salad– Add all the ingredients from these Caprese Skewers, along with the veggies below and replace the Italian vinaigrette with a drizzle of Balsamic glaze.
Make it Greek– Add Kalamata olives and sprinkle feta cheese instead of mozzarella.
Give it a Mediterranean spin– Add black olives, feta, roasted red peppers and a Mediterranean herb blend instead of Italian seasoning.
Add meat or other proteins– Such as shredded, grilled or baked chicken, steak, pork, shrimp, tofu. You can also add cured meats such as salami, pepperoni, bacon, prosciutto, capocollo, or pancetta.
Add pasta– Such as small shells, macaroni, ravioli, tortellini. Must be boiled in salted water and drained first.
Make it spicy- Add pepperoncinis to the salad for a little spice or add a few red pepper flakes to the vinaigrette.
Tips and Techniques
Can the salad be made ahead of time? Yes, you can make the salad and the vinaigrette ahead of time. Just make sure to store the vinaigrette separately. Don't toss it all together until prior to serving to maintain freshness.
Chopping- Finely dicing and chopping the vegetables ensures that you don't get a mouthful of only onions and there is an even distribution. Size definitely matters when it comes to this salad- smaller is better.
How long will the dressing last? The dressing will last for 3-5 days in a sealed jar in the fridge. The oils will solidify in the fridge so make sure to bring it to room temperature before serving.
Can I use chickpeas from a can? Yes! just make sure to rinse and drain them to remove the preservatives and dark liquid.
Are garbanzo beans and chickpeas the same? Yes, they are the same. This protein rich legume goes by either name interchangeably.
How much dressing should I use? Use enough to coat this salad, but not so much that it pools in the bowl. Too much dressing will take away all of the flavor from the fresh, delicious vegetables and cause it to wilt quickly instead of retaining its crisp texture.
Refrigerate the dressing- Olive oil becomes solid when refrigerated. Make sure to bring the dressing to room temperature before serving if you make it ahead of time.
Adjust amount of veggies and Italian seasoning– Add more or less of whatever you like or dislike. Everyone has their own preferences!
More Salad Recipes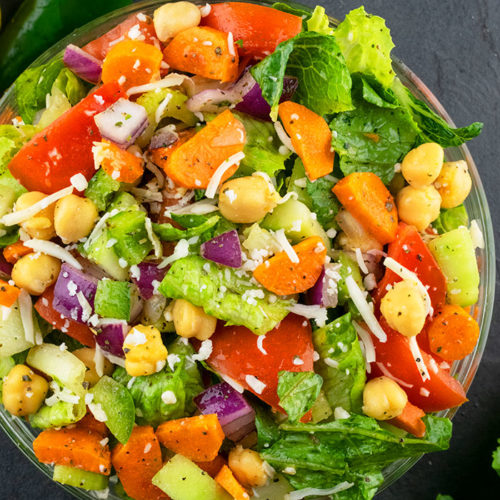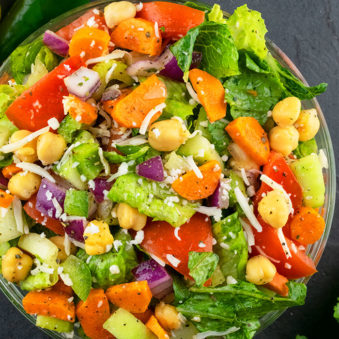 Chopped Salad
Classic, quick and easy chopped salad recipe, homemade with simple ingredients in one bowl in 20 minutes. Loaded with veggies and Italian vinaigrette.
Yield: People
Ingredients
1/3 cup Olive oil
1/4 cup Lemon juice, Or red wine vinegar
1 tbsp Honey , Optional
1 tbsp Dijon mustard, Optional
1-2 tbsp Italian seasoning
Salt, To taste
Pepper, To taste
1.5 tsp Garlic powder
1 cup Cucumbers, Peeled and diced
1/2 cup Carrots, Peeled and diced
1/2 cup Celery, Finely chopped
1 cup Green peppers, Finely chopped
1/2 cup Red onions, Finely chopped
1 cup Tomatoes, Roughly chopped
1 cup Chickpeas, Washed and drained
2 cups Lettuce, Roughly chopped
3/4 cup Mozzarella cheese, Shredded
Instructions
In a large salad bowl, whisk together oil, lemon juice, honey, mustard, Italian seasoning, salt, pepper, garlic powder.

Add cucumbers, carrots, celery, peppers, onions, tomatoes, chickpeas, lettuce.

Toss everything together until veggies are fully coated.

Sprinkle cheese on top. Serve immediately.
Notes
Read all my tips above.
Must be served immediately. Leftovers cannot be refrigerated for later. However, Italian vinaigrette can be made separately and poured into the bowl of chopped veggies, prior to serving. 
Nutrition
Calories: 18kcal, Carbohydrates: 5g, Protein: 1g, Fat: 1g, Saturated Fat: 1g, Sodium: 43mg, Fiber: 1g, Sugar: 4g, Iron: 1mg
Happy cooking everyone!