Oven Roasted Chicken and Vegetables (One Pan)
The best, healthy, quick and easy oven roasted chicken and vegetables recipe, homemade with simple ingredients in sheet pan/ one pan in 30 minutes. Loaded with Italian flavors!
This meal packs flavor while minimizing work. All you have to do is chop, season, and bake, and you have a flavorful, full meal ready in no time. Since it is so quick and easy, this recipe is a standard go-to in our home.
The the variety of roasted vegetables means each bite brings a new flavor, and the chicken adds a healthy protein to round out the meal. You can even pack it for an easy lunch at work the next day.
Need a chicken alternative? Try this Oven Roasted Sausage and Vegetable sheet pan meal. Need a vegetarian option? These Oven Roasted Vegetables will be equally satisfying.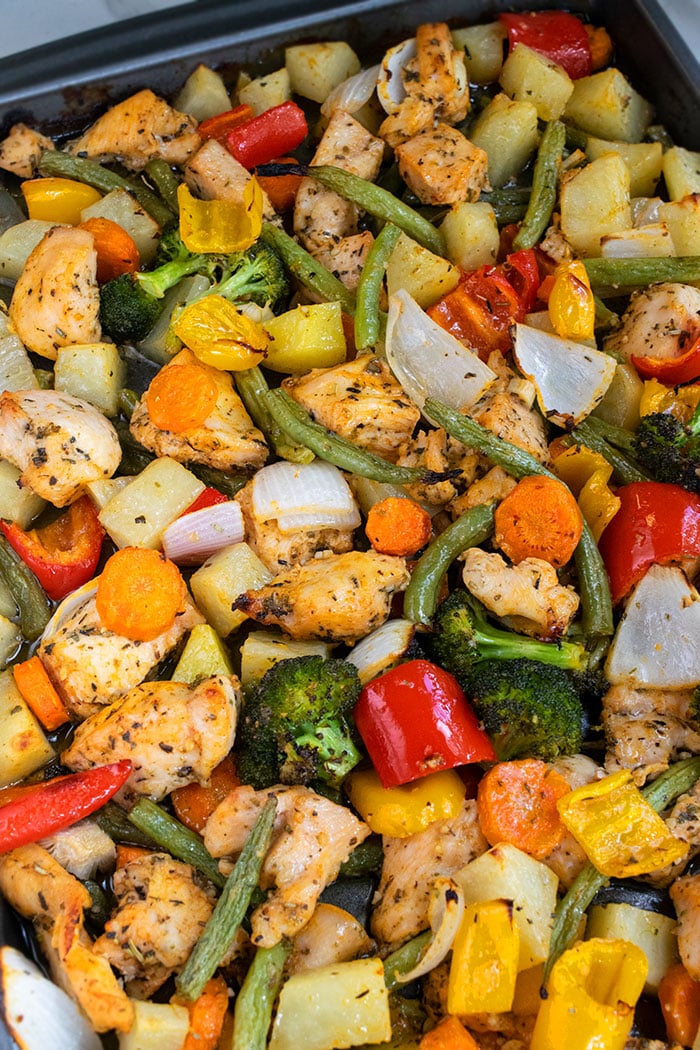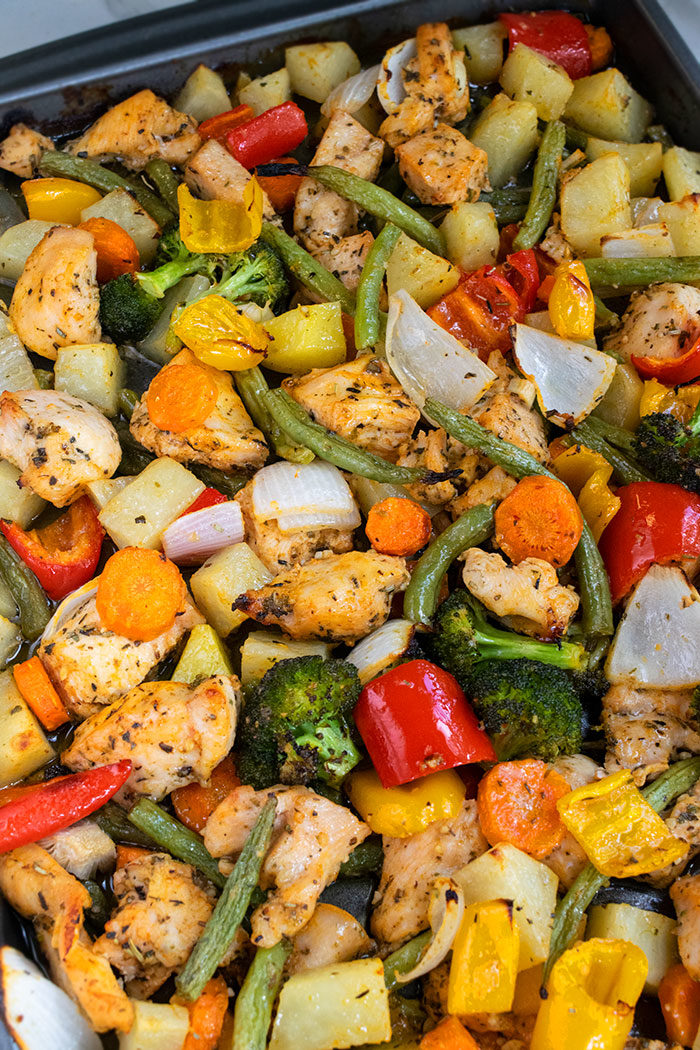 How to make roasted chicken and vegetables in oven?
Prep Ingredients- Chop vegetables and chicken breast into small pieces.
Season- Toss ingredients in olive oil and butter, add sesasoning, and drizzle with lemon juice.
Bake- Place in a single layer on the sheet pan and roast at 475 for 15-20 minutes.
Finish- Remove from the oven and sprinkle with Parmesan Cheese
Enjoy! Serve immediately.
Can you cook chicken and vegetables at the same time?
Yes, you can! Since the chicken is cut into 1 inch cubes and the vegetables are chopped similarly, roasting them at a slightly higher temperature of 475 degrees allows the ingredients to cook thoroughly. The shorter cooking time of 15-20 minutes keeps the chicken from drying out.
What vegetables go well with chicken?
All vegetables go well with chicken, but some of my favorites are
Brussel sprouts
Green beans
Cauliflower
Broccoli
Potatoes
Sweet potatoes
Onion
Peppers
Zucchini
Asparagus
Carrots
Beets
Squash
What sides to serve with baked chicken and veggies?
There are many options such as a simple green salad, dinner rolls, or fresh fruit.
If you are looking for something more substantial, then these pastas and soups will work well.
Variations
Chicken and vegetable soup– Add leftovers to your favorite basic soup or broth and reheat
Chicken and vegetable pasta– Add to leftover spaghetti, macaroni, rotini, or fettuchini noodles.
Make foil packets– Instead of roasting in the oven, you can place all of the ingredients into a foil packet and place on the grill over high heat till veggies are cooked and chicken is no longer pink inside, about 20 minutes.
Different seasonings and herbs– There are so many options to season the blank canvas of chicken and veggies. You can add garlic, ginger, and soy sauce for Chinese chicken and veggies. Try paprika, a little cayenne, garlic, seasoned salt and pepper for a Cajun spin. Add cinnamon, nutmeg, rosemary, thyme, salt and pepper for a warm Thanksgiving flavor and feel.
Grilled chicken and vegetables– The chicken and vegetables can be grilled separately by placing the chicken breast directly on the grill and the vegetables in a grill pan, or they can be grilled together in the foil packet as suggested above. Make sure they are coated in oil or butter for either option.
Whole chicken, breast, drumsticks, thighs– Any type of chicken meat can be used in this recipe, but the cooking times will vary. If you are low on time you can even buy a cooked rotisserie chicken from the store in place of just the chicken breast.
Chicken and vegetable stir fry– Choose vegetables such as broccolini, peppers, green beans, carrots, muchrooms and pea pods, and season with ginger, garlic, salt, and white or black pepper for a stir fry option.
Mexican chicken and vegetables- Season potatoes, carrots, peppers, onions, and chicken with taco seasoning. Use leftovers in tortillas the next day.
Salad- Add chicken and vegetables to any green salad for a filling healthy meal
Balsamic roasted chicken and vegetables- Drizzle balsamic vinegar onto the chicken and veggies prior to roasting for a sweet and tangy flavor, or add a balsamic glaze after roasting.
Tips and Techniques
Fresh herbs vs. Dried herbs– Use dried herbs in this recipe because they will release their flavor and oils as the ingredients roast. If you want to add fresh herbs, sprinkle them on after the chicken and vegetables are roasted so the flavors will remain fresh.
Do I have to flip the vegetables half-way? Yes, this ensures that the vegetables and chicken cook all the way through and that they are able to brown and caramelize properly.
Does the size of the vegetables matter? Yes, it does. The smaller size of the veggies is important for the quick cooking time, especially the potatoes. If the potatoes are bigger they can end up not getting cooked through, while the chicken is over-cooking and drying out.
How do I make this for a crowd? Double the ingredients and use 2 sheet pans to feed a crowd.
Overcrowding- Do not overcrowd the sheet pan. This prevents even cooking and caramelization. Use 2 sheets pans if you need more room.
How much oil should I use? Use enough oil and butter to completely coat the vegetables and chicken, without leaving any pooling on the pan. Too much oil will keep the vegetables from crisping, and not enough will burn the vegetables instead of caramelizing them.
How do I keep the ingredients from sticking to the pan? Line the sheet pan with foil, toss ingredients thoroughly in oil, and make sure to flip the veggies half-way through to prevent sticking.
What to do if the chicken is cooked but the veggies aren't? Take the chicken off of the sheet pan and cover it on a plate with foil. Then, continue cooking the veggies till they are cooked through. Combine before serving.
More Sheet Pan Meals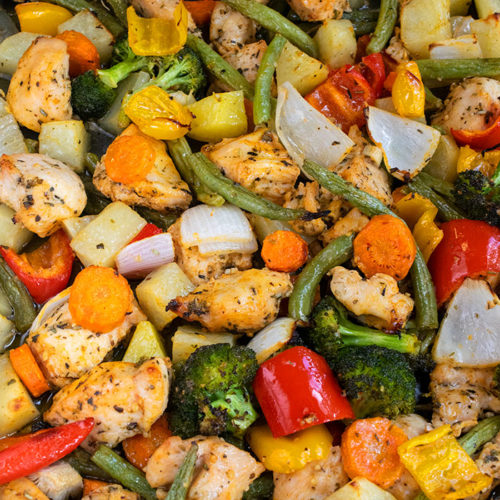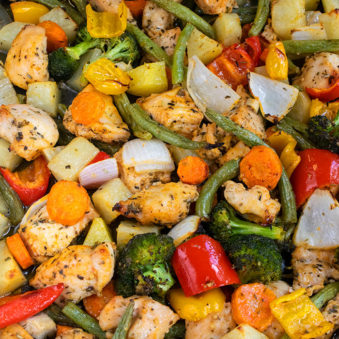 One Pan Roasted Chicken and Vegetables
Healthy, quick and easy, roasted or baked chicken and vegetables recipe, homemade with simple ingredients in sheet pan/ one pan in 30 minutes. Loaded with Italian flavors!
Yield: People
Ingredients
2 Chicken breasts, Boneless, Cut into cubes
1 cup Peppers, Green, red, yellow, orange or combination of all
1 cup Zucchini, Sliced into circles
1 cup Broccoli, Sliced into circles
1/2 cup Onions, Cut into 2 inch pieces
1/2 cup Carrots, Sliced into circles
1/2 cup Green beans
1 cup Potatoes, Cut into small 1 inch cubes
2-3 cloves Garlic, Finely minced
2 tbsp Butter, Melted, Unsalted
3 tbsp Olive oil
2 tbsp Italian seasoning
Salt, To taste
Pepper, To taste
1/2 tsp Paprika
1-2 tsp Lemon juice
1-2 tbsp Parmesan cheese, Shredded, For topping
Instructions
Line a large sheet pan with foil paper (Dimensions: 18 x13).

Place chicken, peppers, zucchini, broccoli, onions, carrots, green beans, potatoes, garlic on the baking tray.

Drizzle butter and olive oil all over the chicken and veggies.

Sprinkle Italian seasoning, salt, pepper, paprika.

Drizzle lemon juice.

Toss everything until vegetables are fully coated.

Bake at 475 degrees F for 15-20 minutes, making sure to toss everything, halfway through for even cooking.

Remove from oven and sprinkle parmesan cheese. Enjoy!
Notes
Read all my tips above.
Leftovers can be stored in a sealed container in the fridge for up to 2 days and can be reheated in the microwave. 
Nutrition
Calories: 267kcal, Carbohydrates: 16g, Protein: 27g, Fat: 10g, Saturated Fat: 4g, Cholesterol: 88mg, Sodium: 322mg, Potassium: 912mg, Fiber: 5g, Sugar: 3g, Vitamin A: 3465IU, Vitamin C: 62.6mg, Calcium: 111mg, Iron: 3.6mg
Happy cooking everyone!