Broccoli Cheddar Soup (One Pot)
Quick, easy broccoli cheddar soup recipe, homemade with simple ingredients in one pot on stovetop in 30 minutes. Rich, creamy comfort food!
This is even better than the Panera version, and much more fresh! Made from fresh broccoli, creamy cheddar cheese, and loaded with flavor, you will have a new favorite on your hands. This Broccoli Salad Recipe (One Bowl) and Chicken And Broccoli (One Pot) are two more ways to include this fantastic vegetable in your cooking.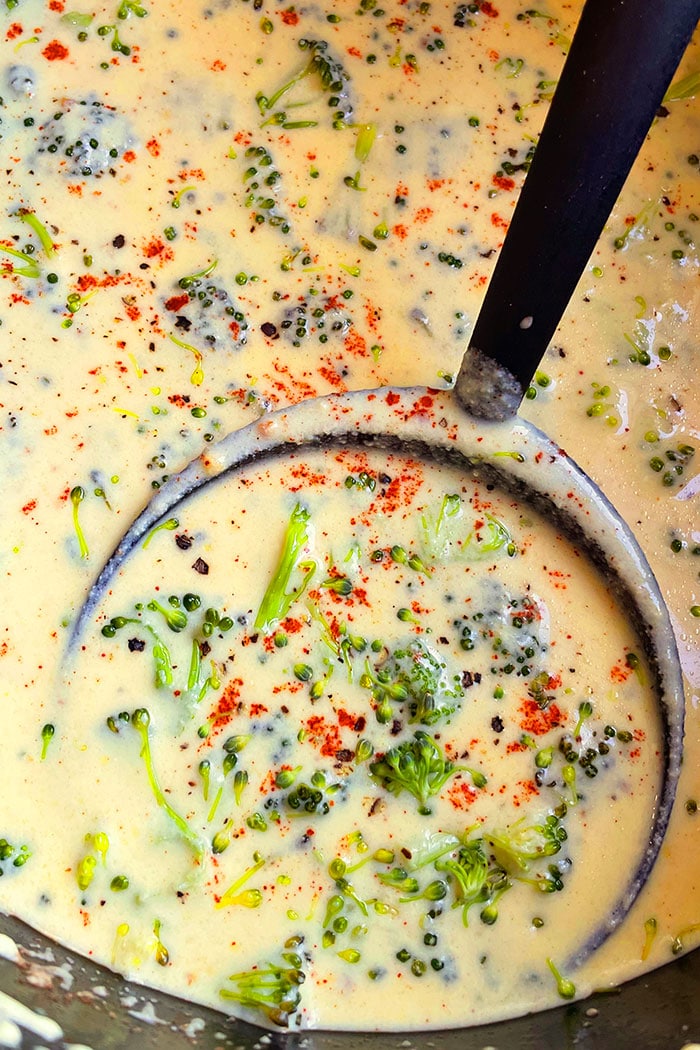 How To Make Broccoli Cheddar Soup Recipe From Scratch?
Saute onion and garlic– Until onion is softened.
Add flour– Mix for 1-2 minutes.
Add other ingredients– This includes broth, salt, pepper, paprika, broccoli, carrots, and bring to a boil.
Mix– Until combined.
Cook uncovered– For about 15 minutes.
Mix in dairy– This includes half and half and cheddar cheese.
Continue cooking- Until cheese is melted.
Enjoy- Garnish with black pepper and paprika.
What Sides to Serve With Best Broccoli And Cheese Soup?
This soup goes perfectly with bread or typically anything you can dip in it such as:
It also pairs very well with salads like this Harvest Fall Salad (One Bowl) or this Christmas Salad (One Bowl), or Thanksgiving Salad (One Bowl).
If you want to make this a complete meal for a dinner party, serve it alongside pasta like this Basil Pesto Pasta Salad (One Bowl) or this Tomato Basil Pasta (One Pot).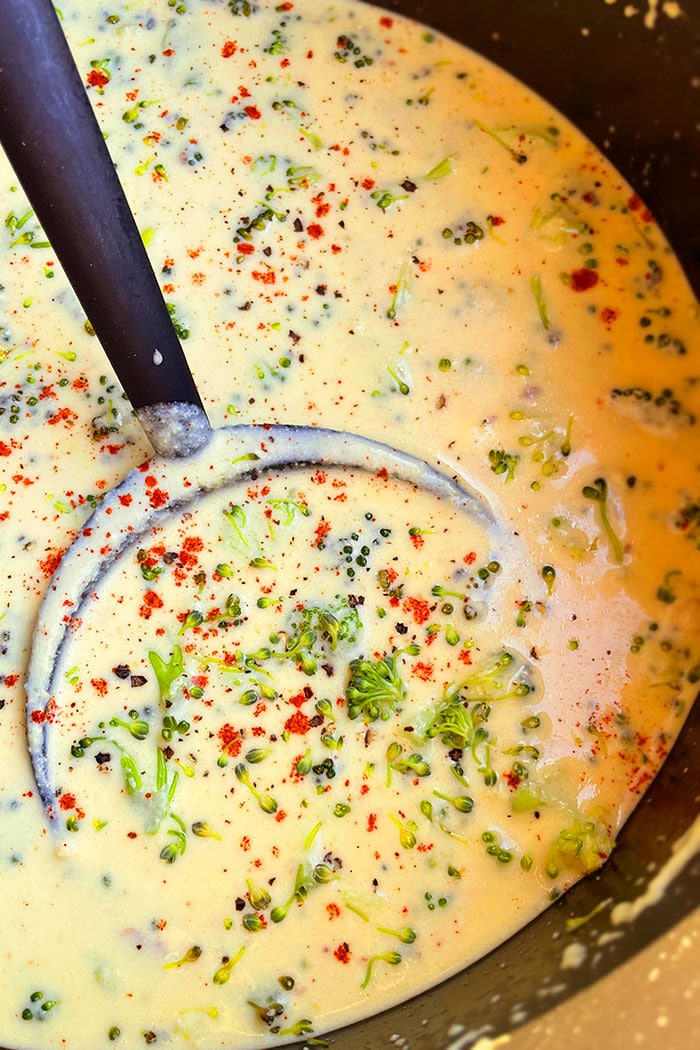 Variations for Cheesy Broccoli Soup
Cream of broccoli cheese soup– Add heavy cream instead of of milk or half and half for an even creamier soup.
Broccoli potato soup– Add cubed potatoes, or puree them into the soup. This also makes it thicker.
Healthy soup– Use full-fat coconut milk in place of half and half for a healthier option. Please note that this will alter the flavor slightly.
Make it vegetarian– Use vegetable broth instead of chicken broth.
Add other vegetables– Like cauliflower, peas, green beans, or bell peppers.
Make it spicy– Add red chili flakes for a little kick.
Add other seasoning– Such as Mexican, Italian, or Greek to create a new flavor profile.
Try a bacon topping– Prior to serving, garnish with crumbled bacon for a crunchy, salty texture.
Other topping options– Sour cream, green onions, chives, pine nuts, or slivered almonds.
Add cooked meat– In the final 5 minutes, mix in shredded rotisserie chicken or cubed ham, or even cooked ground beef.
Tips And Techniques
How to thicken broccoli cheddar soup? There are a few ways to do this. Let it cook uncovered until excess liquid is reduced and desired thickness is achieved. You can also mix in heavy cream or thick coconut milk to act as a thickening agent. Some people add pureed potatoes to make soups thicker.
How to make it thinner? Simply mix in more broth or water.
Why is my soup grainy? You must use fresh cheese and not the packaged ones since that has additives which yields a grainy result. Also, watch the temperature. If the soup gets too hot and is boiling or almost boiling, the proteins in cheese tighten and contract and the fats get released, leading to a curdled texture. There is no way to fix this.
Use nonstick pot– Because it prevents sticking and burning making clean-up easier.
Adjust amount of seasonings– Add more or less of whatever seasonings you like or dislike.
Use low sodium broth– Because it prevents the soup from becoming too salty.
Use fresh broccoli- Because it holds its shape better and is firmer and not soggy and soft like the frozen ones.
Use full fat ingredients– Because that makes the creamiest, richest soup.
Cut broccoli into small florets- Because this allows you to enjoy it in each spoonful.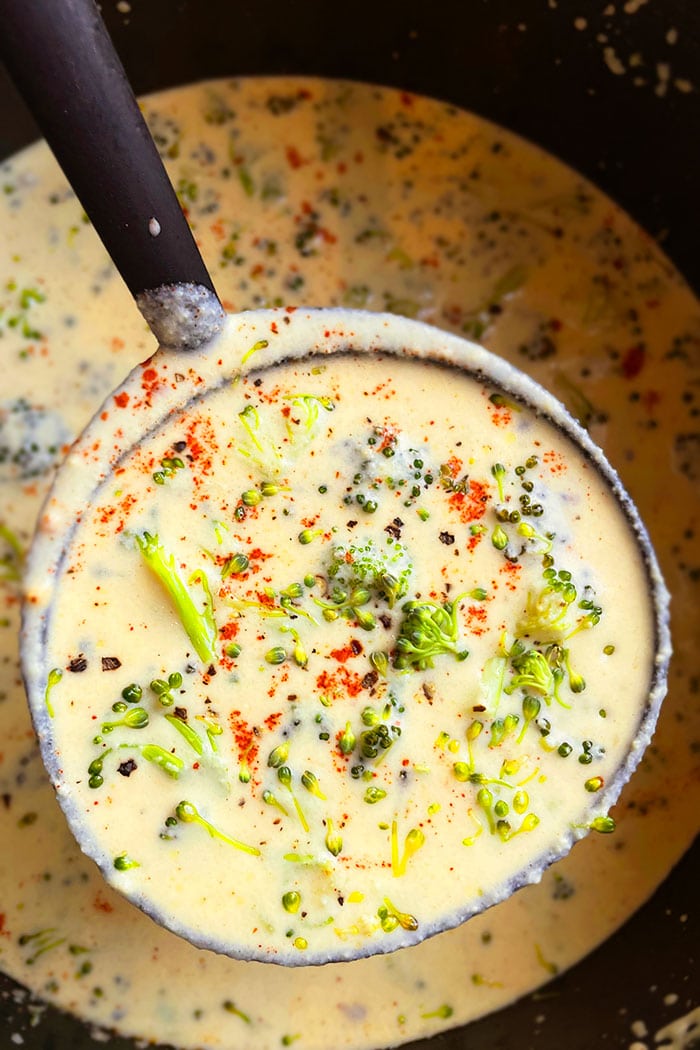 Storage
Refrigerate– In a sealed container for up to 2 days.
Freeze– Because of the high dairy content in this soup, this is not recommended because it does not thaw well and will separate.
Reheat- In the microwave or on the stovetop. You may need to add more broth to thin it out.
More One Pot Broccoli Recipes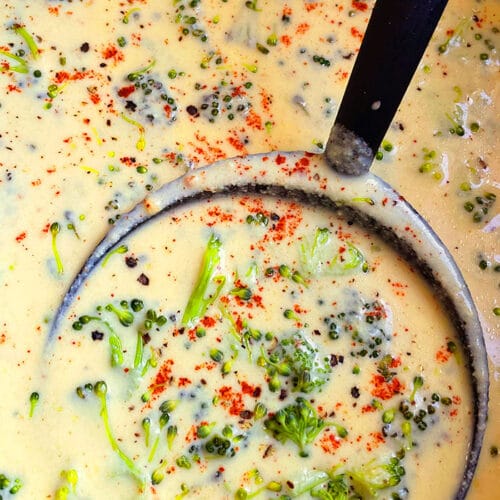 One Pot Broccoli Cheddar Soup
Quick, easy broccoli cheddar soup recipe, homemade with simple ingredients in one pot on stovetop in 30 minutes. Rich, creamy comfort food!
Yield: People
Ingredients
1/4 cup Butter, Unsalted
1/2 cup Onion, Finely chopped
3 cloves Garlic, Finely minced
4 tbsp All-purpose flour
2 cups Broth, Chicken or vegetable, Low sodium
Salt, To taste
Pepper, To taste
1/4 tsp Paprika
3 cups Broccoli florets, Cut into small florets
1 Carrot, Medium size, Peeled, Grated or Finely chopped or Thinly sliced
2 cups Half and half, Or use whole milk
2 cups Cheddar cheese , Full fat, Use block of cheese, Freshly shredded
Instructions
Heat butter in a large nonstick pot over medium-high heat until fully melted.

Add the onion, garlic and saute for a few minutes until garlic is fragrant and onion is softened.

Add flour and mix for 1-2 minutes until the flour becomes golden brown.

Mix in broth, salt, pepper, paprika, broccoli, carrots.

Bring to a boil.

Then, reduce heat to medium-low and cook uncovered for about 15 minutes or until the broccoli and carrots are tender.

Add half and half and cheddar cheese.

Cook uncovered for a few more minutes until cheese is fully melted.

Garnish with additional black pepper and paprika. Enjoy!
Notes
Read all my tips above.
Leftovers can be stored in a sealed container in the fridge for up to 2 days and reheated in the microwave or stovetop. Additional broth may need to be added to thin it out again. 
Nutrition
Calories: 561kcal, Carbohydrates: 22g, Protein: 21g, Fat: 45g, Saturated Fat: 28g, Cholesterol: 135mg, Sodium: 1006mg, Potassium: 515mg, Fiber: 3g, Sugar: 4g, Vitamin A: 4643IU, Vitamin C: 65mg, Calcium: 584mg, Iron: 1mg