Bruschetta Chicken (One Pot)
The best, healthy, quick, easy bruschetta chicken recipe, homemade with simple ingredients in one pot or pan over stovetop in 30 minutes. Loaded with garlic, Italian herbs, cherry tomatoes and balsamic glaze.
This meal is just as delicious as another Italian classic: Pesto Chicken (One Pot) and should definitely be in your dinner rotations.
I have seen 2 different methods of preparing this meal. The first one is what I did and it does not require you to make bruschetta on the side. The second method involves making bruschetta on the side and using that as a topping on the cooked chicken. Both methods work well but I prefer the first one since everything comes together in one pan. No need to make another bowl dirty!
How to make bruschetta chicken?
Season and cook chicken– Heat oil and saute garlic. Then, add the chicken and all the herbs and spices. Cover and cook until no longer pink and cooked through.
Add toppings– Top off with lots of cherry tomatoes, fresh basil.
Enjoy! Serve immediately with a drizzle of balsamic glaze.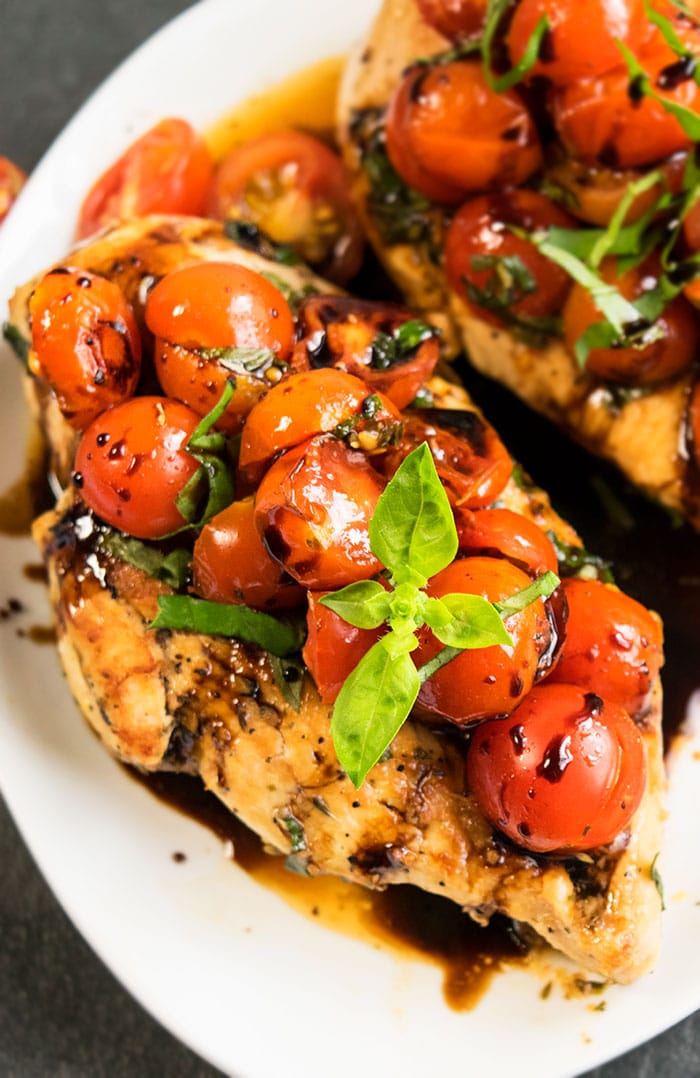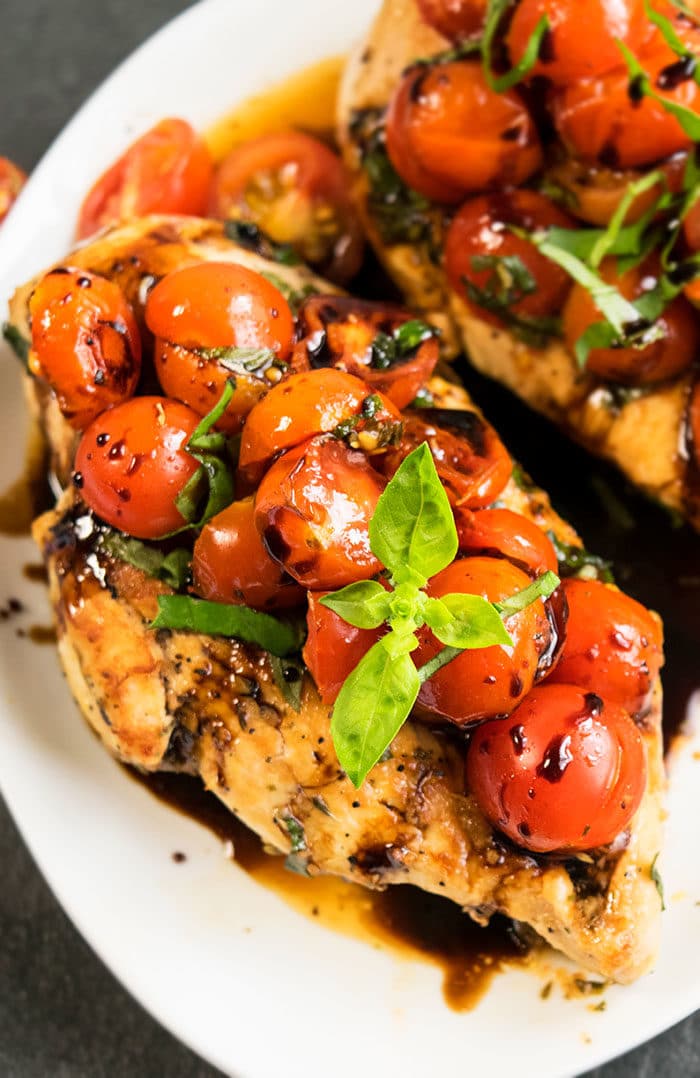 What sides to serve with chicken bruschetta recipe?
You can serve it on its own or add one of these side dishes, to make it a more filling meal:
Pasta– Just simple boiled spaghetti works very well.
Salad– Such as this Italian Spaghetti Salad or Italian Chopped Salad. It truly needs to be a mild flavored salad without any creamy dressings.
Bread– Try garlic bread, breadsticks or dinner rolls.
Rice– Plain boiled or steamed rice is great.
Grilled vegetables– Such as these Oven Roasted Vegetables (One Pan).
Spaghetti squash– An awesome low carb side option!
Zucchini noodles– Also called "Zoodles" and another healthy side dish.
What is balsamic glaze?
It's also also called "balsamic reduction." It's a thick sauce, made by cooking balsamic vinegar and brown sugar together until reduced. It has a strong flavor and aroma and it mostly used as a drizzle in salads or grilled/baked meats and even as a topping on roasted vegetables.
It can be homemade or store-bought. I have shared how to make homemade balsamic glaze in the recipe card below.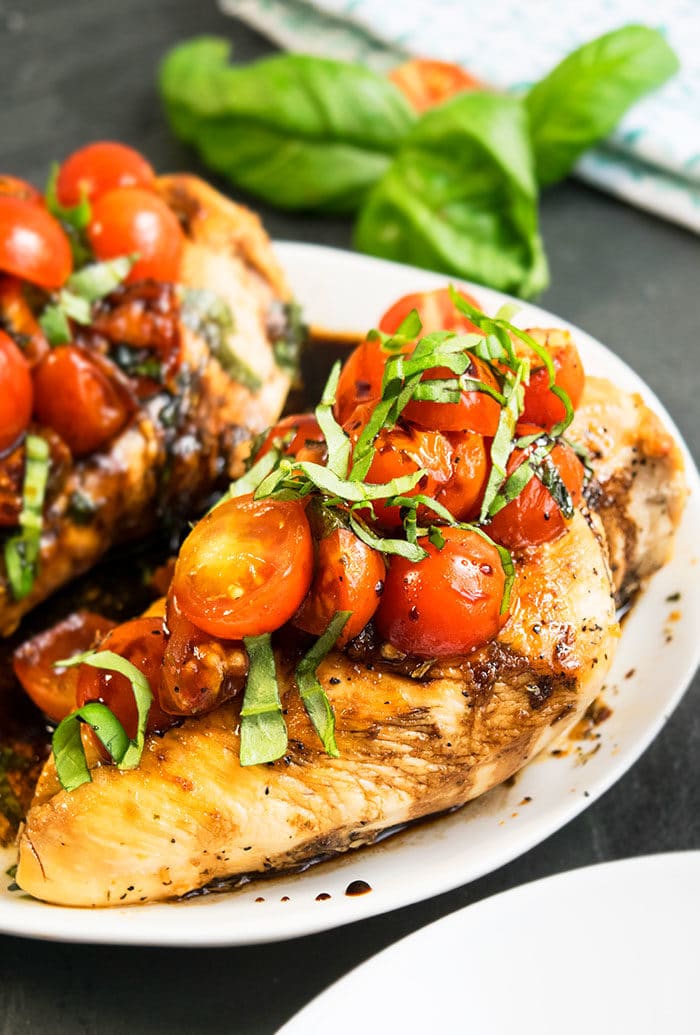 Variations
Sheet pan bruschetta chicken bake– Sprinkle the chicken breasts with salt, pepper, Italian seasoning/herbs. Drizzle some olive oil in a baking tray and place the seasoned chicken in there. In a separate bowl, mix together some fresh diced tomatoes, basil, garlic and olive oil. Spoon this mixture on top of each chicken breast. Bake at 375 degrees for about 30 minutes or until chicken is fully cooked. Serve it with balsamic glaze and parmesan cheese (optional).
Grilled bruschetta chicken– Coat the chicken breasts in olive oil, Italian seasoning, garlic powder, salt, pepper or you can marinate them in in an Italian marinade for 30 minutes. Grill until cooked through. Top off with cherry tomatoes, lots of chopped fresh basil and a drizzle of balsamic glaze.
Bruschetta chicken sandwich– Prepare the chicken following the recipe below. Then slice chicken into small pieces or shred the chicken, if you like. Butter two slices of good quality bread. Spoon this mixture on one slice and sprinkle parmesan cheese. Cover it with the other slice of bread and cook the sandwich on a non-stick pan over medium heat on both sides, until cheese has fully melted.
Balsamic bruschetta chicken pasta– Prepare the chicken, as per instructions below but don't add the glaze yet. Slice chicken into smaller pieces. Then, toss the chicken, basil, tomatoes into the boiled pasta. Top off with balsamic glaze drizzle and lots of shredded cheese (parmesan and mozzarella).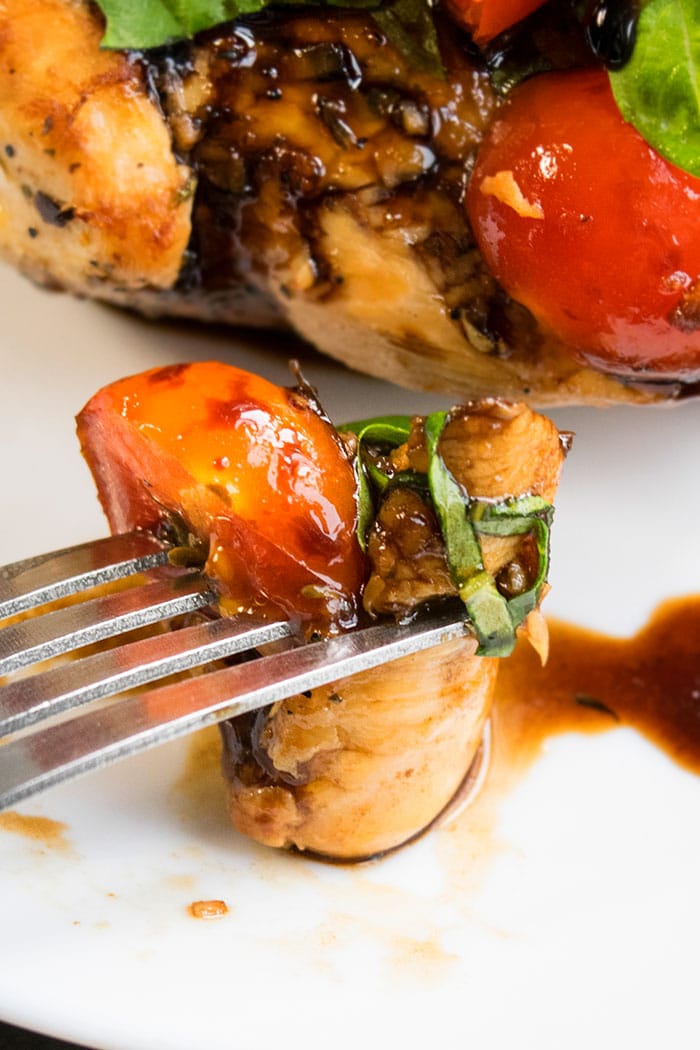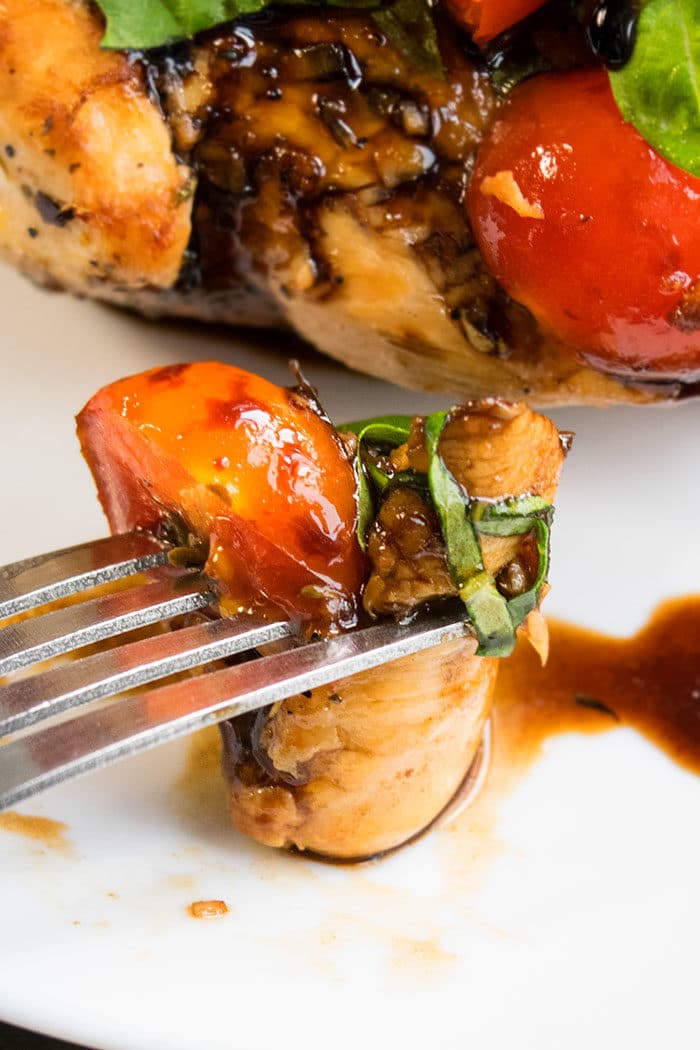 Tips and Techniques
Use leftover or store-bought bruschetta– If you already have leftover bruschetta, just prepare the chicken and then, top it off with bruschetta and balsamic glaze.
What cheese to use? Shredded mozzarella and parmesan cheese compliment the flavors of this chicken perfectly but you can try other cheeses too.
Add onions– When you are topping off the chicken with tomatoes and basil, another wonderful addition is finely chopped red onions.
Cooking time may vary- This depends on how big and thick your chicken breasts are. Bigger, thicker breasts equals longer cooking time and vice versa.
What to do with leftovers? You can store them in the fridge for up to 2 days and enjoy them later in sandwiches, wraps, pizzas, salads and even pasta recipes.
Adjust amount of seasoning and garlic– This is a personal preference. You can add more or less.
More One Pot Chicken Recipes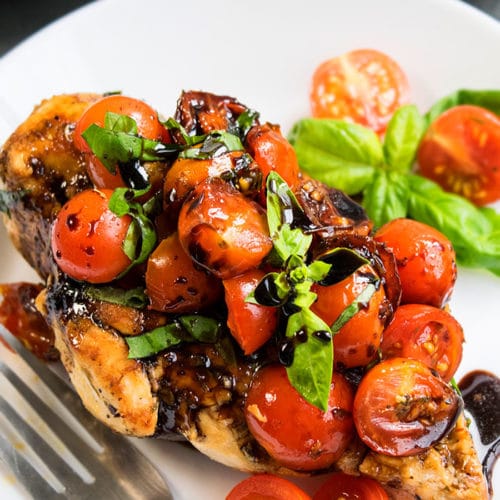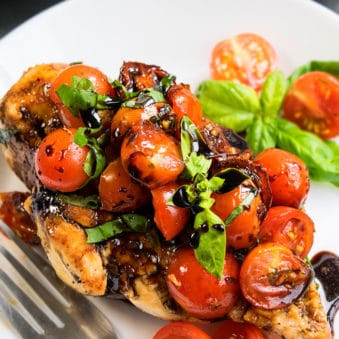 One Pan Bruschetta Chicken
Quick, easy bruschetta chicken recipe, made with simple ingredients in one pot/ pan over stovetop in 30 minutes. Loaded with Italian herbs & balsamic glaze.
Yield: People
Ingredients
3 tbsp Olive oil
1 tbsp Garlic, Finely minced or use garlic paste
Salt , To taste
Pepper, To taste
1 tbsp Italian seasoning
1-2 tbsp Water , Or Broth
2 cups Cherry tomatoes, Cut in half
1/4 cup Basil, Fresh, Finely chopped
1/2 cup Mozzarella cheese, Shredded
1/2 cup Parmesan cheese, Shredded
1/2 cup Balsamic glaze, For drizzling on top
Instructions
In a non-stick pan, heat oil on medium-high heat and add garlic and saute for a few seconds until fragrant. Don't let the garlic burn! 

Add chicken breasts. 

Sprinkle salt, pepper Italian herbs on top of each chicken. 

Cover and cook for 6-8 minutes. 

Then, flip over the chicken breasts. Cover and cook the other side for 6-8 minutes too. 

Add a little water or broth, if you like and let everything cook for about 2 minutes till the water is reduced into a thick paste. This step is optional!

Add cherry tomatoes and fresh basil. Mix everything together for about 1 minute. 

Sprinkle mozzarella and parmesan cheese on top of each breast (I forgot to do that, this time).

Serve immediately with a drizzle of balsamic glaze and . Enjoy!
Notes
Read all my tips above. 
Leftovers can be stored in a sealed container in the fridge for up to 2 days.
Homemade balsamic glaze: In a non-stick saucepan, add 1 cup balsamic vinegar and 1/4 cup brown sugar.  Cook on high heat and bring to a boil. Let it simmer for 6-8 minutes until the mixture becomes thick and has a glaze-like consistency and you are done. 
Nutrition
Calories: 336kcal, Carbohydrates: 19g, Protein: 49g, Fat: 7g, Saturated Fat: 1g, Cholesterol: 145mg, Sodium: 365mg, Potassium: 1014mg, Fiber: 1g, Sugar: 8g, Vitamin A: 556IU, Vitamin C: 21mg, Calcium: 49mg, Iron: 2mg
Happy cooking everyone!