Corn Salsa (One Bowl)
The best quick and easy corn salsa recipe, homemade with simple ingredients. A sweet and spicy Mexican one pot side dish or appetizer, ready in 20 minutes. Loaded with corn, onion, peppers, jalapenos, lime juice, cilantro.
This tastes very similar to Chipotle corn salsa recipe and it's fresh, colorful, sweet, spicy and tangy. A fun spin on the classic recipe!
It's the perfect recipe for Summer bbq parties, Taco Tuesday, football season, game day and tailgating parties and even Cinco de mayo parties time.
You can even mix it in with this Salsa Chicken (One Pot) or this Salsa Verde Chicken (One Pot) to truly take those meals over the top
More Salsa Recipes
How to make corn salsa?
Mix together corn, peppers, onions, jalapenos, onion, cilantro, lime juice, salt, pepper, garlic, ginger.
Cover and chill.
Enjoy!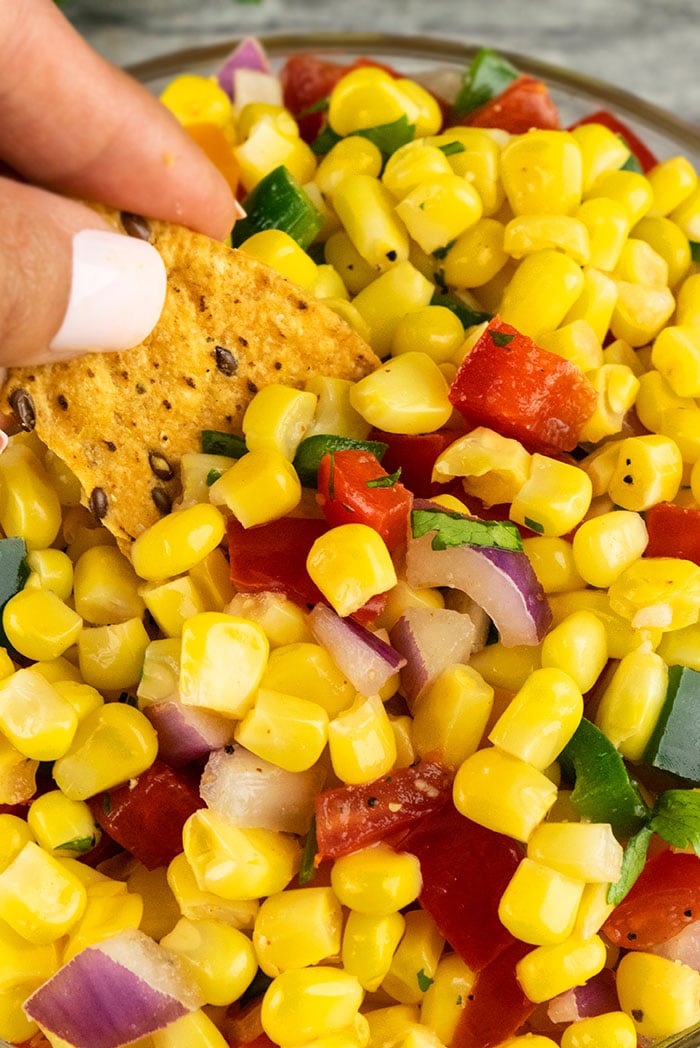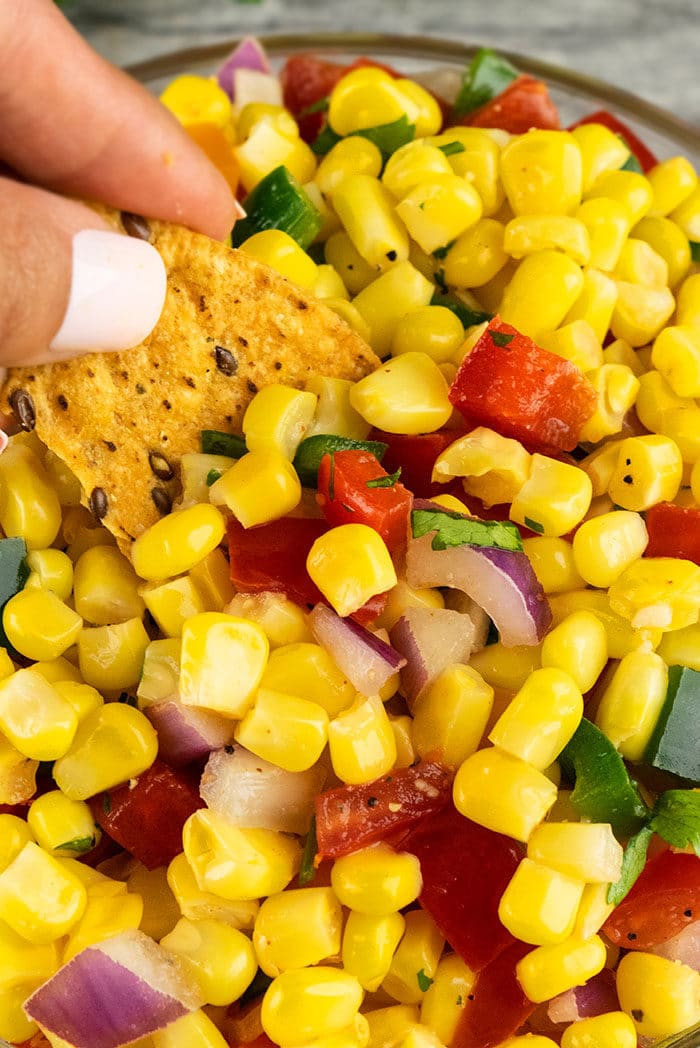 What to serve with black bean and corn salsa (black bean corn salsa recipe)?
It's typically served with tortilla chips or pita chips as as appetizer for Summer parties.
You can also serve it as a side dish with grilled or baked fish (salmon), pork, beef, steak, chicken, shrimp.
My favorite way to enjoy it is to use it as a topping in rice bowls, burrito bowls, tacos, tamales, burritos, enchiladas, tostadas, nachos, quesadillas. Mix it with Cilantro Lime Rice (One Pot), beans, Vegetable Fajitas (One Pan)and cooked meats such as Mexican Shredded Chicken (One Pot) or Steak Fajitas (One Pot) or Chicken Fajitas (One Pot) for a truly filling meal.
Variations
Add mangoes- Mix in 1 finely chopped mango.
Add tomatoes– I used Roma tomatoes but you can also use cherry tomatoes/ grape tomatoes.
Grilled or Roasted corn salsa– If the weather is good and you can fire up the grill, use roasted corn. It adds a wonderful smoky flavor.
Avocado corn salsa dip– Mix in 1 finely chopped avocado, making it nice and creamy.
Make it spicy– Add more jalapenos and don't remove their seeds. You can also sprinkle some red chili flakes.
Make it creamy– Mix in 1/2 cup Cotija cheese and 1/3 cup sour cream.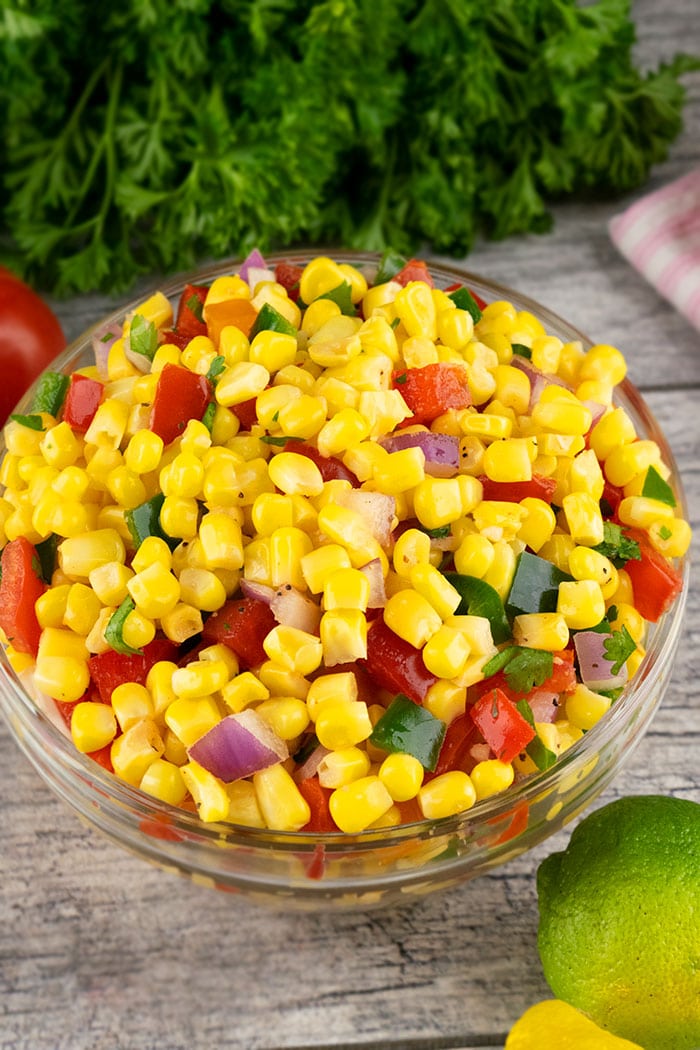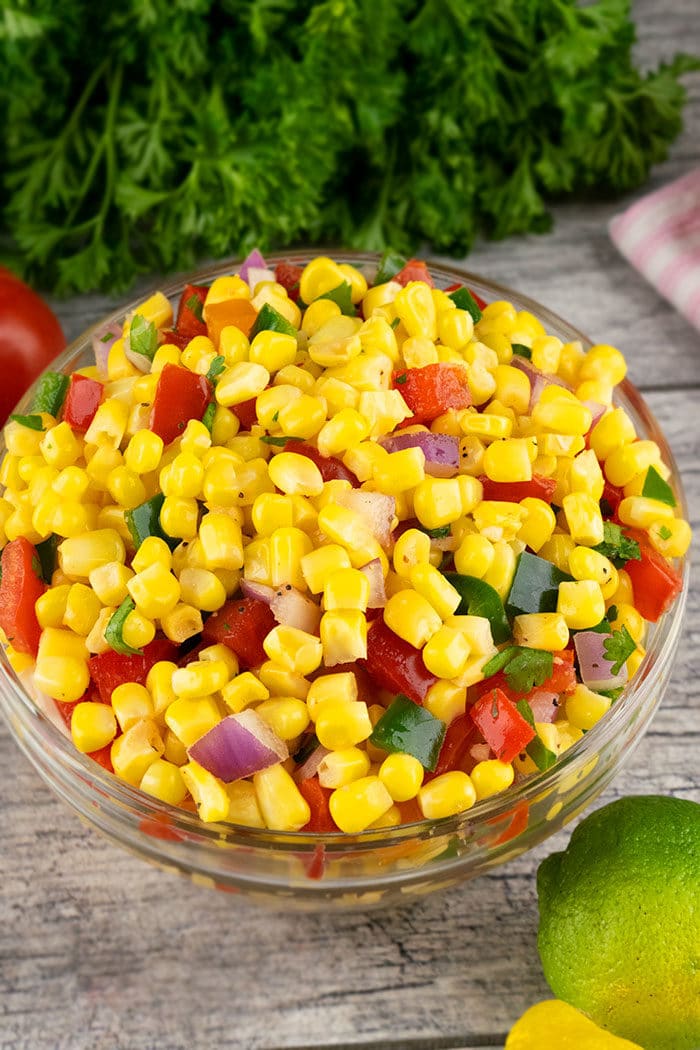 Tips and Techniques
Canned corn vs. Fresh corn vs. Frozen corn– My first choice would be fresh corn since it has the best flavor and texture, followed by frozen corn, which works very well. However, I don't recommend using canned corn since it's too soft and soggy and doesn't have the best flavor or texture.
Serve warm or cold- Typically, it's served cold and I don't recommend heating it or cooking it because it looses it's crisp and fresh texture.
Do not use a blender– This is supposed to be a chunky salsa. When you add everything in the blender, the salsa becomes mushy and liquid-based. Just finely chop up all of your ingredients and toss them together.
Adjust the amount of ingredients– There's no such thing as "too much" or "too little" in this recipe. Make adjustments, based on your preference.
Lemon juice vs. Lime juice– Either can be used but I recommend lime juice since give this dish an authentic Mexican flavor.
Let it rest– This is important because that 20-30 minutes chilling time at the end allows all the flavors to blend together and deepen.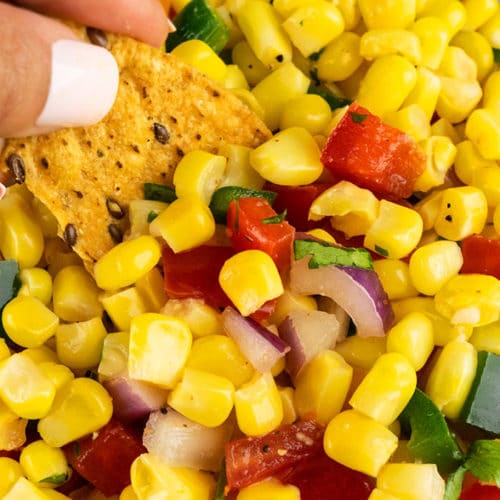 Easy Corn Salsa
The best quick and easy corn salsa recipe, homemade with simple ingredients. A sweet and spicy Mexican one pot side dish or appetizer, ready in 20 minutes.
Yield: People
Ingredients
3 cups Corn, Frozen, Thawed and drained
3/4 cup Peppers, Variety of red, green, yellow and orange
3/4 cup Tomatoes, Finely chopped, Seeds removed
1/2 cup Red onions, Finely chopped
1 Jalapeno, Finely chopped, Seeds removed
2-3 tbsp Cilantro, Roughly chopped
2 tbsp Lime juice, Or lemon juice
Salt, To taste
Pepper, To taste
1 tsp Garlic powder
1 tsp Ginger powder
1/2 tsp Paprika
Instructions
In a large mixing bowl, add corn, peppers, tomatoes, onion, jalapeno, cilantro, lime juice, salt, pepper, garlic, ginger, paprika.

Mix everything together.

Cover and chill in the fridge for 20-30 minutes to let the flavors deepen. Enjoy!
Notes
Read all my tips above.
Leftovers can be stored in a sealed container in the fridge for 2-3 days. 
Nutrition
Calories: 137kcal, Carbohydrates: 30g, Protein: 4g, Fat: 1g, Sodium: 5mg, Potassium: 405mg, Fiber: 4g, Sugar: 7g, Vitamin A: 835IU, Vitamin C: 40.5mg, Calcium: 14mg, Iron: 0.8mg
Happy cooking everyone!