Salsa Verde Chicken (One Pot)
Quick and easy salsa verde chicken recipe, homemade with simple ingredients over stovetop in 30 minutes. A heathy one pot meal, loaded with Mexican flavors and tender chicken breast strips.
Today's recipe should be added to all of your Mexican feasts, along with these incredible Chicken Fajitas (One Pot), Steak Fajitas (One Pot), Vegetable Fajitas (One Pan).
Use it in tacos, burritos, casseroles, enchiladas, sandwiches, pasta, soup and so much more! The leftovers can be used in the most creative ways too!
How to make salsa verde chicken?
Heat oil in a pot.
Add chicken, salt, pepper, garlic, cumin powder, chili powder, paprika, jalapeno, salsa verde.
Mix.
Cover and cook.
Garnish with cilantro.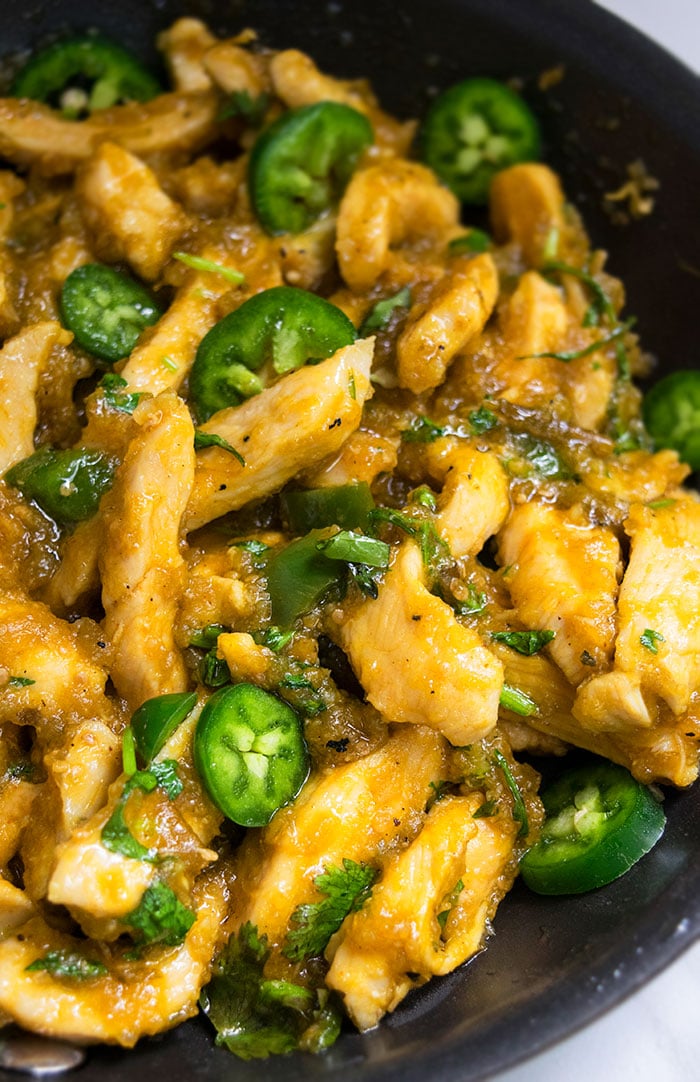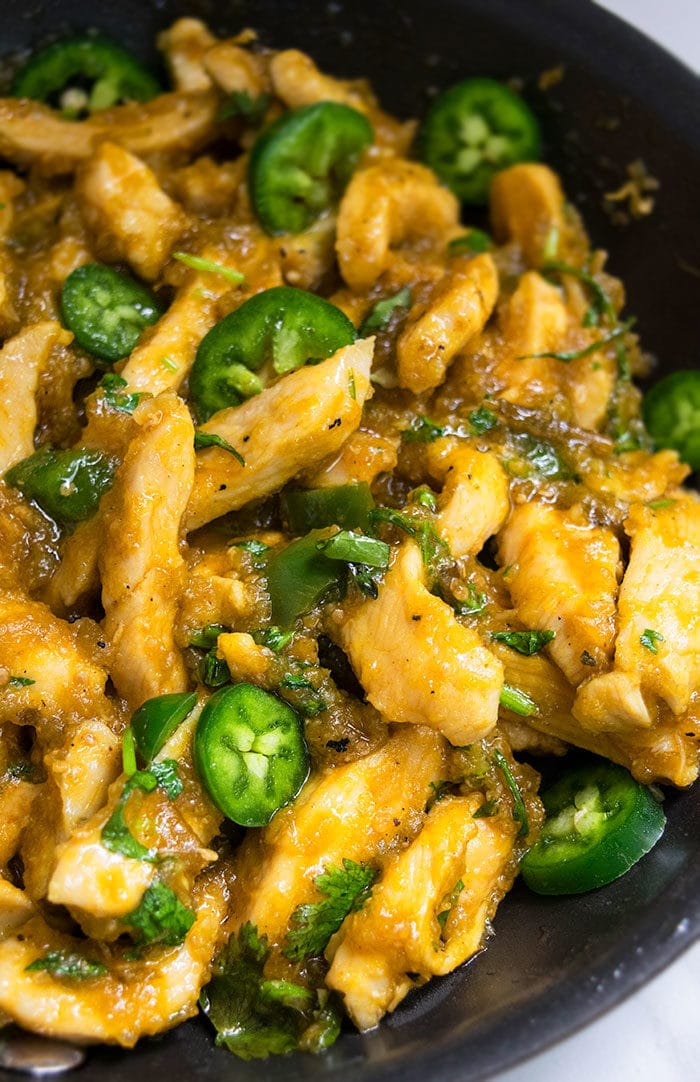 What sides to serve with salsa verde chicken recipe?
Typically, it's served with hard or soft tacos and toppings of your choice (lettuce, sour cream, sliced avocados, guacamole, shredded cheese). However, the following are also amazing side dishes:

Rice- You can serve boiled/steamed jasmine rice, basmati rice or even brown rice. Cilantro lime rice would be delicious too!
Quinoa- This is a healthy, low carb alternative to rice.
Roasted vegetables- This is always a classic side dish. Here are some of my family's favorites: Mexican Corn on the Cob (One Pan), Oven Roasted Broccoli (One Pan), Oven Roasted Asparagus (One Pan).
Salad- Keep it simple with a basic green salad or try this Mexican Corn Salad or Tomato Avocado Salad.
Noodles- Any type of pasta works well, including zoodles (zucchini noodles).
Spaghetti squash– Making it in the instant pot is so quick and another low carb choice.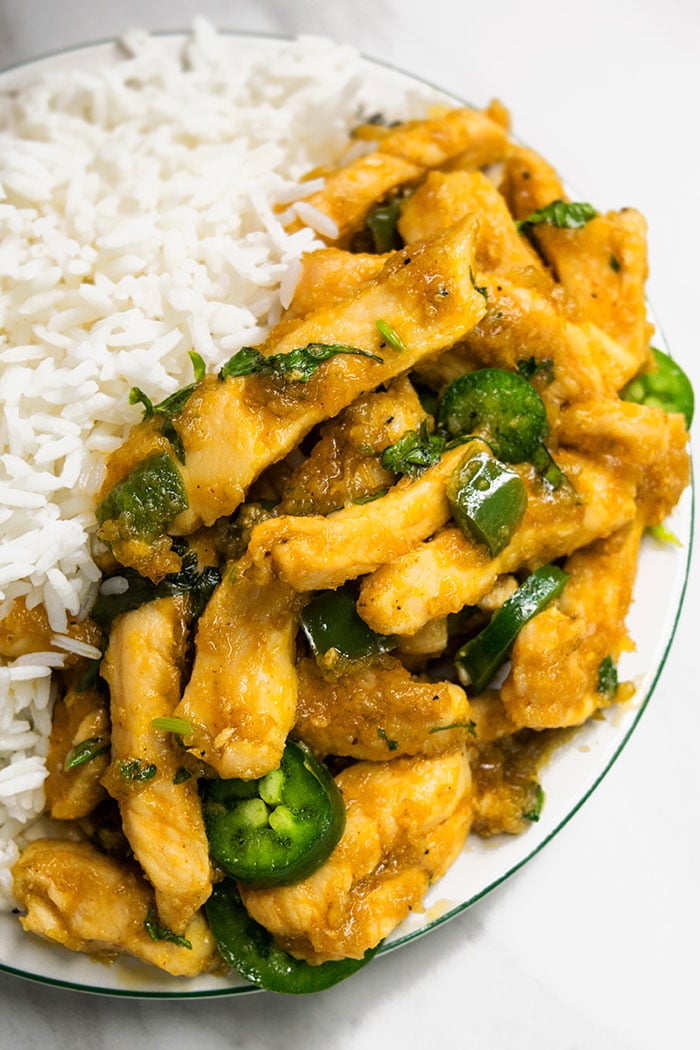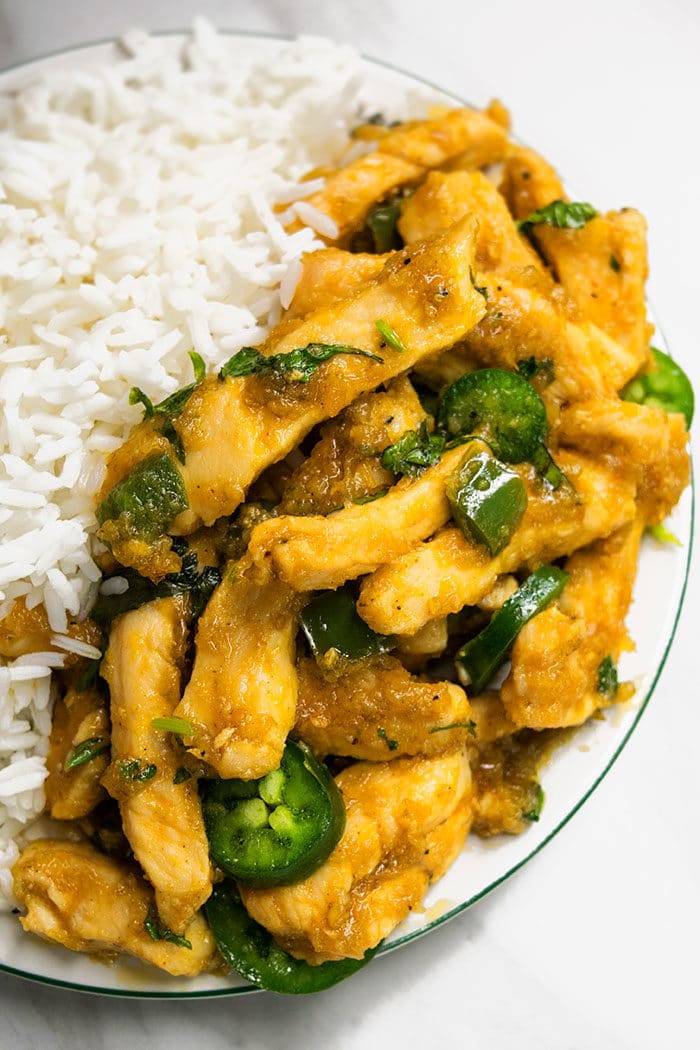 Variations
These are great for game day parties, Cinco de mayo celebrations and obviously Taco Tuesday.
Crockpot salsa verde chicken– Add all the ingredients in a slow cooker. Cover and cook on high for 4 hours or on low for 6-8 hours. Shred chicken with 2 forks.
Creamy salsa verde chicken– Mix in 1/2 cup full-fat cream cheese in the final 5 minutes.
Roasted or grilled or baked salsa chicken- Replace strips with whole chicken breasts. Mix together all the ingredients in a large bowl and marinate for 30 minutes- 1 hour. Then, bake it in the oven or gill it until cooked through.
Make it spicy– Add more jalapenos or even red chili flakes to bring as much heat as you like to this dish.
Shred it- I like to make chicken strips or cubes but when it's fully cooked and tender, you can use two forks to shred it as well.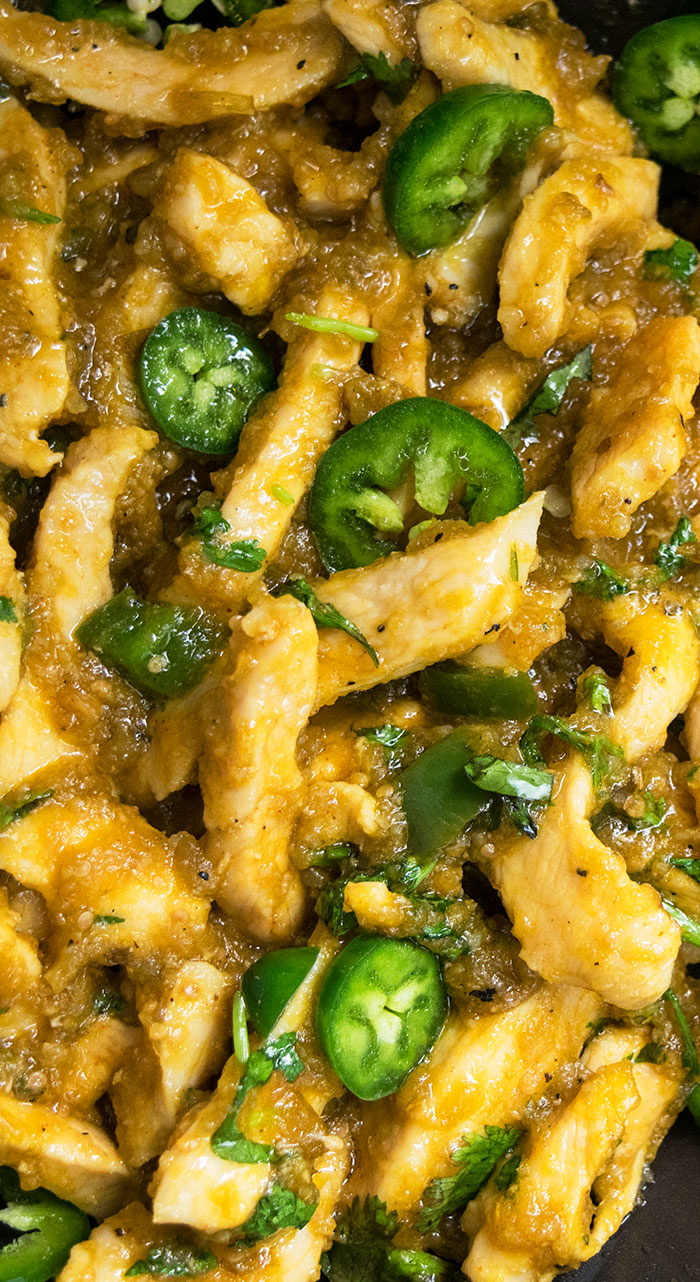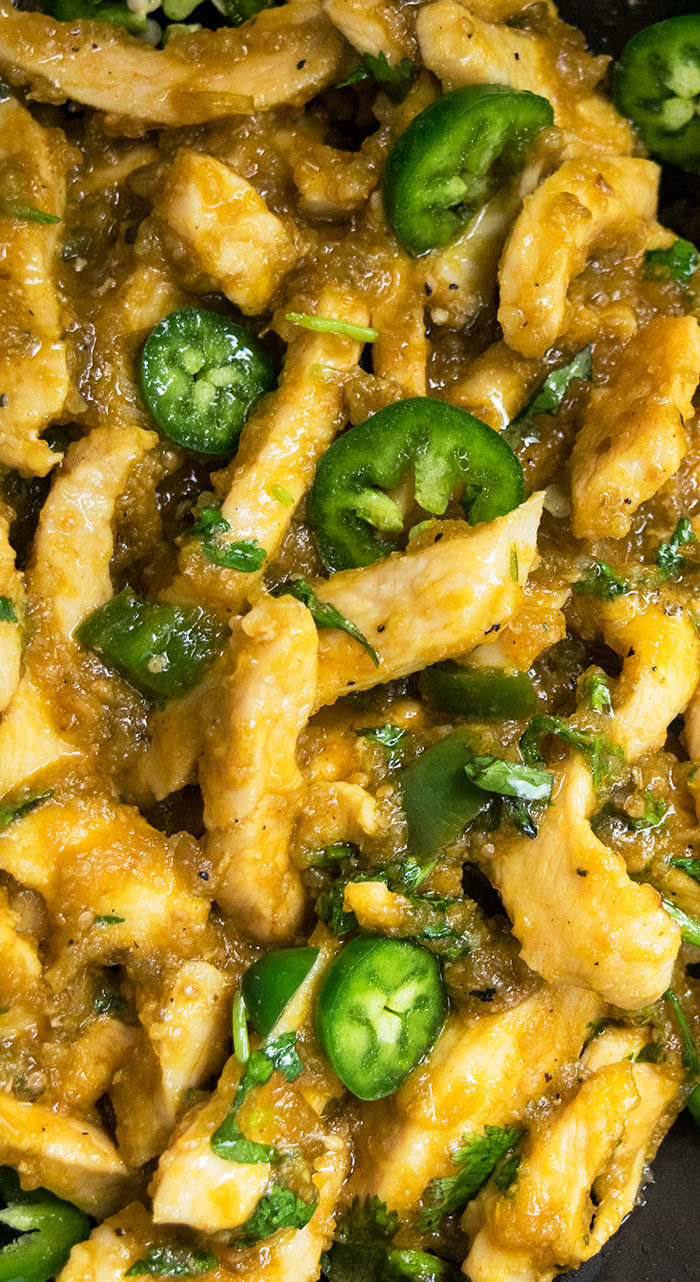 Tips and Techniques
Use nonstick pot or pan– Because this prevents sticking and burning.
Adjust amount of seasonings- This is based on your personal preference. Add more of less of whatever spice you like or dislike. Some people also make this as a 2 ingredient recipe with just chicken and salsa, omitting all the other spices and ingredients altogether but I found that to be too bland.
Consistency of salsa verde varies– Some brands are thicker than others. If yours is too thick, add 1/2 cup to about 3/4 cup water or broth to thin it out because this will prevent chicken from burning.
Can I use frozen chicken? Yes, you can use it but remember that it releases more water than compared to thawed chicken. This simply means you will have to cook uncovered, for longer.
Store-bought vs. homemade salsa– Either can be used. A store-bought jar is just convenient for a quick weeknight meal.
What to do with leftovers? Honestly, the sky is the limit here. Use them in any recipe that requires cooked chicken. You can use them in tacos, burritos, soup, pasta, sandwiches, wraps, chili, tamale, enchiladas, salads, game day dips, lasagna, pizza.
How to thicken salsa chicken? Just cook without the lid to evaporate excess liquid and the sauce will automatically reduce and thicken. Another option is to add cream cheese, which will also make it very creamy. Don't mix in cornstarch since it adds a "chalky" after-taste.
Garnish options- Finely chopped cilantro is the best choice but some people are not fond of it and can use green onions, or parsley.
Serve a crowd– You can easily double or triple this recipe for dinner parties.

What cut of chicken to use? You can use whole chicken breasts or cut them into 1 inch cubes or thin strips. You can also use thighs or drumsticks. You can even use wings, which would make a great appetizer!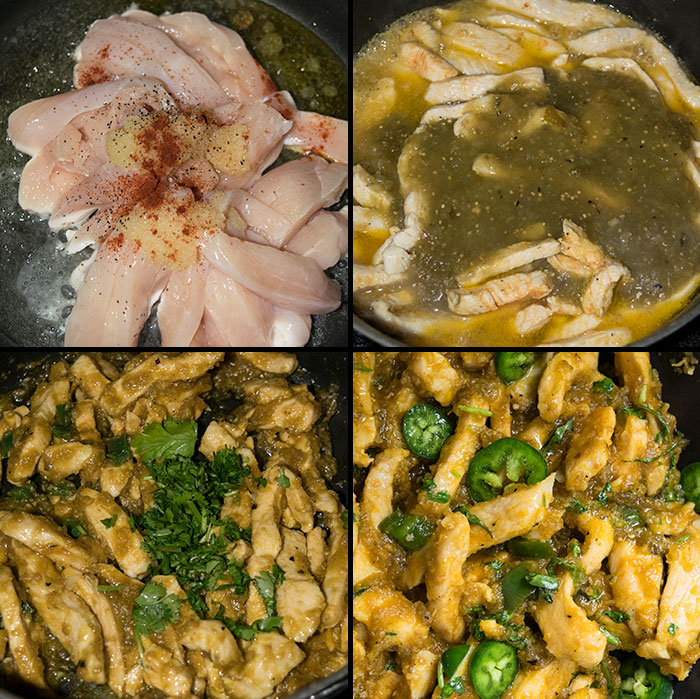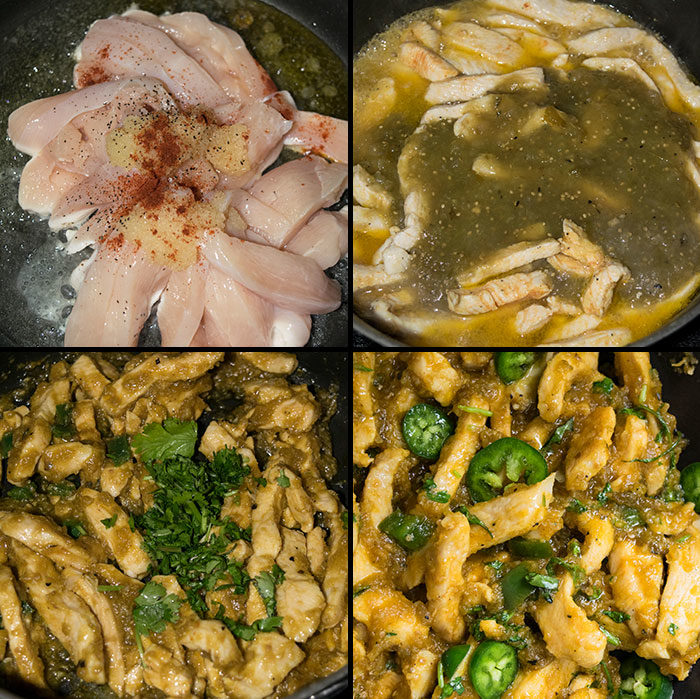 Other Mexican Meals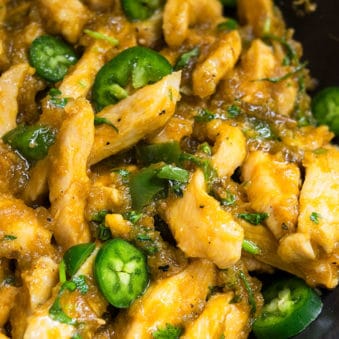 One Pot Salsa Verde Chicken
Quick and easy salsa verde chicken recipe, homemade with simple ingredients over stovetop in 30 minutes. A heathy one pot meal, loaded with Mexican flavors.
Yield: People
Instructions
Add chicken, cumin powder, chili powder, paprika, salt, pepper, garlic, jalapeno, salsa verde.

Mix everything together.

Cover and cook for 6-8 minutes or until chicken is cooked through.

Remove lid and cook for another 6-8 minutes until liquid is reduced and thickened to your desired consistency.

Garnish with cilantro. Enjoy!
Notes
Read all my tips above.
Leftovers can be stored in a sealed container in the fridge for up to 3 days. 
Nutrition
Calories: 327kcal, Carbohydrates: 1g, Protein: 48g, Fat: 13g, Saturated Fat: 1g, Cholesterol: 145mg, Sodium: 277mg, Potassium: 861mg, Vitamin A: 305IU, Vitamin C: 7.3mg, Calcium: 19mg, Iron: 1.3mg
Happy cooking everyone!