Cilantro Lime Rice (One Pot)
Quick and easy cilantro lime rice recipe, homemade with simple ingredients in one pot over stovetop. Fluffy rice, like Chipotle with zesty Mexican flavors.
If you are having a Mexican feast, you need to make this Jalapeno Pineapple Rice (One Pot) but today's classic recipe could be another alternative.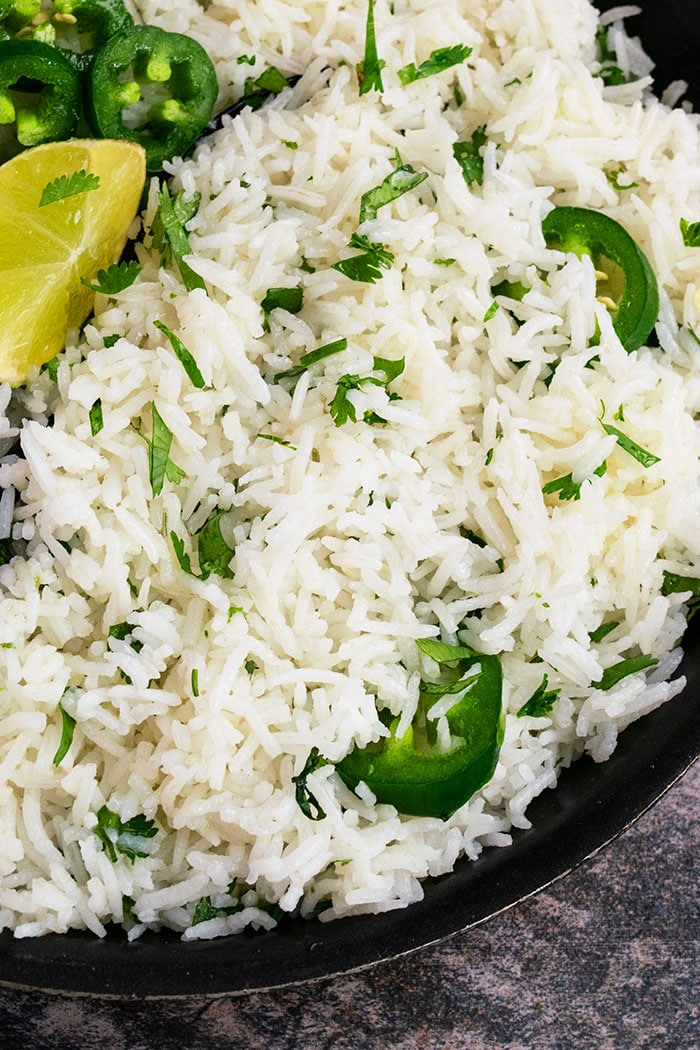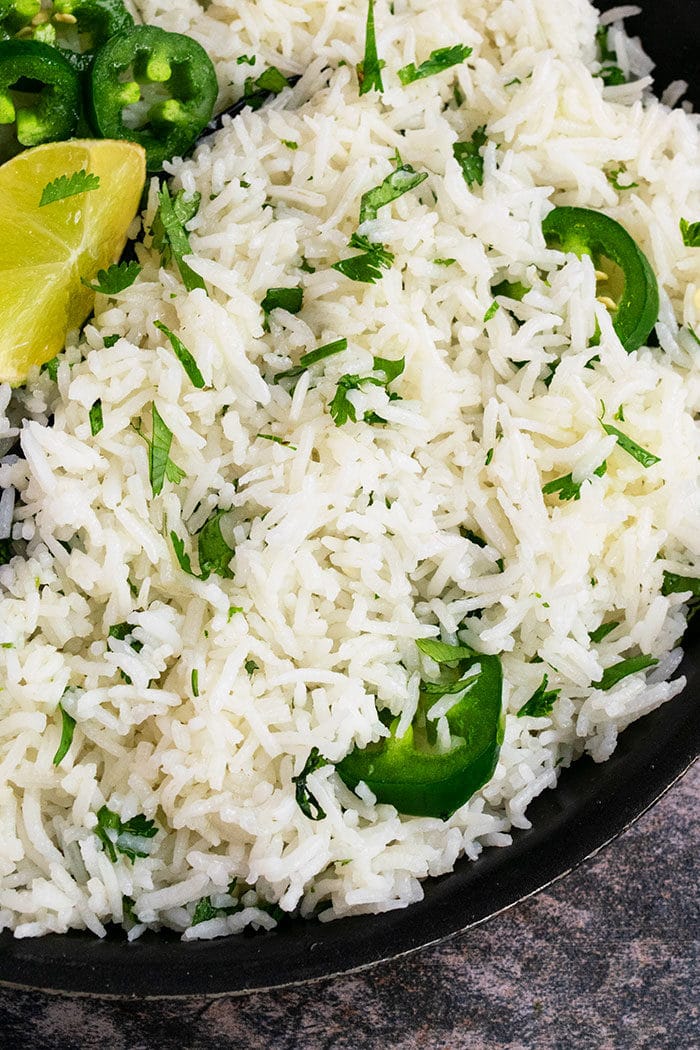 How to make cilantro lime rice (Chipotle Cilantro Lime Rice)?
Mix together rice, water, broth, salt, pepper and cook.
Bring to a boil.
Cover and cook.
Remove from heat but don't immediately open lid.
Then, add lime juice, zest, and cilantro.
Enjoy!
What to serve with cilantro lime rice recipe?
It's typically served as a side dish with Mexican chicken, beef, fish, shrimp that's coated in a sticky sauce or gravy. Here are some family favorites:
You can also use this rice in:
Tacos– Whether it be shrimp tacos, fish tacos, or turkey tacos, this zesty rice will add the perfect punch of flavor for taco nights with your family and friends!
Burrito Bowl: You can also create your own Chipotle style burrito bowl with this rice, seasoned black beans, vegetables, sour cream, guacamole, cheese and your choice of protein (chicken, beef, shrimp).
Quesadillas- Make the ultimate quesadilla, filled with this rice, chicken, beef or shrimp, Vegetable Fajitas (One Pot), sour cream, guacamole, salsa, shredded cheese.
Leftover rice is also great in Mexican casserole recipes.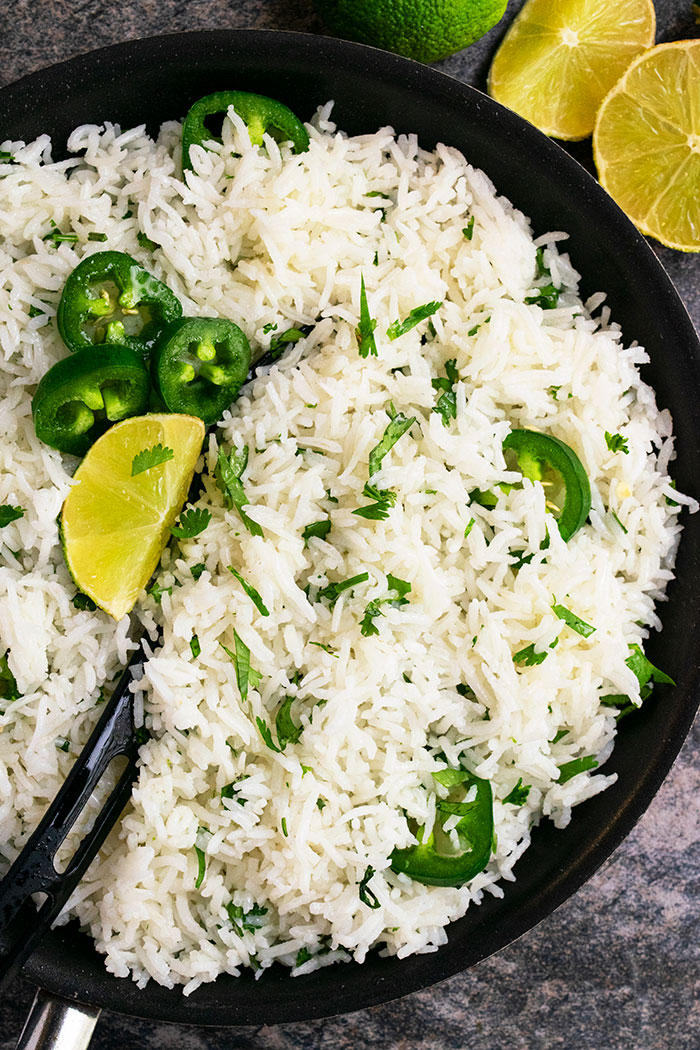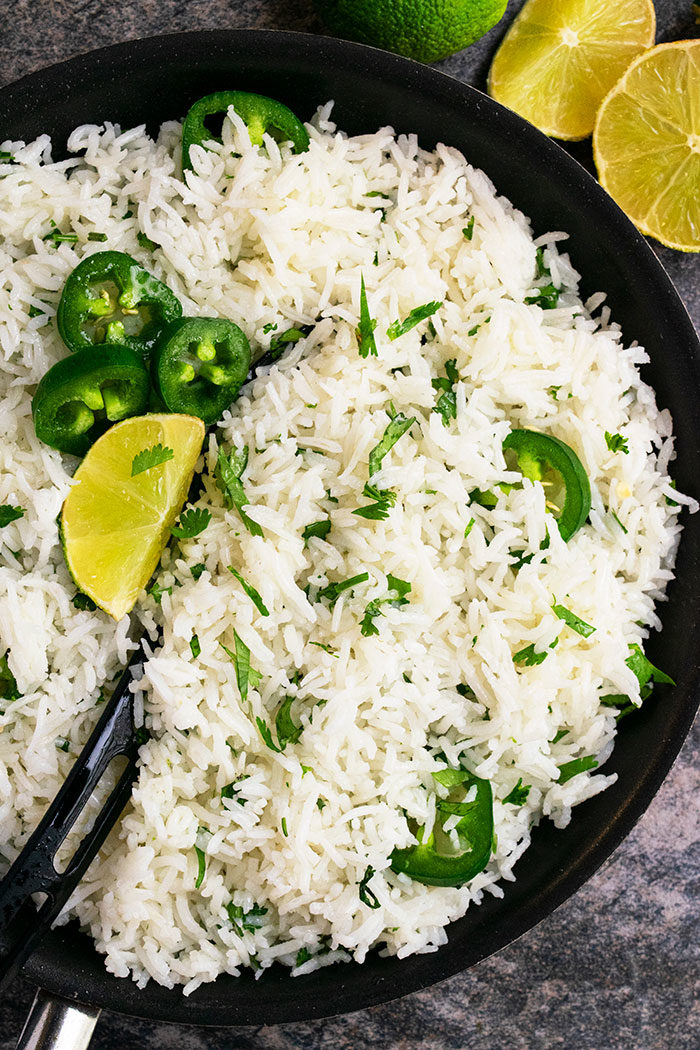 Variations
Cilantro Lime Cauliflower Rice- Make this Cauliflower Fried Rice (One Pot) but use Mexican herbs and spices instead of Asian ones. It will end up with a wonderful citrusy taste of lime and zest.
Cilantro Lime Brown Rice- We all love to make recipes as healthy as we can. So if you're a brown rice lover (I am not!), you can use brown rice but remember that it takes longer to cooker and you may have to adjust the quantity if water too.
Cilantro Lime Rice and Chicken– You can add small cubes of chicken and cook it along with the rice. Another option could be to mix in sliced rotisserie chicken at the end.
Add Shrimp– The chewy texture of the shrimp with lime and cilantro makes this an extremely enjoyable meal, especially if you're a seafood lover, or are even trying shrimp for the first time!
Add black beans– To made this dish more filling, mix in 1 can of drained and rinsed black beans with everything else and let it all cook together.
Add frozen vegetables– I love to make dishes as healthy as I can. Feel free to add any of your favorite frozen vegetables! Try corn, carrots, broccoli, or green beans. It will create a colorful blend that you and your family can enjoy.
Make it spicy- Mix in finely chopped jalapeno or some red chili flakes.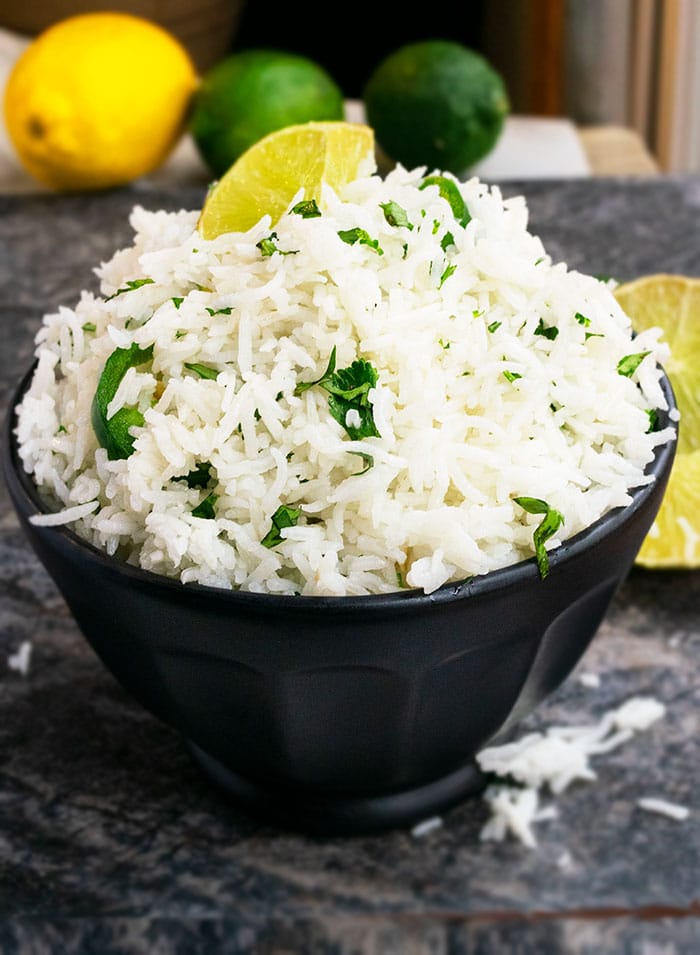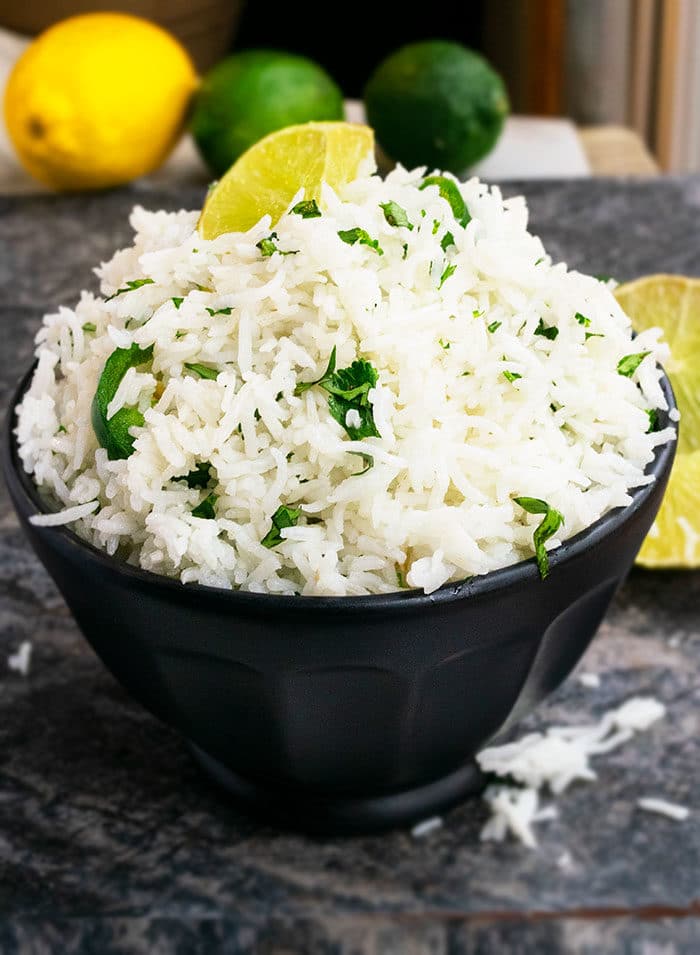 Tips and Techniques
What can I use instead of cilantro? The authentic Mexican flavor obviously comes from cilantro but you can also use a blend of other fresh herbs like parsley, basil, chives, thyme e.t.c.
Can I make cilantro lime rice in rice cooker? Yes, you can make this dish in a rice cooker, but remember that measurements vary depending on the model of your rice cooker. Be sure to read the manual and adjust the quantities of rice and water, accordingly.
What rice to use? Either Basmati rice or jasmine rice can be used. i don't recommend using any other rice because it does not taste good and brown rice takes so long to cook.
Use nonstick pot- Because this prevents sticking and burning.
Adjust amount of lime juice and cilantro– This can be done, based on your preference. Always check the flavors near the end and adjust accordingly.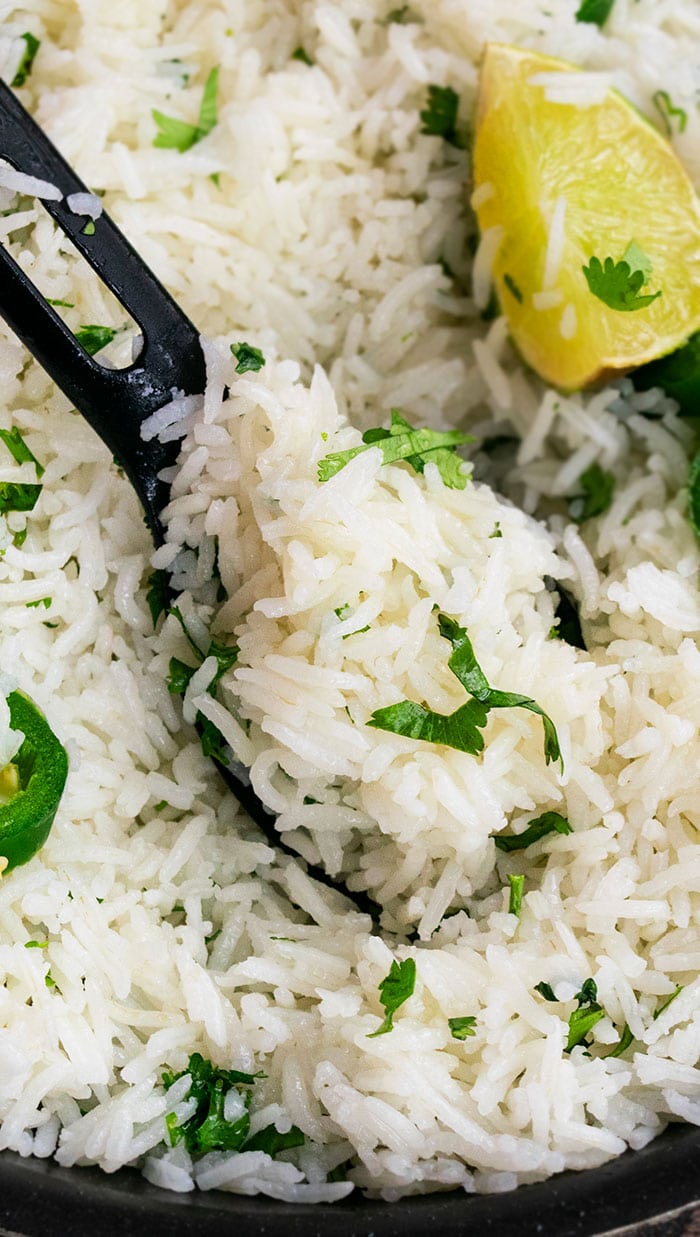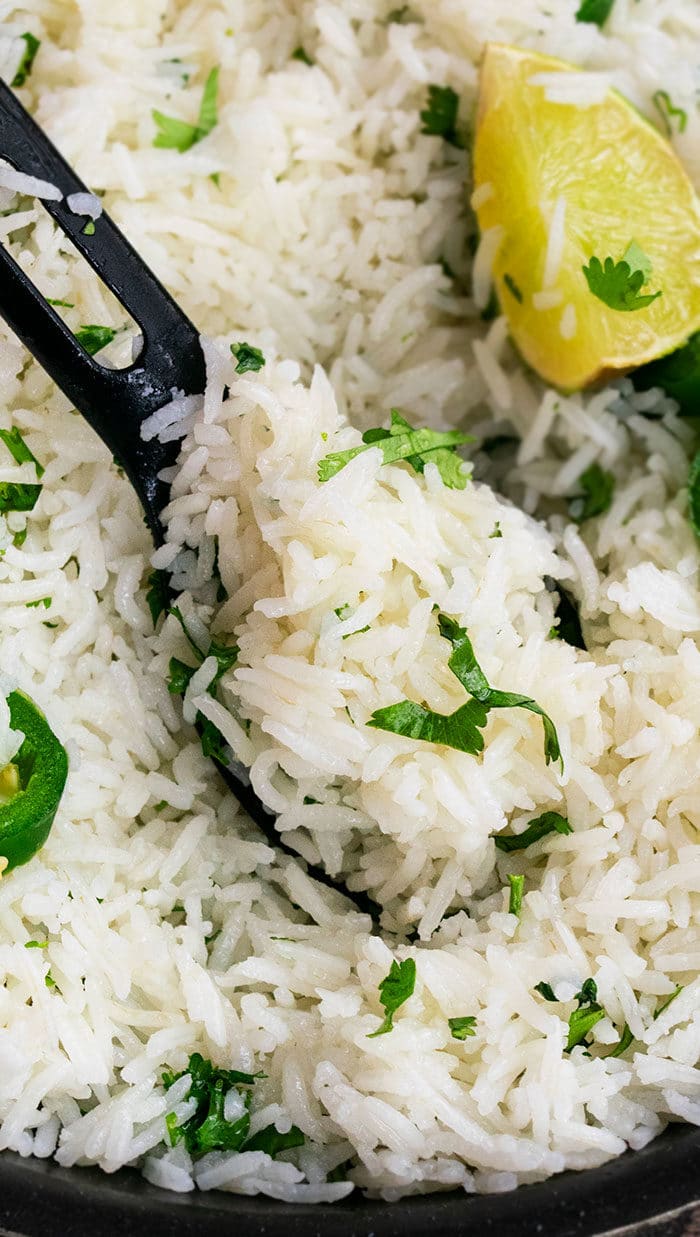 Other One Pot Mexican Recipes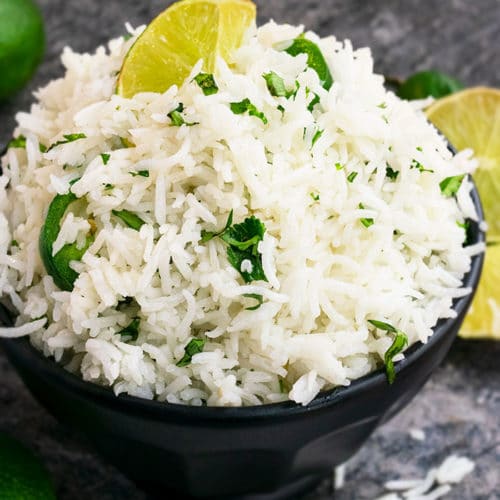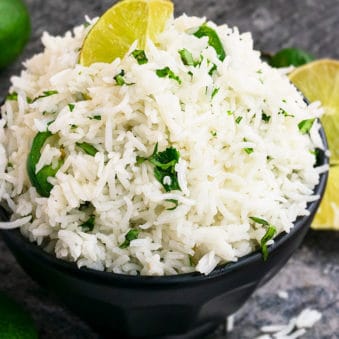 One Pot Cilantro Lime Rice
Quick and easy cilantro lime rice recipe, homemade with simple ingredients in one pot over stovetop. Fluffy rice, like Chipotle with zesty Mexican flavors.
Yield: People
Ingredients
1 cup Rice, Uncooked, Long grain white rice
1 cup Water
1 cups Broth, Chicken or vegetable, Low sodium
1 Salt, To taste
Pepper, To taste
2-3 tbsp Lime juice
1 tsp Lime zest
2 tbsp Cilantro, Finely chopped
Instructions
In a large nonstick pot, add rice, water, broth, salt, pepper and mix everything together over medium-high heat.


Bring to a boil.

Then, cover and cook on medium-low heat for about 20 minutes.

Remove from heat but don't open the lid for 10 minutes.

Then, remove lid and add lime juice, zest and cilantro.

Fluff it up with a fork and enjoy!
Notes
Read all my tips above.
Tastes best when served immediately but leftovers can be stored in a sealed container in the fridge for up to 2 days. 
Nutrition
Calories: 173kcal, Carbohydrates: 38g, Protein: 3g, Sodium: 240mg, Potassium: 53mg, Vitamin A: 140IU, Vitamin C: 2.2mg, Calcium: 13mg, Iron: 0.4mg
Happy cooking everyone!