Salsa Chicken (One Pot)
Quick and easy Mexican salsa chicken recipe, homemade with simple ingredients over stovetop in 30 minutes. This healthy one pot meal is loaded with taco seasoning. Great for taco Tuesday, game day and Cinco De Mayo parties!
I seem to be on a Mexican food kick lately, as you can tell by yesterday's Salsa Verde Chicken (One Pot).
That recipe and today's recipe are both very similar and only differ in the type of salsa that is used. Just a simple change makes a big difference in flavor!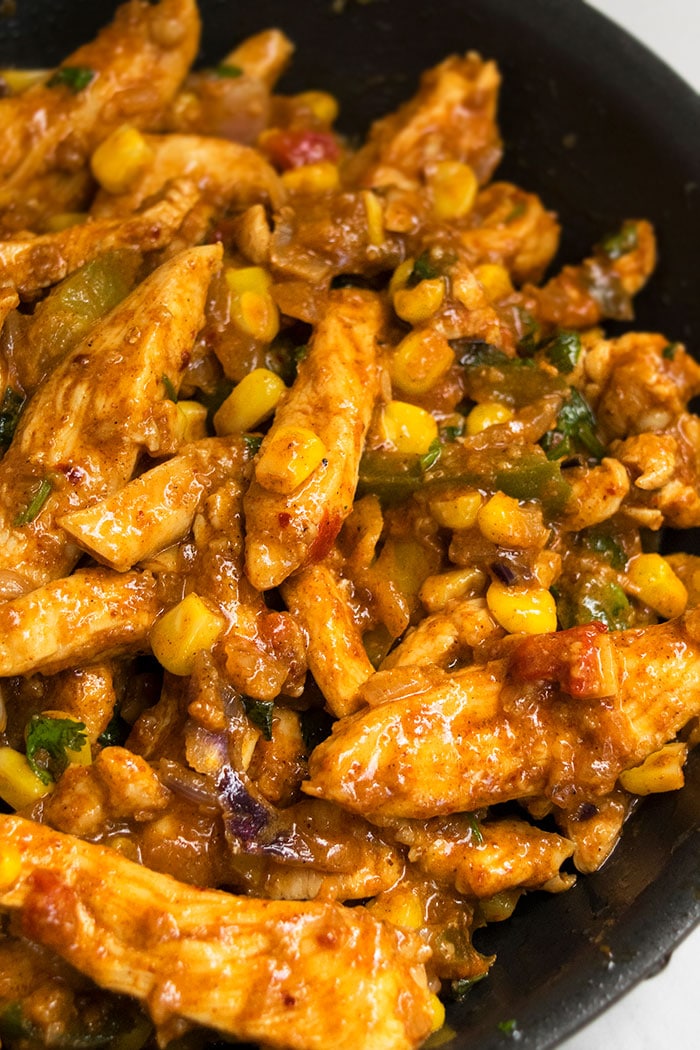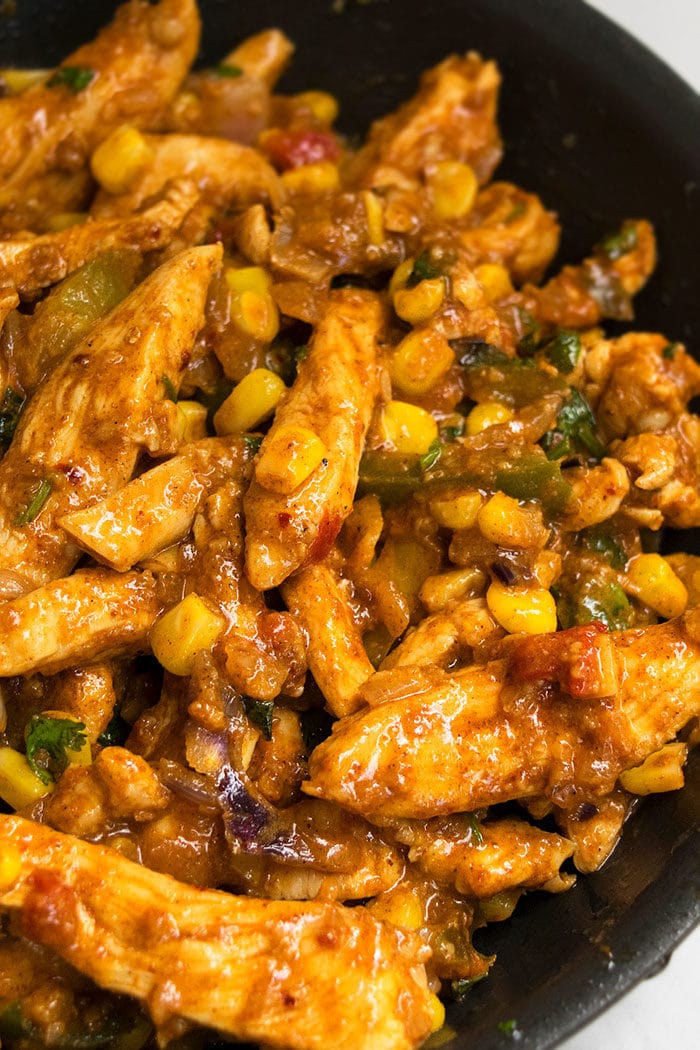 How to make salsa chicken?
Heat oil.
Add onion, garlic, and jalapenos.
Add chicken.
Sprinkle taco seasoning.
Add salsa.
Cover and cook.
Add corn, green peppers and cook uncovered
Garnish with cilantro and enjoy.
What to serve with salsa chicken recipe?
Typically, it's served with soft or hard tacos and toppings of your choice (lettuce, sour cream, sliced avocados, guacamole, shredded cheese). However, the following are also amazing side dishes:

Rice– You can serve a variety of different rice with this recipe! I personally prefer jasmine or basmati rice but you can also serve this with brown rice, if you're looking for a healthier dish to serve it with, and you can also pair this with cilantro lime rice.
Roasted vegetables- This is always a classic side dish. Here are some of my family's favorites: Mexican Corn on the Cob (One Pan). The heat of the chili powder and the citrusy flavor of the lime along with the butter, mayo, and cotija cheese add a more fiery blend to the dish. You can also try Oven Roasted Broccoli (One Pan).

Bread- Use ciabatta bread, buns, sourdough bread, pita bread or hamburger buns and fill them with chicken and any toppings you like. You can even use this to make an epic grilled cheese sandwich, or build up with your favorite toppings in a sub sandwich.
Salads– You can always pair this dish with a simple green salad. Some salad dishes with a Mexican twist that are my personal favorite are Tomato Avocado Salad, and Mexican Corn Salad. The refreshing taste of both the salads creates a beautiful blend of flavor and texture.
Salsa– Even though salsa was an ingredient in this recipe, you can also serve it on the side. Try corn salsa, mango salsa, Pineapple Salsa or this Strawberry Salsa or Pico de Gallo.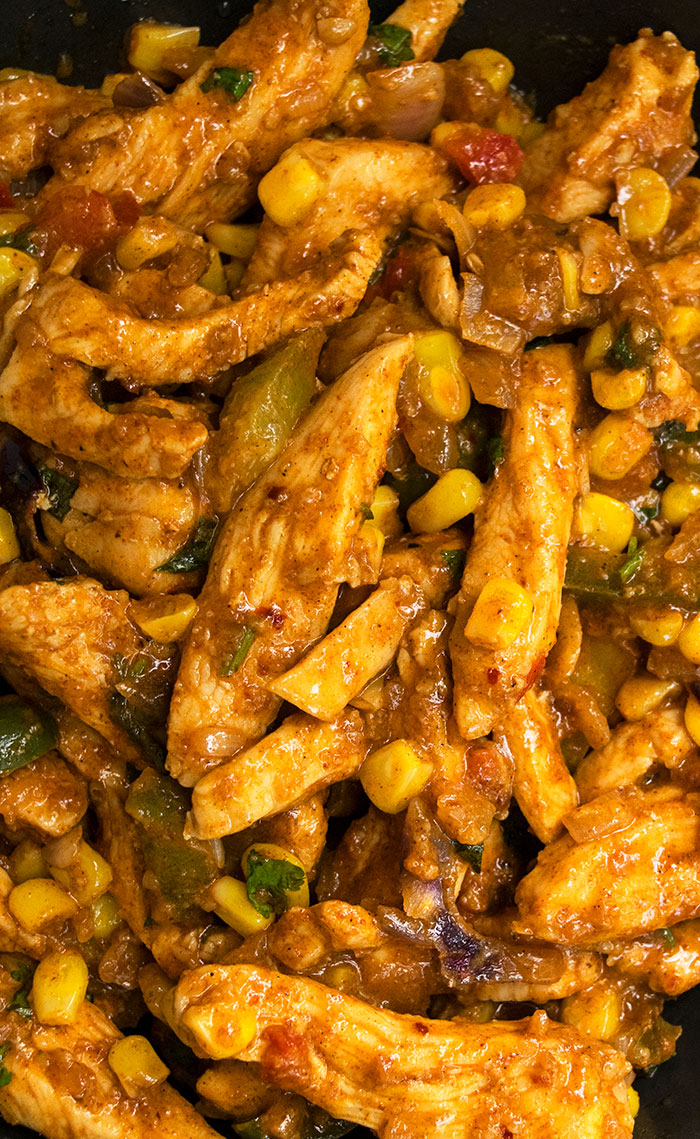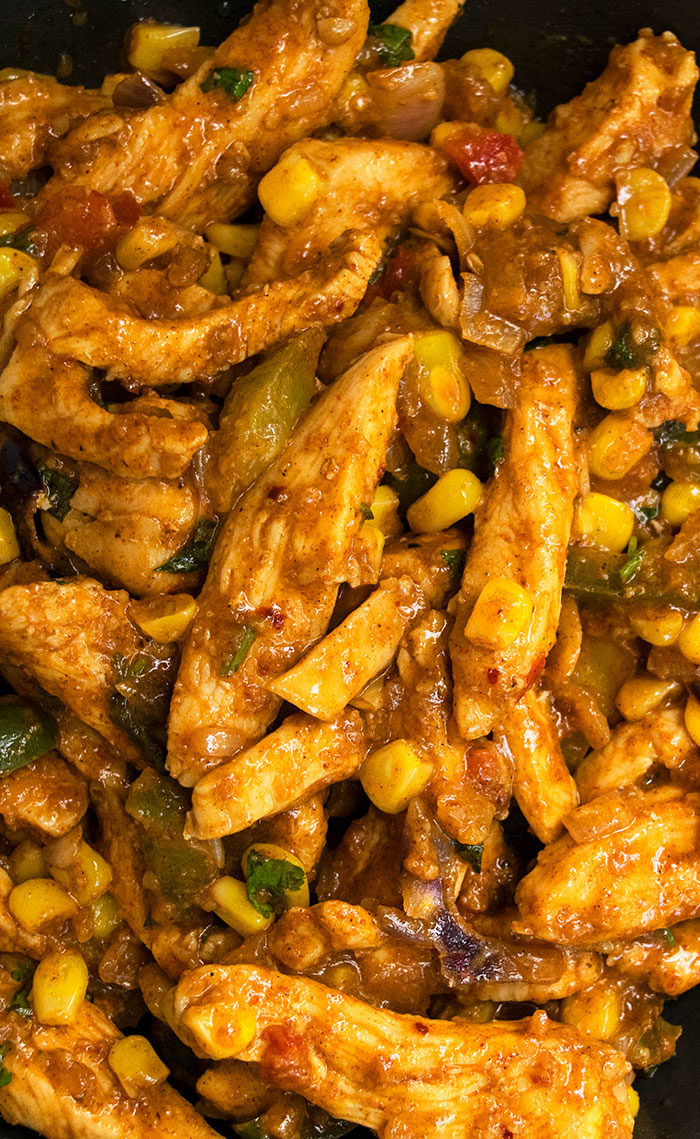 Variations
Since the star of this dish is the super flavorful chicken, it is extremely versatile to the point where you can transform this dish in many delicious ways. Here are some ideas:
Shredded salsa chicken casserole: Use this chicken in your favorite casserole recipe, with layers of cheddar cheese, cream cheese, tortillas and beans, topped off with crunchy Doritos.
3 ingredient baked salsa chicken: You can marinate salsa, chicken and taco seasoning together for 30 minutes- 1 hour. Then, bake in the oven at 350 degrees for 20-30 minutes or until chicken is cooked through.
Salsa chicken and rice– Similar to a stir fry, where you toss the cooked meat with leftover steamed rice and cook on high heat for a few minutes. Some people prefer to cook the rice and chicken together but you would need to add more broth or water.
Slow cooker/ Crockpot salsa chicken– This is a dump meal. Simply, add all the ingredients in a slow cooker, cover, and cook on High for 4 hours, or on Low from 6-8 hours. Shred the chicken with forks at the end.
Add shrimp– Don't hesitate to add a unique twist to this dish by substituting the chicken for shrimp if you are a seafood lover!
Make it creamy– By adding 1/2 cup full fat cream cheese at the end, you can turn this into a cheesy fusion.
Make Mexican chicken pasta– Toss it together with boiled pasta and add more cheddar cheese, enchilada sauce, salsa and beans.
Make enchiladas– Shred this chicken and use it in your favorite enchilada recipe.
Make loaded nachos– With leftovers, lots of cheese, salsa, sour cream, beans, finely chopped tomatoes, onions, jalapenos, cilantro.
Make Mexican lasagna- Layer this chicken with boiled lasagna sheets, salsa, lots of shredded cheddar cheese, cream cheese, and even beans.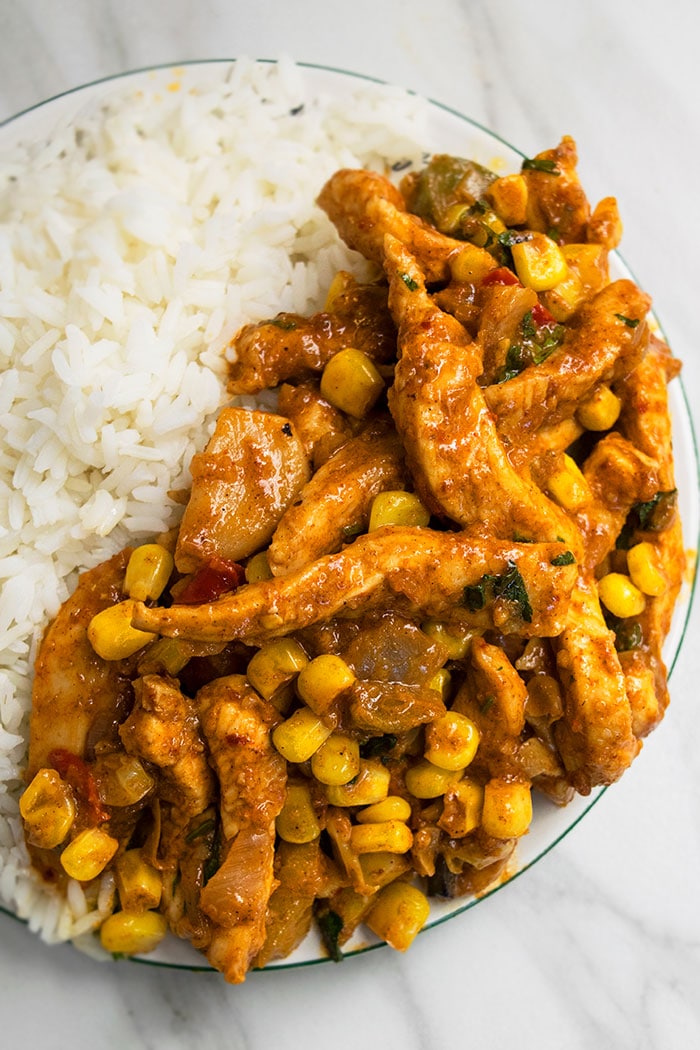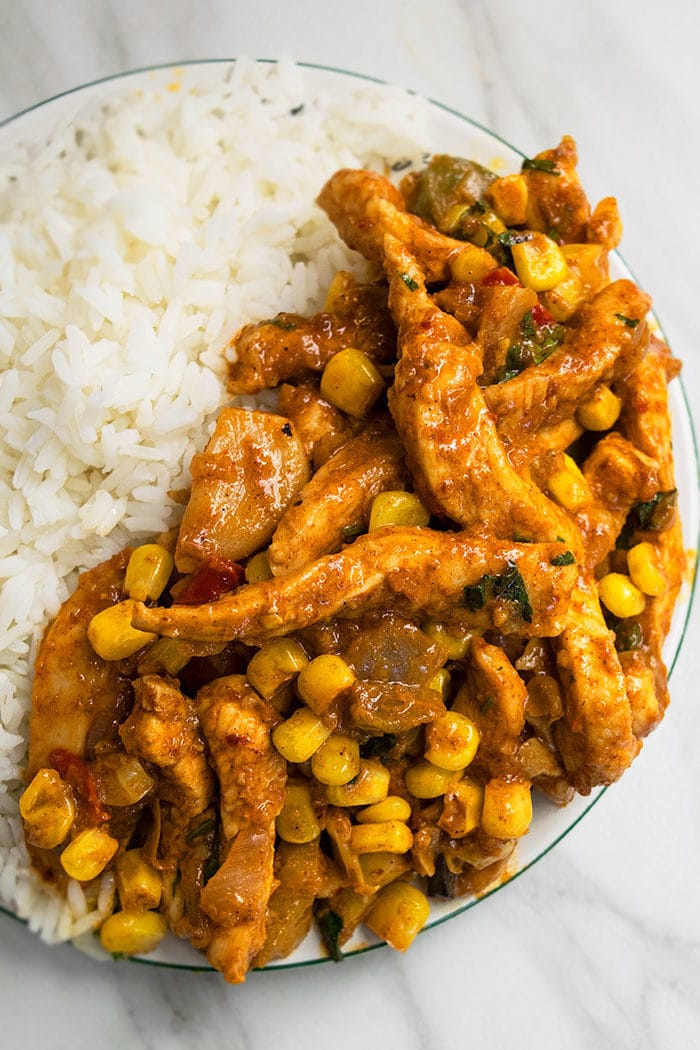 Tips and Techniqes
Use nonstick pot, pan or skillet: Because it prevents this meal from burning or sticking.
Finely chop your ingredients: Although this recipe calls for simple ingredients, each ingredient adds a punch of flavor. By cutting the ingredients into small sizes, it allows you to taste the blend of all the ingredients in one bite. By thinly slicing the onion, chicken, and pepper, it also reduces the cooking time because these ingredients cook faster, and absorb flavor more quickly.
What cut of chicken to use? You can use whole chicken breasts or cut them into 1 inch cubes or thin strips. You can also use thighs or drumsticks. You can even use wings, which would make a great appetizer!
Can I use frozen chicken? Yes, you can use it but remember that it releases more water than compared to thawed chicken. This simply means you will have to cook uncovered, for longer.

Make it spicy- This is according to your taste. You can always add more heat to this dish by adding red chili flakes powder, or keeping the seeds inside the jalapenos.
Add corn and peppers at the end– Because they will become over-cooked and "mushy" if they are added in the beginning with all the other ingredients."
What is the best way to store this dish? Store it in a sealed container, and it will stay fresh and flavorful for up 2-3 days.
Serve a crowd– You can easily double or triple this recipe for dinner parties.

More One Pot Mexican Meals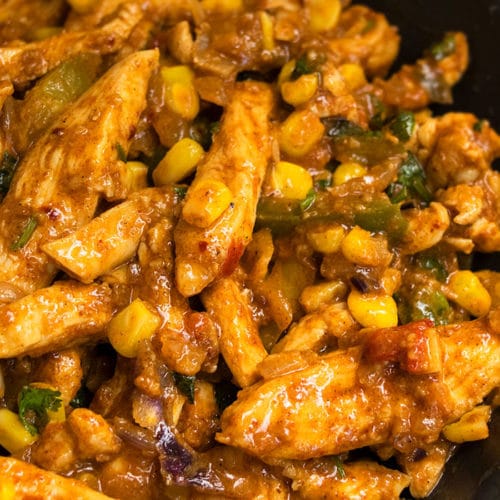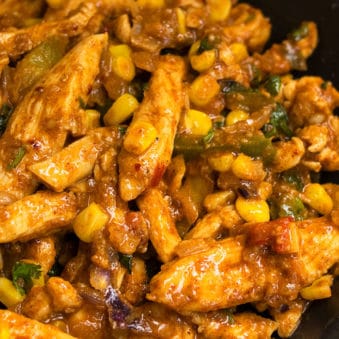 One Pot Salsa Chicken
Quick and easy Mexican salsa chicken recipe, homemade with simple ingredients in one pot over stovetop in 30 minutes. Loaded with taco seasoning. Great for taco Tuesday!
Yield: People
Ingredients
2 tbsp Oil
1/4 cup Onion, Finely chopped
2 cloves Garlic, Finely minced
1 Jalapeno, Deseeded, Finely chopped
1.5 pounds Chicken breast, Cut into thin strips
2 tsp Taco seasoning
1 cup Salsa, Mild or Spicy
1/2 cup Corn, Frozen
1/3 cup Green peppers, Cut into thin strips
Cilantro, Finely chopped, For Garnish
Instructions
Add onion, garlic, jalapenos and saute until fragrant.

Add chicken.

Sprinkle taco seasoning and mix everything together.

Add salsa.

Cover and cook for 8-10 minutes or until chicken is cooked through.

Add corn, green peppers and cook, uncovered, until peppers are tender and sauce is reduced to your desired consistency.

Garnish with cilantro and enjoy!
Notes
Read all my tips above.
Leftovers can be stored in a sealed container in the fridge for up to 2 days. 
Nutrition
Calories: 302kcal, Carbohydrates: 10g, Protein: 38g, Fat: 11g, Saturated Fat: 1g, Cholesterol: 108mg, Sodium: 660mg, Potassium: 892mg, Fiber: 2g, Sugar: 4g, Vitamin A: 495IU, Vitamin C: 19.7mg, Calcium: 31mg, Iron: 1mg
Happy cooking everyone!