Mango Salsa (One Bowl)
The best quick and easy mango salsa recipe, homemade with simple ingredients. A sweet and spicy Mexican one pot side dish or appetizer, ready in 15 minutes, with fresh mangoes, peppers, onions, jalapenos, cilantro.
If you liked my Salsa Chicken (One Pot) or Salsa Verde Chicken (One Pot), you can easily replace the salsas that were used in those recipes with the one I am sharing today. I like it chunky but you can also pulse and puree it in a blender, if that's the consistency you prefer.
Furthermore, if you are a big fan of this tropical fruit, I highly suggest you make this Mango Chicken (One Pot) but omit the mangoes with today's salsa dip instead. It's unbelievably delicious.
You can enjoy this during Summer when fresh ripe fruits are in season. You can even make this ahead of time. It's a fun spin on boring old classic salsa that you make all the time. You can serve this on Taco Tuesday, football season, game day and tailgating parties and even Cinco de mayo parties.
More Salsa Recipes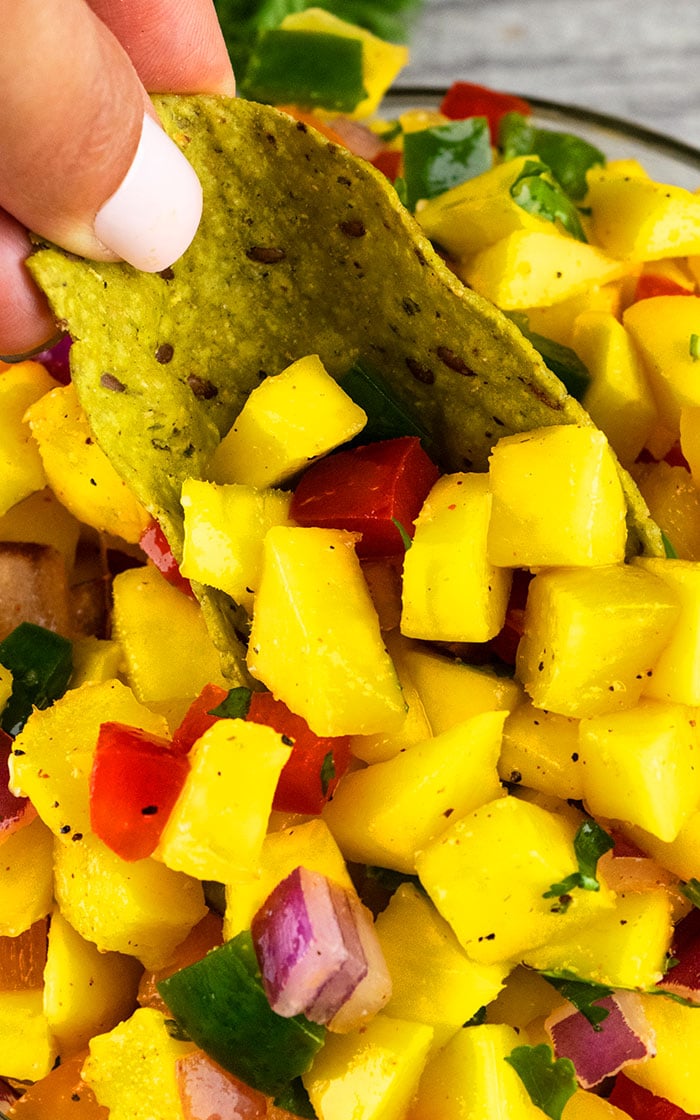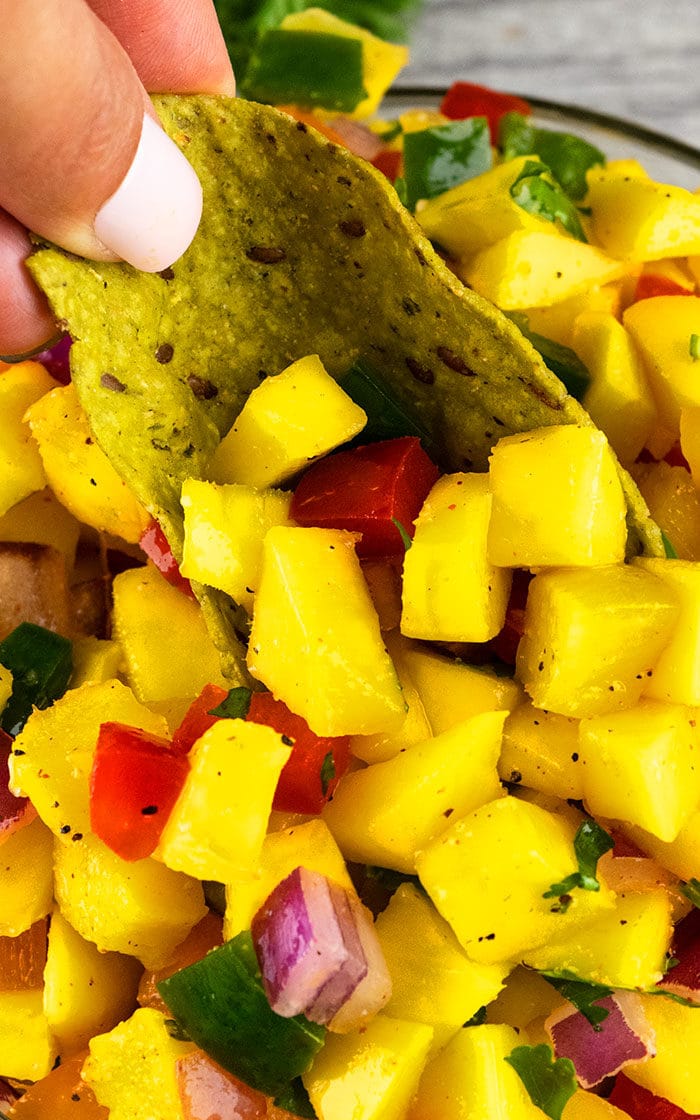 How to make mango salsa?
Mix together mangoes, peppers, jalapenos, onion, cilantro, lime juice, salt, pepper, garlic, ginger.
Cover and chill.
Enjoy!
What to serve with mango salsa recipe? How to use it?
It's typically served with tortilla chips or pita chips as as appetizer for Summer parties.
You can also serve it as a side dish with grilled or baked fish, pork, beef, chicken, shrimp.
Use it as a topping in rice bowls, burrito bowls, tacos, tamales, burritos, enchiladas, tostadas, nachos, quesadillas, along with Cilantro Lime Rice (One Pot), beans, Vegetable Fajitas (One Pan)and cooked meats such as Mexican Shredded Chicken (One Pot) or Steak Fajitas (One Pot) or Chicken Fajitas (One Pot).
Salmon with mango salsa is very popular and will lighten up your taste buds, especially if you are a seafood lover! The salsa adds a slightly sweet flavor to the simple taste of the salmon. However, you can always intensify the flavor of the salsa by adding more lime juice (to make it more citrusy), more jalapenos and peppers to add that extra heat.
Shrimp Tacos/ Fish tacos with mango salsa– This is yet another flavorful and healthy dish for all seafood lovers! Use your favorite selection of fish. It can be salmon, tilapia, or even mahi mahi. Add other toppings like this salsa, sour cream, shredded cheddar cheese, guacamole, providing a sweet and savory balance which is delicious and filling.
One of my favorite things to do at parties is to set up a taco bar with this salsa and and all the other sides and main dishes and allow your guests to get creative and make their own rice bowls or tacos.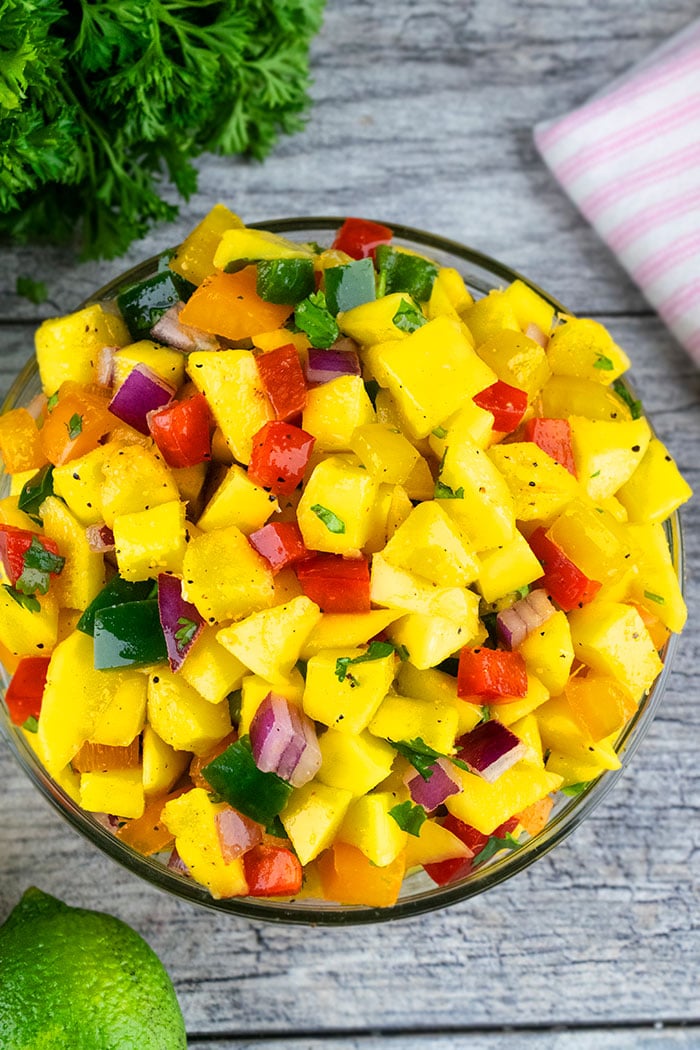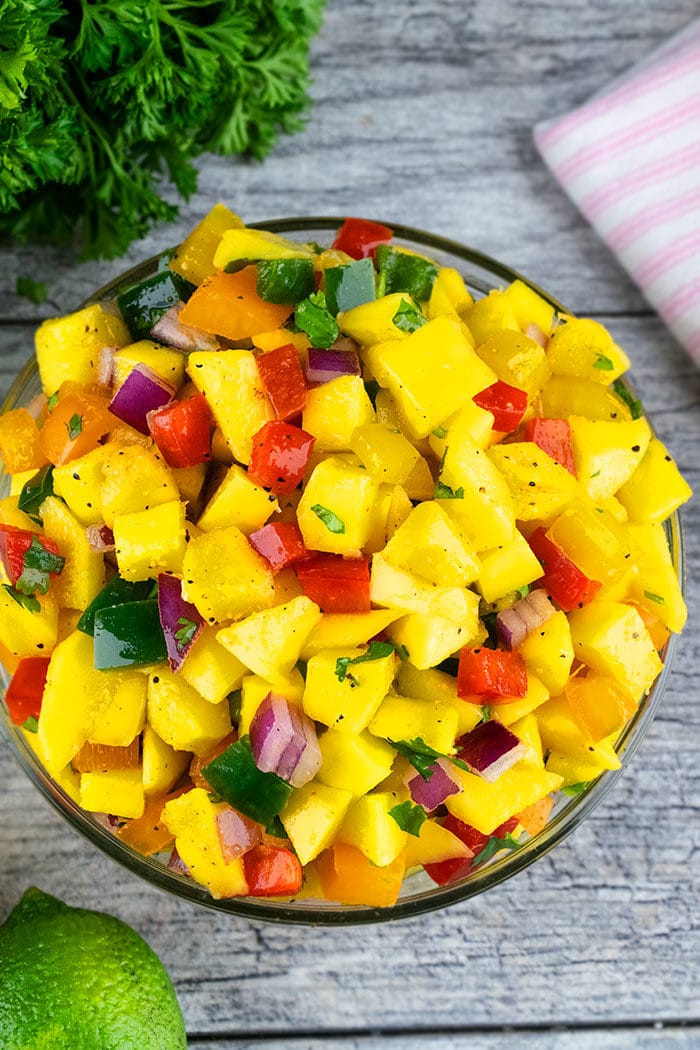 Variations
Pineapple mango salsa– Add 1 cup finely chopped pineapples.
Mango avocado salsa– To give it a more balanced flavor and to make it more healthy and creamy, mix in 1 or 2 finely chopped avocados. .
Spicy mango habanero salsa– This is for all of my spice lovers! You can always add more heat to this dish by adding in more jalapenos or peppers, or you can also add in habanero peppers! The mango slices will still help sweeten the dish, but adding habanero can give it that burst of spice for you and your family to enjoy!
Mango black bean salsa– Mix in 1/2 cup drained and rinsed canned black beans. The black beans make the recipe more nutritious and more filling.
Mango tomato salsa– Mix in 1 cup finely chopped ripe tomatoes. Avoid using canned tomatoes since they are very watery and don't have the right texture for this recipe. Use roma, plum, or cherry grape tomatoes. The more fresh and ripe they are, the better the flavor will be.
Peach mango salsa– Peaches always add a beautiful fruity flavor. You can either replace mango with peaches or you can mix in 1 cup fresh finely chopped peaches.
Add corn– Mix in 3/4 cup frozen corn (thawed). You can also pair the corn and the black beans together. One thing to remember is to serve the dish immediately so you can still get that crunch of the corn. Otherwise, if left in the fridge for long periods of time, the corn will become soggy and will loose its overall firm texture.
Add jalapenos– As mentioned before, you can always add more jalapeno slices to make this dish more spicy and don't remove the seeds.
Cooked Salsa– You can either serve it warm or chilled. I prefer it cold because it's more refreshing. I don't like to cook salsas but you can stir fry it for a 2-3 minutes on high heat.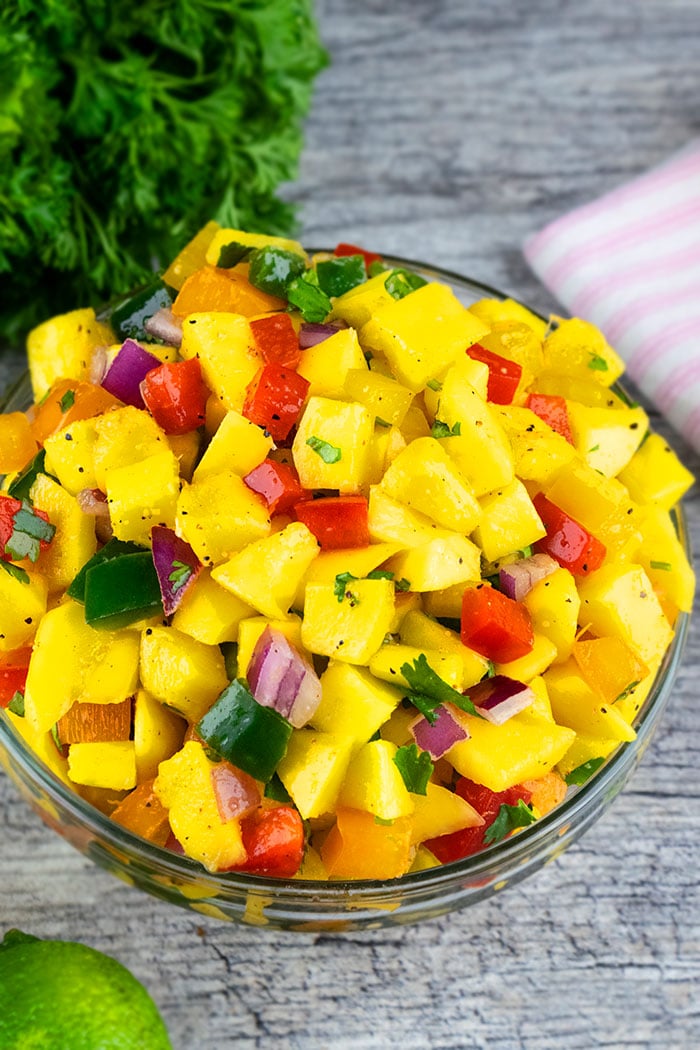 Tips and Techniques
Serve warm or cold- As mentioned before, you can either serve this salsa warm or cold. Personally, I prefer the cold salsa because all the ingredients and flavor taste fresh, and warm salsa tends to be watery. Depending on the fruits you use in your dish, some can also give out extra liquid.
Onions– I like to use red onions since they look better and are also sweeter. The white onion gives a more stronger flavor but work well too.
Don't use canned tomatoes– A common question that comes up when making this recipe is "Why aren't my tomatoes flavorful?" The solution to that is simple: Use fresh, organic tomatoes instead of canned tomatoes. You can use tomatoes such as roma tomatoes, plum tomatoes, or even cherry/grape tomatoes. Just be sure to remove the seeds before combining them in the bowl.
Do not use a blender– When you add everything in the blender, the salsa becomes mushy and liquid-based. Instead, make sure to finely chop up all of your ingredients to have the best overall chunky texture.
Adjust the amount of ingredients– Because of how versatile this recipe is, there's no such thing as "too much" or "too little." You can always make this more spicy by adding in more of your favorite peppers, or you can always reduce the quantity of onions, garlic e.t.c. to avoid that strong flavor.
Canned mangoes vs. Fresh mangoes– Fresh is best! Canned mangoes don't taste as good as fresh ones. However, for convenience, when fresh ripe mangoes are unavailable or out out of season, you can use canned mangoes.
Lemon juice vs. Lime juice– Either can be used but limes give this an authentic Mexican flavor.
Let it rest– After preparing this dish, it's important to set it in the fridge for approximately 20-30 minutes. This not only deepens the flavors of the ingredients, but it also gives a more refreshing taste when served immediately. However, do note that if kept in the fridge for an extended period of time, the ingredients will start to lose their firm texture and become softer.
More One Pot Appetizers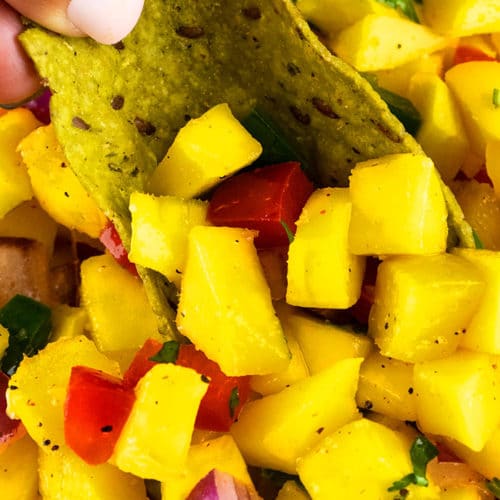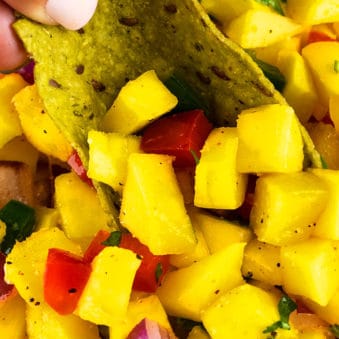 Mango Salsa
Quick and easy mango salsa recipe- A one pot side dish or appetizer, ready in 15 minutes, with simple ingredients (mangoes, peppers, jalapenos, onions, cilantro).
Yield: People
Ingredients
3 cups Mangoes, Finely chopped
3/4 cup Peppers, Variety of red, green, yellow, orange peppers, Finely chopped
1 Jalapeno, Deseeded, Finely chopped
1/2 cup Red onion, Finely chopped
2-3 tbsp Cilantro, Fresh, Finely chopped
2 tbsp Lime juice
Salt, To taste
Pepper, To taste
1 tsp Garlic powder
1 tsp Ginger powder
Instructions
In a large mixing bowl, add mangoes, peppers, jalapeno, onion, cilantro, lime juice, salt, pepper, garlic, ginger.

Mix everything together.

Cover and chill in the fridge for 20-30 minutes to let the flavors deepen. Enjoy!
Notes
Read all my tips above.
Leftovers can be stored in a sealed container in the fridge for up to 3 days.
Nutrition
Calories: 94kcal, Carbohydrates: 23g, Protein: 1g, Sodium: 3mg, Potassium: 295mg, Fiber: 3g, Sugar: 18g, Vitamin A: 1495IU, Vitamin C: 75.4mg, Calcium: 21mg, Iron: 0.4mg
Happy cooking everyone!