Easy Chicken Gravy (One Pot)
The best, classic, quick and easy chicken gravy recipe from scratch, homemade with simple ingredients in one pot over stovetop in 20 minutes. Rich, creamy, silky smooth and packed with flavor!
One of my favorite things to eat is Biscuits and Gravy (One Pot). I just love gravy! It's the best way to enhance any roasted, baked, or air fried chicken you make. It brings moisture and creaminess to meals that can sometimes taste or feel dry. Be sure to also try my Easy Sausage Gravy (One Pot) and this Homemade Brown Gravy Recipe (One Pot) and Easy White Gravy (One Pot). They are all delicious ways to complete a meal.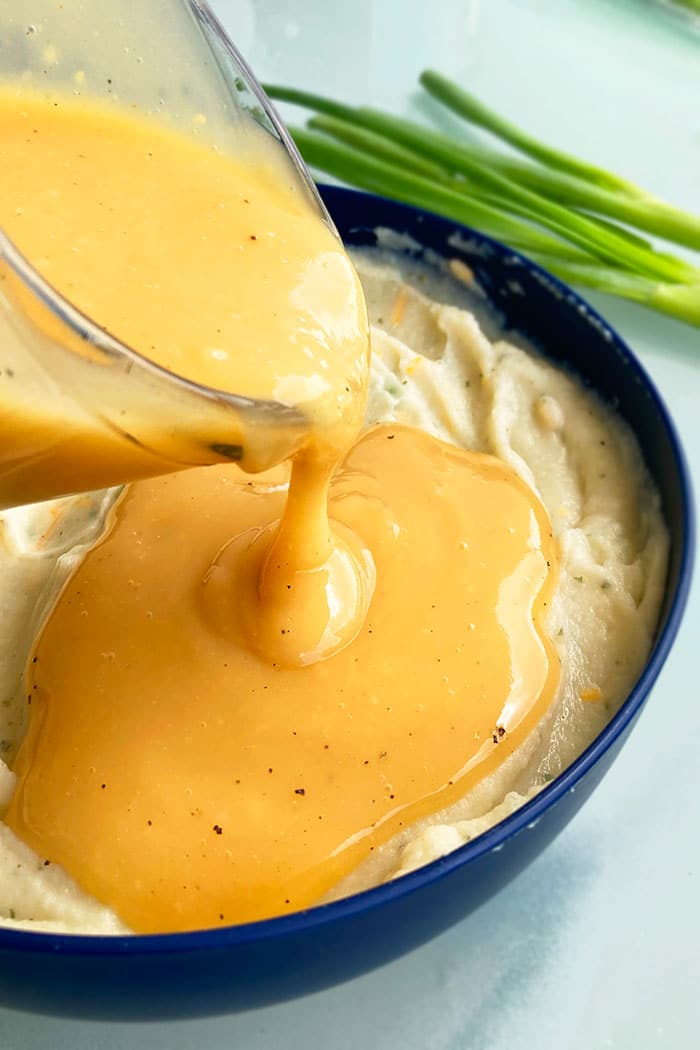 How to make chicken gravy from scratch without drippings?
Mix bullion cubes in hot broth– Until completely dissolved.
Heat butter– Until fully melted.
Add flour, onion powder, Italian seasoning, salt, and pepper– Cook while constantly mixing.
Pour the broth mixture gradually– And continue whisking.
Bring to a boil– Then, reduce heat and simmer until mixture is thickened.
Serve over chicken or biscuits– And enjoy!
What to serve with best homemade chicken broth gravy recipe?
Serve it over chicken such as rotisserie, baked, air fried or Grilled Chicken Breast (One Pan). You can also serve it over beef such as these Garlic Butter Steak Bites (One Pot) or fried steak. Try it over sausages such as these Oven Roasted Sausage and Vegetables (One Pan).
It's also delicious over vegetables. Try these Creamy Mashed Potatoes Recipe (One Pot), or Oven Roasted Potatoes (One Pan) and even Oven Roasted Vegetables (One Pan).
Use it in appetizers and game day food like nachos or poutine.
Try it over bread and biscuits like classic drop biscuits, cheddar biscuits, or buttermilk biscuits. It's delicious for dipping breadsticks.
If you have any rice or pasta meals that are too dry, mix in a bit of this gravy for added flavor and moisture. Try it in this Easy Rice Pilaf (One Pot).
How to do you add flavor to gravy?
You can add the best flavor by mixing in drippings from your cooked chicken. Consider adding bouillon cubes. You can also try using browned butter for a nutty flavor addition. Another option is to add more herbs and spices or even store-bought spice blends. Herbs can be fresh or dried.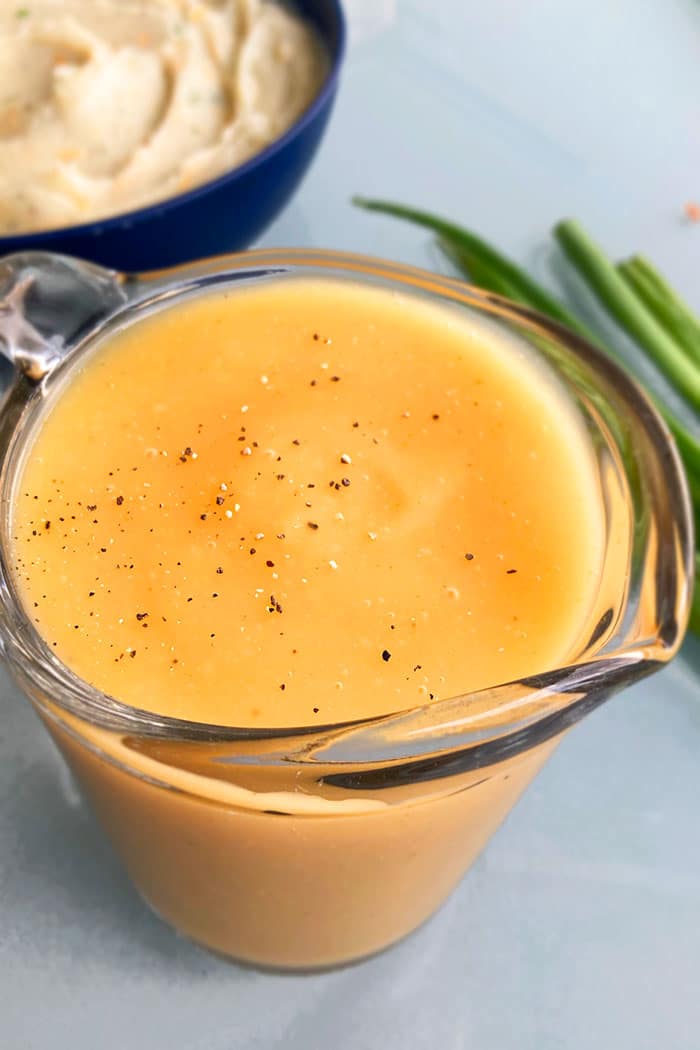 Variations
Use it in chicken and gravy– Add it to your favorite whole chicken recipe for more moisture.
Add mushrooms– Add sautéed sliced mushrooms at the end for more flavor and a heartier gravy.
Chicken gravy from drippings– Use drippings from your roasted chicken to add tons of flavor.
Use chicken stock– Use chicken stock instead of broth or use a combination of both, broth and stock.
Add other flavors– I used Italian seasoning but you can use any seasoning blend of your choice.
Adjust seasoning– Use more or less according to your preference.
Make it spicy– Add red pepper flakes for a little more intense flavor.
Storage
Refrigerate– In a sealed container in the fridge for up to 2 days.
Can you freeze gravy- I don't recommend it since it doesn't thaw well and tends to separate.
Reheat- In the microwave or stovetop. You will need to mix in a little broth or water, since the gravy thickens as it cools.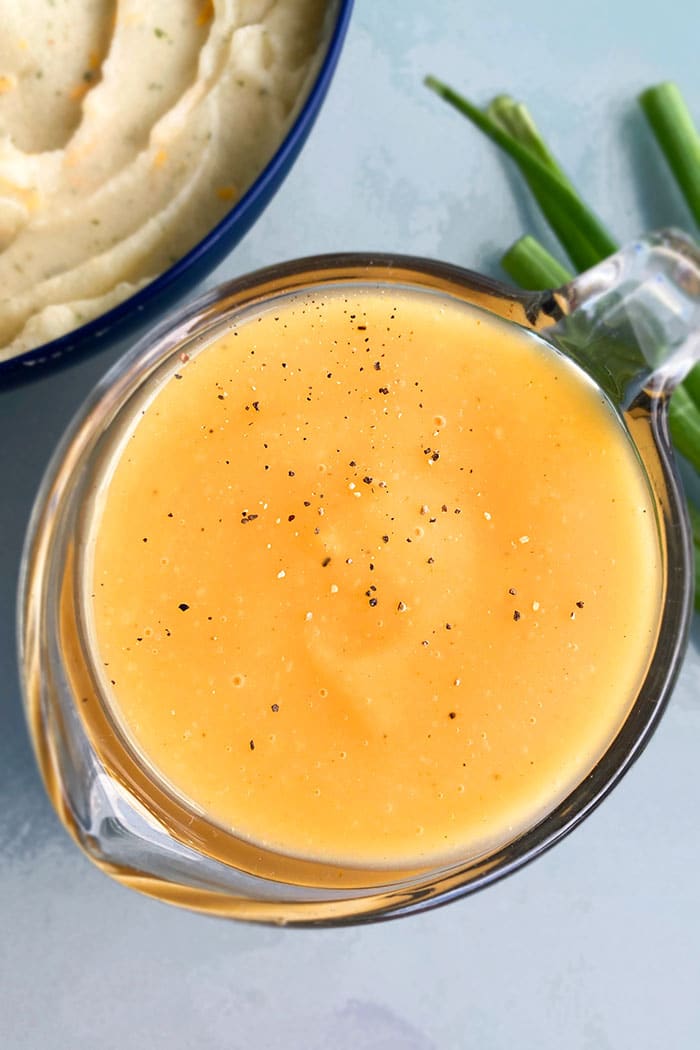 Tips and Techniques
If you're using broth and some drippings– Omit the bouillon cubes.
Chicken broth vs. Chicken stock– Stock is usually made from simmering the bones in liquid and therefore can have a more gelatinous texture from the collagen in the bones. This adds flavor and health benefits. Broth is usually made from the meat simmering in the liquid. Either option is perfectly fine to use for this gravy recipe.
Use low sodium broth and unsalted butter- Because this keeps the gravy from becoming to salty.
What kind of flour to use? I like to use all-Purpose flour for this recipe. You can use whole wheat flour if needed, but it will have a brown tint and a slightly different flavor.
How to thicken gravy? Cook it longer to evaporate excess liquid and reduce it until it's thickened to your desired consistency. I do not recommending adding more flour or cornstarch because that will change the flavor.
How to thin gravy? Simply mix in more broth.
Whisk constantly- Because this prevents any lumps from forming and keeps the gravy super smooth.
How to fix lumpy gravy? Use a hand-held immersion blender to smooth it out.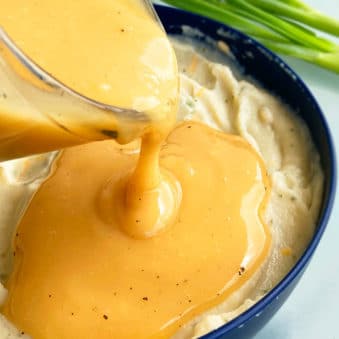 One Pot Chicken Gravy
The best, classic, quick and easy chicken gravy recipe from scratch, homemade with simple ingredients in one pot over stovetop in 20 minutes. Rich & creamy!
Yield: People
Ingredients
2 Chicken bouillon cubes, Low sodium
2 cups Chicken broth, Or Chicken stock, Or a combination of broth and stock, Low sodium, Hot
4 tbsp Butter, Unsalted
1/4 cup All-purpose flour
1 tsp Onion powder
1 tsp Italian seasoning, Adjust according to your preference
Salt , To taste
Pepper , To taste
Instructions
In a medium mixing bowl, add bouillon cubes in hot broth and mix until the cubes are fully dissolved. Keep aside.

Heat butter in a medium nonstick saucepan over medium-high heat until fully melted.

Add flour, onion powder, Italian seasoning, salt, pepper and cook this mixture for 1 minute, constantly mixing.

Pour the broth mixture gradually into the flour mixture, while constantly whisking everything together.

When it comes to a boil, reduce heat to Low and simmer.

Continue whisking until gravy is thickened to your desired consistency. Enjoy!
Notes
Read all my tips above.
Leftovers can be stored in a sealed container in the fridge for up to 3 days and reheated in the microwave with a splash of broth. 

 
Nutrition
Calories: 145kcal, Carbohydrates: 8g, Protein: 2g, Fat: 12g, Saturated Fat: 7g, Cholesterol: 31mg, Sodium: 1010mg, Potassium: 94mg, Fiber: 1g, Sugar: 1g, Vitamin A: 355IU, Vitamin C: 8mg, Calcium: 21mg, Iron: 1mg