Easy Hummus (One Bowl)
Quick and easy hummus recipe, homemade with simple ingredients in one pot or bowl of food processor in 10 minutes. Smooth, rich, creamy, healthy appetizer. Loaded with chickpeas, garlic, tahini!
This is eaten by the spoonfuls at our house because it is loved so much. It is the perfect appetizer addition to any meal, and one that you can enjoy guilt-free. It is just as popular as this Roasted Red Pepper Hummus (One Bowl) and this Baba Ganoush (One Bowl) with my family and friends.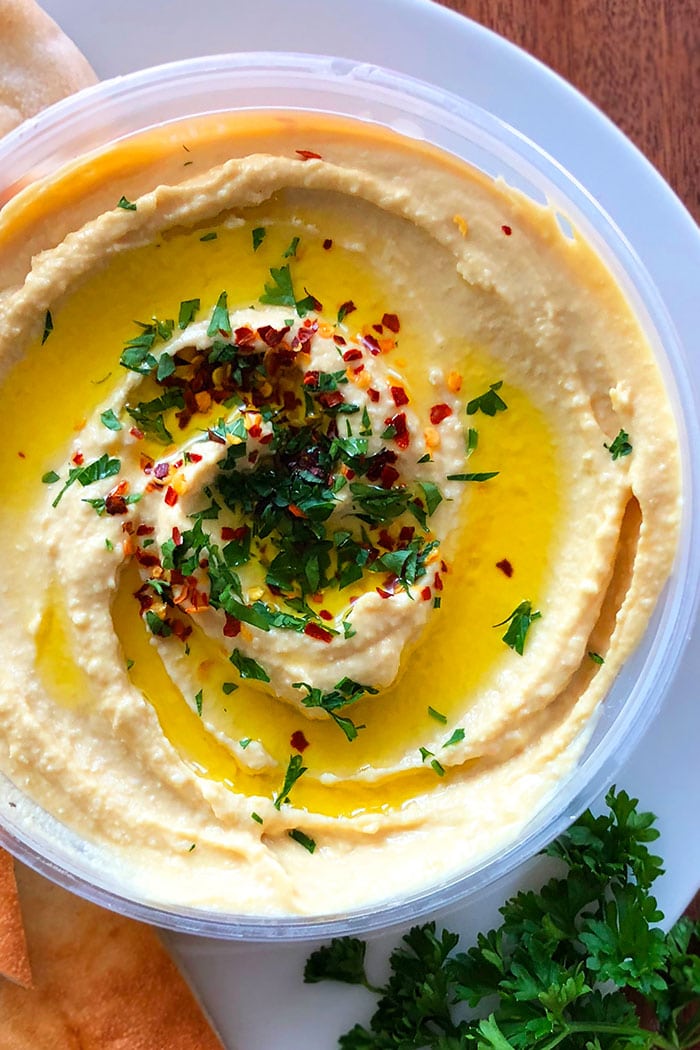 What is hummus? What does it taste like?
It is a Mediterranean dip traditionally made from chickpeas, tahini, olive oil, lemon juice, and seasonings. It is blended together to make a smooth, creamy, and delicious dip.
How to make hummus from scratch?
Add tahini and lemon juice in a food processor– Mix for 1 minute.
Add oil, garlic, cumin, salt– Mix until well blended.
Add chickpeas and water– Mix until smooth.
Add toppings– And enjoy!
What to eat with homemade hummus recipe?
Traditionally, it's enjoyed an appetizer dip with bread such as slices of pita bread. Other non-classic options could be naan, soft pretzels, puff pastry sticks, breadsticks, garlic bread or even dinner rolls.
Crispy sides like chips, crackers and pretzels would also pair well.
Use it as a spread in sandwiches, wraps, tacos or quesadillas. Try it in this Mediterranean Veggie Sandwich (One Pan). It's delicious and great for school lunches too.
It is also great as a dip alongside fresh vegetables like cherry tomatoes, cucumbers, baby carrots, celery, bell peppers, broccoli, cauliflower. Fresh and firm veggies are the best for dipping.
Thin it out with a little milk or water and use it as a dressing for salads. Try it in this Mediterranean Quinoa Salad (One Bowl) or this Mediterranean Chickpea Salad (One Bowl).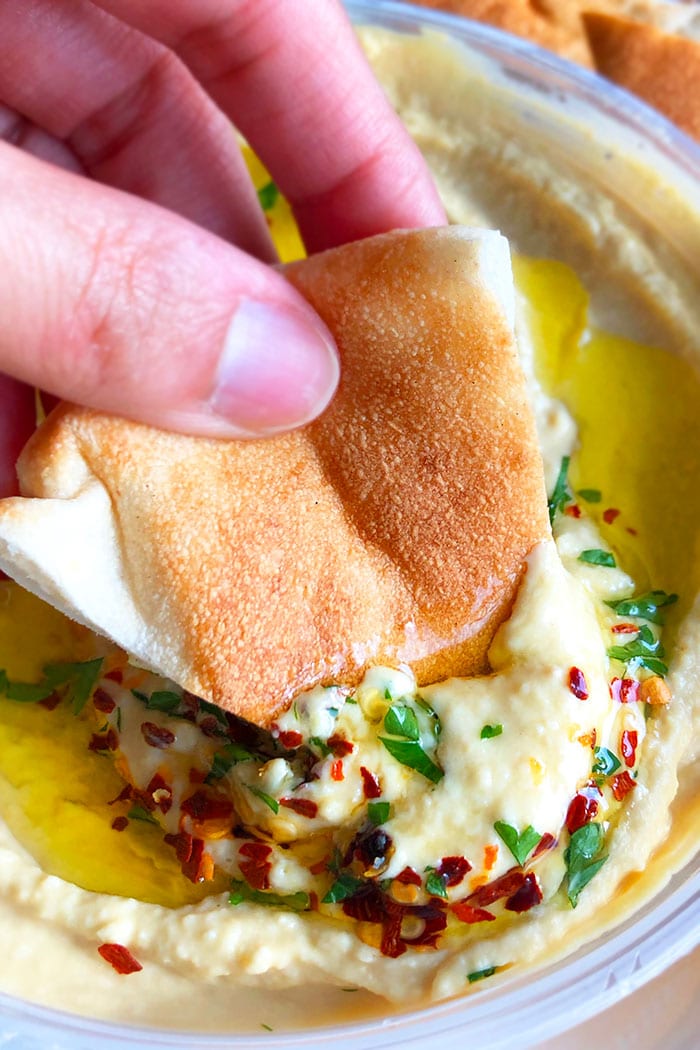 Variations
Beet hummus– Roast and puree beets into the dip.
Use other beans- Such as black beans, white beans, red beans, edamame. However, the color and flavor will change.
Add other vegetables- Such as avocado, carrots, spinach, cauliflower, red peppers, artichokes, onions for a unique flavor. Make sure they are either mashed, pureed or finely chopped.
Add seasonings– Such as Mexican, Greek, Cajun, Italian, or Indian for a flavor twist.
Make it spicy– Add cayenne pepper, red chili flakes, or jalapenos depending on your preferred spice level.
Make it sweet– Instead of savory spices and seasoning, add cocoa powder and honey for a healthy dessert. You can use strawberries or pretzels to dip into it.
Topping ideas
You can use just one topping or a combination of these:
Olive tapenade
Fresh herbs like cilantro, parsley, chives e.t.c.
Roasted corn
Pickles
Zaatar
Red chili flakes
Olive oil
Roasted seasoned chickpeas
Crumbled bacon,
Nuts like roasted pine nuts, cashews, peanuts, walnuts
Roasted garlic
Meat such as sliced or shredded Grilled Chicken Breast or cooked ground beef
Storage
Refrigerate– In a sealed container for up to 3 days.
Can you freeze hummus? Yes. Store in a sealed container for up to 1 month. Let it thaw in the fridge overnight when you are ready to enjoy it.
Make ahead instructions- Make it a day in advance and keep it chilled in the fridge until you are ready to serve.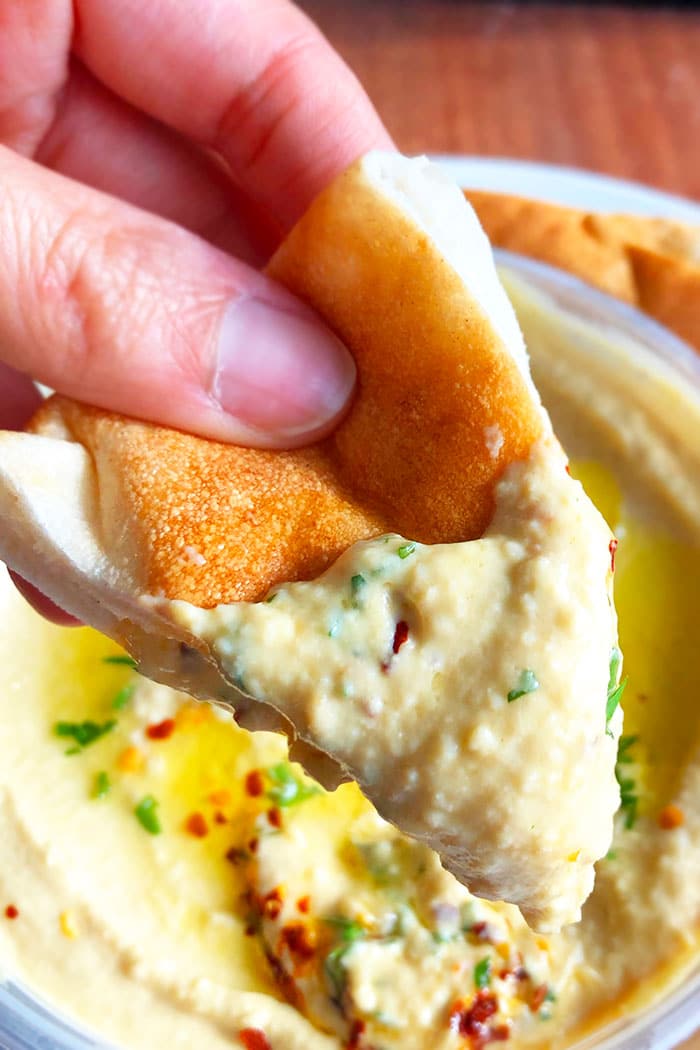 Tips and Techniques
What is tahini? Where to buy it? It is a paste made from sesame seeds. It's found in most grocery stores in their international/ specialty food aisles. Cedar's tahini is amazing. You can also also order it online.
Can I omit tahini? Traditionally, it is a vital ingredient in this dish but some people just don't like strong its nutty flavor. You can simply omit it and make it without tahini or the better option would be to replace it with another nut butter like almond butter or peanut butter. However, please note that the overall flavor will change.
Do you peel chickpeas and remove their skins? That's not necessary. Some people say it makes this dip smoother but I didn't really notice a difference.
Do you serve it hot or cold? As a dip, it's usually served cold, but it can be heated to use in warm dishes such as pasta and pizza.
Use high quality olive oil- The higher the quality, the better the flavor, and in a raw dip like this, it makes a difference.
Scrape down the sides of the food processor- This ensures that all of the ingredients are combined in the correct ratio and that the texture is smooth and creamy.
Do I need to drain and rinse the chickpeas (garbanzo beans)? Yes, rinse all of the preservatives from the can of chickpeas and drain excess water so the dip isn't too runny.
How to make dip thicker? Mix in more pureed chickpeas.
How to make dip thinner? Mix in more water or milk.
More One Pot Dips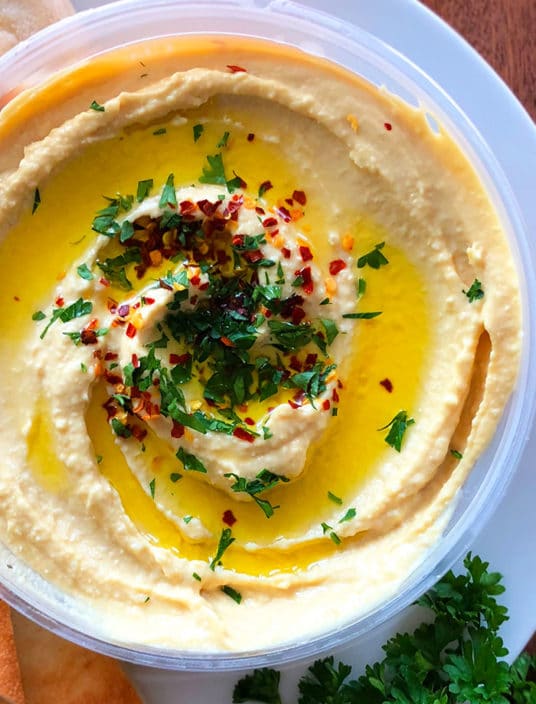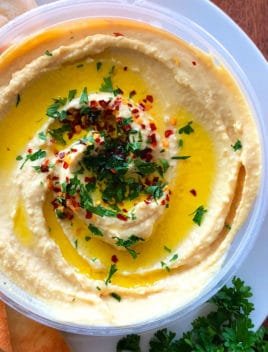 One Pot Hummus
Quick and easy hummus recipe, homemade with simple ingredients in one pot or bowl of food processor in 10 minutes. Smooth, rich and creamy. Loaded with chickpeas, garlic, tahini!
Servings: 4 People
Course: Side Dish
Cuisine: Mediterranean
Keyword: homemade hummus
Calories: 100 kcal
Ingredients
1/4 cup Tahini
1/4 cup Lemon juice From fresh lemon
2 tbsp Olive oil Extra virgin
1 clove Garlic Finely minced
1/2 tsp Cumin powder
Salt To taste
1 can Chickpeas 15 oz. can, Drained and rinsed
2-4 tbsp Water Adjust to your preference
Toppings Such as fresh parsley, cilantro, paprika, red chili flakes, olive oil, pine nuts, sumac or sesame seeds.
Instructions
Add tahini and lemon juice in a food processor and mix for 1 minute to make it make it super fluffy and smooth.

Add oil, garlic, cumin, salt and mix until well blended.

Add chickpeas and water and mix until smooth. Be sure to scrape sides and bottom of the food processor often to mix everything evenly.

Prior to serving, add toppings of your choice and enjoy!
Recipe Notes
Read all my tips above.
Leftovers can be stored in a sealed container in the fridge for up to 3 days. 
Nutrition Facts
One Pot Hummus
Amount Per Serving
Calories 100 Calories from Fat 81
% Daily Value*
Fat 9g14%
Saturated Fat 1g5%
Sodium 69mg3%
Potassium 85mg2%
Carbohydrates 5g2%
Fiber 1g4%
Sugar 1g1%
Protein 3g6%
Vitamin A 16IU0%
Vitamin C 7mg8%
Calcium 21mg2%
Iron 1mg6%
* Percent Daily Values are based on a 2000 calorie diet.