Dirty Rice (One Pot)
Quick and easy dirty rice recipe, homemade with simple ingredients in one pot over stovetop in 30 minutes. Loaded with ground beef, Cajun seasoning and rice. Also known as "Ground beef and rice" and "Cajun fried rice."
This dish is is one of those easy weeknight meals that can be added to your menu to save you time and stress when life gets busy. It is also an excellent dish to meal prep because it stores and reheats well. Not a beef fan? Try this One Pot Chicken And Rice or this Sausage And Rice (One Pot) version instead.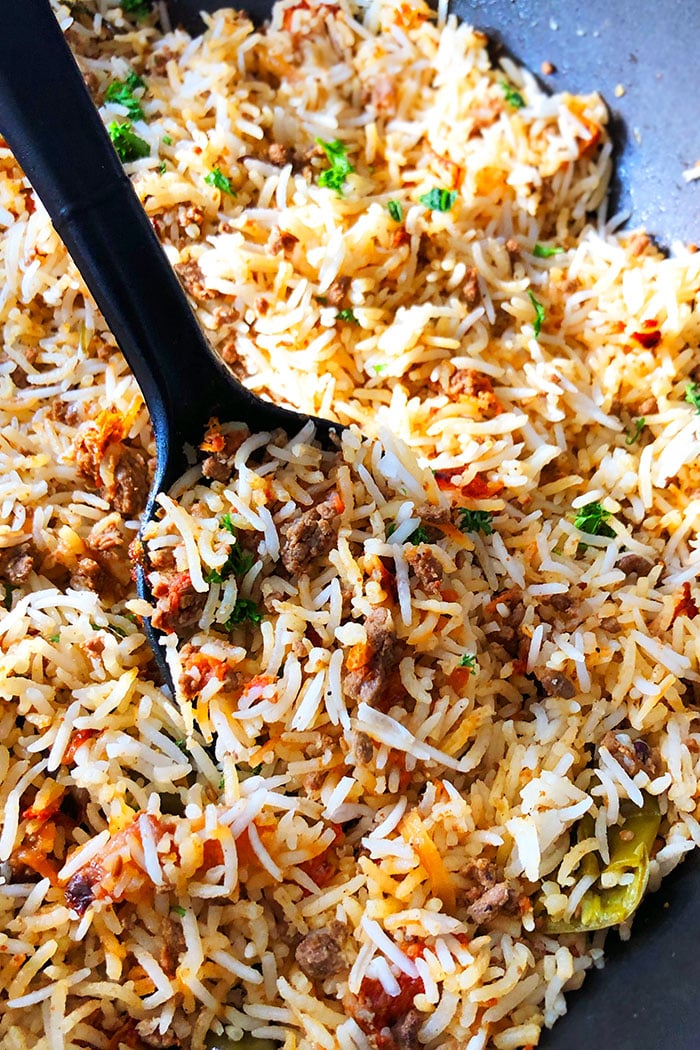 What is dirty rice? Why is it called that?
It is a traditional Louisiana Creole dish that gets its name from the color of the rice. It looks "dirty" from all of the spices, beef, green pepper, onion, and celery mixed into the dish. Traditionally, chicken gizzards and liver would be mixed in as well, giving it very "dirty" appearance.
How to make Cajun dirty rice recipe from scratch?
Cook ground beef– Until no longer pink.
Add onion, garlic, green pepper, celery, tomato (optional), Cajun seasoning, salt– Mix until combined.
Add rice and beef broth– Bring to a boil.
Reduce heat– Cover and cook until rice is cooked through.
Let it rest- For 5 minutes.
Fluff with fork– Dig in and enjoy!
What sides to serve with dirty rice?
It can be enjoyed as a main dish since it is very filling but you can also enjoy it as a side dish to grilled chicken or steak.
Roasted vegetables make the perfect addition to this meal, such as: Oven Roasted Carrots (One Pan) or Oven Roasted Asparagus (One Pan) or Oven Roasted Green Beans (One Pan).
Cold salads such as this Three Bean Salad (One Bowl), Cherry Tomato Salad (One Bowl), or Cucumber Onion Salad (One Bowl), will balance the warm smoky flavors of the Cajun seasoning.
You can even use it as a filling in rice bowls or lettuce wraps or tortilla wraps.
Dirty Rice Seasoning
Make a homemade Cajun seasoning blend by mixing together the following ingredients:
3 tbsp paprika
2 tbsp salt
2 tbsp garlic powder
1 tbsp black pepper
1 tbsp white pepper
1 tbsp onion powder
1 tbsp dried oregano
1 tbsp cayenne pepper
1/2 tbsp dried thyme
Store in a sealed jar at room temperature for up to 3 months. All the ingredient quantities can be adjusted, based on your preference.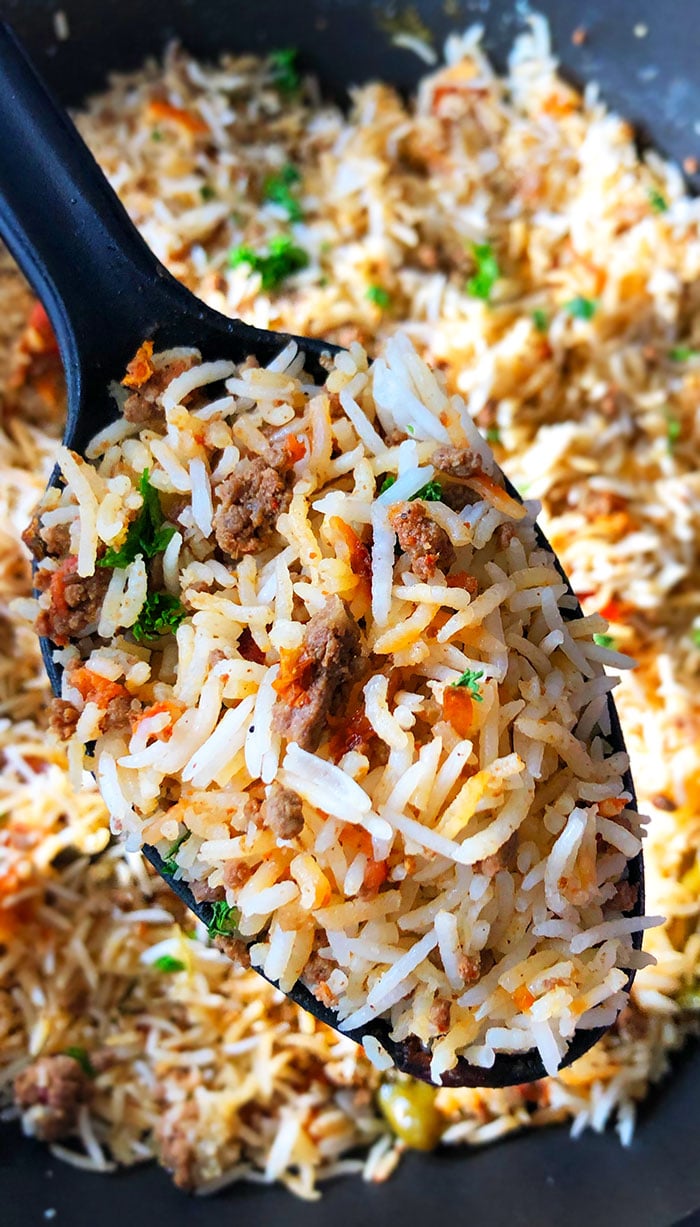 Variations
Add other proteins– Such as sausage, chicken, shrimp, crawfish, ground turkey, or andouille sausage.
Make it vegetarian– Leave out the beef, or replace it with red or black beans, tofu, mushrooms, or more vegetables such as peas, green beans, or broccoli. Also, swap out beef broth for vegetable broth.
Add cheese- Top with shredded cheddar, colby jack, or mozzarella cheese. The warmth of the dish will melt it on top for a delicious finish.
Use brown rice– This adds additional fiber and makes the dish a little healthier. Please note that the cooking time will increase because brown rice takes longer to cook.
Use other seasonings– Such as Mexican, Indian curry, or Italian seasoning.
Make it a soup– Add more beef broth to turn it into a Cajun soup.
Beef and rice casserole– Once everything is cooked, spread it in a casserole dish. Sprinkle lots of shredded cheese on top and bake at 375 degrees F until cheese is melted and bubbly.
Garnish options– Top with fresh parsley, cilantro, or green onions.
Storage
Refrigerate– In a sealed container for up to 2 days.
Freeze– In a sealed container for up to 1 month.
Reheat– In the microwave or on the stovetop.
Tips and Techniques
Fluffing with a fork is important– This prevents the rice from clumping together.
Measure properly– Adding too much broth or too little broth can give too dry or too wet results.
What kind of rice to use? Any type of white rice works well such as Jasmine, Basmati, or whatever you have on hand.
Broth vs. Water– Broth adds so much more flavor. Thus, I highly recommend it over water.
Don't drain fat– Because it adds flavor and prevents the dish from becoming too dry.
Why is my rice soft and mushy? This probably because it may be overcooked or you added too much liquid, or you may have forgotten to fluff with a fork.
Why is my rice dry? That's because not enough liquid such as broth has been added. Add some more and let it continue cooking.
Use a large non-stick pot– Because this allows the rice to cook evenly and also prevents it from sticking to the bottom of the pot and burning.
Adjust amount of seasonings- This is based on your preference. Add more or less of whatever you like or dislike.
Use low-sodium broth– Because this prevents the dish from becoming too salty.
More One Pot Ground Beef Recipes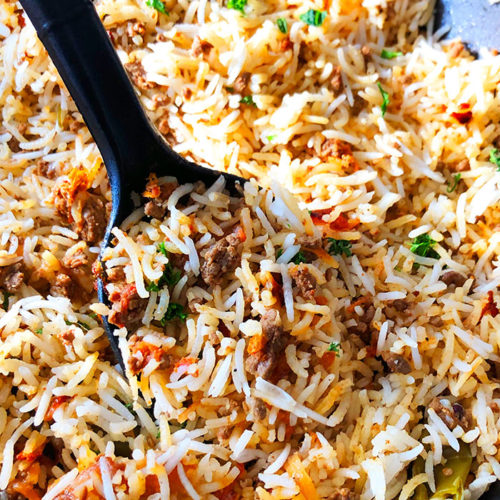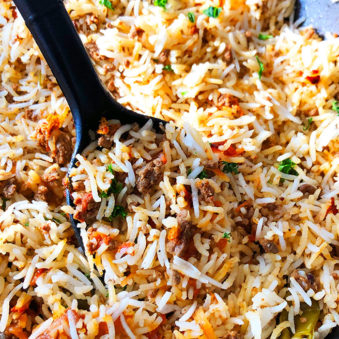 One Pot Dirty Rice
Quick and easy dirty rice recipe, homemade with simple ingredients in one pot over stovetop in 30 minutes. Loaded with ground beef, Cajun seasoning and rice.
Yield: People
Instructions
In a large nonstick pot, cook ground beef over medium heat until no longer pink. Crumble with spatula into smaller pieces.

Add onion, garlic, green pepper, celery, tomato (optional), Cajun seasoning salt and mix until combined.

Cook for about 3 minutes until veggies are partially softened.

Add rice and beef broth.

Bring to a boil.

Then, reduce heat to "Low."

Cover and cook for about 20 or until rice is cooked through.

Let it sit covered for 5 minutes.

Then, fluff with a fork. Enjoy!
Notes
Read all my tips above.
Leftovers can be stored in a sealed container in the fridge for up to 2 days and reheated in the microwave. 
Nutrition
Calories: 392kcal, Carbohydrates: 42g, Protein: 19g, Fat: 16g, Saturated Fat: 6g, Cholesterol: 54mg, Sodium: 583mg, Potassium: 458mg, Fiber: 2g, Sugar: 2g, Vitamin A: 458IU, Vitamin C: 23mg, Calcium: 50mg, Iron: 2mg