Instant Pot Chicken Curry (Indian)
Quick and easy Instant pot chicken curry recipe, homemade with simple ingredients in 30 minutes. Boneless chicken in coated in a thick gravy with tomatoes, onion, garlic, ginger, yogurt and garam masala.
This is the best curry out there! The Instant Pot still allows all the flavors to develop in a fraction of the time, making this meal possible on busy evenings. If you love curry as much as we do, then try this Indian Chickpea Curry (One Pot) and this Instant Pot Beef Curry (Indian) as well.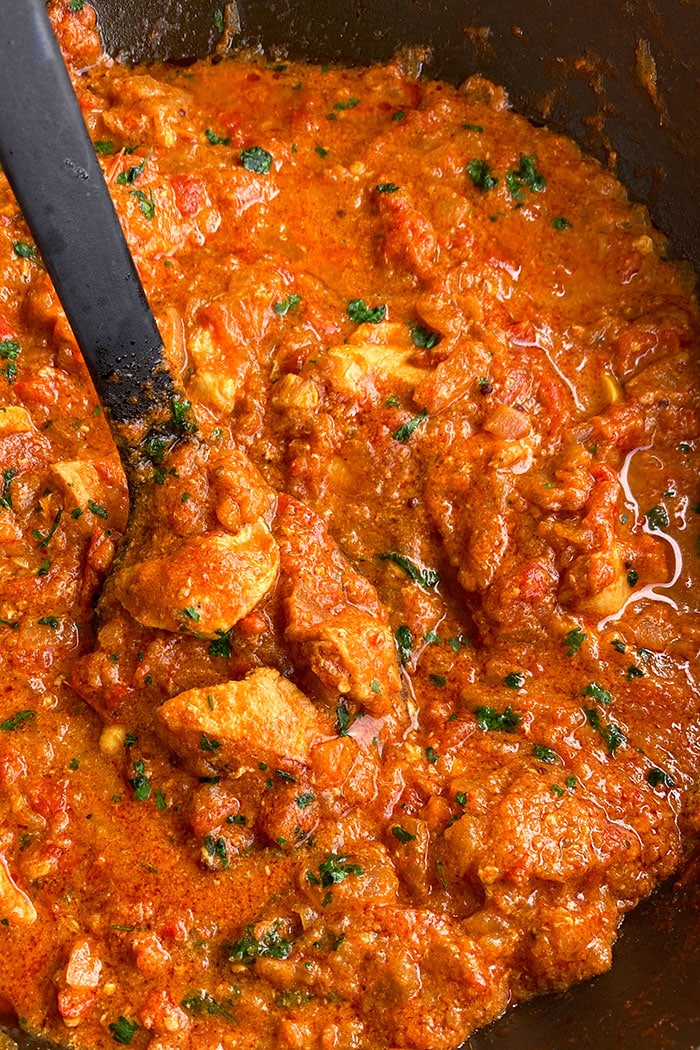 How To Make Instant Pot Chicken Curry Recipe From Scratch?
Saute aromatics– This includes cinnamon stick, cloves, bay leaf and saute.
Saute other ingredients- This includes onion, garlic, ginger.
Make spices, tomatoes, yogurt– Add puree until smooth.
Add chicken– And mix until fully coated.
Cover- And cook.
Release pressure– This should be a quick pressure release.
Cook uncovered – Until curry is thickened to your liking.
Garnish– With cilantro.
What Side To Serve With Easy Homemade Indian Chickpea Curry?
Traditionally, this dish is served with white rice or steamed basmati rice but if you are looking for a spin on the expected, try this:
Quinoa- Healthier option
Cauliflower rice- Another healthy option
Bread, such as naan or chapati bread or paratha, is typically served with this dish because it soaks up the sauce and helps calm the flavors. You could serve other carbohydrates such as:
Breadsticks
Pita bread
Dinner rolls
Biscuits
If you prefer vegetables as your side, try a simple salad:
What Is The Difference Between Curry Chicken And Chicken Curry?
In some families, curry chicken is usually a thick sauce or gravy with smaller pieces of chicken and vegetables. Chicken curry is often baked chicken pieces such as breasts or thighs with curry seasoning on it. However, many times, both these terms are used interchangeably.
How To Add More Flavor In Curry?
You can add more of the seasonings listed in the recipe such as garam masala. You can also use a fattier piece of chicken such as the thighs or drumsticks instead of or in addition to the chicken breast for additional flavor.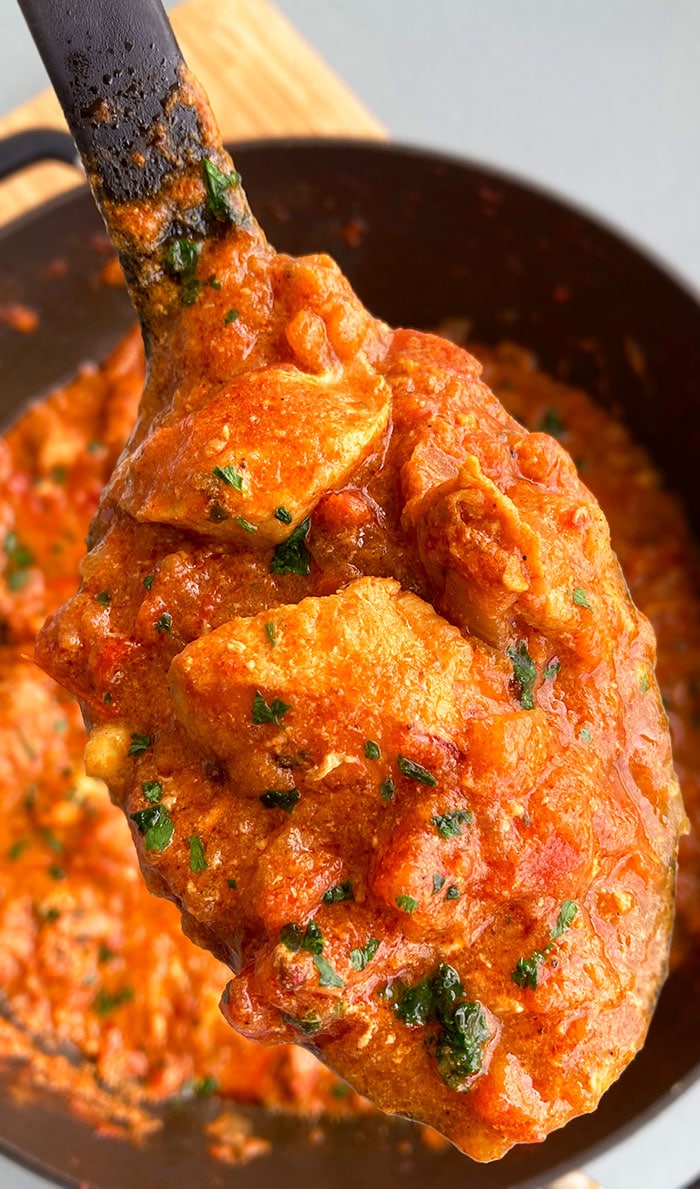 Variations For Simple Instant Pot Curry
Use a different cut of meat– Try thighs instead of chicken breast. Just make sure they are skinless.
Use other cuts of meat– Such as cubed chuck roast or stew meat. Please note that the cook time will be different.
Make it vegetarian– Use tofu or chickpeas instead of chicken but please note that cooking time will vary.
Spicy curry– Add in more red chili flakes or green chilies for a spicier dish.
Creamy coconut milk curry– Add full-fat coconut milk at the end to make a creamy version with a slight sweetness.
Add vegetables– Such as a bag of frozen mixed vegetables, spinach, or mushrooms.
Curry soup– Add broth at the end to turn this into a thin broth-based soup.
Make it a rice bowl– Serve with basmati rice, lettuce, cilantro, toasted coconut or cashews.
Make it a salad– Serve the meat over a simple salad. The sauce will act as a flavorful dressing.
Serve over noodles– For a non-traditional option, serve it over your favorite pasta such as linguini, macaroni, egg noodles, rice noodles, or even over Instant Pot Spaghetti Squash for a low-carb option.
Tips And Techniques
You must saute ingredients first- Because it really enhances the overall flavor. Don't just dump everything in the pressure cooker and cook. Take some time and follow the steps below for best results.
How to thicken curry? Continue cooking on "Saute" mode until the liquid evaporates and it thickens to your desired consistency.
Do not add cornstarch– I am not fond of it because it changes the flavor and adds a "chalky" flavor. You can easily thicken the curry by letting it cook uncovered until the extra liquid evaporates. If you are short on time and really must use cornstarch, dissolve 1-2 tbsp cornstarch in 1-2 tbsp water and mix that into the curry near the end.
How to make curry thinner? Simply add more water.
Saute chicken to brown it first– Because this allows the chicken to hold it's shape better during cooking.
Should I drain the can of tomatoes? No, this recipe needs the liquid so that the pressure can build properly and so that the food doesn't burn on the bottom of the pressure cooker.
Adjust spices– Increase or decrease the spices according to your taste.
Don't have a hand-held blender? No problem. A regular blender can be used to make a thick and smooth puree, and then, you can pour it back into the Instant Pot.
Can I add a liquid other than water? Yes, you can add an equivalent amount of chicken broth. I would only recommend using chicken broth so as to not alter the flavor too much.
Can I use Greek yogurt instead of regular yogurt? Yes, as long as it is plain and not flavored.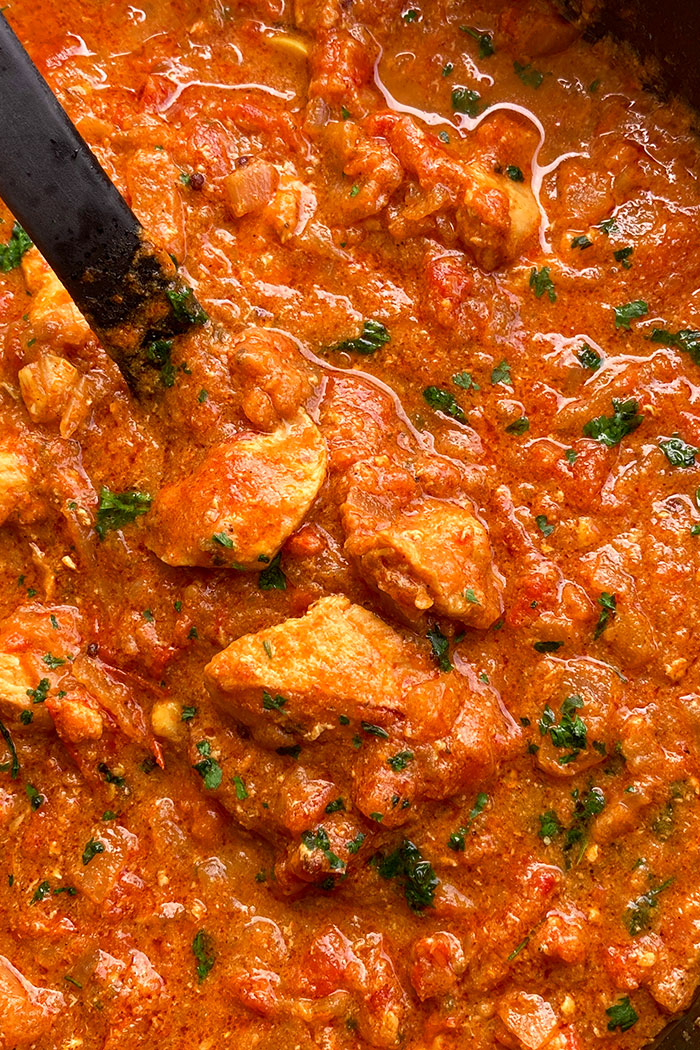 Storage
Refrigerate– In a sealed container for up to 3 days.
Freeze– In a sealed container for up to 1 month.
Reheat– From thawed, in the microwave or on the stovetop.
More Instant Pot Chicken Recipes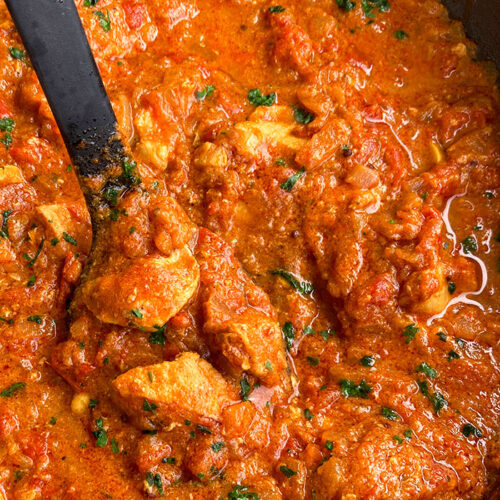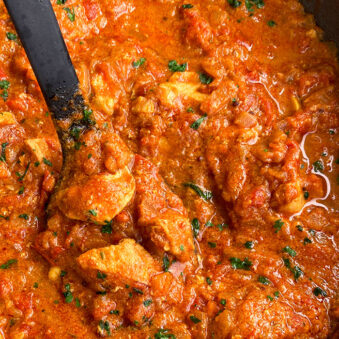 Instant Pot Indian Chicken Curry
Quick and easy Instant pot chicken curry recipe, homemade with simple ingredients in 30 minutes. Boneless chicken in coated in a thick gravy with tomatoes, garlic, ginger, yogurt and garam masala.
Yield: People
Ingredients
2 tbsp Oil , Or ghee
1 Cinnamon stick , 2 inch piece
4 Cloves
1 Bay leaf
1 Onion,  Large, Finely chopped
6 cloves Garlic, Finely minced
1 tbsp Ginger, Freshly grated
1 can Diced tomatoes, 14.5 oz. can
3 tbsp Yogurt, Full fat
1/3 cup Water
Salt, To taste
Pepper , To taste
1-2 tsp Curry powder, Adjust according to your preference
1 tsp Red chili flakes
1 tsp Cumin powder
1 tsp Coriander powder
2 tsp Garam masala
2 pounds Boneless chicken , Cit into small 1.5-2 inch cubes
1 tbsp Cilantro , Fresh, Finely chopped, For garnish
Instructions
Add cinnamon stick, cloves, bay leaf and saute for 1-2 minutes until these whole spices are fragrant.

Add onion, garlic, ginger and saute for a few minutes until onion is translucent and garlic/ ginger are fragrant.

Turn off the pressure cooker.

Add tomatoes, yogurt, water, salt, pepper, curry powder, red chili flakes, cumin powder, coriander powder, garam masala and use a hand- held blender to puree everything. It does not have to be super smooth.

Add chicken and mix until fully coated.

Put the lid on and turn up the the valve to "Sealing."

Select "Manual" mode and set the timer for 5 minutes.

When the cook time is over, do quick pressure release to remove pressure.

Remove lid and gently stir the curry.

Cook uncovered on "Saute" mode for or a little longer to evaporate/reduce excess liquid and thicken the curry. Don't mix it or stir it too much because that would break up the chicken cubes and shred it.

Garnish with cilantro. Enjoy!
Notes
Read all my tips above.
Leftovers can be stored in a sealed container in the fridge for up to 3 days and reheated in the microwave or stovetop. 
Nutrition
Calories: 380kcal, Carbohydrates: 11g, Protein: 51g, Fat: 14g, Saturated Fat: 2g, Trans Fat: 1g, Cholesterol: 147mg, Sodium: 294mg, Potassium: 1160mg, Fiber: 3g, Sugar: 4g, Vitamin A: 375IU, Vitamin C: 16mg, Calcium: 99mg, Iron: 3mg