Cucumber Onion Salad (One Bowl)
The best quick and easy cucumber onion salad recipe, homemade with simple ingredients in one pot or bowl. Thinly sliced cucumbers, red onions are marinated in vinegar and herbs. Also referred to as classic, old fashioned "Grandma's cucumber onion vinegar salad."
This is one of my favorite sides to bring to potlucks, picnics, or any family gathering. It is refreshing, tangy, and bursting with flavor. If you love cucumbers as much as me, then you have try some of these other recipes too: Creamy Cucumber Salad (One Bowl) or Asian Cucumber Salad Recipe (One Bowl) or Cucumber Tomato Salad (One Bowl) and even Cucumber Sandwich (One Pan).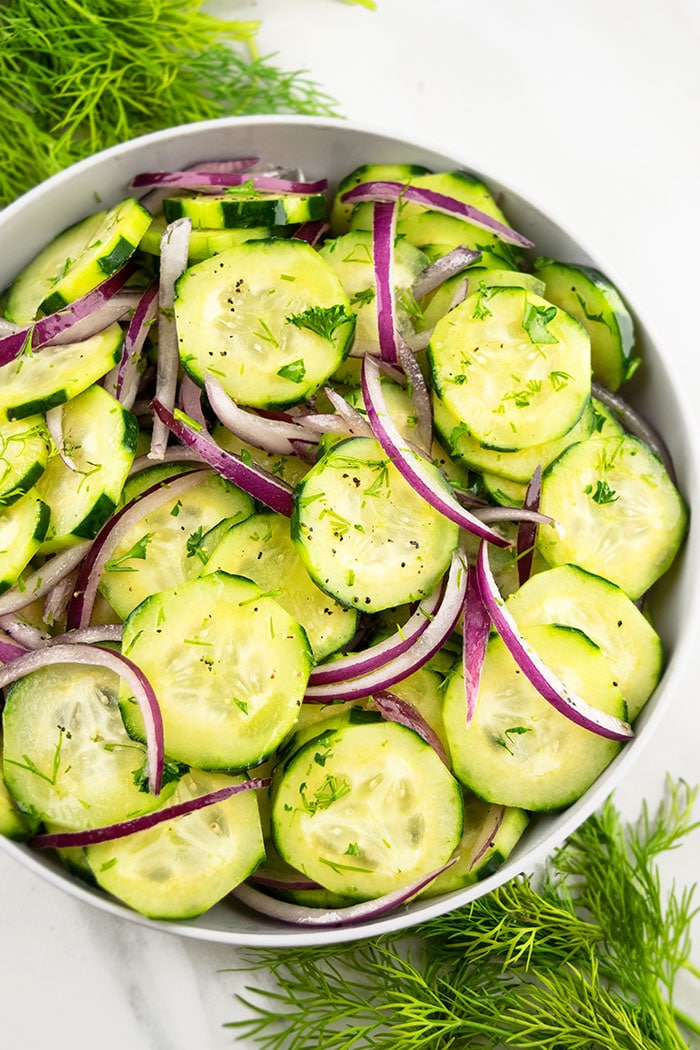 How to make cucumber onion salad recipe?
Mix ingredients– In a large bowl, add cucumbers, onions, vinegar, water, oil, dill, parsley, basil, sugar, pepper, garlic powder and mix until combined.
Chill– Cover and marinate in fridge for 1-2 hours.
Optional: Prior to serving, drain out excess liquid.
Add salt- Mix in a small amount, per your liking and serve immediately.
What to serve with cucumber and onion salad?
It's a mild tasting salad and goes well as a veggie side with many protein main dishes such as fried, baked or Grilled Chicken Breast (One Pan) or even Garlic Butter Steak Bites (One Pot). You can serve it alongside Slow Cooker Ham and even seafood such as salmon or shrimp.
Since this is a very common picnic or potluck salad, you can also serve it with burgers, hot dogs, sandwiches such as my Best Grilled Cheese Sandwich (One Pan) or this Mediterranean Veggie Sandwich (One Pan) or even this Loose Meat Sandwich (Tavern Sandwich).
For a classic soup and salad combo try one of these recipes: Creamy Tortellini Soup (Crockpot) or Lasagna Soup (One Pot).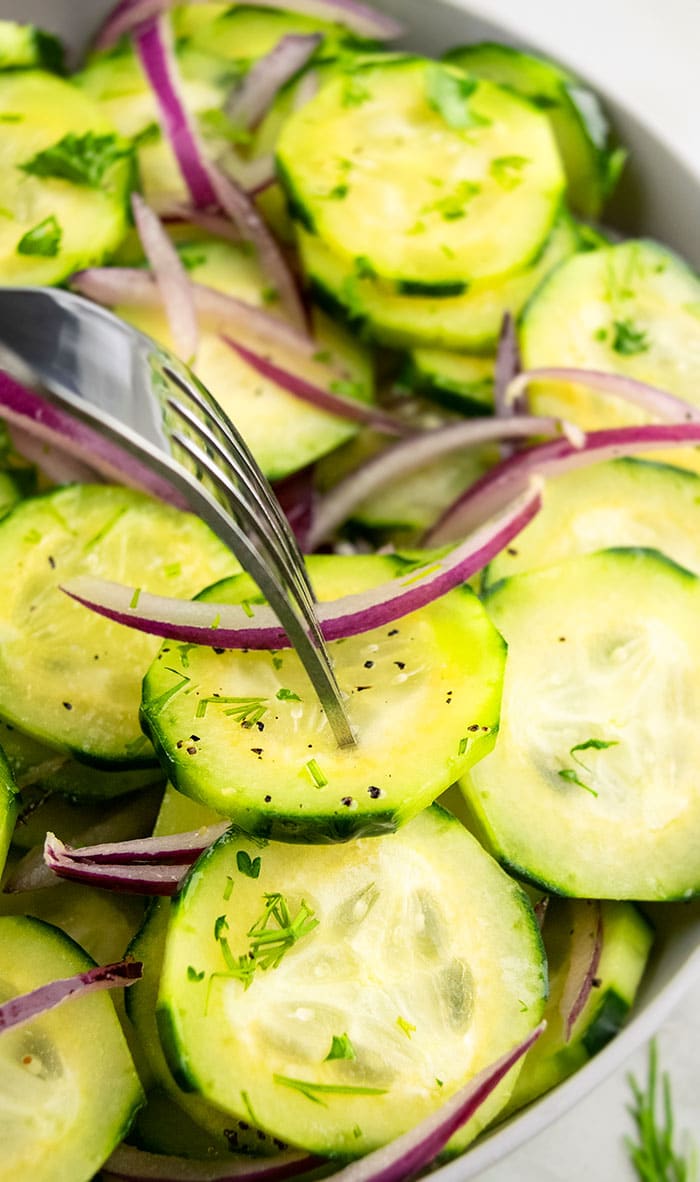 Variations
Cucumber tomato onion salad– Mix in 1 cup diced tomatoes.
Make it spicy– Add red pepper flakes or diced jalapenos for a little heat.
Add nuts– For added crunch top with toasted and chopped cashews, walnuts, almonds, or pecans.
Add radish– Radish is a common pickling vegetable so the addition to this salad is a perfect match.
What herbs to use in salad? Use fresh herbs because they have a vibrant color and flavor. Try basil, dill, chives, cilantro, thyme, oregano, parsley e.t.c. You can use any combination of herbs you like, and you can use more or less, based on your personal preference.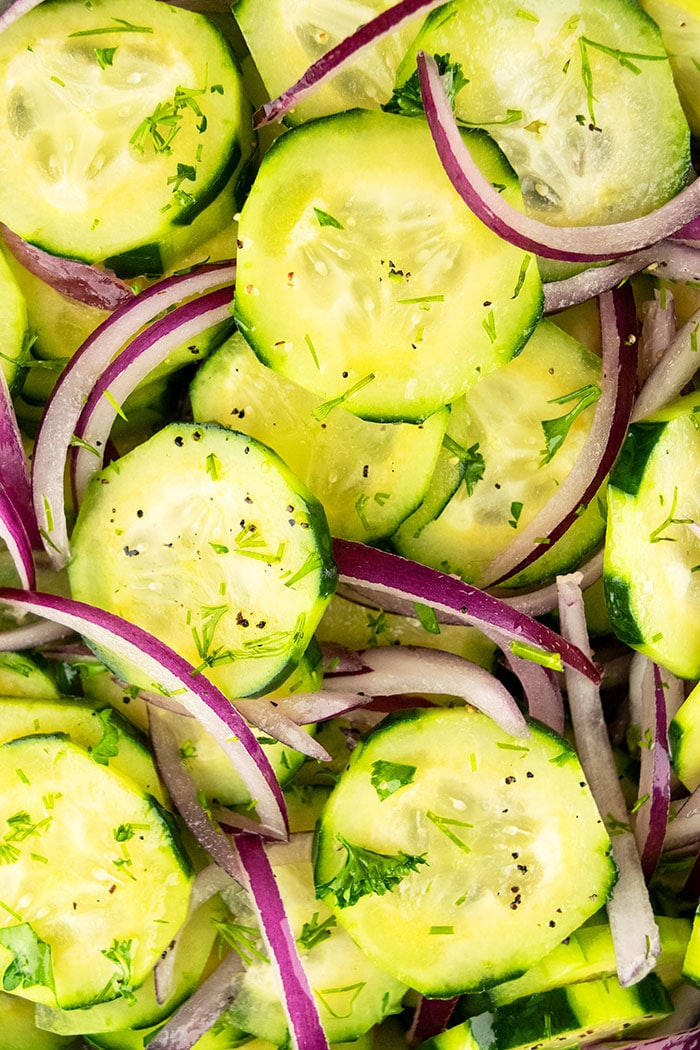 Tips and Techniques
Chilling this salad is important– This is when the development of flavor occurs. It is necessary to chill the salad to allow all the wonderful flavors to marinate.
What type of vinegar to use? I used white vinegar for this recipe, but you can just as easily use apple cider vinegar.
What type of onions to use? I used red onions but you can use any type of onion you like (yellow, white e.t.c.). They tend to have a milder flavor and a lovely crunch, making them perfect for salads.
Pat the cucumbers dry– They have a lot of water and patting them with paper towels prevents the salad from becoming too watery.
Don't rinse sliced cucumbers- Cucumbers already contain so much water that you don't want to add any additional water from rinsing. This will dilute the flavors.
Use high quality olive oil– Since this dish is made with such few ingredients, quality matters. Choosing a high quality oil. They are pricey but totally worth it.
Can this salad be made ahead of time? Yes, it can be made a day in advance and stored in the fridge until you are ready to serve.
Draining excess vinaigrette liquid is optional- This is a personal choice. After the marination process, you can choose to keep it or drain it.
Don't add salt in the beginning- Because it will cause the cucumbers to release a lot of water. Add it at the end, prior to serving.
More One Pot Salad Recipes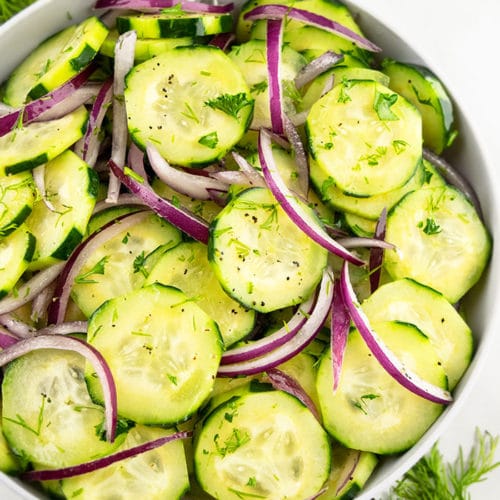 One Pot Cucumber Onion Salad
Quick and easy cucumber onion salad recipe, homemade with simple ingredients in one pot. Thinly sliced cucumbers, red onions are marinated in vinegar and herbs.
Yield: People
Ingredients
2 Cucumbers, Large ones, Washed, Patted dry Thinly sliced, Peeling is optional
1 cup Red onions, Thinly sliced
1/3 cup Vinegar, White vinegar or Apple cider vinegar
2 tbsp Water
2 tbsp Olive oil
1 tbsp Dill, Fresh, Finely chopped
1 tbsp Parsley, Fresh, Finely chopped
1 tbsp Basil, Fresh, Finely chopped
2 tsp Granulated sugar
Pepper, To taste
1 tsp Garlic powder
Salt, To taste
Instructions
In a large mixing bowl or salad bowl, add cucumbers, onions, vinegar, water, oil, dill, parsley, basil, sugar, pepper, garlic powder.

Mix until combined.

Cover and chill in fridge for 1-2 hours to allows the flavors to deepen and marinate.

Be sure to mix a 2-3 times, while the salad is chilling.

Optional: Prior to serving, drain out the excess liquid. I usually don't do this but some people prefer this.

Mix in a little bit of salt to your liking and enjoy!
Notes
Read all my tips above.
Leftovers can be stored in a sealed container in the fridge for up to 2 days. 
Nutrition
Calories: 55kcal, Carbohydrates: 10g, Protein: 2g, Fat: 1g, Saturated Fat: 1g, Sodium: 69mg, Potassium: 272mg, Fiber: 2g, Sugar: 6g, Vitamin A: 239IU, Vitamin C: 9mg, Calcium: 30mg, Iron: 1mg
Happy cooking everyone!