Garlic Rice (One Pot)
The best quick and easy garlic rice recipe (garlic fried rice), homemade with simple ingredients in one pot over stovetop. This 20 minute Asian meal can be enjoyed as main dish or side dish. Loaded with fresh garlic and butter.
I m on a Chinese fried rice kick lately and have already shared the following recipes and variations: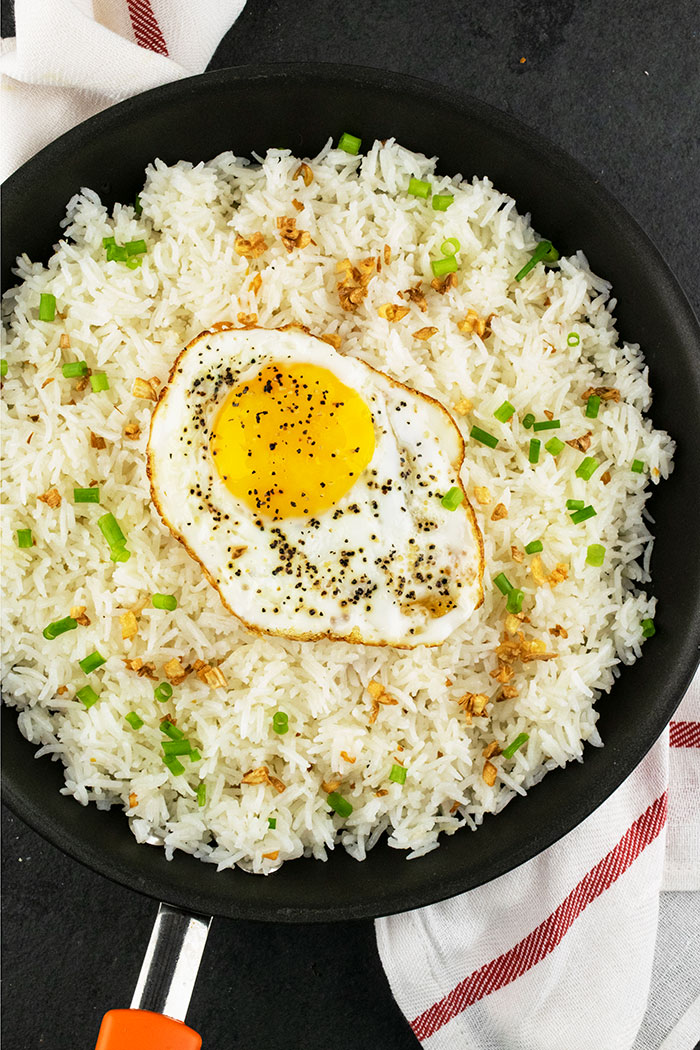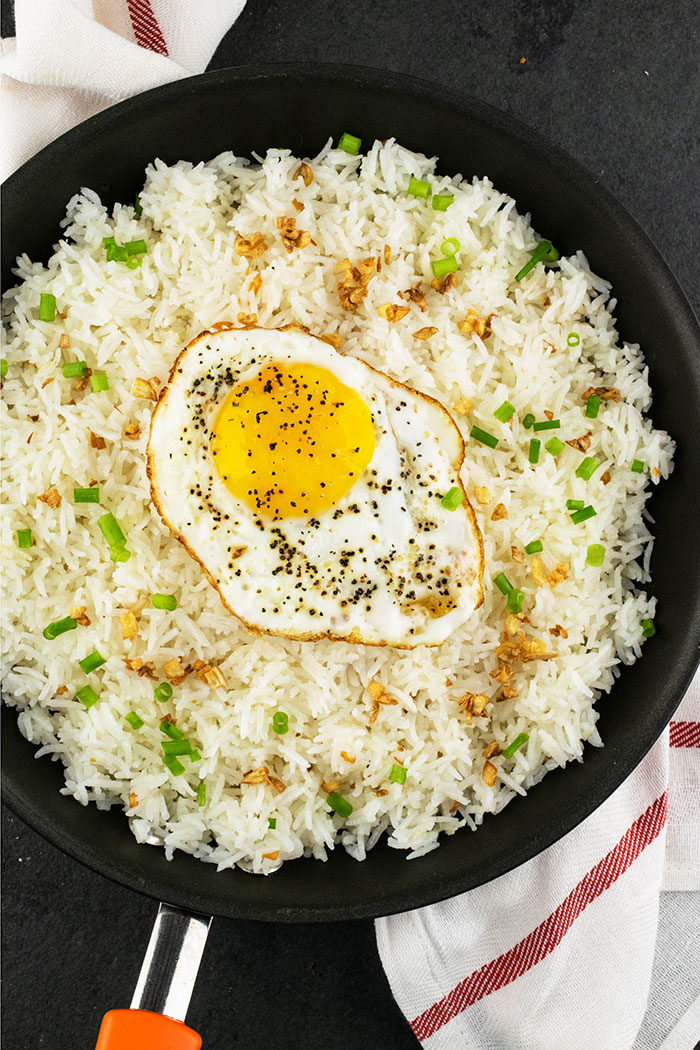 Today's version is the popular Filipino garlic fried rice recipe, also referred to as "Sinangag." It comes from my friend Abigail's book entitled "Rice. Noodles. Yum." It's delicious and has a bold flavor. You really need to order her book, especially if you are a fan of Southeast Asian recipes. This book even has a section on my favorite street food plus, there is a picture with every single recipe, along with tips and tricks to help you along. I have so many recipes bookmarked that I can't wait to try out!
I have also seen Japanese, Thai and Indian versions of today's recipe and they all look very similar to me, in terms of ingredients that are used. Some versions don't use day-old rice but instead, use freshly steamed rice or they use a different kind of rice. Those are the only big differences I have seen so far.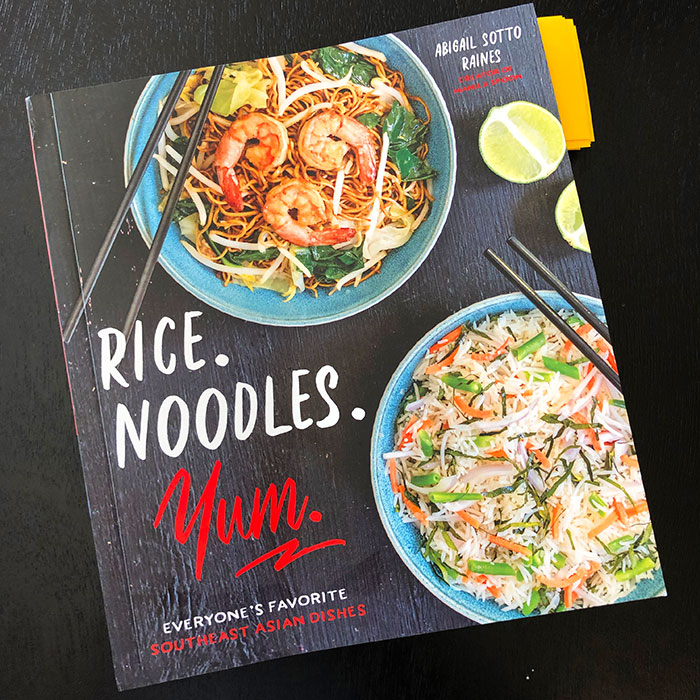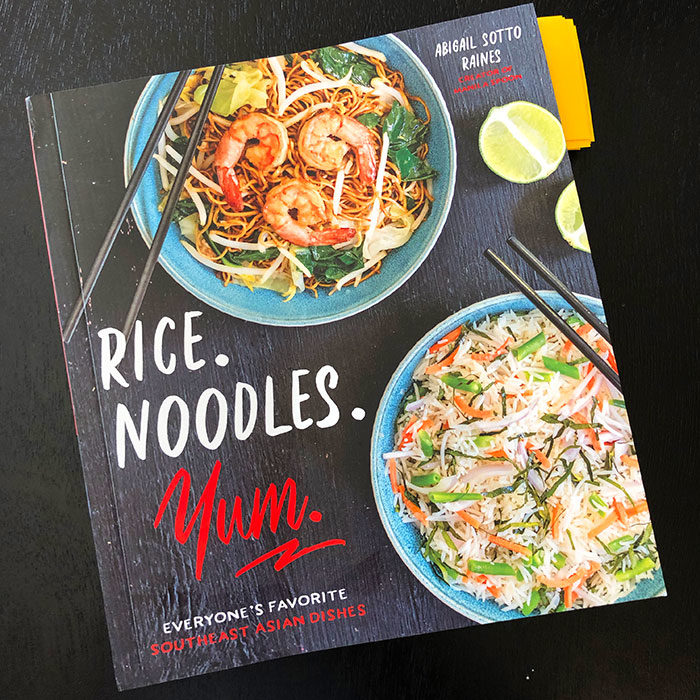 How to make garlic rice?
Heat butter and oil.
Saute garlic and keep half aside.
Mix in rice and seasonings.
Garnish with more garlic and green onions.
Enjoy!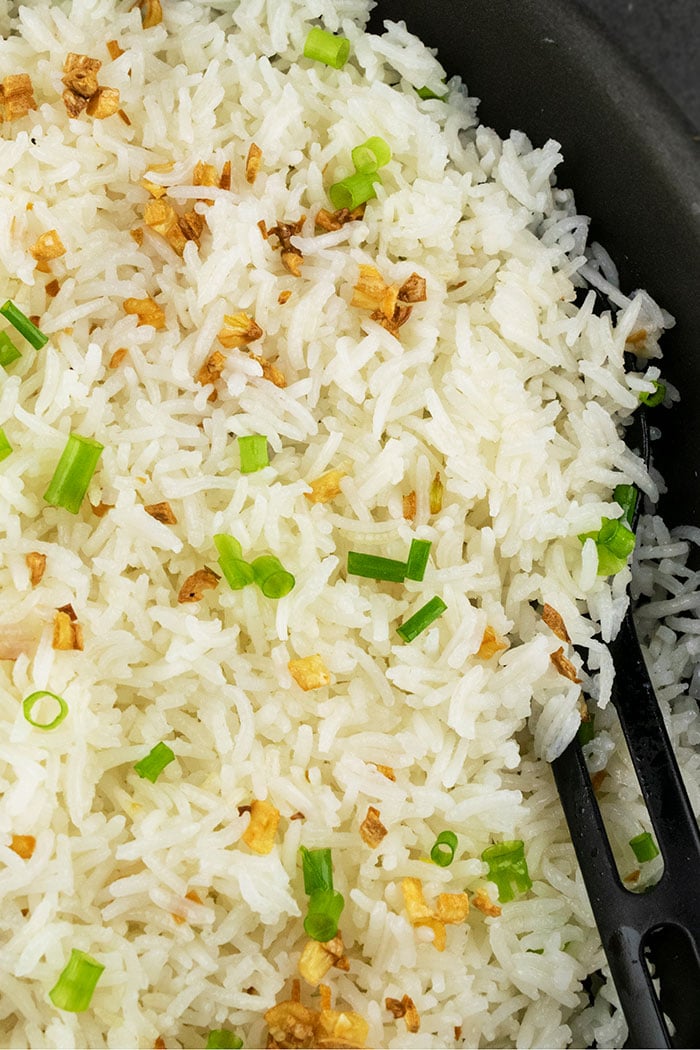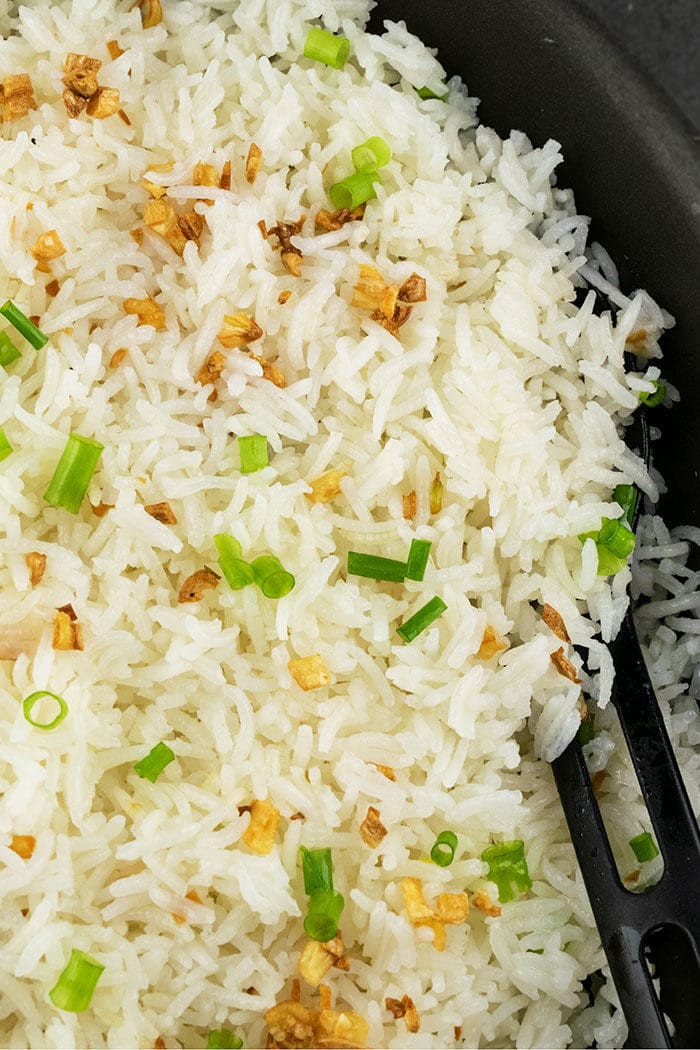 What to serve with garlic fried rice recipe?
You can enjoy this garlic butter rice as a main course with a sunny side up egg, or even a light drizzle of Sriracha sauce.
You can also serve this as a side with stir fried chicken, beef or shrimp that's smothered in an Asian sauce or gravy. Here are some of of my family favorites:
Some people also serve soups on the side such as this Homemade Chicken Noodle Soup (One Pot) or this Egg Drop Soup (One Pot).
You can even serve this Asian Cucumber Salad (One Bowl) salad to truly complete this meal.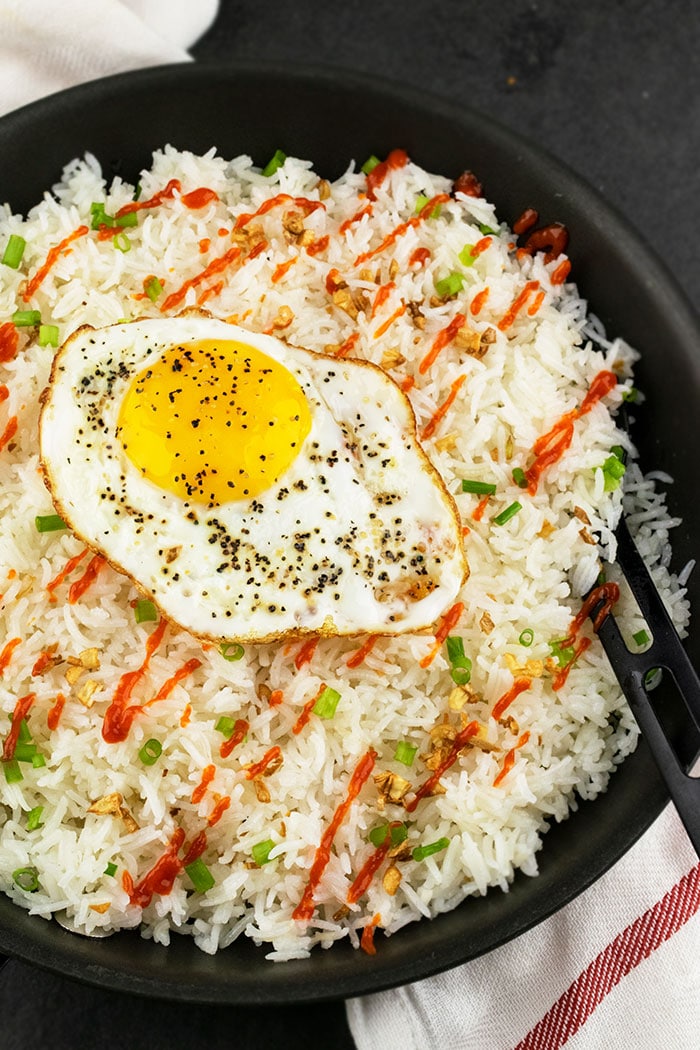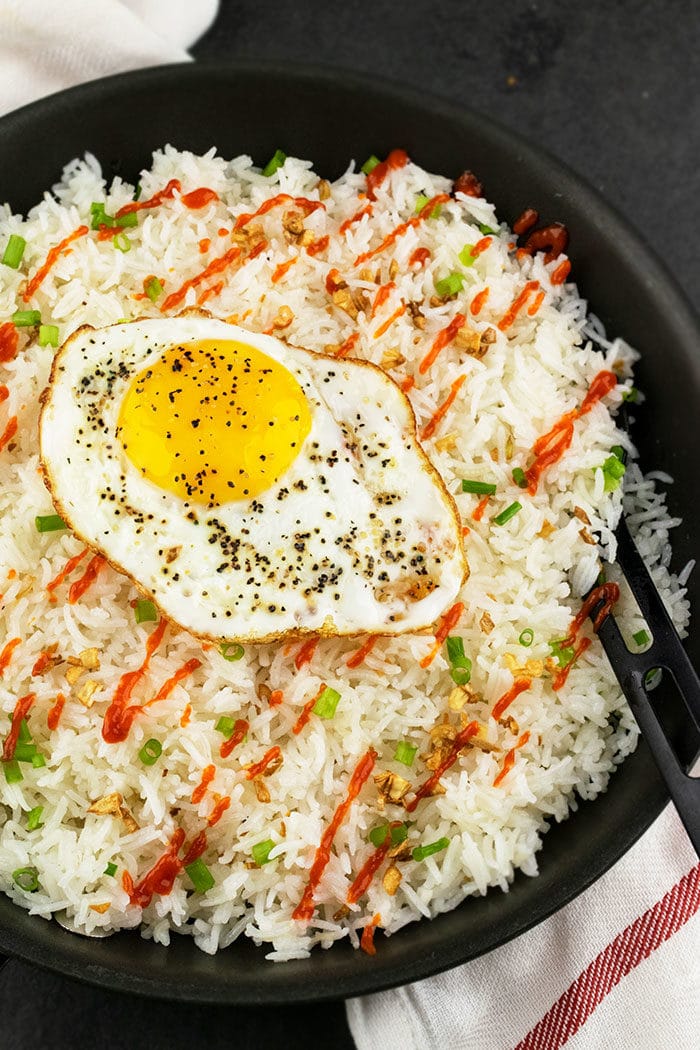 Variations
Add onion– Saute some onion until golden brown and sprinkle that on top of the rice, prior to serving.
Add lemon juice or lime juice– To give it a bit of tanginess. You can even include some zest.
Add herbs– Such as finely chopped cilantro, parsley or even green onions.
Add protein– Such as chicken, shrimp or tofu. Cook them in some butter, oil, garlic, salt and pepper and then, mix it in with the rice.
Add vegetables– Use your favorite frozen vegetables. Stir fry them first and them mix them in with the rice.
Make it spicy– By adding some red chili flakes or by mixing in some Sriracha sauce.
Garnish options- Green onions are truly the best, most authentic choice but you can also add a nutty crunch by tossing some roasted sesame seeds or chopped cashews and peanuts.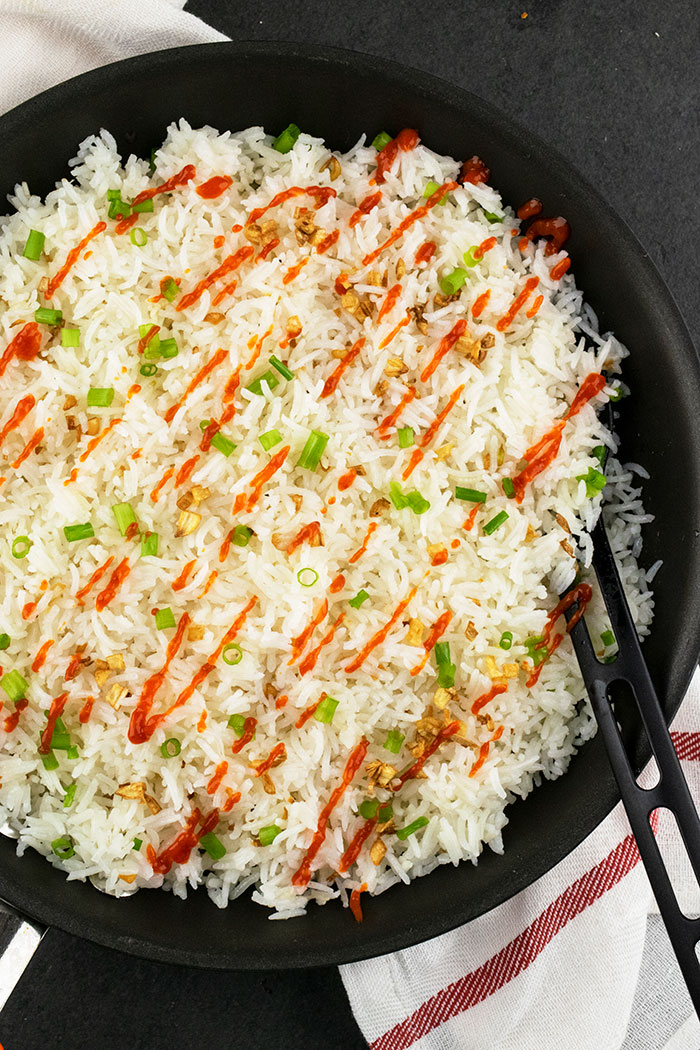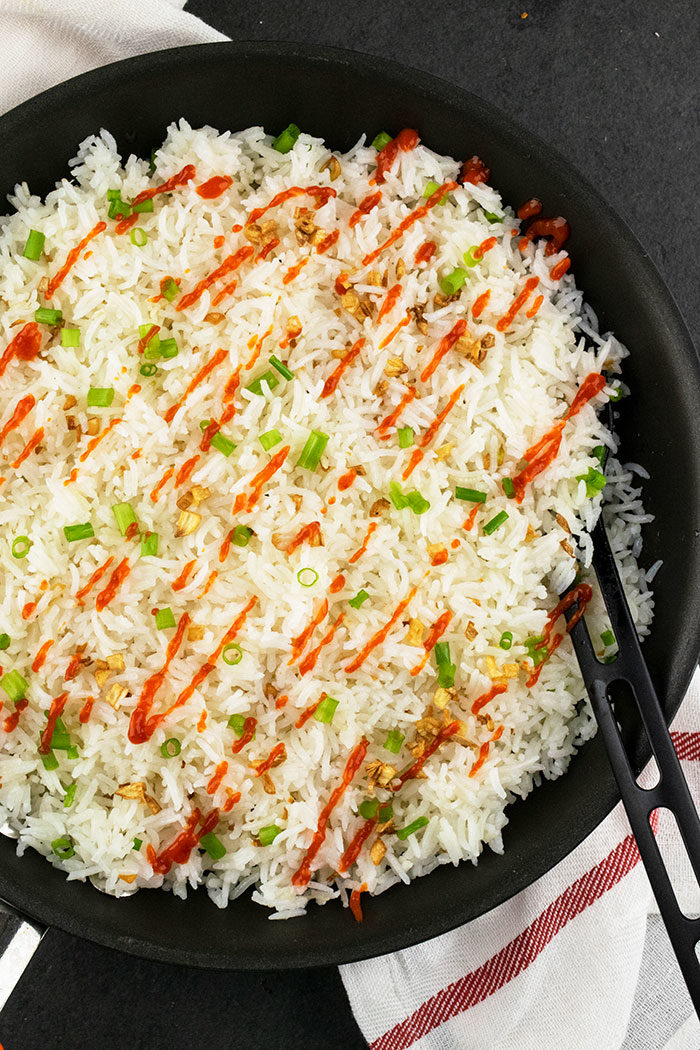 Tips and Techniques
Use nonstick pot or pan– Because that prevents burning and sticking.
Adjust amount of garlic- This is based on your personal preference. I love garlic and use a lot of it in my cooking but you can use less, if you want a milder taste and aroma.
You must use fresh garlic– Don't even think about using garlic powder because it does not add the same level of flavor or aroma.
Don't burn the garlic! According to Abigail (the creator of this recipe), the key is to cook the garlic until crisp and golden on the lowest heat. It is a slow process but absolutely worth it because this technique imparts more flavor to the butter/oil and the overall dish too.
Use unsalted butter and low sodium soy sauce– Because that prevents this meal from becoming too salty.
Use old leftover rice– Because they hold their shape and stay separate and don't clump together, when stir-fried. Day-old steamed, chilled rice is best. If you use freshly steamed, warm rice, your rice will be sticky and mushy and have a very very wet texture.
What rice to use for fried rice? Medium or long grain rice is best such as jasmine or basmati. You can also use brown rice.
Can you freeze fried rice? No, it doesn't taste that good when it thaws.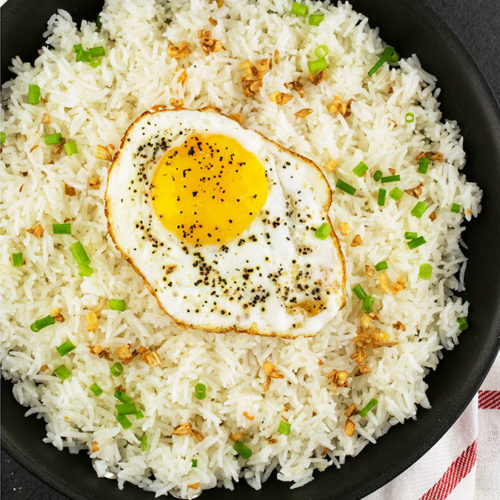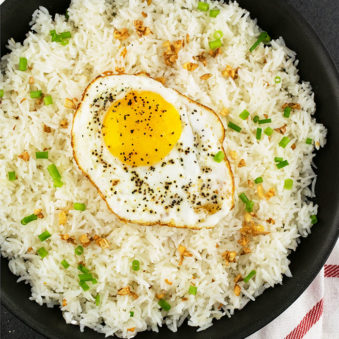 One Pot Garlic Rice (Garlic Fried Rice)
Quick and easy garlic rice recipe (garlic fried rice), homemade with simple ingredients in one pot over stovetop in 20 minutes. Enjoy as main dish or side.
Yield: People
Ingredients
Instructions
Heat butter and oil in a large nonstick pot or pan over low heat.

Add garlic and saute until golden and crisp.

Remove half the garlic and keep aside.

Add the cold day-old rice, salt, pepper, soy sauce (optional) and mix until the rice is fully heated and the rice grains have separated.

Turn off heat and sprinkle remaining garlic and garnish with lots of green onions. Enjoy!
Notes
Read all my tips above.
Leftovers can be stored in a sealed container in the fridge for up to 2 days. 
Nutrition
Calories: 716kcal, Carbohydrates: 150g, Protein: 14g, Fat: 4g, Saturated Fat: 2g, Cholesterol: 7mg, Sodium: 318mg, Potassium: 246mg, Fiber: 2g, Vitamin A: 120IU, Vitamin C: 2.5mg, Calcium: 63mg, Iron: 1.7mg
Happy cooking everyone!