Split Pea Soup (One Pot)
Easy split pea soup recipe, homemade with simple ingredients in one pot over stovetop. Loaded with tender split peas, broth, shredded ham and vegetables. Also known as "pea and ham soup" or "green pea soup."
It's that time of year when soup becomes a warm, comforting staple on the family dinner table. Today's recipe is simple, flavorful, and full of Fall colors. Add it, along with this Carrot Ginger Soup (One Pot) and Sweet Potato Soup (One Pot) to your meal plans this season.
How To Make Split Pea Soup?
Saute ingredients- This includes onions, celery, garlic, turmeric.
Add remaining ingredients- This includes broth, water, dried split peas, bay leaves, thyme salt, pepper.
Mix- Until combined.
Add ham- Place it in the center.
Bring soup to a boil– Then, cover and cook.
Remove ham from soup– Shred it.
Add carrots– And mix.
Cover and cook– Until vegetables and peas are tender.
Add shredded ham- Mix until combined.
Enjoy- Garnish with fresh parsley and paprika. Dig in!
What sides to serve with Split Pea And Ham Soup (Split Pea Soup With Ham Bone)?
Like most soups, anything you can dip into like bread is a great choice. Try crusty ciabatta bread, breadsticks, garlic bread, or homemade biscuits, dinner rolls.
You can also serve with a simple green salad like these:
Sandwiches also pair very well. Try any of these:
Storage
Refrigerate- Sore leftovers in a sealed container for up to 3 days.
Freeze- In a sealed container for up to 1 month.
Reheat– In the microwave or on the stovetop.
Variations
Vegan/Vegetarian split pea soup– Leave out the ham, use vegan butter or none at all, and substitute vegetable broth for the chicken broth.
Add bacon– The salty crumbles will add flavor and texture. Add them as a topping at the end.
Add other meats– Such as diced chicken, shredded beef, ground beef, sausage, or even leftover Thanksgiving Turkey (One Pan)
Add potatoes– This can be regular potatoes or sweet potatoes. Make sure they are diced small so they cook quickly.
Make it creamy– Add heavy cream, half and half, or full-fat coconut milk. However, keep in mind that coconut milk has a strong flavor.
Garnish options– Try a dollop of sour cream, croutons, shredded cheese, or roasted nuts or seeds, dash of paprika or black pepper and of course fresh herbs.
Give it a spicy kick- Add a pinch of cayenne or crushed red chili flakes.
Add lentils – Use any lentils of your choice. Add them when you add the broth, and this will make the soup even heartier.
Try other spices– Curry spice would be delicious! Even a dash of nutmeg would give additional flavor.
Make it hearty– Mix in pasta, or couscous or quinoa or rice. It should be pre-cooked. Keep in mind that the soup will get thicker as the grains absorb all the broth. However, additional broth can be added to thin it out again.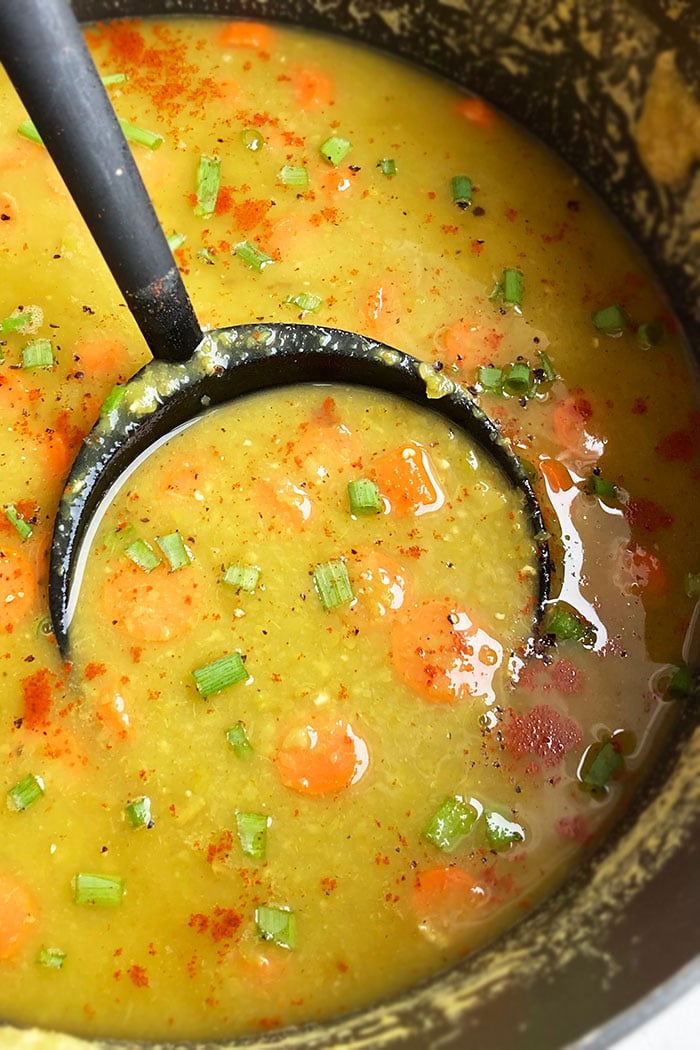 Tips And Techniques
How to thicken soup? Simmer the soup until some of the liquid evaporates and the mixture is reduced. You can also cook and blend in potatoes to add thickness. Adding heavy cream will also help thicken the soup.
How to thin soup? Simply stir in more broth.
Turmeric is optional? It is optional, but I highly recommend it. I love the subtle flavor and tinge of yellow color it adds to the soup. Otherwise, the color of the soup can be less than appealing.
Watch the amount of salt being added– Ham adds quite a bit of saltiness. It is better to add a little salt in the beginning and then, add more at the end after tasting it, if needed.
Serve it hot or cold? I prefer this soup hot. It becomes very thick when it is chilled and so it is not the best texture.
Ham bone vs. ham hock- I use a ham bone in this recipe because it has more meat, but the ham hock will still provide tons of flavor if that's all you have available.
Do you need to soak peas? No, you can add the dried peas directly into the soup. There is no need to soak because it's an unnecessary step.
Use non-stick pot– Because this prevents the soup from sticking and burning.
Adjust spices– Add more or less herbs and spices, according to your personal preference.
Use low sodium ingredients- Because that prevents the meal from becoming too salty. This is especially with regards to butter and broth.
More One Pot Soup Recipes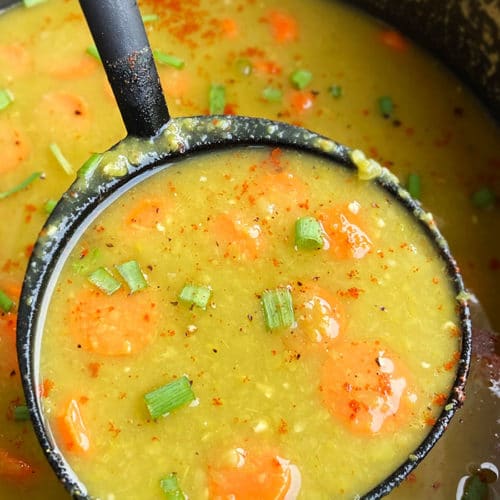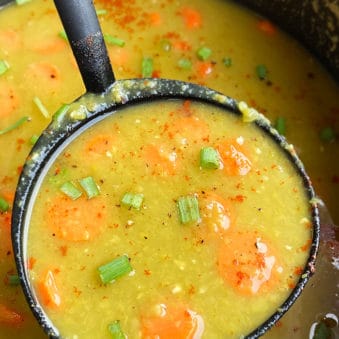 One Pot Split Pea Soup
Easy split pea soup recipe, homemade with simple ingredients in one pot over stovetop. Loaded with tender split peas, shredded ham and vegetables.
Yield: People
Ingredients
2 tbsp Olive oil
1 tbsp Butter, Unsalted
1 1/4 cup Onions, Finely chopped
1 1/4 cup Celery , Diced
2-3 cloves Garlic, Finely minced
1-2 tsp Turmeric, Optional, Adjust according to your taste preference
4 cups Chicken broth, Low sodium
3-4 cups Water
1 bag Dried split peas, 16 oz. bag
2 sprigs Thyme, Fresh
Salt, To taste
Pepper, To taste
1.5 pound Ham bone, Meaty
1 1/4 cup Carrots, Washed, Peeled, Diced
Instructions
Heat oil and butter in a large nonstick pot over medium-high heat until butter is melted.

Add onions, celery, garlic, turmeric (optional) and saute for 4-5 minutes until garlic is fragrant.

Add broth, water, dried split peas, bay leaves, thyme salt, pepper and mix everything together.

Place the ham in the center.

Bring soup to a boil and then, reduce heat to Low.

Cover and cook for 60-70 minutes until ham meat is tender. Be sure to stir often during this time.

When ham is tender, remove it from the soup and shred it with 2 forks. Keep it aside, covered.

Mix in carrots in the soup now.

Cover and cook for about 20 minutes, mixing often.

Remove lid and cook on Medium heat for 10-15 until liquid is reduced to your desired consistency.

Turn off heat and mix in shredded ham.

Garnish with finely chopped fresh parsley or green onions and a light sprinkle of paprika. Enjoy!
Notes
Read all my tips above.
Leftovers can be stored in a sealed container in the fridge for up to 3 days and reheated in the microwave or stovetop with a splash of water or broth. 
The soup will thicken a bit as it rests and cools. It can easily be thinned out with the addition of more water or broth. 
Nutrition
Calories: 60kcal, Carbohydrates: 8g, Protein: 2g, Fat: 3g, Saturated Fat: 1g, Cholesterol: 5mg, Sodium: 675mg, Potassium: 322mg, Fiber: 2g, Sugar: 3g, Vitamin A: 4635IU, Vitamin C: 17mg, Calcium: 40mg, Iron: 1mg