Whole Roasted Cauliflower (One Pan)
Quick and easy whole roasted cauliflower recipe, made with simple ingredients in one pan in oven. Healthy and loaded with garlic butter and lemon zest.
It's crisp on the outside but tender on the inside. Perfect for vegetarians too. You can serve it as a main dish on its own or a side dish with baked/ grilled chicken or steak or fish.
Cauliflower can be made in so many ways. My family enjoys it in this Oven Roasted Cauliflower Bites (One Pan) and even this Cauliflower Fried Rice (One Pot).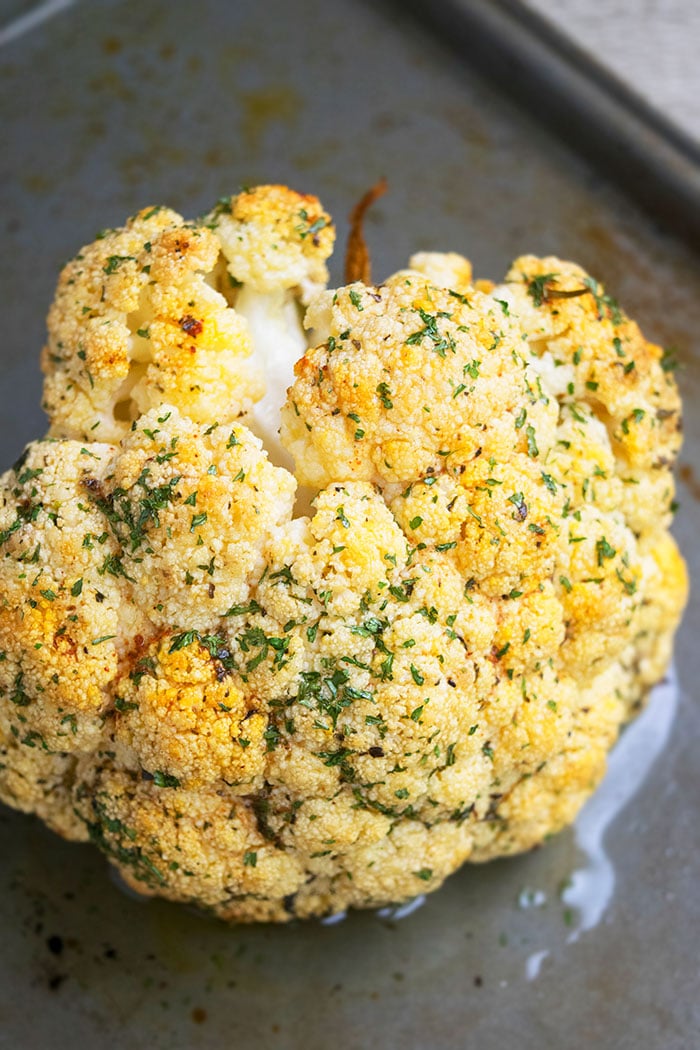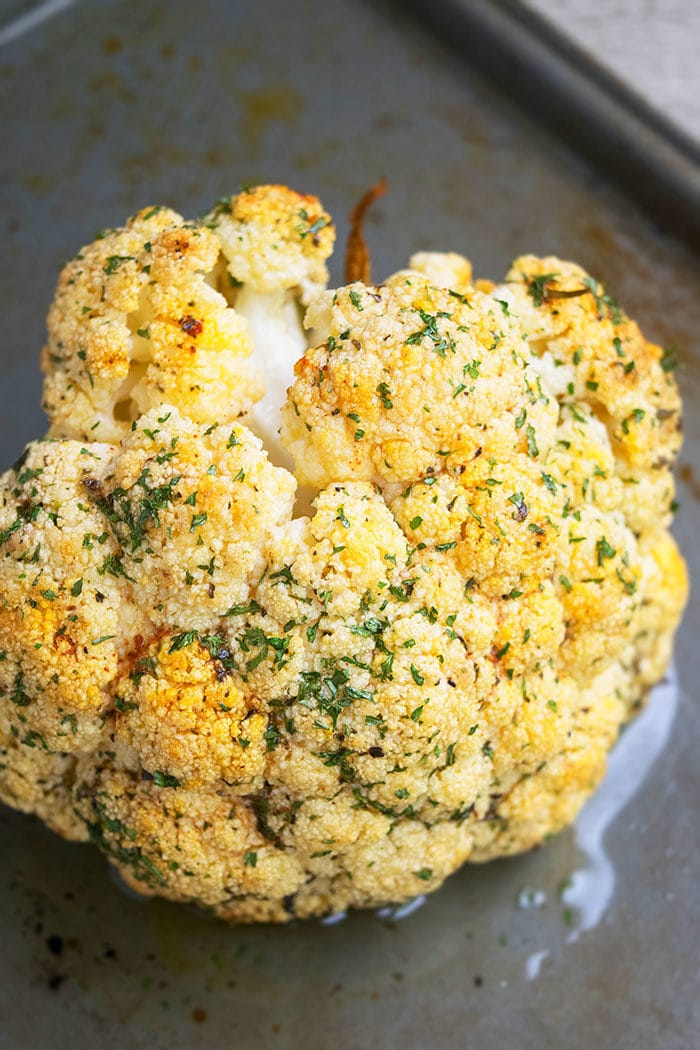 How to roast a whole cauliflower (roasted cauliflower whole head)?
Spread butter over the entire cauliflower.
Sprinkle herbs and seasonings and rub it until fully coated.
Bake with foil.
Bake without foil.
Sprinkle parmesan cheese and you are done.
What to make with leftovers?
-Use it in cauliflower soup or curry– The roasting, butter, garlic and lemon makes it extra delicious.
-Use in a salad– Dice them into small pieces and toss them in your favorite salad.
-Make mashed cauliflower– Instead of boiled cauliflower, use these because they are not bland and have much more flavor.
How to make cauliflower steaks?
Instead of roasting a whole head, you can cut it into 1 inch thick large steak-like slices. This is quicker to make and also easier to serve. Brush the steaks with butter, herbs and seasonings. Bake at 400 degrees in the oven for about 20-30 minutes until golden brown.H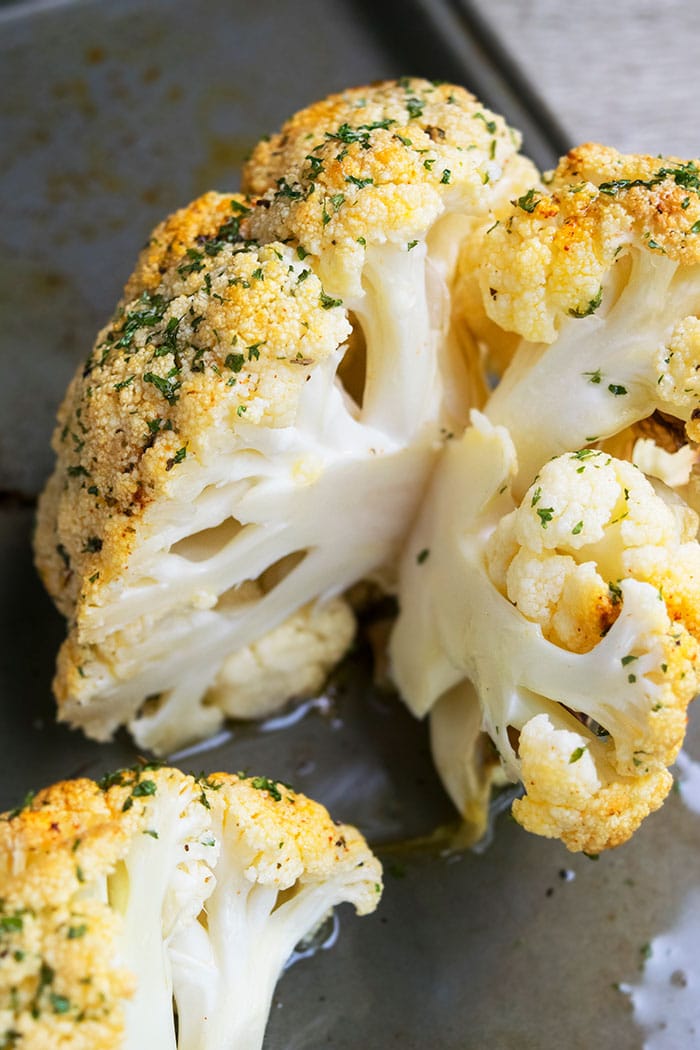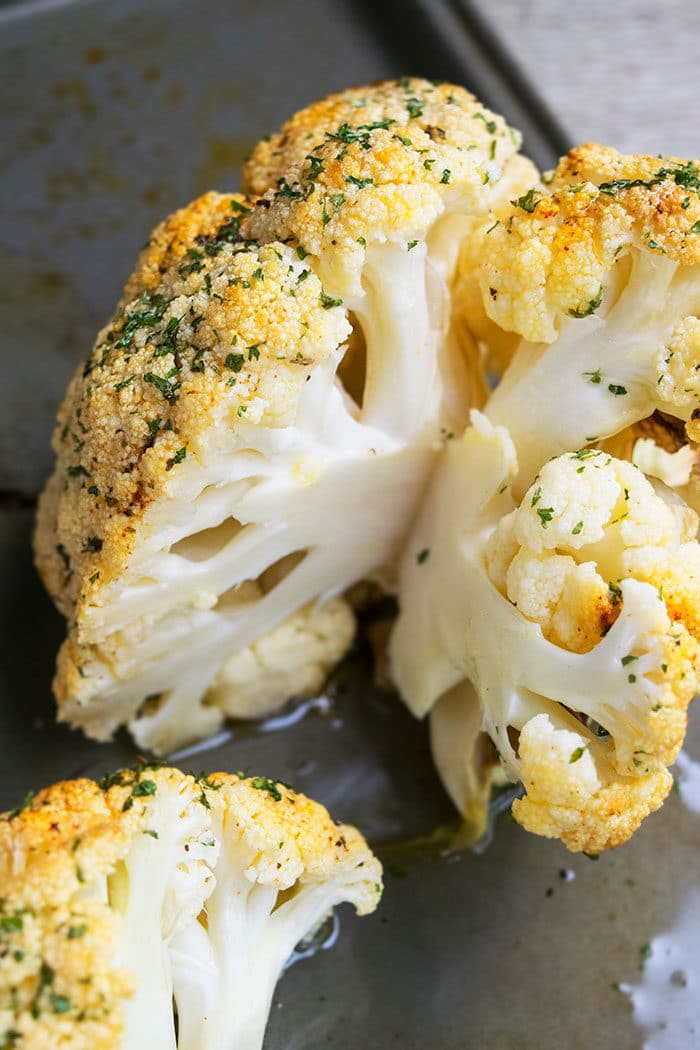 Tips and techniques for oven roasted whole cauliflower recipe
-Use unsalted butter– Because this prevents this side from becoming too salty.
-Adjust amount of seasonings– This can be done, based on your preference.
-Make it spicy– Sprinkle some some red chili flakes, prior to baking.
–Don't use oil– I have tried both, butter and olive oil, but found that butter yields the best results. Overall, it's richer in flavor.
-Sprinkle parmesan cheese at the end– Don't sprinkle it in the beginning with the other ingredients because it will over-brown and/or burn during baking. Sprinkle it on top as soon as you take the tray out of the oven and allow the heat to melt it.
-Get creative with herbs and seasonings– Try Indian curry powder or garam masala or Mexican taco seasoning or Jamaican jerk seasoning or Middle Eastern spices and tahini for a nice change.
-How to know when cauliflower is done? It's done when a knife can easily slide in the center without any resistance.
-Baking with foil and without foil– You need to bake with the foil in the beginning to allow the cauliflower to cook through but not burn. Then, you need to bake without it, allowing it to become crisp on the outside and develop nice golden brown color.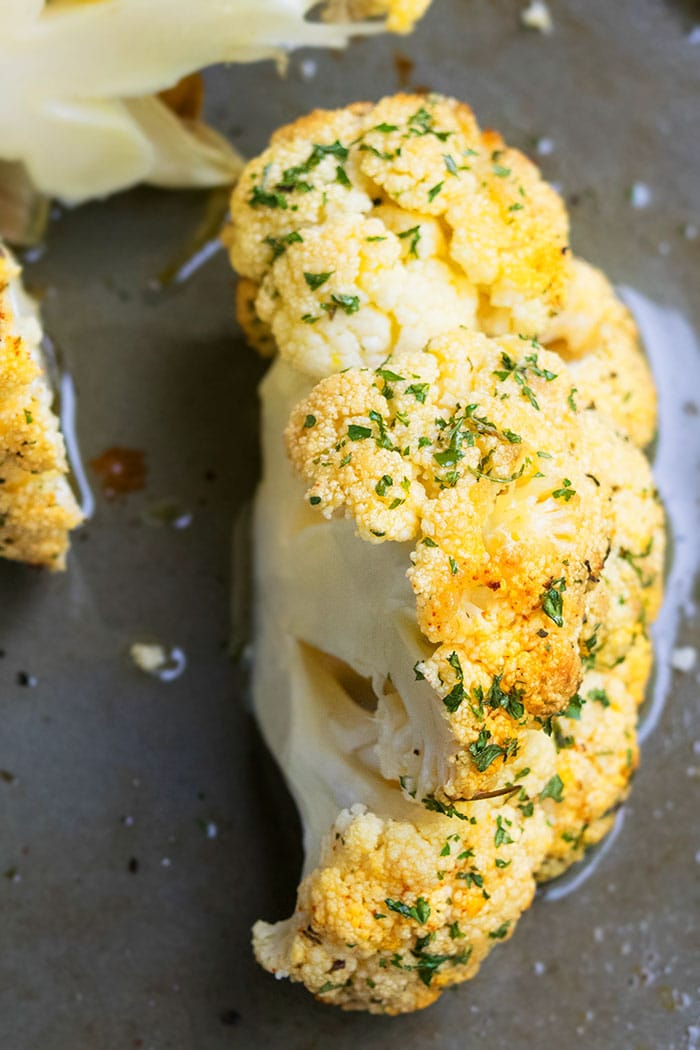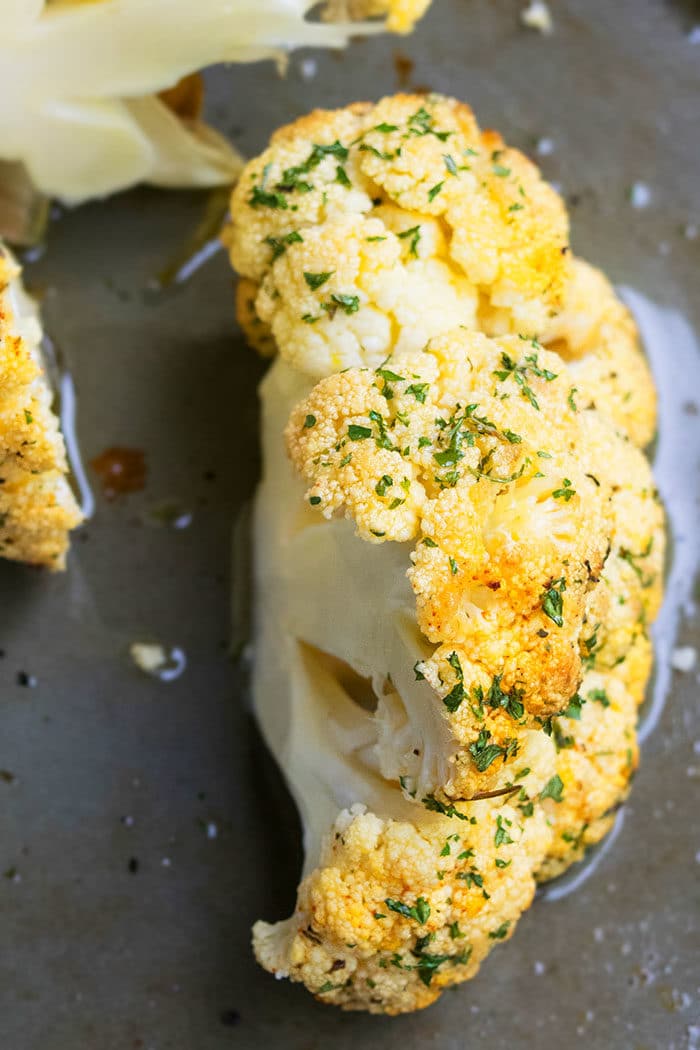 Other One Pan Roasted Vegetables Recipes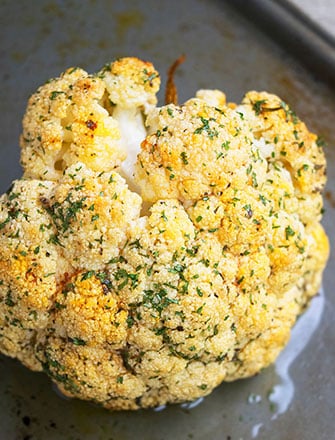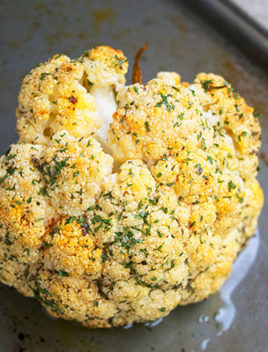 One Pan Whole Roasted Cauliflower
Quick and easy whole roasted cauliflower recipe, made with simple ingredients in one pan in oven. Healthy and loaded with garlic butter and lemon zest.
Yield: People
Ingredients
1 head Cauliflower, The biggest one you can find, Leaves trimmed
1/4 cup Butter, Unsalted, Softened
1 tbsp Garlic, Finely minced
1 tsp Lemon zest
Salt, To taste
Pepper, To taste
1/4 tsp Paprika
1 tsp Parsley, Dried or fresh
1-2 tbsp Parmesan cheese, For Garnish, Shredded
Instructions
Using your fingers, rub butter all over until fully coated.

Season with garlic, lemon zest, salt, pepper, paprika, parsley and rub it on top and bottom until fully coated.

Cover tray with aluminum foil.

Bake at 375 degrees for 30 minutes.

Then, remove foil and bake for another 15 minutes.

Then, broil for 5-8 minutes to get that perfect golden brown top.

Remove from oven and garnish with more parsley and parmesan cheese. Enjoy!
Notes
Read all my tips above.
Tastes best when served fresh out of the oven but leftovers can be stored in a sealed container in the fridge for up to 2 days. 
Nutrition
Calories: 182kcal, Carbohydrates: 15g, Protein: 6g, Fat: 12g, Saturated Fat: 7g, Cholesterol: 31mg, Sodium: 208mg, Potassium: 859mg, Fiber: 5g, Sugar: 5g, Vitamin A: 425IU, Vitamin C: 139.8mg, Calcium: 85mg, Iron: 1.2mg
Happy cooking everyone!