Crockpot Orange Chicken
Quick and easy crockpot orange chicken recipe from scratch, homemade with simple ingredients. Tender chicken breasts are coated in a sweet, spicy, tangy Chinese orange sauce.
Since you guys loved my Crockpot Pineapple Chicken, I am sharing another easy weeknight meal that has a fruity flavor too. It's better than any takeout you will ever have!
Healthier than Panda Express orange chicken recipe!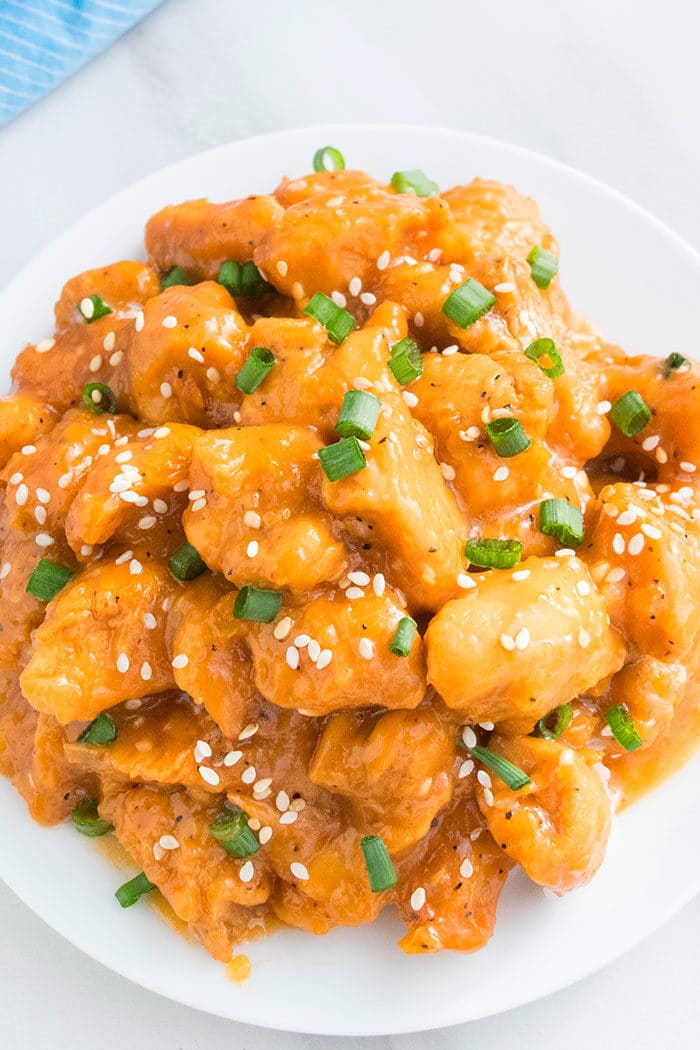 How to make orange chicken?
Add chicken, oil, marmalade, juice, soy sauce, vinegar, ginger, garlic, salt, pepper in crockpot.
Mix.
Cover and cook on high for 2 hours.
Then, remove chicken pieces and keep aside.
Whisk cornstarch into the sauce.
Cover and cook for 30 minutes
Add chicken back into the slow cooker.
Mix.
Garnish and enjoy!
Stovetop method– This would be a homemade chicken stir fry. Start off by heating oil. Add chicken and saute on medium-high heat until partially cooked. Mix in marmalade, juice, soy sauce, vinegar, ginger, garlic, salt, pepper. Add dissolved cornstarch slurry. Cook until liquid is reduced and sauce thickens to your desired consistency. Garnish and enjoy.
What sides to serve with Chinese orange marmalade chicken?
Rice- You can just serve boiled/steamed jasmine rice or basmati rice or try this Pineapple Rice (One Pot) or Vegetable Fried Rice (One Pot) or Bacon Fried Rice (One Pot) or even Cauliflower Fried Rice (One Pot) for a healthier alternative.
Quinoa- This is another healthy alternative to rice and also a low carb option.
Roasted vegetables are always a classic side dish. Here are some of my family's favorites: Oven Roasted Carrots (One Pan), Oven Roasted Cauliflower (One Pan), Oven Roasted Green Beans (One Pan),Oven Roasted Broccoli (One Pan), Oven Roasted Asparagus (One Pan).
Salad– Keep it simple. A green salad is an awesome choice or you can try this Asian Cucumber Salad (One Bowl).
Noodles- Or zoodles (zucchini noodles) taste great too.
What is the difference between General Tso's chicken and orange chicken?
The main difference is that General Tso's chicken is spicer and has whole dried red chilies, which is not the case with the other version.
How to make easy orange chicken sauce?

This Chinese sauce is made with by combining together sesame oil, marmalade, orange juice, soy sauce, vinegar, ginger, garlic, salt, pepper, red chili flakes and cornstarch.
I make it in the slow cooker but you can also make it in a non-stick pot on the stovetop in about 10 minutes. It's thick and has a sweet and sour flavor with a bit of a spicy kick.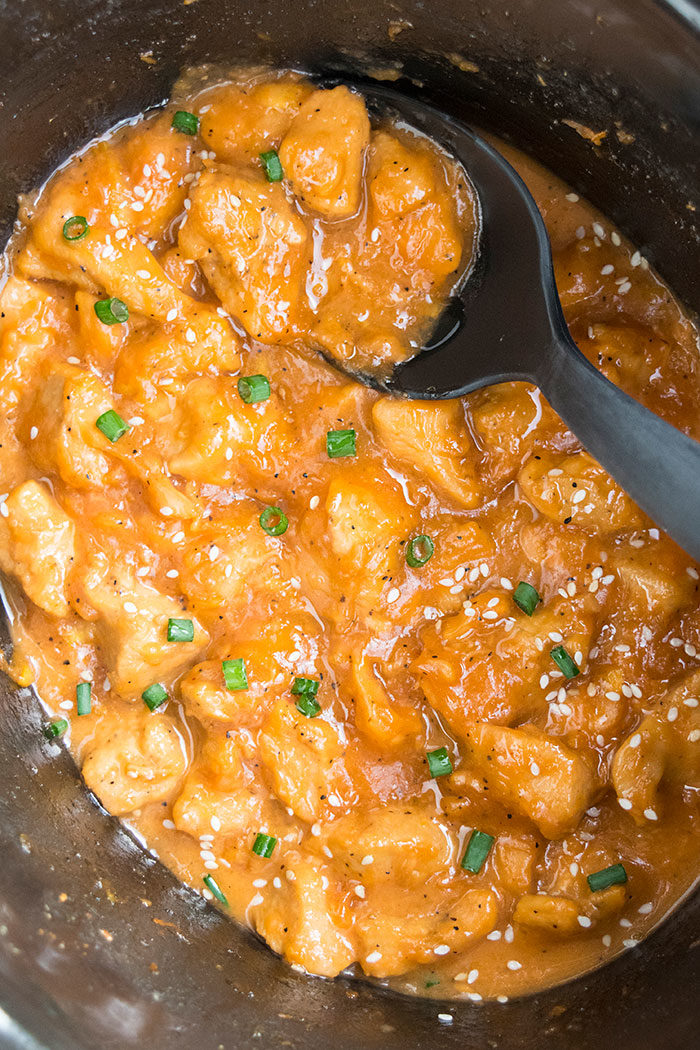 Variations
Shred it- Use whole chicken breasts and shred them at the end. Use them in burritos, wraps, sandwiches, pizza toppings, salads e.t.c.
Baked orange chicken– Mix together all the ingredients (except cornstarch) in a large bowl. Marinate for at least 1 hour. Bake at 350 degrees for about 25-30 minutes or until chicken is cooked through.
Orange glazed chicken– Bake marinated chicken. Add cornstarch into the reserved marinade and cook on stovetop until it becomes thick and can be brushed onto the baked chicken.
Tips and Techniqes
Don't use canned mandarin orange juice– Because there is an awful after-taste.
Don't use frozen chicken- That's because it releases more water and your sauce will become too thin.
What cut of chicken to use? You can use whole chicken breasts or cut them into 1 inch cubes. You can also use thighs or drumsticks. I don't recommend using wings because they start falling apart, when cooked for so long.
Orange juice– Use homemade freshly squeeze juice or store-bought juice from bottles.
Adjust the spice level- This is a personal preference. Add more or less red chili flakes.

Garnish options- Finely chopped green onions or cilantro or roasted sesame seeds.
Don't skip the cornstarch- Because that is required to thicken the sauce. Do not replace it with flour since that changes the flavor.
Use low sodium soy sauce– Because it prevents this meal from becoming too salty.
Don't use sugar-free marmalade– Because it adds an odd and bitter after-taste.
Add orange zest– It enhances the orange flavor and about 1-2 tsp should be enough.
Turn this dish into a freezer meal– Great for meal prepping! Just add all the ingredients (excluding the garnish and cornstarch) in a sealed freezer bag. When you are ready to make this meal, dump everything in a slow cooker and follow the instructions, as written below.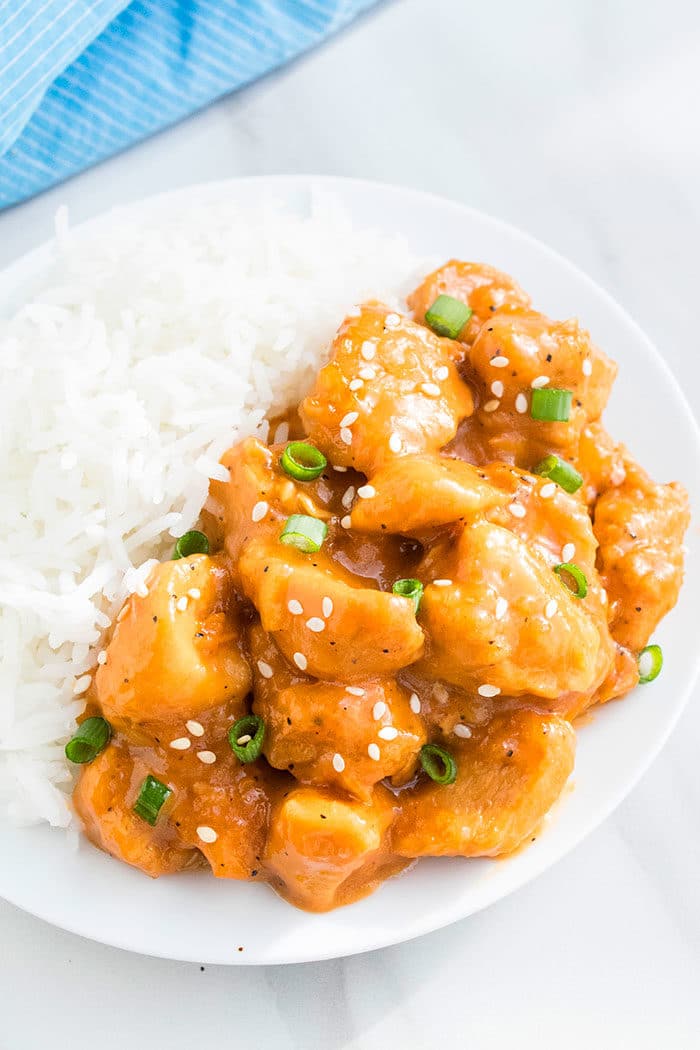 More one pot Chinese chicken recipes
More slow cooker meals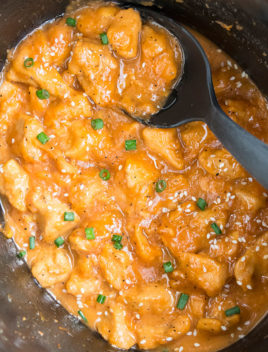 Crockpot Orange Chicken Recipe
Servings: 4 People
Course: Main Course
Cuisine: Chinese
Keyword: chicken breast, chinese recipes, Crockpot Recipes, slow cooker meals
Calories: 458 kcal
Ingredients
2 pounds Chicken breast Cut into small cubes
1 tsp Olive oil Or vegetable oil, canola oil, corn oil
1 tsp Sesame oil
3/4 cup Orange marmalade
1/3 cup Orange juice
1/4 cup Soy sauce Low sodium
1 tsp Vinegar
2 cloves Garlic Finely minced
1/2 tsp Ginger powder
1/4 tsp Red chili flakes Optional
Salt To taste
Pepper To taste
2 tbsp Cornstarch
1 tsp Sesame seeds Roasted, For garnish
1-2 tbsp Green onions Finely chopped, For garnish
Instructions
In a slow cooker, add the chicken pieces, olive oil, sesame oil, orange marmalade, orange juice, soy sauce, vinegar, garlic, ginger, red chili flakes (optional), salt and pepper. Mix everything together.

Cover and cook on High for 2 hours.

Remove the chicken and keep aside, leaving behind the sauce.

Whisk the cornstarch into the sauce until fully dissolved.

Cover and cook on High for 30 minutes.

Add the chicken back into the slow cooker and mix.

Garnish with sesame seeds and green onions. Enjoy!
Recipe Notes
Read all my tips above.
Leftovers can be stored in a sealed container in the fridge for up to 2 days. 
Nutrition Facts
Crockpot Orange Chicken Recipe
Amount Per Serving
Calories 458 Calories from Fat 63
% Daily Value*
Total Fat 7g 11%
Saturated Fat 1g 5%
Cholesterol 145mg 48%
Sodium 1129mg 47%
Potassium 933mg 27%
Total Carbohydrates 47g 16%
Sugars 38g
Protein 50g 100%
Vitamin A 4%
Vitamin C 20.2%
Calcium 4.5%
Iron 7.5%
* Percent Daily Values are based on a 2000 calorie diet.
Happy cooking everyone!