Garlic Mashed Cauliflower (One Pot)
Quick and easy mashed cauliflower recipe, homemade with simple ingredients in one pot over stovetop in 30 minutes. Loaded with sour cream, garlic, heavy cream and butter. Also known as "cauliflower mash."
I never thought cauliflower could take the place of potatoes and still make me happy, but turns out, it sure can! These are creamy, flavorful, healthier, and so satisfying. Give them a try and you'll be convinced too. For more mashed options, try my Creamy Mashed Potatoes Recipe (One Pot) or these Mashed Sweet Potatoes (One Pot).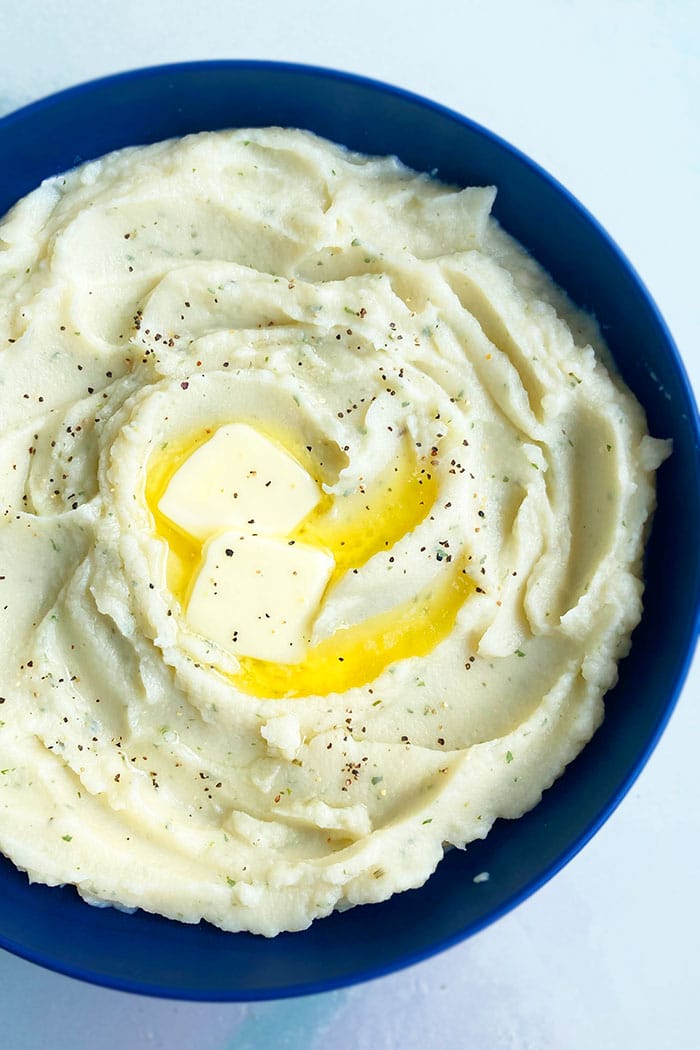 How to make mashed cauliflower?
Cook cauliflower– In some salted water until softened.
Drain- Use a colander.
Add seasonings and cook again- Add salt, pepper, garlic, parmesan cheese, sour cream, heavy cream, and half the butter.
Mix and cook– Until liquid evaporates.
Enjoy! Garnish with butter, pepper and freshly chopped herbs.
What to serve with garlic mashed cauliflower recipe?
Serve these as a side just like you would serve mashed potatoes. We eat them with most proteins such as Slow Cooker Ham, Roast Turkey Breast (One Pan), Oven Roasted Sausage and Vegetables (One Pan), or Garlic Butter Steak Bites (One Pot). You can also serve shrimp, fish, or your favorite seafood with them.
These chicken recipes will also pair perfectly: Lemon Garlic Chicken (One Pot), Bruschetta Chicken (One Pot), or Oven Roasted Chicken and Vegetables (One Pan).
You can even be brave and serve them with this Easy Sausage Gravy (One Pot) for a breakfast or brunch option.
Storage
Refrigerate– In a sealed container for up to 2 days.
Freeze- In a sealed freezer safe container for up to 2 months. If you are worried about texture deteriorating because of the sour cream, you can leave it out and add it when you are reheating.
Reheat– On the stovetop or in the microwave, stirring often, to reincorporate all ingredients.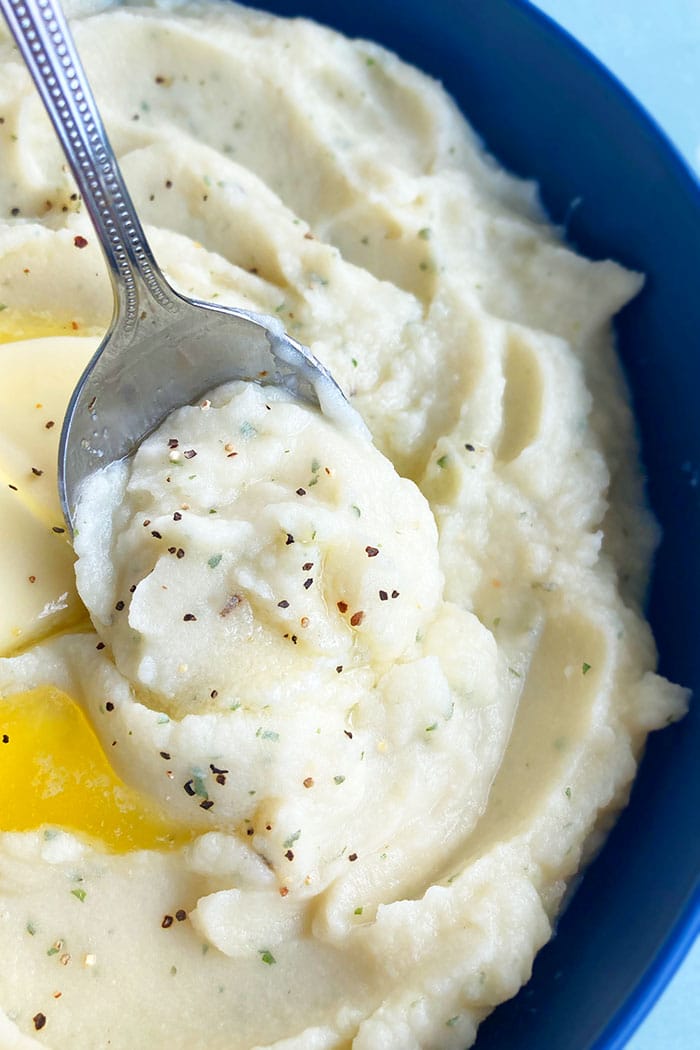 Variations
Cauliflower puree vs. mashed cauliflower- A puree is made with just cauliflower and perhaps a little salt. There are no additional flavors and seasonings. The puree is also thinner than the mashed version.
Cauliflower potatoes– Use half potatoes and half cauliflower to create a thicker and starchier version, or maybe to trick your kid into eating more vegetables.
Garnish options– Try crumbled bacon, butter, caramelized onions, shredded cheese, fresh herbs like chives, thyme, rosemary, fennel, basil e.t.c
Make it Mexican– Add Monterrey jack cheese, jalapeno slices, and cilnatro.
Make it Greek– Add Greek seasoning, olives, feta cheese, and replace sour cream with Greek yogurt.
Add pesto– Top your mash with your favorite brand of pesto or add this homemade Basil Pesto Sauce (Blender).
Add other vegetables– Such as carrots, potatoes, leeks, artichokes, onions, or parsnips for slightly different flavor profile.
Make it spicy- Add crushed red chili flakes, cayenne pepper for a spicier version.
Make it vegan– Use vegan cheese, vegan butter and vegan milk instead of heavy cream.
Tips and Techniques
Use a non-stick pot- Because this prevents the cauliflower from sticking to the bottom and burning.
Use fresh garlic– This always provides a fresher and more intense flavor than garlic powder. I highly recommend the use of fresh garlic whenever possible.
Make sure to drain the cauliflower- Remove as much water as you can so that your mash is not runny and thin.
How to prepare cauliflower head? Rinse the head of cauliflower and pat it completely dry. Then, remove and discard the leaves and core, and chop it into small florets.
Make sure to cook off any excess water– This prevents the mash from becoming to thin and runny.
Adjust seasoning– Add more or less, according to your personal preference.
Sour cream substitute– You can use full fat Greek yogurt.
Heavy cream substitute– You can use whole milk, if necessary but whole milk has a higher fat content and thus, tastes better.
How to thicken mashed cauliflower? Cook uncovered for longer until excess liquid is evaporated and reduced.
How to thin mashed cauliflower? Add more heavy cream or water to thin it to your desired consistency.
More One Pot Side Dishes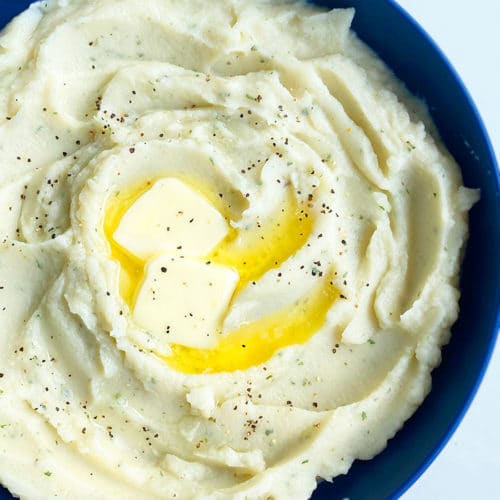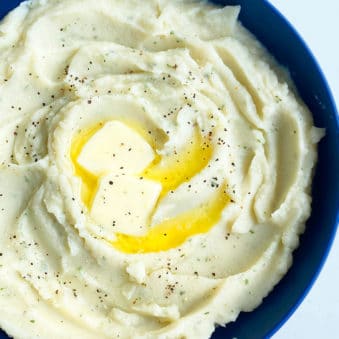 One Pot Mashed Cauliflower
Quick and easy mashed cauliflower recipe, homemade with simple ingredients in one pot over stovetop in 30 minutes. Loaded with sour cream, garlic, heavy cream and butter.
Yield: People
Ingredients
1 head Cauliflower, Large head, Washed, Patted dry, Leaves and core discarded, Cut into small florets
Salt , To taste
Pepper, To taste
1 tsp Italian seasoning
2 cloves Garlic, Finely minced
1/4 cup Parmesan cheese
1/3 cup Sour cream
2-3 tbsp Heavy cream, Adjust as needed
4 tbsp Butter, Unsalted , Sliced, Divided
Instructions
Add cauliflower florets in a large nonstick pot.

Add salt and cover with water.

Cover and cook on medium-hight heat until cauliflower is soft.

Drain cauliflower over a colander.

Add the cauliflower back in the same pot and place it over medium-low heat.

Add additional salt (if necessary), pepper, Italian seasoning, garlic, parmesan cheese, sour cream, heavy cream. and half the butter

Mix and cook until excess moisture and liquid evaporates.

Garnish with remaining butter, pepper and freshly chopped herbs.
Notes
Read all my tips above.
Leftovers can be stored in a sealed container in the fridge for up to 2 days. 
Nutrition
Calories: 152kcal, Carbohydrates: 6g, Protein: 4g, Fat: 13g, Saturated Fat: 8g, Cholesterol: 37mg, Sodium: 175mg, Potassium: 305mg, Fiber: 2g, Sugar: 2g, Vitamin A: 422IU, Vitamin C: 47mg, Calcium: 97mg, Iron: 1mg