Creamy Lemon Garlic Chicken (One Pot)
Quick and easy lemon garlic chicken recipe, homemade with simple ingredients in one pot over stovetop in 30 minutes. Tender chicken breast pieces are coated in an Italian creamy garlic butter sauce.
This dish is so comforting, delicious, and creamy making it a meal the whole family will love, just like this classic 40 Cloves Garlic Chicken (One Pot). The lemon and garlic flavors truly shine in today's recipe, making it irresistible!
This meal should not be confused with Lemon Pepper Chicken (One Pot), which uses lemon pepper seasoning, and is a completely different recipe.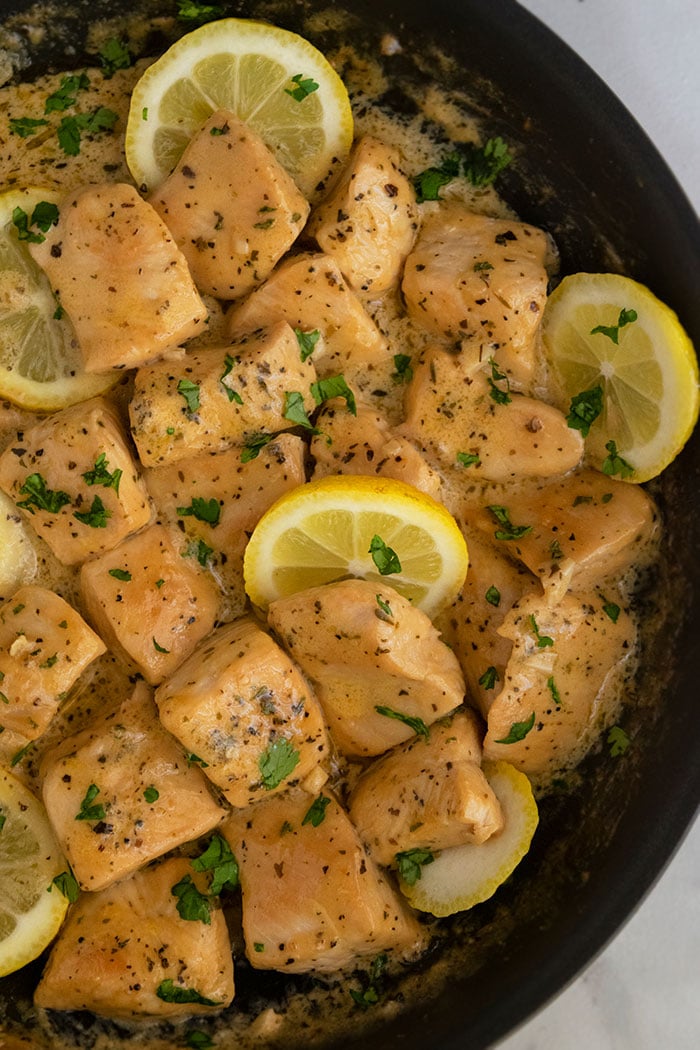 How to make lemon chicken?
Cook chicken– Heat oil and saute chicken with seasonings until golden brown and cooked through. Remove from pan and keep aside.
Deglaze pan– Add broth in same pan and mix.
Make sauce– Add lemon juice and garlic. Cook until reduced by half. Mix in butter and heavy cream.
Add chicken– Add the chicken back in the pan and mix.
Enjoy! Garnish with fresh parsley, lemon slices and dig in.
What sides to serve with creamy lemon garlic butter chicken?
Rice– This is my favorite side. Steamed rice is a delicious option or you can try this Pineapple Rice (One Pot) if you like the sweet and salty flavor combination or this Easy Rice Pilaf (One Pot).. Cauliflower rice would be a nice low carb option.
Salad– A simple salad such as this Italian Chopped Salad (One Bowl) or a more filling Italian Tortellini Salad (One Bowl) are both great options. Don't add any strong vinaigrettes or dressings because this chicken and butter sauce already has a lot of flavor.
Pasta– Any type of boiled pasta works well. Use whole wheat pasta as a healthier option. Spaghetti Squash (Instant Pot) or zoodles (zucchini noodles) would be a wonderful low carb option.
Bread– Such as dinner rolls, breadsticks, biscuits, crusty Ciabatta bread for dipping in the garlic butter sauce.
Vegetables- Roasted/ baked, grilled, steamed veggies are all fantastic options. Try these Oven Roasted Vegetables (One Pan), Oven Roasted Broccoli (One Pan) or Oven Roasted Potatoes (One Pan).
Lemon garlic chicken marinade
If you prefer your chicken marinated before baking or cooking, then mix together olive oil, melted butter, salt, pepper, Italian seasoning, lemon juice, lemon zest. Marinate chicken for at least 30 minutes and then follow the rest of the steps as below. The marinade is a great idea if you choose to bake the chicken in a sheet pan. This will help keep the chicken moist.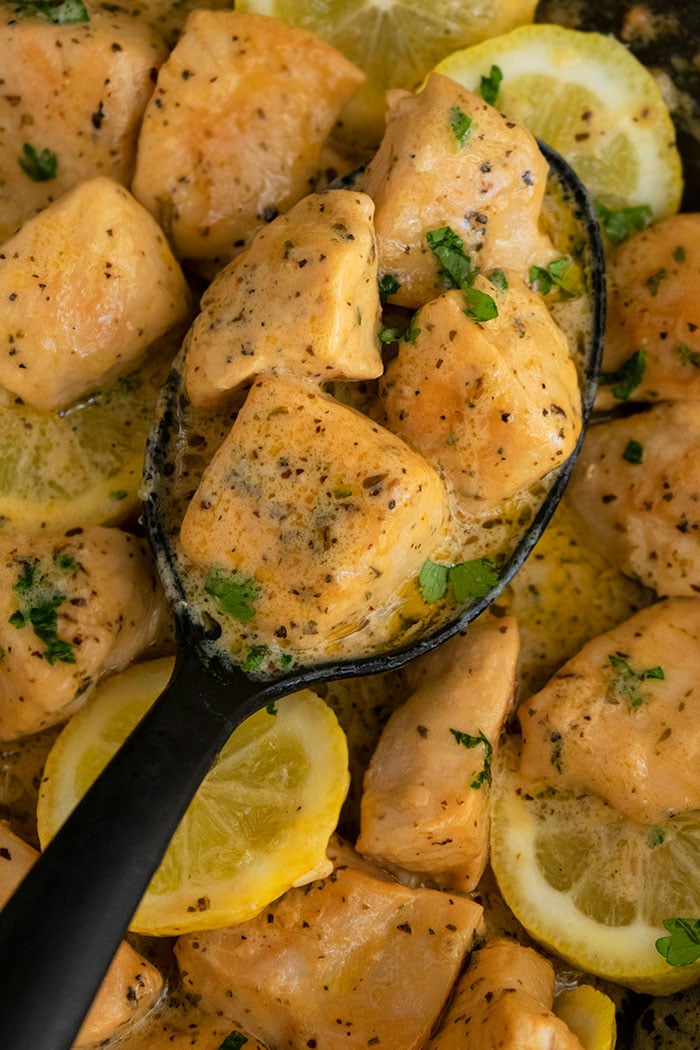 Variations
Baked lemon garlic chicken/ Lemon garlic roasted chicken– Marinate the meat in the marinade above, and bake on a lined sheet pan at 350 degrees F for 25-30 minutes or until no longer pink and cooked through.
Lemon garlic chicken thighs, breast, wings– Any of these can be used. I used chicken breast, but if you prefer a different cut, you can easily use that.
Lemon garlic chicken pasta– Make recipe according to the directions and toss on your favorite pasta!
Add honey– This version is sweeter, thanks to the honey. Add 1-2 tablespoon honey in the recipe below.
Add vegetables– Mix in frozen mixed vegetables or fresh green beans, broccoli, carrots, asparagus, or cauliflower or even peas and toss into the sauce and chicken.
Use other spices– Try Greek seasoning. Add paprika and nutmeg for a smokey warm twist. Add curry powder, or Cajun seasoning. The possibilities are endless. Get creative!
Add cheese– Cream cheese or parmesan cheese will add a stronger creamy element to this flavorful dish.
Use crispy breaded chicken– Coat chicken in flour first and then saute it in some oil till golden brown. I usually omit this step and don't feel it's necessary, but if you prefer breaded chicken it will definitely work.
Make it spicy- Add crushed red chili flakes for mild heat. Add cayenne pepper for a more intense spice.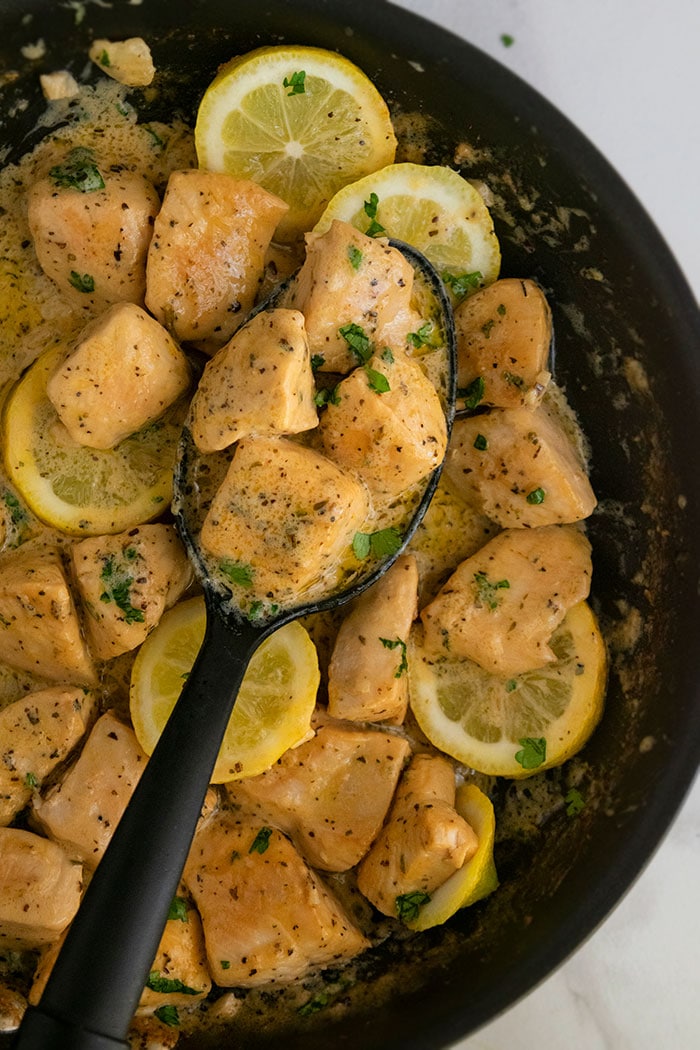 Tips and Techniques
Can you make this recipe in slow cooker? Yes. Add all the ingredients in a crockpot, except for heavy cream and garnishes. Cook on Low heat for 4-5 hours. Mix in the cream in the last 20-30 minutes of cooking. Garnish, prior to serving.
How to store leftovers? Store them in a sealed container in the fridge for up to 2 days.
What to do with leftovers? Use in sandwiches or soups. You can shred it and serve it in a pasta or salad, or stuff in a baked potatoes.
How to fix thick garlic butter sauce? Simply mix in a small amount of broth or water to thin it out.
How to fix thin garlic butter sauce? Just cook uncovered on medium-high heat until sauce is reduced to your desired consistency. Do not add cornstarch because it will add an odd chalky flavor.
What is deglazing and why it is important in this recipe? Deglazing a pan is a fancy way of saying "clean the bottom of your pan while adding flavor to your dish." This is accomplished by adding liquid to a hot pot or pan, where you cooked your chicken, to scrape all the browned bits up off the bottom of the pan. An acid like wine or varying types of vinegar are often used when deglazing a pan. However, in this case we are using broth to do the trick. This step adds a lot of flavor. Those brown bits pack more flavor than a bouillon cube!
Make it less salty– Use unsalted butter and low sodium chicken broth to reduce the saltiness.
Adjust quantities– Use more or less seasoning and lemon juice, based on your personal preference.
What is a good substitute for heavy cream? Full fat coconut milk is a superb option but it does add a coconut flavor to this meal. For the creamiest results, chill a can of full-fat coconut milk overnight. The cream will solidify in the can on top of the coconut water. Scoop just the cream off the top for the best results and use in place of the heavy cream. Half and half is another good option too.
More Garlic Recipes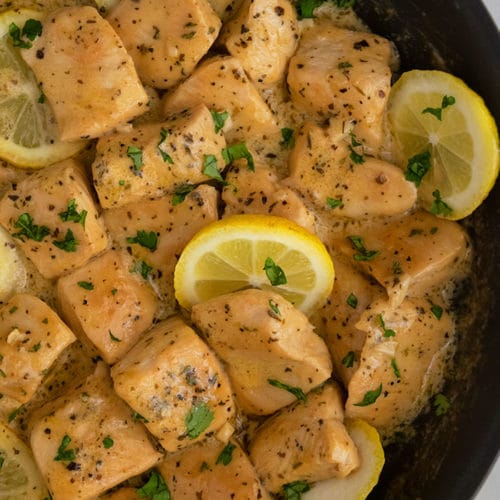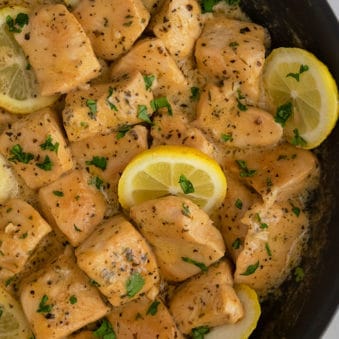 One Pot Creamy Lemon Chicken
Quick and easy lemon garlic chicken recipe with creamy butter sauce, homemade with simple ingredients in one pot over stovetop in 30 minutes.
Yield: People
Ingredients
2 tbsp Olive oil
1.5 pounds Chicken breast, Cut into small cubes
Salt , To taste
Pepper, To taste
2 tsp Italian seasoning
1 cup Chicken broth, Low sodium
1 tbsp Lemon juice, Freshly squeezed highly recommended
3 cloves Garlic, Minced
2 tbsp Butter
1/4 cup Heavy cream, Can use up to 1/3 cup heavy cream to make it super creamy
1 tbsp Parsley , Fresh, Finely chopped, For garnish
5-6 Lemon slices , For garnish
Instructions
Add oil in a large nonstick pan or pot over medium heat.

Add chicken and sprinkle salt, pepper and Italian seasoning.

Saute until golden brown and cooked through.

Remove chicken from pan onto a separate plate.

In the same pot, add broth and mix to deglaze.

Add lemon juice, garlic and let this mixture cook until broth is reduced by half.

Add butter and heavy cream and mix until smooth and creamy.

Reduce heat to low.

Add the cooked chicken back into the pot and mix.

Cook for another 1 minute.

Sprinkle fresh parsley and enjoy!
Notes
Read all my tips above.
Leftovers can be stored in a sealed container in the fridge for up to 2 days and reheated in the microwave.
Nutrition
Calories: 312kcal, Carbohydrates: 3g, Protein: 37g, Fat: 16g, Saturated Fat: 8g, Cholesterol: 145mg, Sodium: 532mg, Potassium: 708mg, Fiber: 1g, Sugar: 1g, Vitamin A: 558IU, Vitamin C: 10mg, Calcium: 40mg, Iron: 1mg
Happy cooking everyone!