Salsa Verde (Blender)
Quick and easy salsa verde recipe, homemade with simple ingredients in blender or one pot in 10 minutes. This Mexican tomatillo salsa is sweet, tangy and spicy.
This recipe has the perfect amount of sweet and spicy flavor. Best of all, it can be used in multiple ways throughout the week, similar to this Corn Salsa (One Bowl) or Mango Salsa (One Bowl).
Be sure to make it for your next taco night or super bowl party and it will disappear quickly.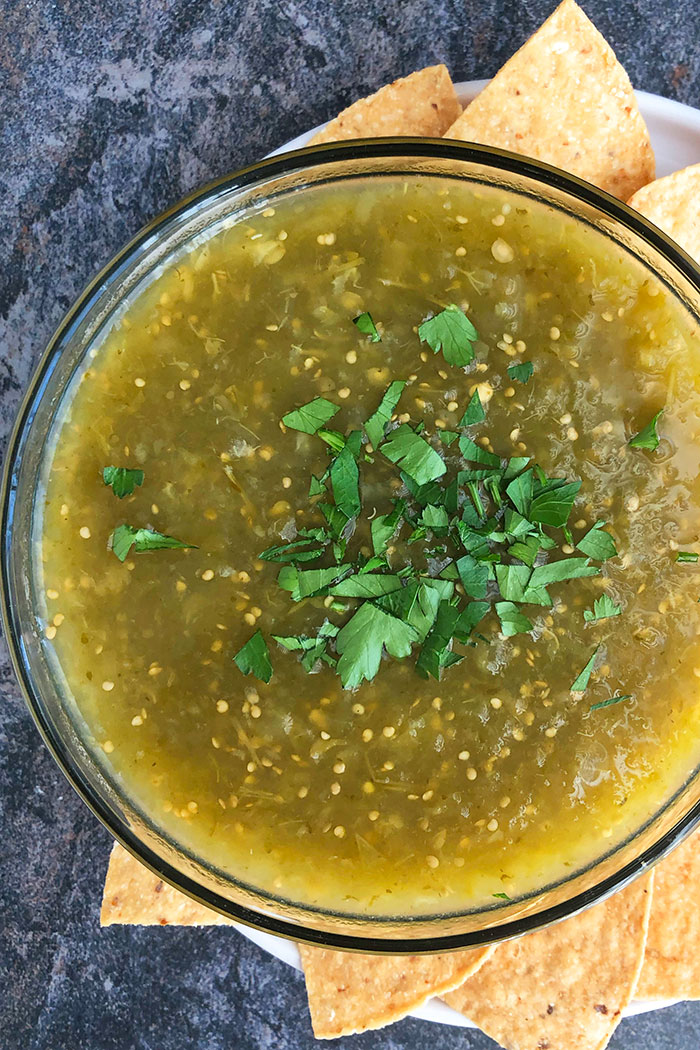 What is salsa verde? What to serve with it?
It is a bright, fresh, green Mexican salsa made from tomatillos, chiles, garlic, cilantro, lime juice, and onions. It is can be served raw or cooked and typically enjoyed as a dip/ appetizer with tortilla chips, pita chips, crackers, pretzels, nachos. .
How to make salsa verde?
Blend ingredients– Add tomatillos, onion, jalapeno, cilantro, garlic, lime juice, salt, sugar in a blender.
Pulse– Do this until everything is finely chopped and mixture is smooth but slightly chunky. Enjoy!
What is the difference between green salsa verde and salsa?
The difference is that the base of salsa verde is tomatillos making it uniquely green. Whereas, salsa is generally tomato based and therefore red in color.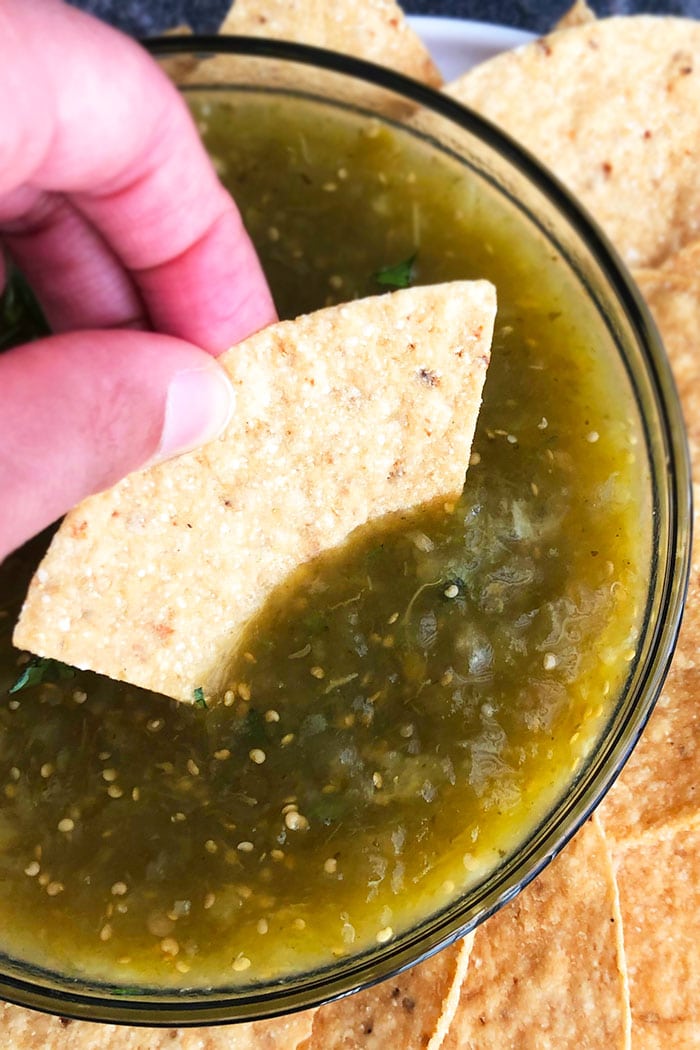 What do you use salsa for?
Appetizers/ Snacks– Serve it as a dipping sauce for tortilla chips, tacos, nachos, quesadillas.
Dinner/ Main course– You can serve it atop grilled or baked fish, pork, beef, steak, chicken, shrimp, or eggs. Use it as a topping in rice bowls, burrito bowls, tacos, tamales, burritos, enchiladas, tostadas, quesadillas, along with Cilantro Lime Rice (One Pot), Vegetable Fajitas (One Pan) and cooked meats such as Mexican Shredded Chicken (One Pot) or Steak Fajitas (One Pot) or Chicken Fajitas (One Pot).
If you liked my Salsa Chicken (One Pot) or Salsa Verde Chicken (One Pot), you can easily replace the salsas that were used in those recipes with today's recipe.
Marinade– Marinate steak, beef cubes chicken in this salsa overnight or a minimum of 1 hour and then bake or grill.
Dressing– It can also be used as a salad dressing, or added to ranch dip to make a creamy salad dressing.
Variations
Roasted salsa– Roast the tomatillos and garlic before blending to add additional flavor and depth.
Make it spicy– Add more jalapenos, add crushed red chili flakes, or Serrano peppers.
Add other herbs/spices– Such as fresh parsley, oregano, thyme e.t.c.
Make it less spicy– De-seeding/de-ribbing the jalapenos before adding them will reduce some of the spice factor.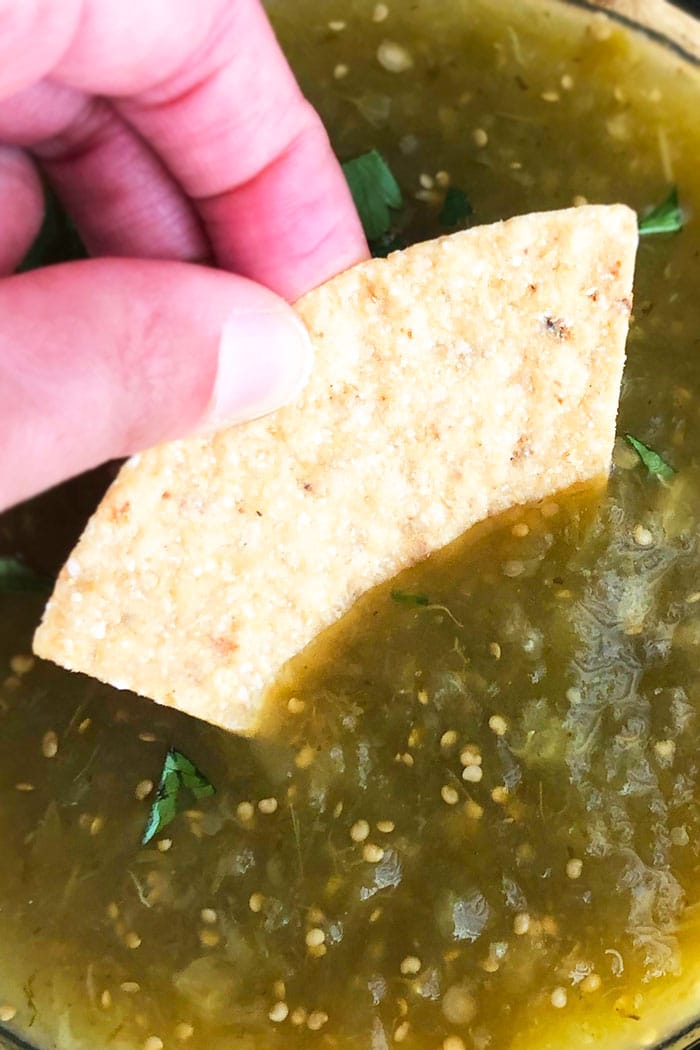 Tips and Techniques
Is green salsa hotter than red salsa? This depends on the quantity of of jalapenos that are used. Typically, red salsa is much spicier.
Can you can salsa? Yes, you can. Be sure to follow the proper canning method.
Are tomatillos the same as tomatoes? No, they are two different plants. Tomatillos have a husk around the exterior of the fruit, are less watery, more dense, a little more acidic and tart and slightly less sweet than tomatoes.
Fresh tomatillos vs. Canned tomatillos– Canned tomatillos are a good alternative if you can't find fresh tomatillos in the market. Be sure to drain them first.
Boiling tomatillos vs. Roasting them- Boiling is the more common method. However, roasting them in the oven or even browning on the stovetop will deliver more flavor.
How to roast tomatillos? Cut them in half and place them on a baking tray, lined with aluminum foil (skin side facing up). Broil them for about 5-7 minutes to lightly blacken the skins of the tomatillos and you are done.
How to boil tomatillos? Put them in a saucepan and cover with water. Bring to a boil and then, simmer for 5 minutes and you are done.
Adjust sweetness and and spiciness– By adjusting quantities of sugar and jalapenos to your preferred liking. Too acidic? Add a little more sugar to help balance the acidity.
Picking tomatillos– Choose firm ones, but not super hard ones. Make sure they are bright green. Avoid those that are shriveled or contain blemishes.
Don't over-blend– You want a little bit of chunkiness and texture. Don't make it too smooth!
More Salsa Recipes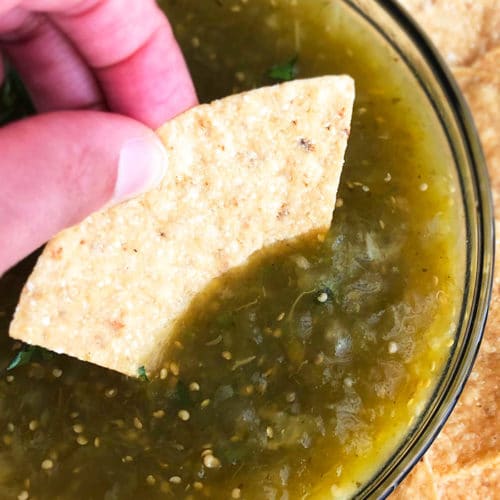 One Pot Salsa Verde
Quick, easy salsa verde recipe, homemade with simple ingredients in blender in 10 minutes. This Mexican green tomatillo salsa is sweet and spicy.
Yield: Cups
Ingredients
1.5 pound Tomatillos, Fresh or canned; Drain liquid if using canned tomatillos; Boil on stovetop for 5-10 minutes or broil tomatillos in oven for 5-10 minutes if using fresh tomatillos
1/3 cup Onion, Roughly chopped
1 Jalapeno, Roughly chopped
1/2 cup Cilantro
1 clove Garlic , Roughly chopped
1-2 tbsp Lime juice
1-2 tsp Granulated sugar, To help cut the tanginess
Salt , To taste
Instructions
Add tomatillos, onion, jalapeno, cilantro, garlic, lime juice, salt, sugar in a blender.

Pulse until everything is finely chopped and mixture is smooth but slightly chunky. Enjoy!
Notes
Read all my tips above.
Leftovers can be stored in a sealed container in the fridge for up to 1 week. It can also be frozen in a sealed airtight container for up to 1 month and thawed overnight in the fridge. 
Nutrition
Calories: 90kcal, Carbohydrates: 17g, Protein: 3g, Fat: 2g, Saturated Fat: 1g, Sodium: 5mg, Potassium: 648mg, Fiber: 5g, Sugar: 11g, Vitamin A: 489IU, Vitamin C: 36mg, Calcium: 20mg, Iron: 1mg
Happy cooking everyone!