Cranberry Salsa With Cream Cheese (One Pot)
Sweet and spicy, quick and easy, fresh jalapeno cranberry salsa recipe, served over cream cheese, homemade with simple ingredients in one pot in 15 minutes.
Nothing can be better than a big side bowl of salsa, especially when it's with sweet, spicy and tart with a vibrant red color. Its perfect during fresh cranberry season a.k.a Christmas and Thanksgiving time!
This is a holiday spin on a classic Mexican salsa recipe that I had at a party years ago and I have been in love with it ever since.
More Salsa Recipes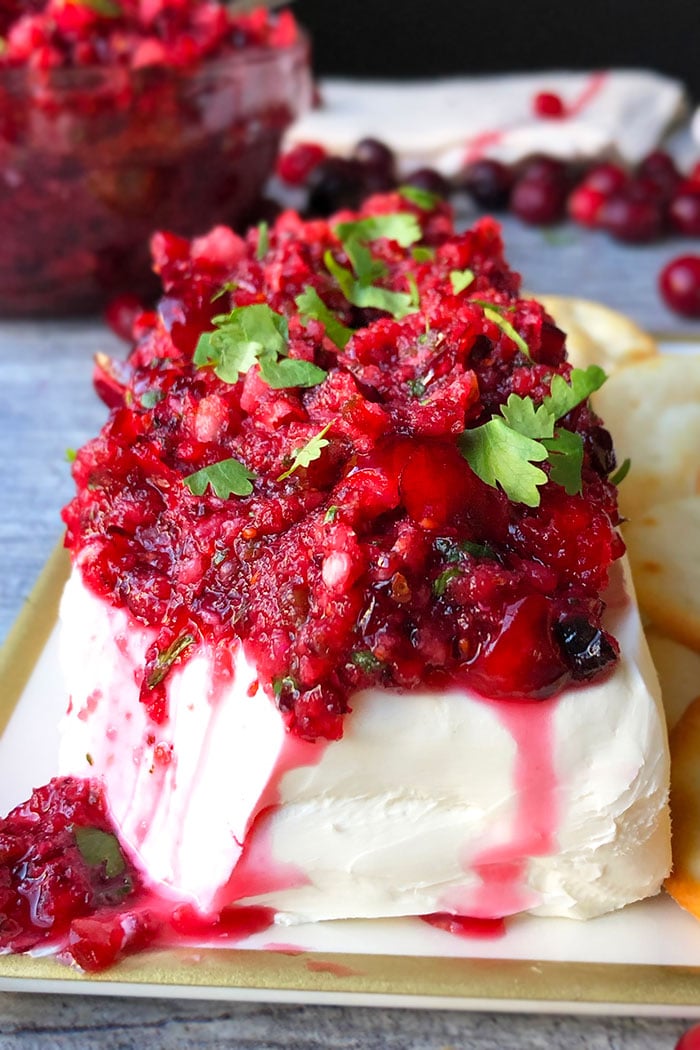 How to make cranberry salsa recipe?
Add ingredients in a food Processor– Pulse cranberries, onion, cilantro, jalapeños, sugar, ginger powder, garlic powder, salt and lemon juice until they become coarsely chopped.
Cover and chill– Do this for at least 1 hour to allow the flavors to deepen.
Enjoy– Spoon the mixture over blocks of cream cheese or serve as is, in a bowl and dig in!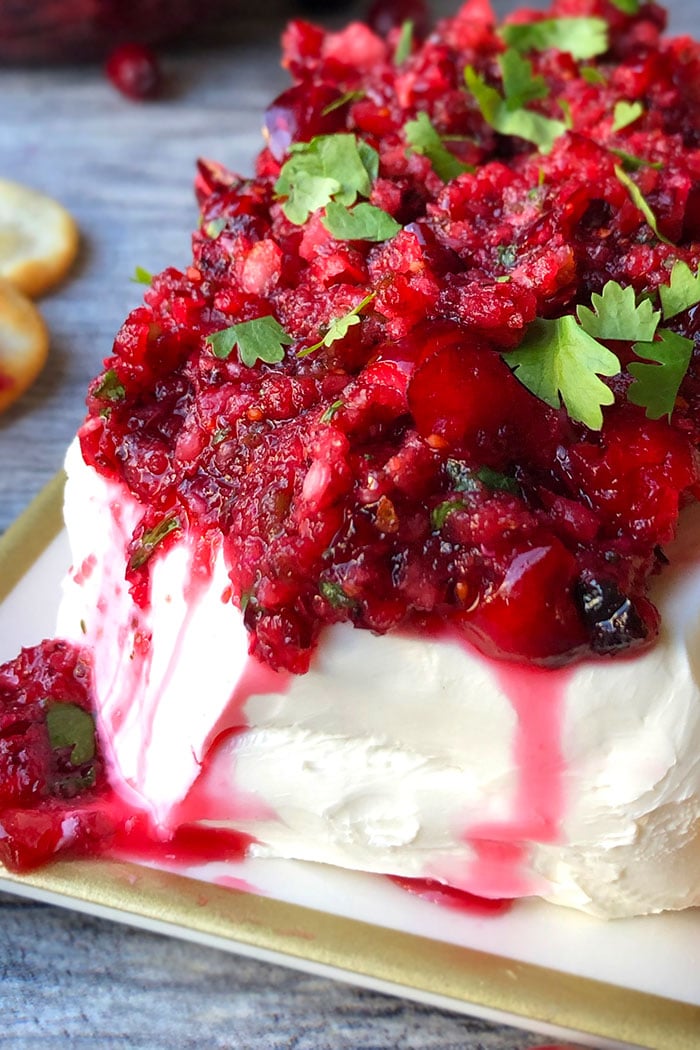 What to serve with spicy cranberry jalapeno salsa?
It's best served with tortilla chips or pita chips for dipping as an appetizer for Christmas parties or New Year's parties.
You can also serve it as a side dish with grilled or baked fish, pork, beef, chicken, shrimp. Try these:

Use it as a topping in rice bowls, burrito bowls, tamales, burritos, enchiladas, tostadas, nachos and tacos such as Shredded Turkey Tacos (With Thanksgiving Leftovers) and Shredded Chicken Tacos (One Pot). They are also delicious in quesadillas such as Cheese Quesadillas and Vegetarian Quesadillas and even Chicken Quesadilla (One Pan).
It can also be used as a marinade or an addition in salads/ salad dressings.
If you liked my Salsa Chicken (One Pot) or Salsa Verde Chicken (One Pot), you can easily replace the salsas that were used in those recipes with this cranberry version. It will be great for Christmas dinner parties.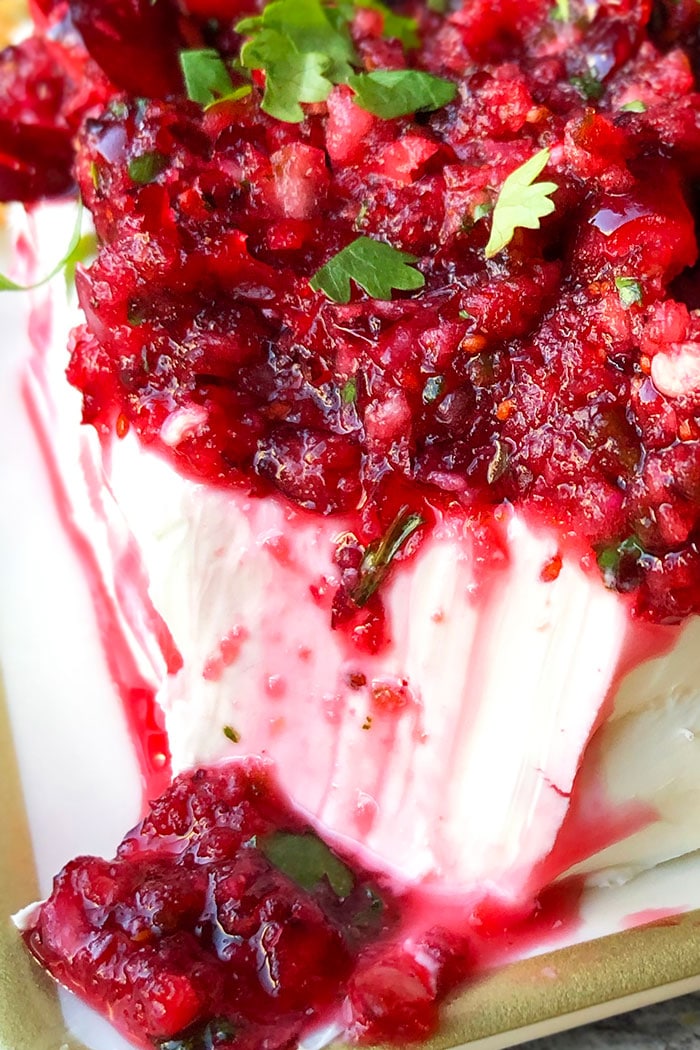 Variations
Cranberry salsa over cream cheese– Use full fat cream cheese. Heat it in the microwave until slightly warm so that it's easier to scoop. Instead of cream cheese, brie cheese can be used too. Set the cheeses in the middle of a charcuterie board. Add scoops of the salsa on top.
Make it chunky– Chop up each ingredient by hand, to make the salsa more chunky.
Make it smooth– Pulse the ingredients a little bit more until the ingredients are finer. I am not fond of this because it becomes very watery.
Cranberry pico de gallo– Add some diced tomatoes.
Add avocados– Cut them into small cubes and mix them in for a green color and creamy texture.
Make it spicy- Add more jalapeños and red chili flakes.
Add orange flavor– By mixing in 1 tsp orange zest and 1-2 tbsp orange juice. This adds a wonderful citrus flavor.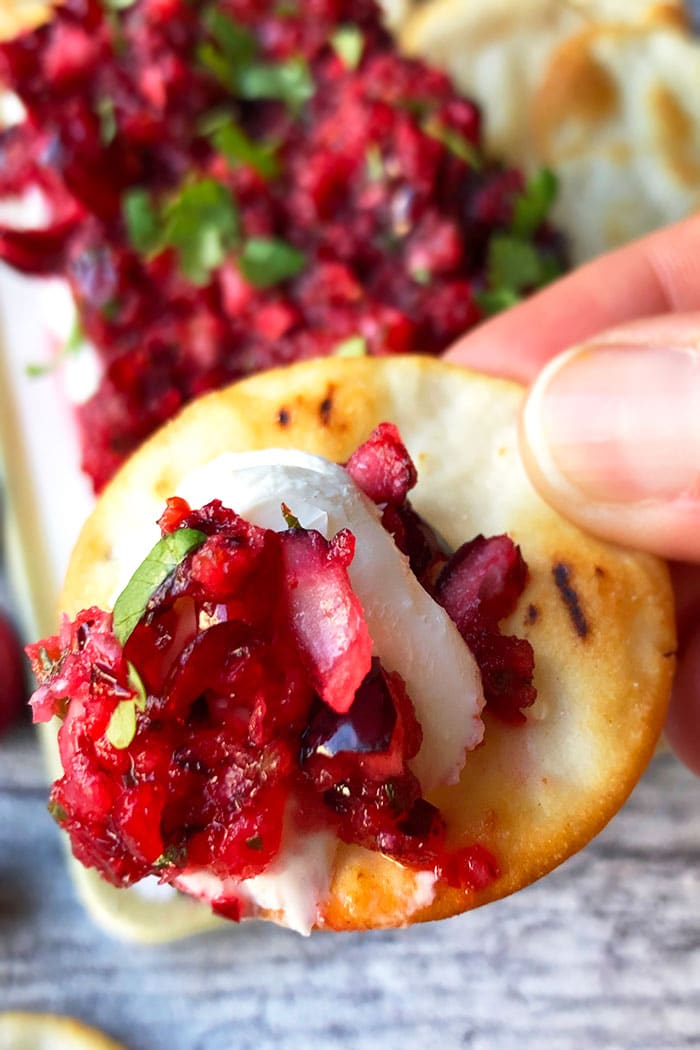 Tips and Techniques
Adjust sweetness– More or less can be added, based on your preference. Instead of granulated sugar, brown sugar honey or maple syrup can be used too.
Adjust spice level– Use more of less jalapeños, based on your preference. Remove the seeds to lower the spice level.
Fresh cranberries vs. Dried cranberries– You must use fresh cranberries for a fresh, refreshing flavor.
Resting time is important– Because it allows all the flavors to develop and deepen.
Lemon juice vs. Lime juice– Either can be used or both can be used together too.
Serve warm or cold? Typically, it's served cold. I don't recommend heating it because it will cause it to loose it's crisp texture.
Make ahead instructions– You can make this 1 day in advance and keep it chilled in the fridge until you are ready to serve.
Can you freeze salsa? Yes, it can be frozen in an airtight container for up to 1 month and thawed overnight in the fridge.
More One Pot Cranberry Recipes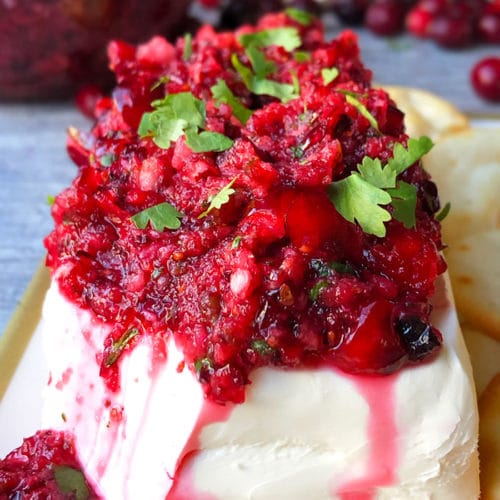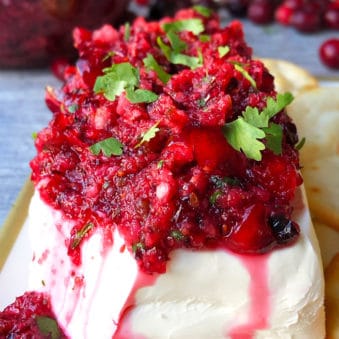 One Pot Cranberry Salsa
Sweet and spicy, quick and easy, fresh jalapeno cranberry salsa recipe, served over cream cheese, homemade with simple ingredients in one pot in 15 minutes.
Yield: People
Ingredients
1 bag Cranberries, 12 oz. bag, Fresh, Washed, Patted dry
1/4 cup Onions, Roughly diced
1-2 Jalapeños, Roughly diced
1/4 cup Cilantro leaves, Fresh
2 tbsp Lemon juice, Or lime juice
1/2-3/4 cup Granulated sugar, Adjust according to your taste
Salt , To taste
1/2 tsp Ginger powder
1/2 tsp Garlic powder
2 packages Cream cheese, 8 oz. boxes
Instructions
Add cranberries, onions, jalapeños, cilantro, lemon juice, sugar, salt, ginger powder, garlic powder in a food processor and pulse until coarsely chopped. Do not make the mixture smooth. It's supposed to be slightly chunky.

Transfer this to serving bowl. Cover and chill in the fridge for at least 1 hour to allow the flavors to deepen. 

Spoon this mixture over over 2 blocks of cream cheese or you can enjoy it as just plain salsa.
Notes
Read all my tips above.
Leftovers can be stored in a sealed container in the fridge for up to 3 days. 
Nutrition
Calories: 177kcal, Carbohydrates: 14g, Protein: 2g, Fat: 13g, Saturated Fat: 7g, Cholesterol: 41mg, Sodium: 122mg, Potassium: 81mg, Fiber: 1g, Sugar: 11g, Vitamin A: 558IU, Vitamin C: 6mg, Calcium: 39mg, Iron: 1mg
Happy cooking everyone!