Chicken Corn Soup (One Pot)
The best, hearty, quick, easy Chinese chicken corn soup recipe, homemade with simple ingredients in one pot over stovetop in 30 minutes. Loaded with shredded chicken and corn! Also known as sweet corn soup.
This soup is one of those comfort foods that really warms the heart, body and soul, especially during chilly Winter days. It's a spin on this Egg Drop Soup (One Pot) and this Easy Homemade Chicken Noodle Soup (One Pot) .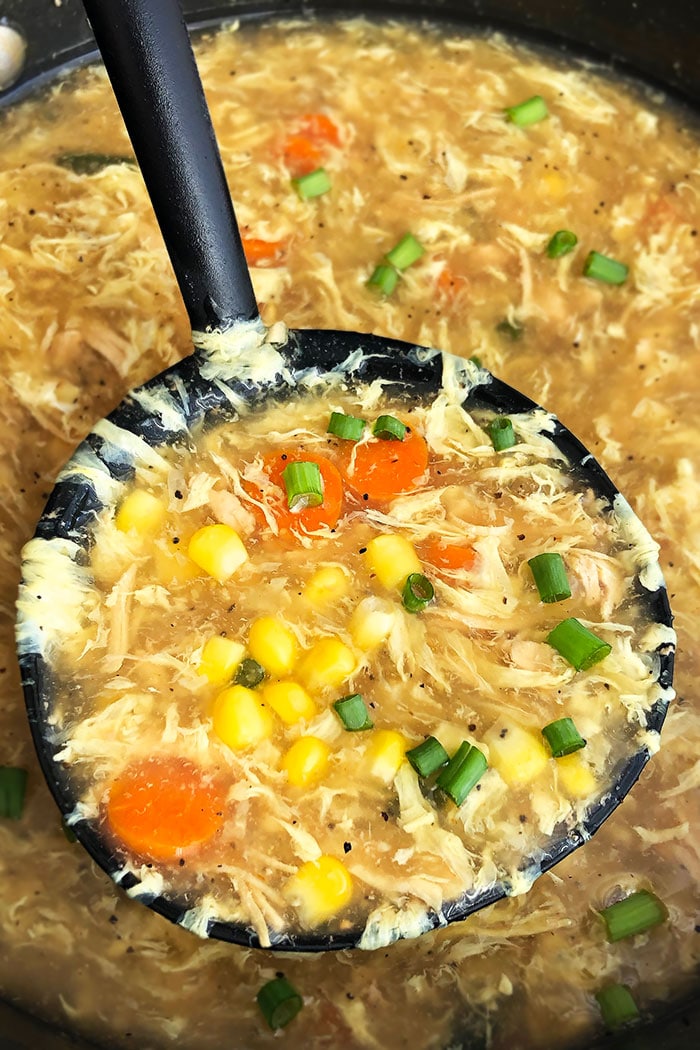 How to make Chinese chicken corn soup recipe?
Add ingredients in a large pot– Add broth, shredded chicken, spices, Sriracha, soy sauce, carrots, corn, creamed corn, green onions and bring to a boil over medium-high heat.
Turn down heat– Simmer over medium heat until carrots become tender.
Add cornstarch slurry– Gently, mix it in and it should start to thicken immediately.
Add beaten eggs– Mix them in slowly to create egg ribbons.
Enjoy! Mix in some more green onions and sesame oil and serve it immediately.
What sides to serve with chicken and corn soup?
Typically, it's served as a main dish on its own or it's served in a small bowl as an appetizer, prior to a heavy Asian meal.
These are some popular Chinese main dishes you can serve:
You can serve a simple green salad or this Asian Cucumber Salad (One Bowl) on the side too.
You can also serve a platter of other popular Chinese appetizers such as spring rolls, egg rolls, dumplings, potstickers, steamed buns.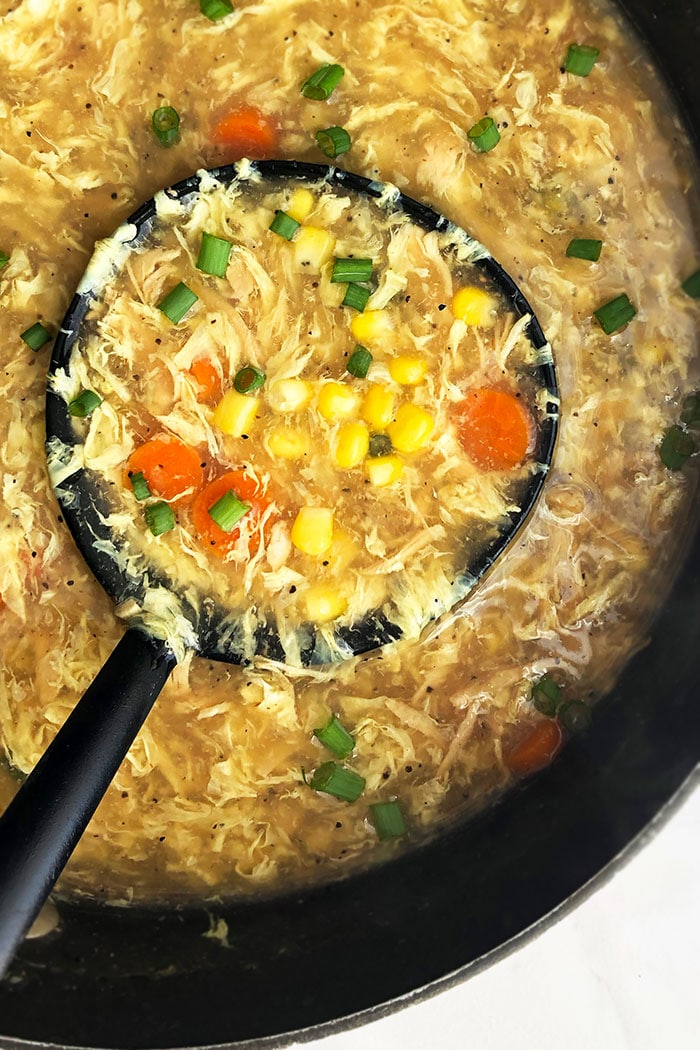 Variations
Best chicken corn noodle soup– Add some egg noodles to this recipe or you can even add ramen noodles.
Make it creamy– Adding some heavy cream or coconut milk will make it thick and smooth.
Add vegetables– I used only carrots, corn and green onions but feel free to add other vegetables such as potatoes, celery, or regular onions/ shallots. A small bag of frozen veggies would be great too. Even mushrooms are a great addition!
Add dumplings– The smaller the dumplings, the better. They add a hearty and chewy element to the soup and make it more filling too.
Make it vegetarian– Replace chicken with tofu and use vegetable broth instead of chicken broth.
Garnish options– Green onions, crispy fried wonton noodles, Sriracha sauce, soy sauce.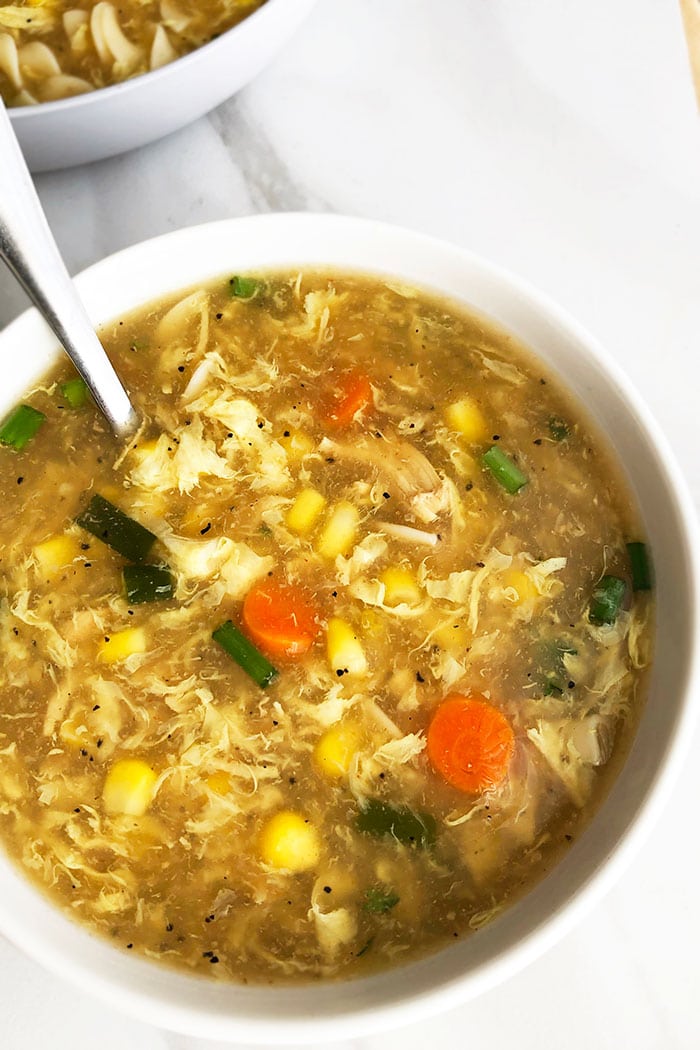 Tips and Techniques
How to make soup thinner? Add a little more broth or water to thin it out to your desired consistency.
How to make soup thicker? Add dissolved cornstarch slurry and also cook uncovered over medium heat until excess liquid evaporates and soup is reduced. In this recipe, creamed corn and eggs also assist in making the soup thicker. Please note that in Chinese cuisine, soups have a much thinner consistency than compared to the American cuisine.
Use dissolved cornstarch– This slurry prevents clumps from forming, which is more likely to happen if you just sprinkle cornstarch powder into the soup. It will ruin the smooth consistency of this soup.
Use shredded rotisserie chicken– It's a quick and convenient option to making it from scratch at home.
Creamed corn substitute– Blend 1 cup of frozen corn in a blender until partially smooth and use that instead of the canned version. This will also help make the soup thicker.
Stir in eggs slowly– The slow movement creates perfect little ribbons. Mix it too aggressively and you will end up with little wisps instead of ribbons.
Use beaten eggs– You have to whisk them first and then pour it in the broth. If you don't do this, you will end up with big chunky egg ribbons.
Use nonstick pot– Because this prevents the soup from sticking to the bottom of the pot and burning.
Use low sodium broth– Because this prevents the soup from becoming too salty. You can always add a little salt, as necessary.
Sesame oil is optional but highly recommended– Even though it's a small amount, it adds a lot of flavor and it cannot be replaced or substituted with any other oil.
Recipe can be halved or doubled– Just double or halve all the ingredients. It's very simple.
More One Pot Soup Recipes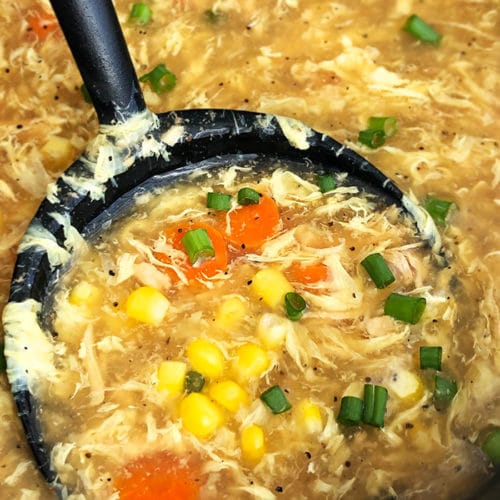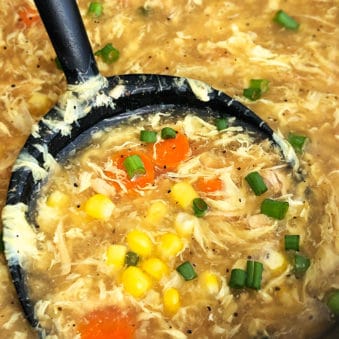 One Pot Chicken Corn Soup
Quick, easy chicken corn soup recipe, homemade with simple ingredients over stovetop in 30 minutes. A hearty comforting soup better than Chinese restaurants!
Yield: People
Ingredients
7 cups Chicken broth, Low sodium
2.5 cups Shredded chicken, From rotisserie chicken
1-2 tsp Garlic powder
1-2 tsp Ginger powder
Salt, To taste
Pepper, To taste
1 tbsp Sriracha sauce, Optional
1 tbsp Soy sauce
1 cup Carrots, Sliced
1 can Corn, 15 oz. can, Can also use frozen corn
1 can Creamed corn, 15 oz. can
5 tbsp Green onions, Thinly sliced
1/4 cup Cornstarch, Dissolved in 1/4 cup water
5 Eggs, Large, Beaten
1 tsp Sesame oil
Instructions
In a large nonstick pot, add broth, shredded chicken, garlic, ginger, salt, pepper, Sriracha sauce, soy sauce, carrots, corn, creamed corn, 2 tbsp green onions and bring to a boil over medium-high heat.

Then, lower heat to medium and simmer for 8-10 minutes or until the carrots become tender.

Add dissolved cornstarch slurry and mix. The soup will start to thicken.

Add the beaten eggs slowly, while gently stirring to make ribbons of cooked egg. 

Add remaining 3 tbsp green onions, sesame oil and mix. 

Turn off heat and serve immediately. 
Notes
Read all my tips above.
Leftovers can be stored in a sealed container in the fridge for up to 2 days and can be reheated in the microwave. 

 
Nutrition
Calories: 318kcal, Carbohydrates: 38g, Protein: 23g, Fat: 10g, Saturated Fat: 3g, Cholesterol: 182mg, Sodium: 1690mg, Potassium: 757mg, Fiber: 3g, Sugar: 7g, Vitamin A: 4070IU, Vitamin C: 30mg, Calcium: 59mg, Iron: 2mg
Happy cooking everyone!