Chicken Puff Pastry (One Pan)
Quick and easy chicken puff pastry recipe, homemade with simple ingredients in one pan in 30 minutes. Cheese, leftover Mexican shredded chicken and jalapenos and filled in flaky pastry.
The flaky pastry and the bold filling flavors are the absolute perfect combination in an appetizer. These will very quickly become a family and guest favorite. Maybe don't share, or you will be bringing these to every party from here until forever! These Cranberry Brie Bites (One Pan) and Cheesy Spinach Puffs (One Pan) also celebrate the greatness of puff pastry.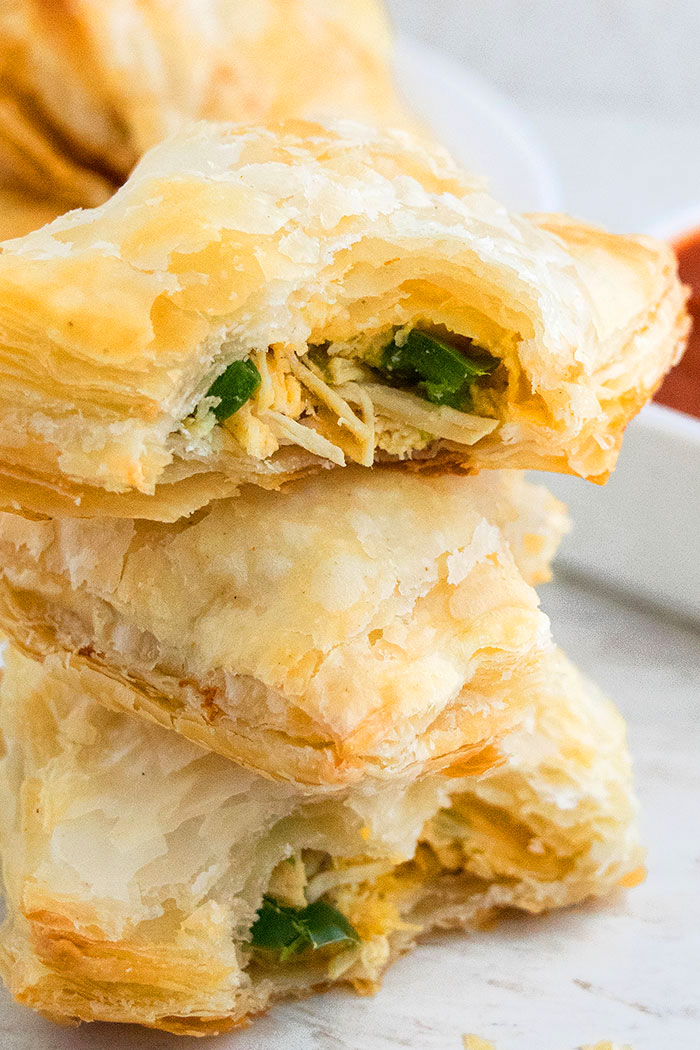 How To Make Chicken Puff Pastry Recipe From Scratch?
Unroll puff pastry sheets– Cut out 9 square pieces.
Add filling- This includes shredded chicken, chicken and jalapenos.
Cover puffs- By placing another square piece of puff pastry on top.
Bake- Until golden brown.
Puff Pastry Chicken Filling
This filling is made from leftover Mexican shredded chicken with taco flavors. Simply heat oil in a pan, add onions and saute for 1-2 minutes, add broth and chicken breast, and then flavor with taco seasoning, salt, pepper. Cook until the chicken is no longer pink. Then shred it.
These are the measurements:
2 tbsp Oil
1 tbsp Onion Finely chopped
1 pound Chicken breast
4 tbsp Taco seasoning
Salt To taste
Pepper To taste
1/2 cup Water Or chicken broth
What To Serve With Chicken Parcels (Chicken Pastry Parcels)?
This is delicious on its own as an appetizer but you can also serve alongside dips such as Easy Queso Dip (One Pot) or Salsa Verde (Blender) . Some other dipping sauces are plain ketchup or sweet chili sauce.
It is also a fantastic side dish for soups. Try it alongside this Instant Pot Mexican Soup or this Easy Chicken Tortilla Soup (One Pot) or this Instant Pot Chicken Enchilada Soup.
Stews, pot roasts and chilis are another nice accompaniment because they have a lot of liquid or broth that can be absorbed into the puffs. Try this Easy Beef Stew or this Easy Chili.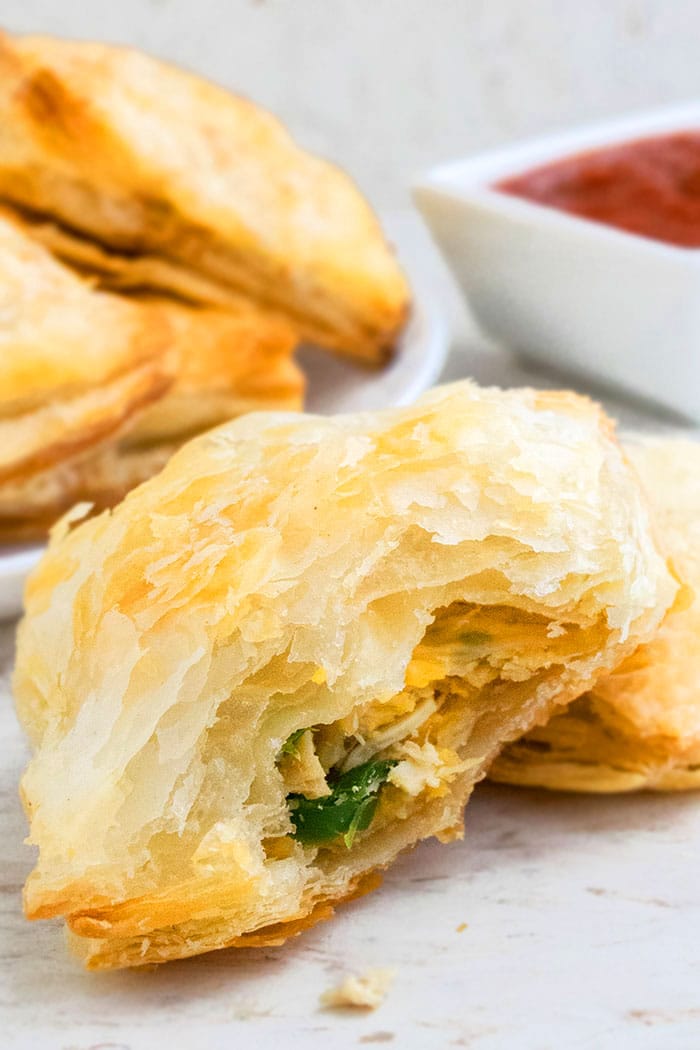 Variations For Puff Pastry Chicken Recipe
Try other cheese– Such as pepper jack, queso fresco, or chihuahua cheese.
Add herbs– Such as cilantro, chives, or Mexican spice basil.
Add other meat– Use leftover steak such as these Garlic Butter Steak Bites, or even pulled pork.
Add bacon– The crumbles add a lovely salty addition.
Add vegetables– Such as caramelized onions, corn, or roasted diced green peppers.
Make rolls or other shapes- Such as triangles, half-circles, or whole circles.
Make one big puff pastry– Do this instead of creating individual bites. Then, prior to serving, slice this large pastry.
Tips And Techniques For Chicken In Pastry
How do you use puff pastry? Use it as a flaky crust for desserts such as turnovers, for appetizers like this, or to hold savory or sweet fillings. The possibilities are almost endless.
Do you poke holes in puff pastry? No, do not do this because this releases all the steam and will cause the pastry to become flat. For this recipe, you want a puffy flaky crust.
Why is my puff pastry soggy? If you leave uncooked puff pastry out for too long before using it, the dough will become soggy because the butter will melt. Simply chill it in the fridge to solidify butter again. Another reason could be they were baked too close together and didn't get a chance to evenly bake and air out. Furthermore, another reason is that the filling was heavily water-based and that excess liquid got absorbed into the pastry.
How do I know when the chicken puff pastry is done? They are typically done when they become golden brown on top and firm along the edges and they also rise and become "puffy."
Adjust amount of jalapenos– Add more or less according to your liking. You can even leave them out completely if you don't like them. Deseed them if you can't handle the spice.
How many squares do I cut in total? There should be 18 (3x3inch) squares. This means 9 squares per sheet of pastry puff.
Make sure the edges are pressed together– Because this prevents the filling and cheese from oozing out from the sides during baking.
Do I thaw the puff pastry before cutting it? Yes, this is very important because if it's not thawed, it would be rock solid and you can't cut it and it will break if you try to put force.
Line baking trays with parchment paper– Because this prevents sticking and burning. Also, don't use wax paper because that can catch fire in the oven.
Don't over-fill- Because the filling can leak out during baking and make a mess.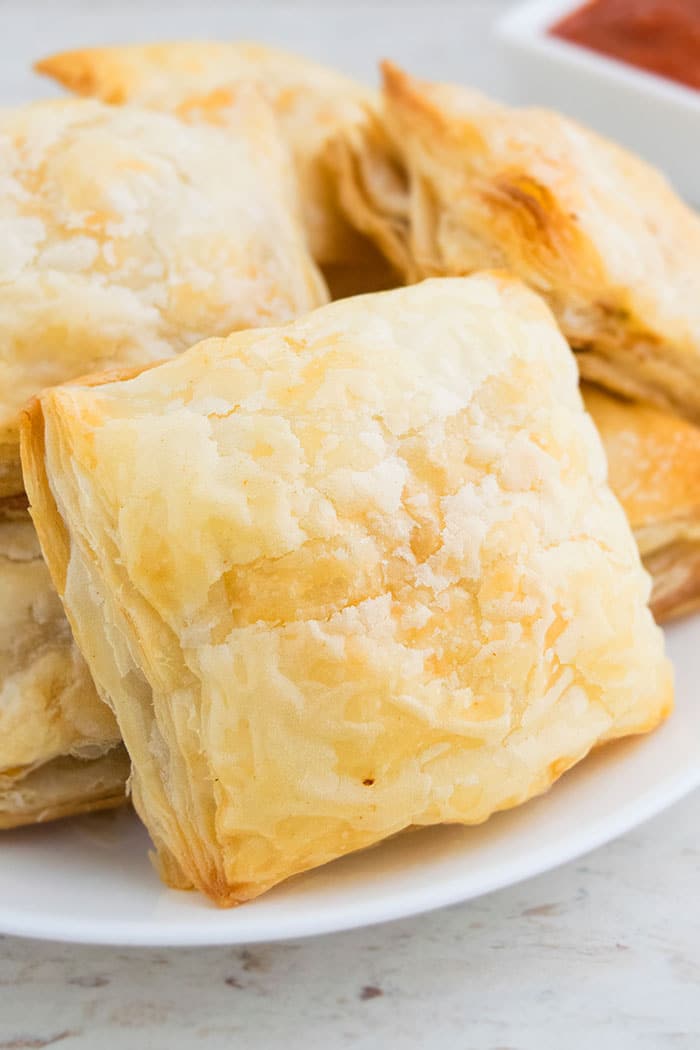 Storage
Refrigerate– They taste best served immediately, but leftovers can be stored in a sealed container in the fridge for up to 2 days. They will not be as crispy.
Freeze– This is not recommended because the pastry will become soggy upon thawing.
Reheat– In the toaster oven or stove for just a short time, watching to make sure it doesn't burn. You can also reheat them in the microwave but it will not be as crispy.
More One Pot Appetizers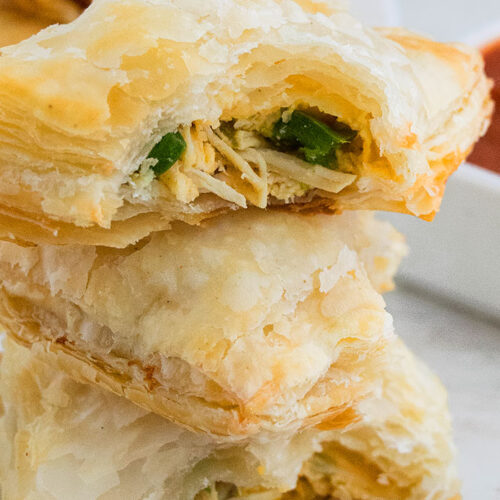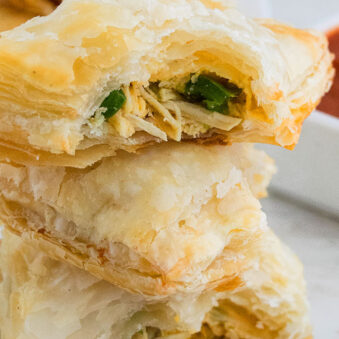 One Pan Chicken Puff Pastry
Quick & easy chicken puff pastry recipe, homemade with simple ingredients in one pan in 30 minutes. Packed with cheese & shredded chicken.
Yield: Puffs
Ingredients
1 package Puff pastry, 2 sheets, Thawed
1-2 Jalapenos, Deseeded, Finely chopped, Optional
1 cup Shredded cheese, Mexican cheese blend
Instructions
Unroll the two puff pastry sheets and cut out 9 square pieces (Dimensions: 3×3) on each sheet.

Add a spoonful of shredded chicken on top of 9 squares.

Sprinkle some jalapenos and shredded cheese on top of the chicken.

Place another square piece of puff pastry on top and press the edges until the two pieces stick together.

Place these puffs on a baking tray and bake at 400 degrees F for about 20 minutes or until they are golden brown on top and firm along the edges. Enjoy!
Notes
Read all my tips above.
Tastes best when served immediately but leftovers can be stored in a sealed container in the fridge for up to 2 days but they won't be as crispy any more. 
Nutrition
Calories: 338kcal, Carbohydrates: 25g, Protein: 7g, Fat: 24g, Saturated Fat: 7g, Cholesterol: 10mg, Sodium: 214mg, Potassium: 43mg, Fiber: 1g, Sugar: 1g, Vitamin A: 101IU, Vitamin C: 2mg, Calcium: 68mg, Iron: 1mg