Mini Cheese Balls (One Bowl)
The best, quick and easy mini cheese balls recipe with pretzel stick, homemade with simple ingredients in one pot in 30 minutes. These bite-sized appetizers are loaded with cream cheese, herbs, garlic. Also known as savory cheese bites
Mini appetizers are the way to go these days! Pretty presentation, and bite sized individual bites are fantastic to enjoy at parties, while walking around and mingling with people. Today's recipe is just as delicious as this Cranberry Salsa With Cream Cheese (One Pot). That's another holiday cheese-based appetizer that's always a hit with family and friends.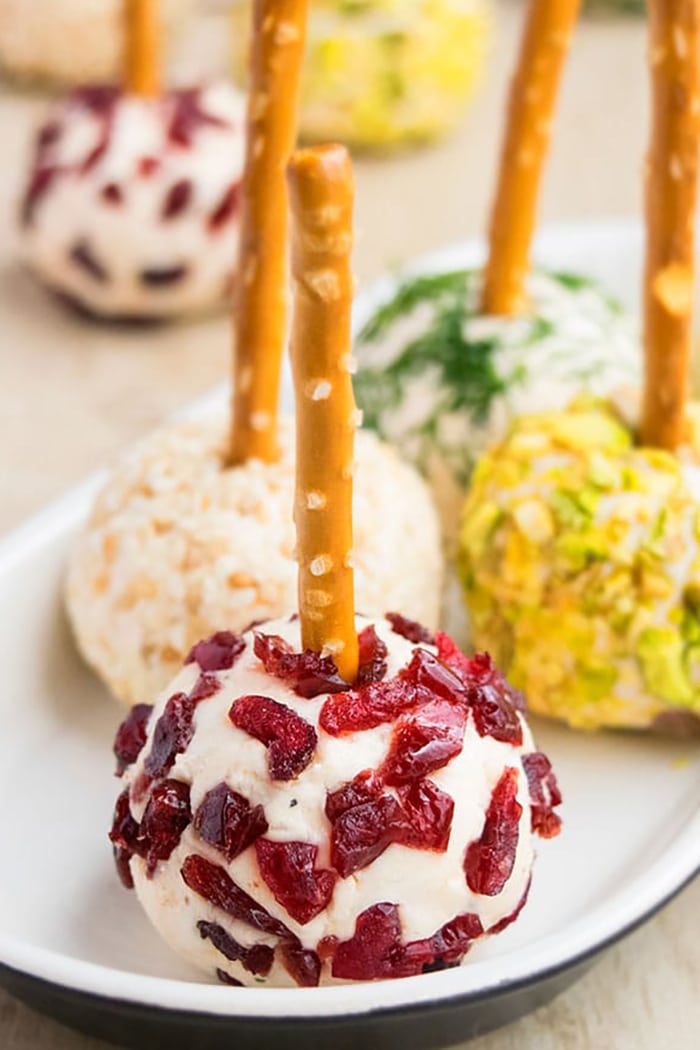 How To Make Mini Cheese Balls Recipe From Scratch?
Mix ingredients– This includes cream cheese, butter, mozzarella cheese, salt, pepper, paprika, garlic powder.
Chill mixture– So that it's easier to handle.
Make balls- Roll out small spoonfuls of the mixture into small balls.
Add toppings- Roll the balls in your choice of toppings. 
Enjoy- Place them on a serving dish and push a pretzel stick in the center and dig in!
What Is a Cheese Ball Made Of?
They are made of these few basic ingredients that you probably already have on hand:
Cream cheese
Mozzarella cheese
Butter
Salt
Pepper
Paprika
Garlic powder
Fresh herbs
You can get creative and and any herbs and seasonings of your choice.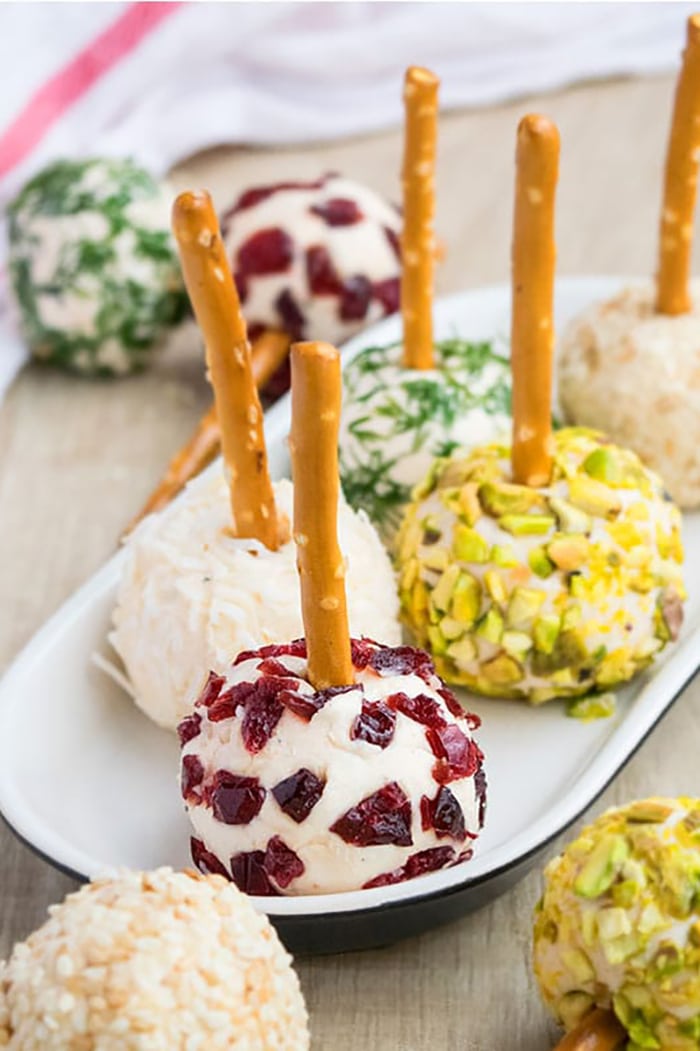 Storage
Refrigerate– Store leftovers in a sealed container for up to 3 days. Be sure to remove the pretzel stick or it will get soggy. Add it again, prior to serving.
Freeze– I don't recommend freezing leftovers because dairy (cheese) does not thaw well.
Reheat– Do not warm them because they heat will cause them to melt and loose its shape. They are typically served cold
What To Serve With Easy Cream Cheese Balls Appetizer?
You can serve these along with other appetizers such as Cranberry Brie Bites (One Pan), Best Bruschetta Recipe (One Bowl), Caprese Skewers (One Pan), or these Baked Buffalo Cauliflower Wings (One Pan).
You can also serve these before a protein based main dish of any kind! Try them with these protein based main courses like: Slow Cooker Ham or Roast Turkey Breast (One Pan) or Easy Thanksgiving Turkey (One Pan), or Garlic Butter Steak Bites (One Pot) and even Roast Beef (One Pan).
Variations
Ranch cheese balls– Add a ranch seasoning packet to the mixture.
Pineapple cheese balls– Mix in crushed pineapple to the mixture. Make sure they are drained to get rid of excess juices.
Cheese log– Roll the cheese mixture into a log shape and then roll that in any toppings of your choice.
Add other types of cheese– Such as parmesan, goat cheese, ricotta, gouda or anything else you like.
Nut toppings- Try crushed, almonds, pecans, walnuts, cashews, pistachios or peanuts.
Dried fruit toppings– Try cranberries, cherries, apricot, mango, coconut.
Fresh herb toppings- Try finely chopped parsley, dill, chives, cilantro, thyme, oregano, green onions, tarragon.
Add bacon– Use bacon crumbles in the mixture or rolled on the outside of the ball.
Add other seasoning– Such as Cajun seasoning or Greek Seasoning or your own seasoning blend.
Add sausage- Mix in crumbled cooked sausage to the cheese mixture.
Fried cheese balls– Prepare a simple flour mixture and dip each chilled ball into this batter and fry for a few minutes until golden brown. Serve immediately.
Try different sizes and shapes – Instead of the mini version, make a big giant ball with crackers and pretzels, served on the side. You can also make a log shape.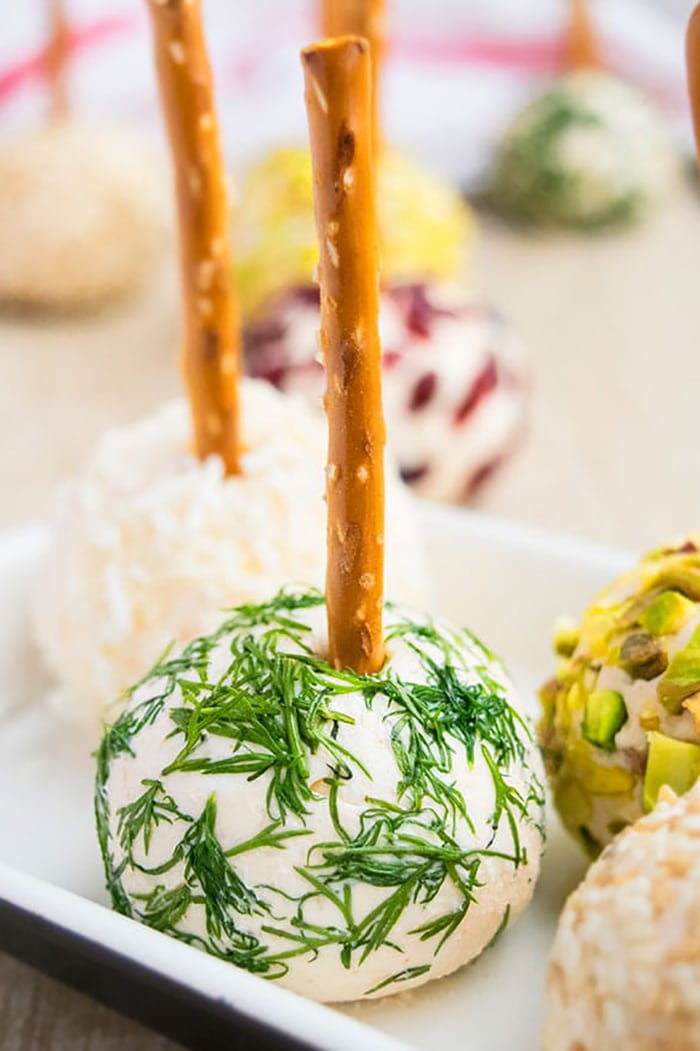 Tips And Techniques
Make sure to chill the mixture– Because this makes it so much easier to roll balls.
Use full fat cheese- Because that yields the maximum richness and creaminess.
Oil your hands– Because this will keep the cheese mixture form sticking to your hands, and becoming a messy disaster!
Use unsalted butter- Because that prevents this appetizer from becoming too salty.
Put the pretzel stick in, just prior to serving– Because if you do this too far ahead of time, the pretzel will get soggy.
Display a variety– Make a platter of mini cheese bites with multiple different toppings and this way, your guests will have more choices and have a chance to try more flavors.
Toast the nuts and seeds– The pistachios, coconut and sesame seeds will taste so much better if they are toasted because it enhances the nutty flavor.
Fresh herbs vs. Dried herbs- I highly recommend using fresh herbs because they look better and taste better in this recipe.
More One Pot Appetizers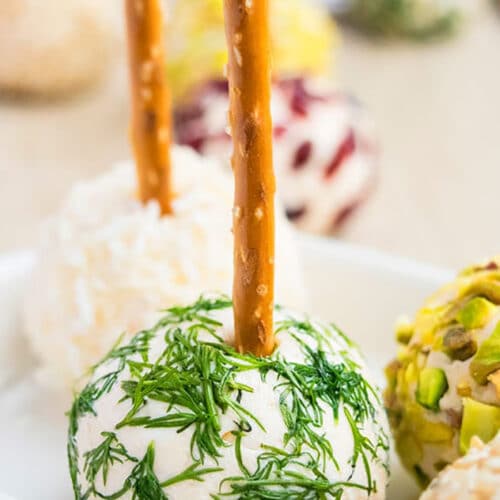 One Pot Cheese Balls
The best, quick and easy mini cheese balls recipe with pretzel stick, homemade with simple ingredients in one pot in 30 minutes. These bite-sized appetizers are loaded with cream cheese, herbs, garlic.
Yield: Cheese balls
Ingredients
Toppings
1/2 cup Coconut, Unsweetened, Shredded
1/2 cup Pistachios, Roughly chopped
1/4 cup Dill, Fresh, Finely chopped
1/2 cup Tarragon, Fresh, Finely chopped
1/2 cup Sesame seeds, Lightly toasted
1/2 cup Cranberries , Dried, Roughly chopped
Instructions
In a large mixing bowl, add cream cheese, butter, mozzarella cheese, salt, pepper, paprika, garlic powder, and mix everything until smooth.

Chill mixture for 15 minutes in the freezer so that it's easier to handle.

Spray oil on your hands to prevent sticking.

Then, scoop out small portions of the cheese mixture and roll them into balls.

Then, roll them in your choice of toppings. 

Place these mini cheese bites on a serving dish and push a pretzel stick in the center right before serving. Enjoy!
Notes
Read all my tips above. 
Leftovers can be stored in a sealed container in the fridge for up to 3 days. Be sure to discard the pretzel sticks before storing them because they will become very soggy.  
Nutrition
Calories: 49kcal, Carbohydrates: 3g, Protein: 2g, Fat: 4g, Saturated Fat: 1g, Cholesterol: 4mg, Sodium: 27mg, Potassium: 69mg, Fiber: 1g, Sugar: 1g, Vitamin A: 120IU, Vitamin C: 1mg, Calcium: 46mg, Iron: 1mg