Crispy Breakfast Potatoes (One Pan)
Quick, easy, crispy breakfast potatoes recipe, homemade with simple ingredients in one pan in oven in 30 minutes. Loaded with garlic, paprika, Italian herbs. Can also be pan fried in skillet on stovetop. Also known as "morning potatoes."
These are the best potatoes to leave you feeling full and fueled for the day, whether you are heading to work, or gearing up for home life. Similar to my Oven Roasted Potatoes (One Pan) and Oven Roasted Sweet Potatoes (One Pan), these are full of flavor, texture, and oh so comforting!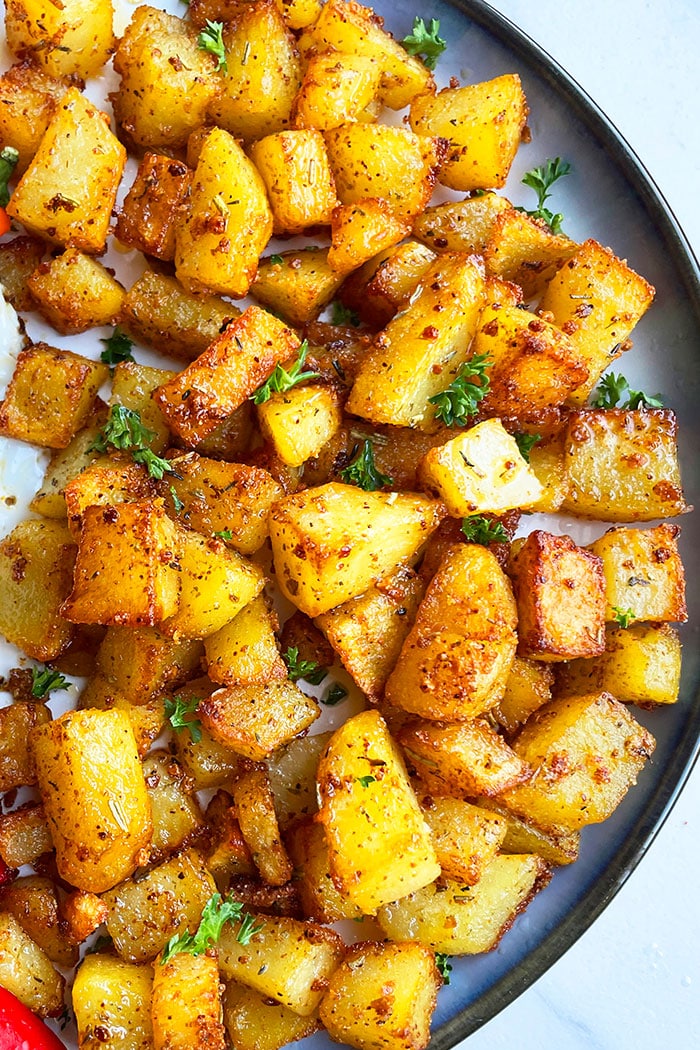 How To Make Crispy Breakfast Potatoes From Scratch?
Oven Instructions:
Place potatoes in a tray– Drizzle melted butter and olive oil.
Add seasonings- This includes salt, pepper, paprika, garlic powder, ginger powder, onion powder, Italian seasoning.
Mix– To combine.
Bake– Until cooked through.
Broil- Until tops are crispy and golden brown.
Enjoy- Garnish with fresh herbs.
Stovetop Instructions:
Use 2 large skillets or non-stick pans so that you have room to spread the potatoes out evenly.
Add butter, oil and seasonings.
Cook on one side till crispy.
Then, cook the other sides until crispy.
What To Serve With Best Roasted/Oven Baked Breakfast Potatoes Recipe?
These potatoes are the perfect compliment to any type of eggs: scrambled, over easy, fried, omelets, frittata, skillets, or even egg casseroles.
Serve it with toppings like fresh herbs, shredded cheese, Corn Salsa (One Bowl) or Pico De Gallo (One Bowl). You can even drizzle some Queso Dip (One Pot) or Cheddar Cheese Sauce (One Pot) on top.
They also pair well with any type of breakfast protein such as sausage, bacon, ham, or Canadian bacon.
They taste great for lunch or dinner too alongside chicken like Cajun Chicken (One Pot) or even steak like these Garlic Butter Steak Bites.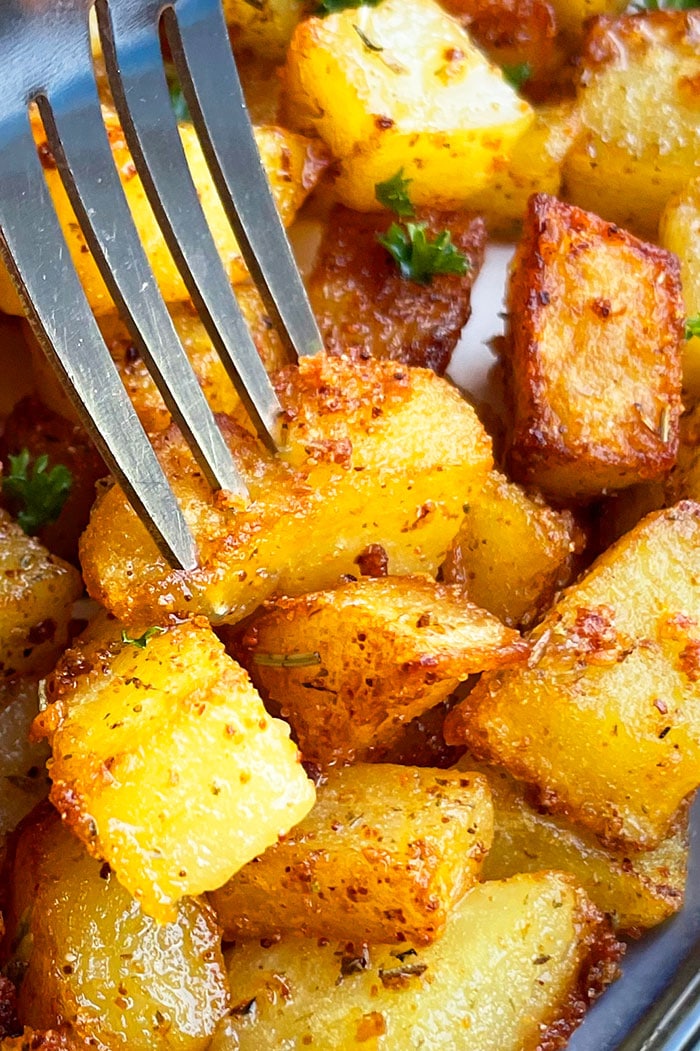 Storage
Refrigerate– In a sealed container for up to 2 days.
Freeze- I do not recommend freezing them because they will lose their crispy texture when thawed.
Reheat– In the oven, on the stovetop, or in the microwave, but they won't be as crispy as when made fresh.
Variations
Pan fried breakfast potatoes- Coat the potatoes in the seasoning from the recipe card below. Then, fry them in some oil instead of baking them.
Eggs and potatoes– Can be made similar to a hash. Just add the eggs at the end of cooking.
Add cheese– Such as shredded mozzarella, cheddar, white cheddar, Colby jack, Monterey jack, or Parmesan. Freshly shredded cheese is best because it has the best texture (no graininess!) and flavor.
Add gravy– Top them with Easy Sausage Gravy (One Pot), or Easy White Gravy (One Pot).
Add other vegetables– Onions are a popular choice as well as bell peppers, squash, zucchini or whatever else you prefer.
Add other herbs and spices– Such as dill, chives, parsley, or smoked paprika.
Make it spicy– Add red chili flakes or even cayenne pepper for some heat.
Sliced potatoes– Change the shape by slicing them instead of cubing the potatoes.
Tips And Techniques
Why are my potatoes soft and soggy? How to fix this? The potatoes may not have been baked long enough or at a high enough temperature to get them crispy. They also need to be spread out to have enough room to brown. If they are too close together they may remain soft and soggy. Also, broiling them for a few minutes at the end will also ensure a crispy finish.
What type of potatoes to use? I used Russet potatoes, but you can use any variety you like such as Yukon gold, red skin, fingerling, or even sweet potatoes.
Should I boil potatoes before frying them and before baking them? Some people live by this method, but I did not find it necessary for this recipe. It saves an extra step and dishes.
Cut potatoes small and uniform in size– This allows all of the potatoes to cook at the same rate. If you cut some big and some small, you will end up with some raw and some burned.
Keep an eye on the potatoes in the broiler– The potatoes can go from perfectly crispy to charred in a matter of seconds. So, keep a close eye.
Do you have to peel potatoes before baking them? I recommend peeling them for the best overall texture. However, some people prefer not to. If you don't peel them, make sure to wash and pat them dry to remove dirt and grit from the skin.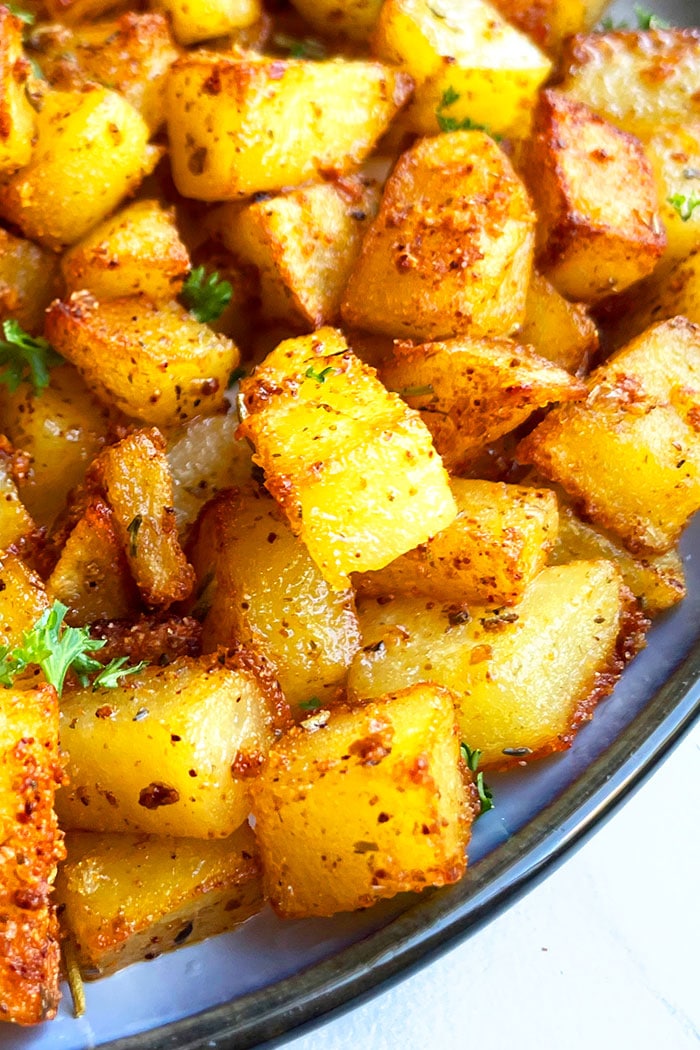 More One Pot Breakfast Recipes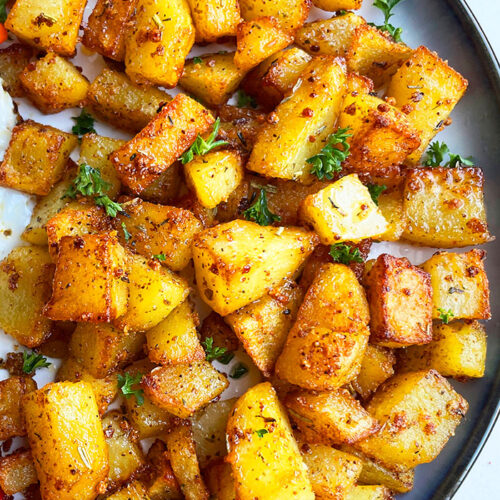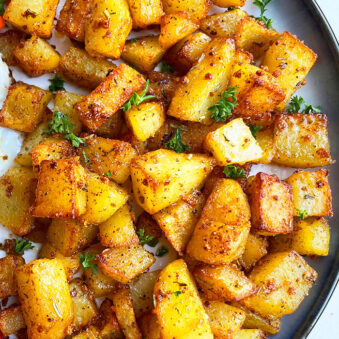 One Pot Breakfast Potatoes
Quick, easy, crispy, oven-baked breakfast potatoes recipe, homemade with simple ingredients in one pan in 30 minutes. Loaded with garlic, paprika, Italian herbs.
Yield: People
Instructions
Place potatoes in a large baking tray. I used a big 11×17 baking tray.

Drizzle melted butter and olive oil.

Sprinkle salt, pepper, paprika, garlic powder, ginger powder, onion powder, Italian seasoning.

Toss to coat everything.

Spread out the potatoes. Use 2 trays (if you are using smaller trays) because the potatoes need to be spread out.

Bake at 400 degrees F for 20 minutes or until they are cooked through in the center.

Turn on the broiler and broil theM for 4-5 minutes until tops are golden brown and crispy.

Garnish with fresh parsley and enjoy!
Notes
Read all my tips above.
Leftovers can be stored in a sealed container in the fridge fo up to 2 days but they won't be as crispy as the day they were made fresh. They can be reheated in the microwave or oven or even stovetop. 
Nutrition
Calories: 42kcal, Carbohydrates: 1g, Protein: 1g, Fat: 4g, Saturated Fat: 2g, Cholesterol: 10mg, Sodium: 76mg, Potassium: 6mg, Fiber: 1g, Sugar: 1g, Vitamin A: 223IU, Calcium: 5mg, Iron: 1mg