Easy Kale Salad (One Bowl)
Quick and easy kale salad recipe, homemade with simple ingredients in one pot in 10 minutes. Loaded with fresh massaged kale, red apples, pecans, lemon and honey vinaigrette.
Kale is such a misunderstood ingredient. Although it's bitter and hard to chew, it is somehow delicious in salads. Always remember to massage the kale with salt, and it becomes fragrant, delicious, and easy to chew! Be sure to also try this Pumpkin Salad (One Bowl) and this Harvest Fall Salad (One Bowl) for additional variety in your salad repertoire.
How To Make Kale Salad Recipe From Scratch?
Make dressing– By whisking together oil, vinegar, lemon juice, honey, lemon zest, salt, and pepper.
Add kale and apples– Toss until combined.
Add toppings– This includes pecans and crumbled goat cheese.
Enjoy! Serve immediately
What to Serve with Massaged Kale Salad?
It's delicious served alongside soups such as:
It would also pair well with a simple sandwich like the following:
A protein based main dish would also accompany this salad well such as:
Kale Salad Dressing
In a bowl or jar, whisk together the following ingredients until combined:
3 tbsp Olive oil
2 tbsp Apple cider vinegar
1 tbsp Lemon juice
1 tbsp Honey
1 tsp Lemon zest
Salt
Pepper
Any of these ingredient quantities can be adjusted to your liking.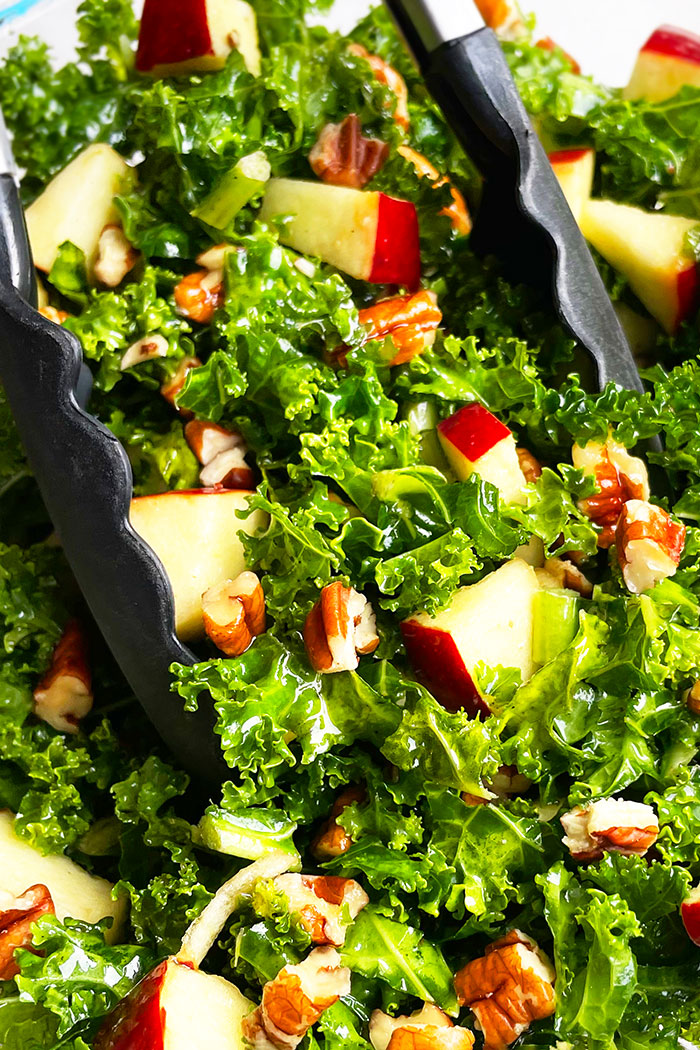 Variations for Kale Apple Salad
Kale caesar salad– Use homemade or store-bought Caesar dressing, with a topping of parmesan cheese and croutons.
Use baby kale– For a less bitter green.
Add quinoa- Mixing in about 1/2 cup cooked quinoa makes a more filling salad.
Make it sweeter- Add more sugar or honey to make the salad even sweeter.
Add avocado– For a creamy hearty addition.
Add crunchy toppings– Such as fried garlic or shallots, tortilla strips, roasted chickpeas, or croutons.
Add dried fruits– Cranberries are a popular choice, but dried cherries, blueberries, or raisins will also work.
Add other greens– Such as spinach, lettuce, or arugula.
Add cheese– Such as fresh shaved parmesan, mozzarella, white cheddar, or even Swiss cheese.
Add crumbled bacon– For a crunchy salty flavor addition.
Add other nuts or seeds– Such as almonds, walnuts, pine nuts, pepitas, or sunflower seeds.
Add meat– Such as shredded rotisserie chicken, steak, or prosciutto. The meat should be cooked through.
Tips and Techniques
Can you eat raw kale? Yes. It just needs a little help to get to a pleasant texture and taste, which is why we massage the kale.
How do you make kale less bitter? Massaging the kale with salt is important for this. Make sure to massage the kale until is turns dark green and becomes fragrant. The acid in the dressing will also help break down the fibers, making it less bitter and have a better texture.
What kind of vinegar to use? I used apple cider vinegar, but you can also use red wine vinegar. White vinegar has too strong of a flavor and not sweet enough and is not recommended.
What can I use instead of honey? You can use agave or maple syrup in place of honey.
Wash and dry kale– Be sure to pat it dry to prevent the dish from becoming too "watery." You can also use a salad spinner.
Adjust the amount of dressing– Add more or less according to your preference.
Use high quality olive oil– Because this provides the best flavor in the dressing.
Storage
Refrigerate– This salad is best served immediately and can not be stored for later because it will become too soggy.
Freeze- Salads cannot be frozen because of the water content and wilting of the leaves upon thawing. The salad dressing, however, can be frozen for up to 1 month. Thaw at room temperature and then, whisk it again, prior to using it.
Make ahead instructions- You can store the fruits and veggies, dressing and toppings separately for 2 days in the fridge and mix right before serving. Wait to chop and add apples till you serve the salad or else they will become brown.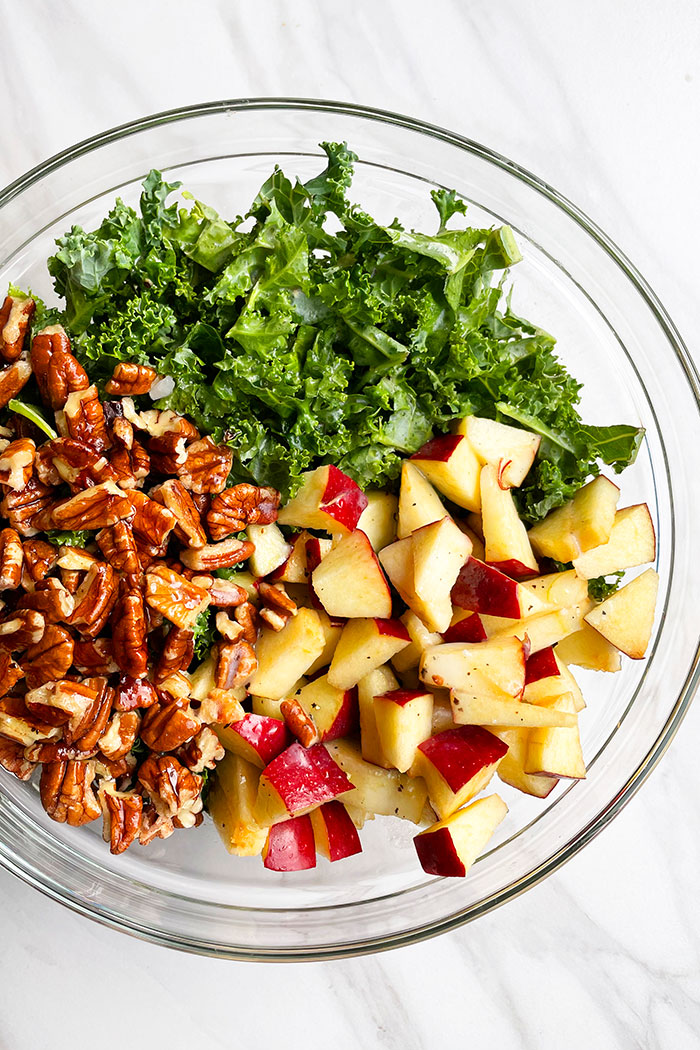 More One Pot Salad Recipes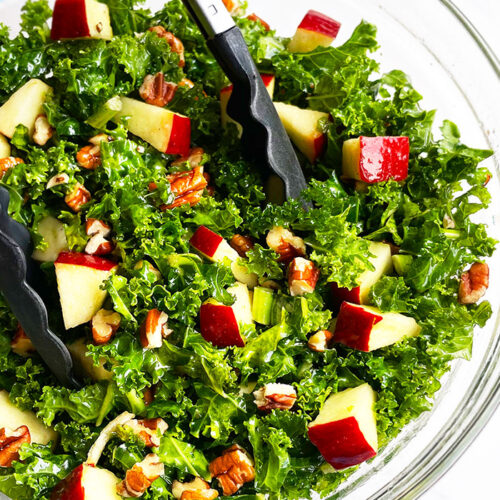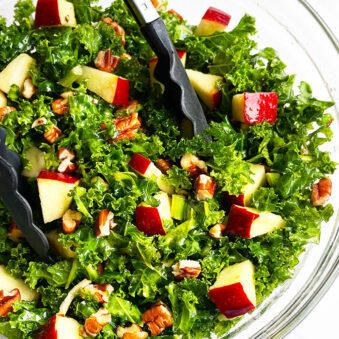 One Pot Kale Salad
Quick and easy kale salad recipe, homemade with simple ingredients in one pot in 10 minutes. Loaded with fresh massaged kale, apples, pecans and honey vinaigrette.
Yield: People
Instructions
In a large salad bowl, whisk together oil, vinegar, lemon juice, honey, lemon zest, salt, pepper until combined.

Add kale (but remember to massage it with a little bit of salt first until it's darker green and fragrant), apples and toss until combined.

Top it off toasted pecans and crumbled goat cheese.

Serve immediately and enjoy!
Notes
Read all my tips above.
Tastes best when served immediately. Leftovers cannot be stored for later because the salad will become soggy. 
Nutrition
Calories: 202kcal, Carbohydrates: 18g, Protein: 6g, Fat: 13g, Saturated Fat: 3g, Cholesterol: 7mg, Sodium: 168mg, Potassium: 378mg, Fiber: 2g, Sugar: 10g, Vitamin A: 5859IU, Vitamin C: 72mg, Calcium: 119mg, Iron: 1mg