Tabbouleh Salad (One Pot)
Quick and easy Mediterranean tabbouleh salad recipe, homemade with simple ingredients in one pot in 30 minutes. Loaded with bulgur wheat, cucumbers, tomatoes, fresh herbs and lemon dressing. Also known as "tabouli salad" and "tabouleh salad."
I love this salad because it showcases so many vegetables often grow in our home gardens. Use your garden cucumbers, tomatoes, and herbs to bring the freshest ingredients possible. Don't have your own garden? Then take a visit to a farmer's market and enjoy the process of creating this dish just as much as you'll enjoy the flavor. Make sure to try this Mediterranean Quinoa Salad (One Bowl) and Tzatziki Sauce (One Bowl), if you are looking for more Summer salad or dip ideas.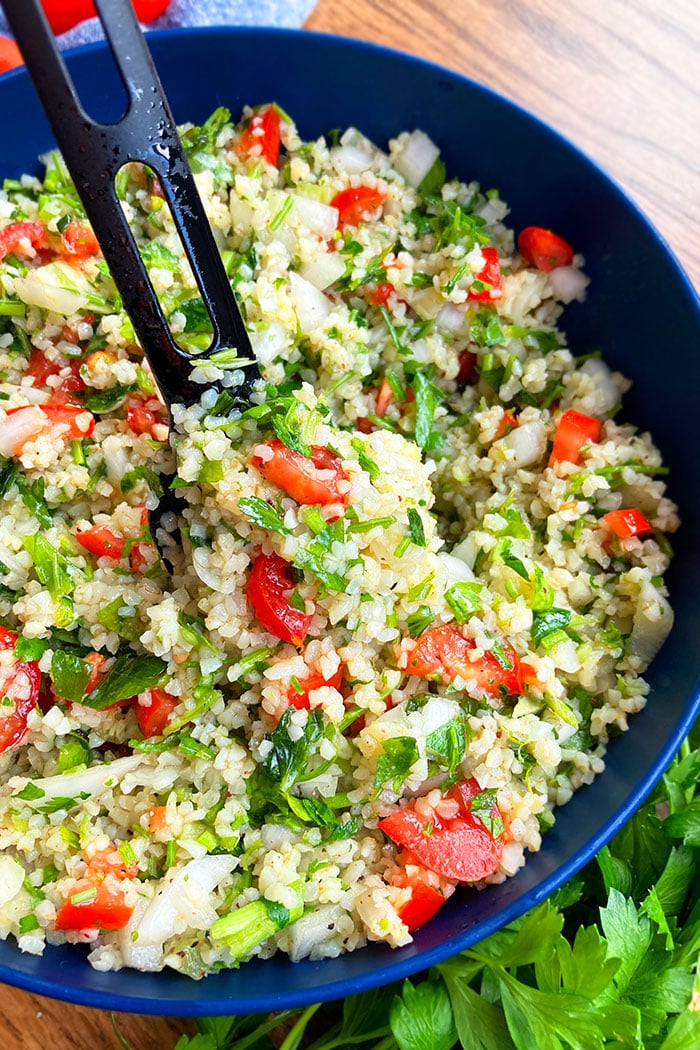 How to make tabbouleh salad?
In a bowl– Add oil, lemon juice, salt, pepper, garlic powder. Whisk everything together.
Add cucumbers, tomatoes, bulgur wheat, green onions, parsley, mint.
Toss everything until combined.
Cover and chill– To allow the flavor to develop. Enjoy!
What to serve with tabbouleh salad recipe?
Since this dish is a vegetarian dish, you can serve it alongside any of your favorite proteins. Grill shrimp, fish, or this Grilled Chicken Breast (One Pan) to complete this meal. Avocado Egg Salad (One Pot), Cranberry Chicken Salad (One Pot), Lemon Pepper Chicken (One Pan), or Garlic Butter Steak Bites (One Pan) are a few other protein based dishes that would pair perfectly with this salad.
Soup would also make a great addition! Try one of these: Carrot Ginger Soup (One Pot), Easy Lentil Soup (One Pot), Roasted Red Pepper Soup (One Pot), or Tomato Basil Soup Recipe (One Pot).
Storage
Refrigerate: Store in a sealed container for up to 2 days.
Freeze: I would not recommend it. It will become a "mushy" mess upon thawing.
Variations
Use other grains- Such as couscous, quinoa, or brown rice.
Add vegetables- Such as roasted eggplant, green or red bell peppers, kale, artichokes, mushrooms, corn, or black olives.
Add legumes– Such as chickpeas, lentils, or edamame.
Add cheese- Such as goat, parmesan, shredded mozzarella, or smoked gouda.
Add nuts– Such as toasted pine nuts, sunflower seeds, walnuts, cashews, or pistachios.
Add protein– Such as chicken, shrimp, crab, lobster, or kielbasa.
Try other herbs– such a cilantro, basil, or dill.
Tips and Techniques
Use high quality olive oil- The better the quality, the better the flavor. Trust me, you will taste it in this salad.
What kind of cucumbers to use? Any kind of cucumber will work: Persian, English, seedless, or not. Choose you personal preference. Just chop them finely so you can get a little in each bite.
Finely chop all herbs and vegetables– You want to make sure to get a little of each flavor in each bite. Finely chopping the ingredients will help make this possible.
Use fresh lemon juice- It provides the best and brightest flavor. If you don't have fresh lemon juice bottled will work, but I prefer fresh.
Chill the salad- Chill it for a minimum of 30 minutes, but overnight is good too. This way the flavors can develop and deepen.
More One Pot Mediterranean Recipes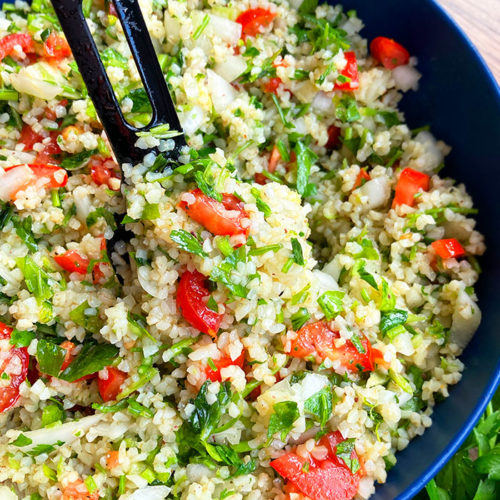 One Pot Tabbouleh Salad
Quick and easy Mediterranean tabbouleh salad recipe, homemade with simple ingredients in one pot in 30 minutes. Loaded with bulgur wheat and lemon dressing.
Yield: People
Instructions
In a large mixing bowl or salad bowl, add oil, lemon juice, salt, pepper, garlic powder and whisk everything together.

Add cucumbers, tomatoes, bulgur wheat, green onions, parsley, mint.

Toss everything together until combined.

Cover and chill for at least 30 minutes or overnight to allow the flavor to develop. Enjoy!
Notes
Read all my tips above.
Leftovers can be stored in a sealed container in the fridge for up to 2 days. 
Nutrition
Calories: 133kcal, Carbohydrates: 26g, Protein: 5g, Fat: 2g, Saturated Fat: 1g, Sodium: 194mg, Potassium: 396mg, Fiber: 7g, Sugar: 2g, Vitamin A: 1886IU, Vitamin C: 34mg, Calcium: 60mg, Iron: 2mg