Instant Pot Meatball Sub Sandwich
Quick and easy instant pot meatball sub recipe, homemade with simple ingredients. Loaded with frozen meatballs, onions, green peppers, mushrooms.
This is one of our family favorites. It is always a win when everyone likes the same meal. The use of frozen meatballs also makes dinner time so easy. This Instant Pot Swedish Meatball Pasta and Best Spaghetti And Meatballs (One Pot) are two more tried and true family hits.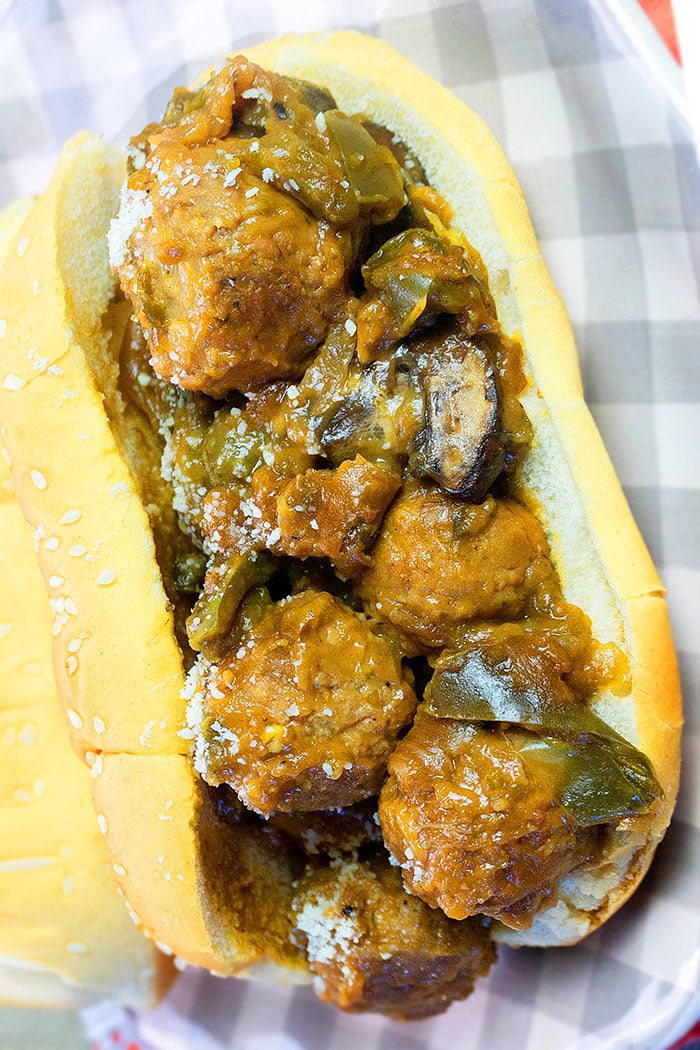 How To make Instant Pot Meatball Sub Recipe From Scratch?
Steam veggies and meatballs- Do this, using a steamer basket in the pressure cooker.
Release pressure– This should be a quick pressure release.
Remove veggies and meatballs– Into a separate bowl.
Remove steamer basket– And discard the liquid.
Make gravy- By cooking gravy mix and water until it's thick.
Add veggies and meatballs– And mix until combined.
Continue cooking– Uncovered until gravy thickens.
Enjoy!– Serve in toasted buttered hoagie rolls with parmesan cheese.
What To Serve With Meatball Sandwich?
The sandwich will pair so nicely with a warm bowl of vegetable based soup:
Salads are also a light pairing to compliment this hearty sandwich:
Roasted Vegetables are a great addition to this meal such as: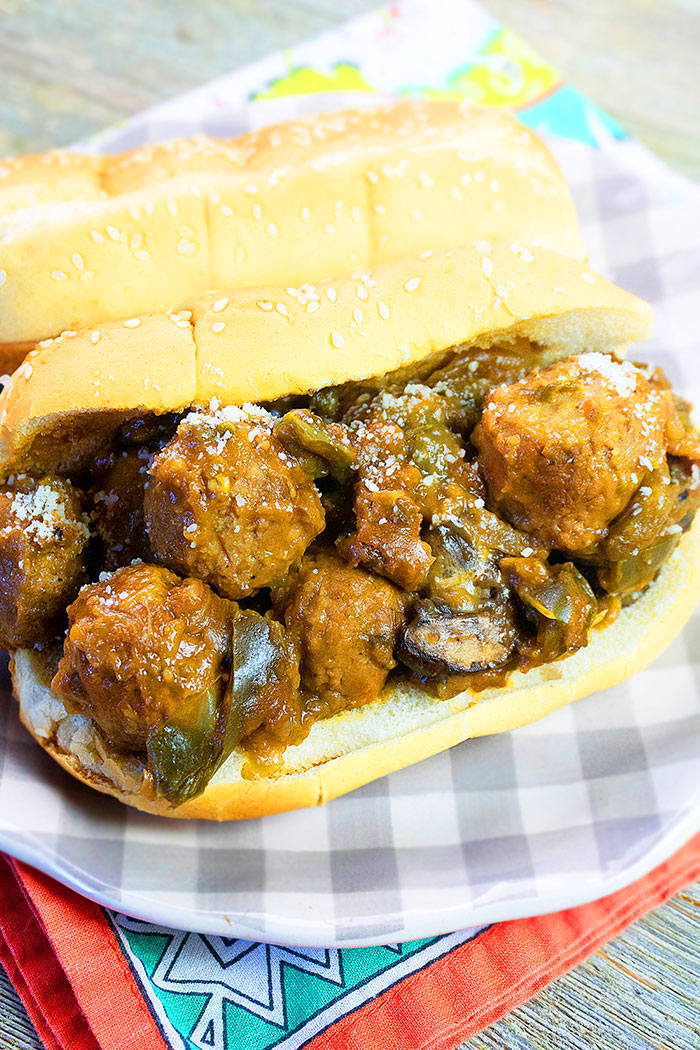 What Do You Put On A Meatball Sub (Toppings)?
Onions– Finely chopped, or or sauted or grilled.
Cheese– Add freshly shredded mozzarella, parmesan, provolone, or even Swiss.
Sun-dried tomatoes– These will add a nice flavor and texture.
Gardinera– Hot or mild, whichever you prefer.
Spinach– Fresh baby or regular spinach.
Basil– Use fresh basil leaves, whole or shredded.
Bacon– Crumbled bacon adds a lovely texture and saltiness.
Pepperoncini peppers- For a slightly spicy kick.
Variations For Homemade Meatball Subs
Use red sauce– In place of brown gravy, use Homemade Marinara Sauce or your favorite tomato sauce.
Use non-beef meatballs– Try ground pork, turkey, or chicken meatballs instead.
Open-faced subs– Serve the sub open-faced for an alternate presentation.
Add other vegetables– Such as artichokes, eggplant, or zucchini. The possibilities are endless!
Use leftovers as a pasta topping– Serve the meatballs and veggies atop your favorite pasta.
Ranch meatball subs– Add some dry ranch powder for even more flavor.
Make it spicy– Add red chili flakes for a little heat, or add jalapenos for more spice.
Use other mushrooms– Such as shitake, portobello, white button, or crimini.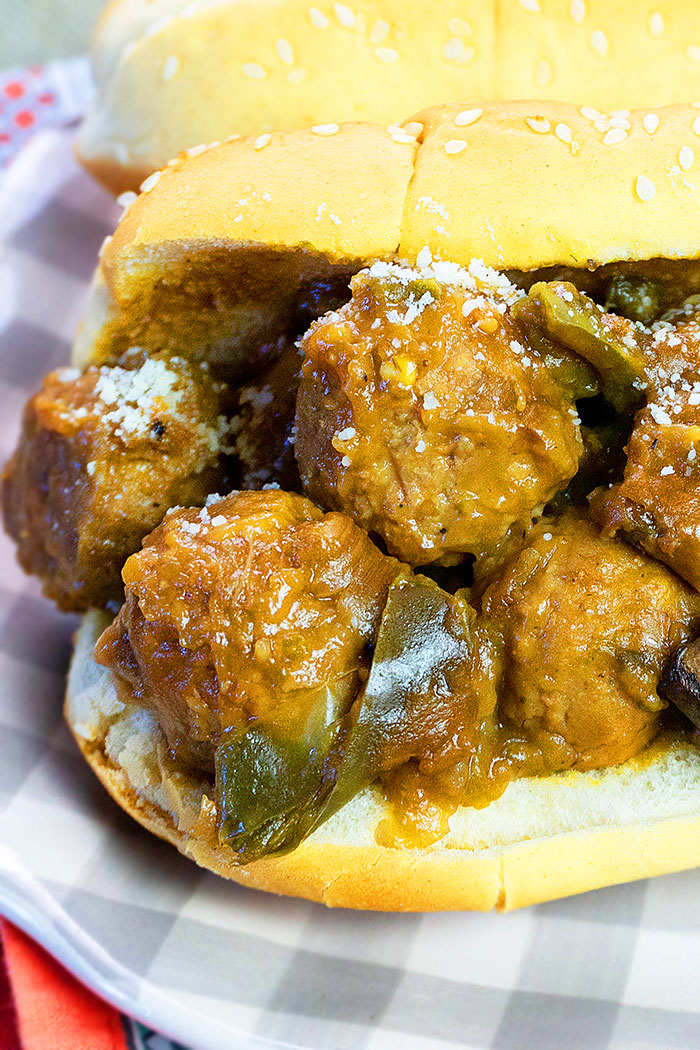 Tips And Techniques
Use hoagie rolls or other thick bread/buns– Because they won't fall apart when filled and they also won't become soggy with the gravy.
How to release pressure in Instant Pot? When the cooking time is finished, turn the knob to do a quick release.
How to thicken gravy? Continue cooking uncovered on the "Saute" mode, while mixing, until excess liquid is released to your desired consistency.
Do I need to add water to the Instant Pot? Yes, initially the recipe calls for 1 cup of water so that enough pressure can be created in order to cook the meatballs and vegetables properly.
Use low-sodium gravy packet– Because this ensures that the meal is not too salty.
Can I use fresh homemade meatballs instead of frozen? I use frozen meatballs in order to save time and for convenience purposes, but yes, you can use homemade fresh meatballs too.
Serve immediately- To prevent the subs from becoming too soggy.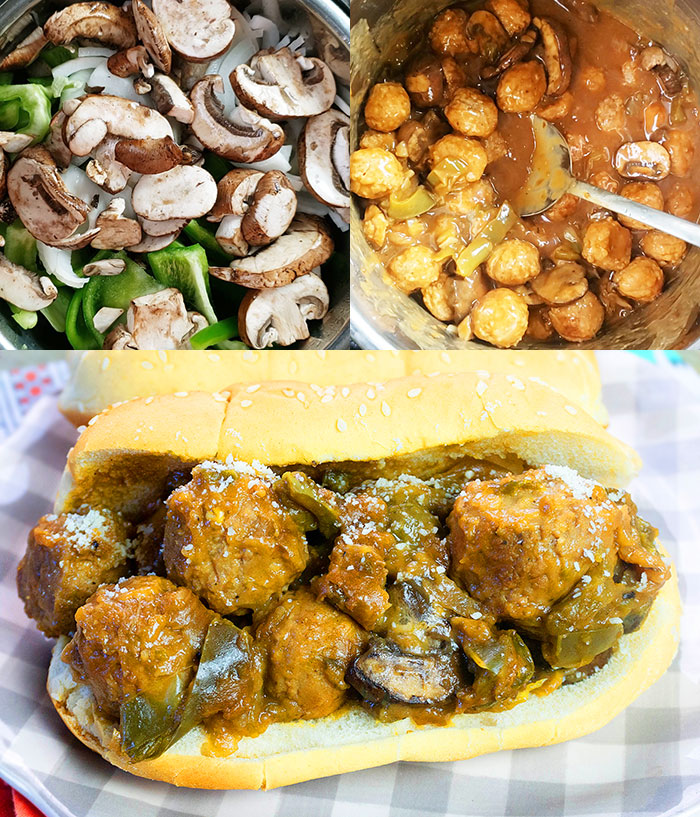 Storage
Refrigerate– In a sealed container for up to 3 days.
Freeze– I recommend freezing the meatballs and bread separately in sealed containers and assembling when you are ready to serve.
Reheat– From thawed in the microwave or in the oven.
More Instant Pot Dinner Ideas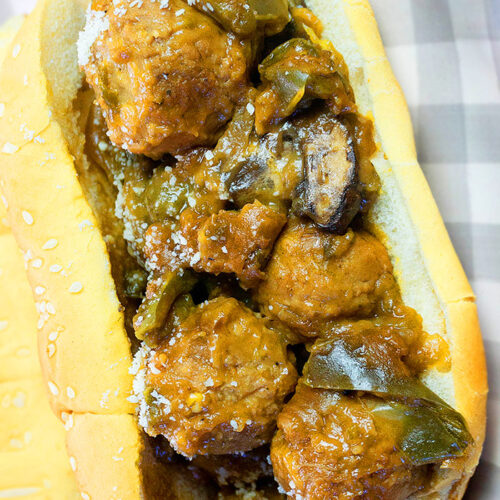 Instant Pot Meatball Sub
Quick and easy instant pot meatball sub recipe, homemade with simple ingredients. Full of frozen meatballs, onions, green peppers, mushrooms.
Yield: People
Ingredients
2.5 cups Water, Divided
28 oz. Frozen beef meatballs
2 Green peppers, Large, Sliced
1 Onion, Large, Sliced
2 cups Baby bella mushrooms, Cleaned, Sliced
2 packets Brown gravy mix , 1 oz. packet each, Low sodium
Instructions
Place a steamer basket in the instant pot.

Pour 1 cup water.

Add frozen meatballs, green peppers, onions, mushrooms in the steamer basket.

Put the lid on and turn the valve to "Sealing."

Select "Manual" mode and set the timer for 5 minutes.

When the cook time is over, do a quick pressure release.

Remove the meatballs and vegetables into a separate bowl.

Remove the steamer basket and discard the liquid.

Turn on the"Sauté" mode.

Pour remaining water (1.5 cups) in the pressure cooker.

Add gravy mix and whisk until mixture is smooth.

Return the meatballs and veggies back into the instant pot.

Mix until combined.

Continue cooking uncovered (while gently mixing often) until gravy thickens to your desired consistency.

Turn off the pressure cooker.

Serve the meatballs and veggies in toasted buttered hoagie rolls with a sprinkle of parmesan cheese. Enjoy!
Notes
Read all my tips above.
Leftovers can be stored in a sealed container in the fridge for up to 3 days and reheated in the microwave. 
Nutrition
Calories: 369kcal, Carbohydrates: 5g, Protein: 23g, Fat: 28g, Saturated Fat: 10g, Cholesterol: 95mg, Sodium: 84mg, Potassium: 583mg, Fiber: 1g, Sugar: 2g, Vitamin A: 156IU, Vitamin C: 34mg, Calcium: 34mg, Iron: 1mg